Our dog-friendly holiday properties, set in the finest locations, are ideal for your next trip away with your four-legged friend and are sure to set their tail wagging.
We know that dogs are very precious members of many families. At the National Trust for Scotland, we have many brilliant places where you can take your furry friend to make treasured memories together.
And, a large number of our holiday properties are also dog-friendly, meaning your dog can join you exploring Scotland's amazing destinations. You'll save on kennel fees and you won't miss each other. See the sights together ... and pose for some adorable holiday pics!
See some handsome hounds at our places
We also find that holidaying with your dog brings a more relaxing vibe. Their enthusiasm for living in the moment is contagious, and can open up new horizons. Take a break from ticking off all the must-sees on the holiday list and instead spend your days exploring mountains, beaches and country parks. Dog-friendly cafés and attractions could lead to amazing discoveries you might never have found without your dog.
The Trust welcomes dogs to many places, so long as they are kept under proper control. Please note that they are not permitted in historic buildings, children's play parks or gardens that grow fruit and vegetables. Please check any restrictions on the individual property page before visiting.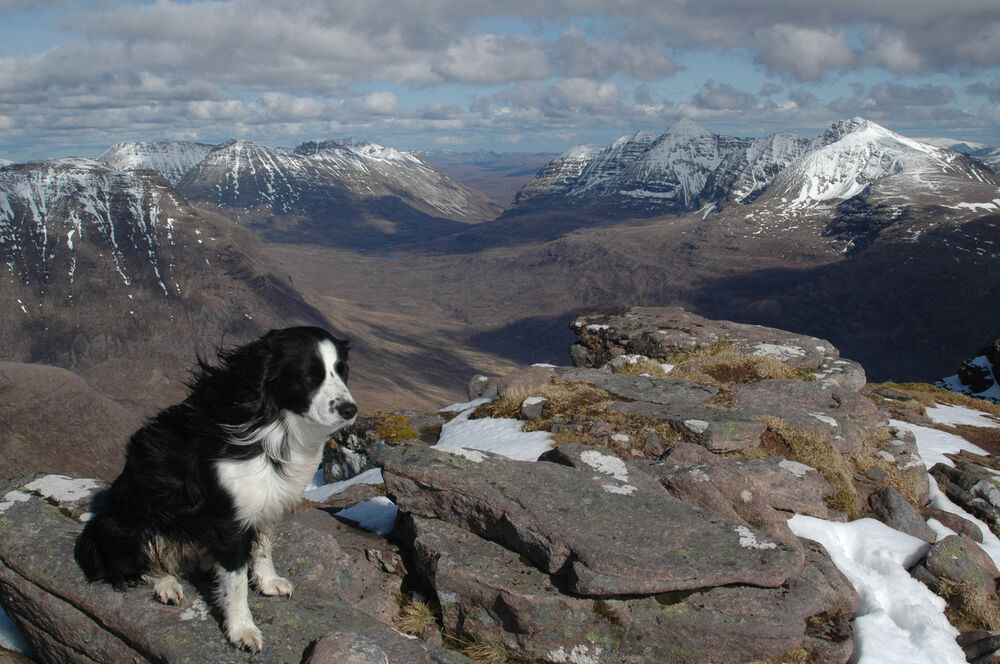 Enjoying the views across Torridon
Here is a list of our dog-friendly holiday properties throughout Scotland:
Highlands
Ferry and Craggan cottages on the north shore of Loch Alsh both sleep 4 people and are set along a small track, well away from the main road. Woodland and coastal walks are right on your doorstep, with the Isle of Skye and the Kintail mountains just a short drive away. Craggan has a multi-fuel stove and Ferry has an open fire – the perfect place for your pooch to take a snooze after a long walk!
Cormack Lodge (sleeps 2), South Lodge (sleeps 4) and Garden House (sleeps 6) all stand in the grounds of Brodie Castle. Garden House and South Lodge have spacious enclosed gardens where your dog can run free. Enjoy spectacular countryside views as you explore the large estate with its woodland trails, ponds and lush gardens. Brodie is famed for an extravagant display of daffodils in the spring, an unforgettable sight. Travel a short distance from the castle to discover the beautiful Moray coastline – remember to keep your eyes peeled for the dolphins that live here.
For larger gatherings of family and friends, the Laird's Wing is in Brodie Castle itself and sleeps up to 14 people. Experience the life of a laird in this magnificent property, which spreads over three floors and features period bedrooms, a grand dining room, cosy sitting rooms and a games room! Scenic strolls through the castle's grounds literally begin on your doorstep.
Lydia Cottage (sleeps 2) is across the road from Hugh Miller's Birthplace Cottage and is surrounded by a private garden. Paye House (sleeps 6) is just around the corner from the Cottage and has a roaring open fire in the welcoming sitting room, with a private patio area outside.

Cromarty and the Black Isle have superb sandy beaches – the perfect place for your dog to enjoy a great run. The awe-inspiring landscapes of the Scottish Highlands are only a short drive away.
Inverewe House Apartment (sleeps 6) can be found on the first floor of the beautiful Inverewe House, right at the heart of Inverewe Garden. The art deco-style house is surrounded by 2,000 acres of wildlife-rich grounds, and the sitting room offers stunning views across Loch Ewe. Your canine companion will love the nature and wildlife trails around the estate, including the Pinewood Trail and Kernsary Path – we ask that all dogs are kept on a lead in the garden.
A little further afield, the North West Highlands are an adventurer's paradise.
Glen Cottage (sleeps 6) and Stalker's Cottage (sleeps 4) are nestled in the glen, with the towering peaks of the Torridon mountains rising behind. After a day exploring the rugged sandstone peaks, sloping hills and hulking Munros, settle down in front of the wood-burning stove or open fire. More leisurely strolls along lochside tracks are also available! Glen Cottage has an enclosed garden; Stalker's Cottage has a private lawn.
Aberdeenshire and Angus
Although the castle is closed until 2024 for a major conservation project, there are still lovely walks to explore in the grounds. Waymarked trails lead through woodland, parkland and hillsides. North Mains Cottage (sleeps 4) and South Mains Cottage (sleeps 6) are adjacent to each other, while Steading Cottage (sleeps 4) is a short distance away in the courtyard.
After a stroll around the parkland, relax on the inviting sofa beside the traditional wood-burning stove or fireplace in the living room. Take a scenic drive through Royal Deeside's ancient Caledonian pine forest to reach Mar Lodge Estate, a spectacular setting for walks and picnics in the heart of the Cairngorms National Park.
East Lodge sleeps 4 people, has a garden and is located at the entrance to the Crathes estate. There are 240 hectares of grounds to discover, with plenty of history and wildlife, via six waymarked trails. Look out for buzzards, bats, roe deer and herons along the way.
Banchory is just a short car ride away, with a variety of parks and peaceful riverside walks.
Courtyard Cottage (sleeps 2) is a first-floor apartment in the historic courtyard of Drum Castle. The wood-burning stove in the sitting room creates the perfect atmosphere for relaxing and unwinding after a day of long walks and exploring. Stick-loving dogs will be in their absolute element exploring the paths through the Old Wood of Drum in the grounds.
The Preston Tower Apartment (sleeps 12) stretches across Fyvie Castle's Preston and Seton Towers and provides stunning accommodation for a memorable escape to Scotland. Discover four enchanting floors of winding nooks and mezzanines, a spiral staircase and even a bedroom within one of the traditional turrets. Your four-legged friend will love exploring the vast surrounding estate, with impressive lawned areas, woodland and lakeside walks to roam.
In a quaint sandstone courtyard, the first-floor North Stables and South Stables (both sleeping 4) offer a welcoming retreat for holiday-makers and their pets to explore this charming coastal region.
Choose between the plethora of woodland walks around the property or visit the Den of Dun at the top of the estate, with the chance to uncover some ghostly tales along the way. In nearby Montrose, you can take your furry friend to see the Bamse statue near the harbour, representing a heroic Norwegian St Bernard dog who served during World War II. The vast sandy beaches along the Angus coastline are also sure to be very popular with your four-legged companion!
We have a range of apartments in the main lodge for groups of all sizes, which all welcome dogs. Braeriach (sleeps 2), Bynack (sleeps 17), Dalvorar (sleeps 4), Derry (sleeps 4) and Macdui (sleeps 4) are luxuriously furnished, whilst maintaining a cosy, welcoming feel. The main lodge is a true delight, with high ceilings, grand hallways and a fabulous billiards room, open to all apartments within the lodge at a small extra cost – it is the perfect space for socialising with family and friends.

During your stay, you can explore over 29,000 hectares of one of Scotland's most important conservation sites. Take walks through wooded glens, stroll alongside crystal-clear burns and soak up the marvellous mountain scenery – this estate is home to four of Britain's five highest mountains. Your dog will be sure to sleep well after these walks!
Please be aware there is livestock on the estate.
Fife and Perthshire
Branklyn Cottage (sleeps 4) is part of a beautiful Arts & Crafts house, lying within the highly acclaimed Branklyn Garden. Immersed in character, with stunning landscaped gardens, it makes for a delightful holiday stay all year round. Guests have full access to the spectacular garden, cultivated with love to support over 4,500 species of plants from all over the world. Please note that dogs must be on a lead at all times in the garden.
There is a lovely walk from the front door up Kinnoull Hill. Perthshire is also known as 'Big Tree Country' and is a wonderful area for woodland walks, with the peaks of Schiehallion and Ben Lawers being great for keen ramblers. After a day exploring, relax in the evenings beside the wood-burning stove.
East Cottage (sleeps 5), Middle Cottage (sleeps 4) and West Cottage (sleeps 5) all stand in the grounds of this Edwardian mansion in Fife.
Relax in these traditional homes from home after a day outdoors and settle down in the sitting room beside the wood-burning stove or open fire, perfect for a winter's evening with your dog. All cottages have their own enclosed gardens, but guests also have access to explore all of the mansion's beautiful gardens, woodland, open heath and parkland – perfect for morning walks and picturesque afternoon strolls.
A little further afield is St Andrews, with its vast sandy beaches.
The Lothians and Scottish Borders
Choose between Harmony Cottage (sleeps 4) or Harmony House (sleeps 15) to enjoy a relaxing stay in one of Scotland's prettiest Borders towns.
Harmony Cottage has a small paved garden area and is within strolling distance of all the delights of Melrose. The Eildon Hills are accessible right from the town centre, and a pleasant riverside stroll along the River Tweed is always a delightful choice.
The spectacular Harmony House offers an eclectic mix of period detail with contemporary comfort. An enclosed private garden (separate to the main garden) is available for guests to use, but we ask that dogs are kept on a lead on the walk to access this.
Pear Cottage (sleeps 2) is only a couple of minutes from the properties at Harmony Garden. Resting above a local craft shop and overlooking the abundant greenery of Priorwood Garden and Melrose Abbey, this first-floor apartment presents a scenic spot for adventure seekers. Dogs are permitted in the garden if well behaved and we ask that they are always kept on leads, away from flower and vegetable beds.
There are plenty of local country walks and riverside rambles to enjoy.
Gate Lodge (sleeps 2) is a single-storey cottage found at the entrance to the House of the Binns estate. Enjoying a superb setting close to the River Forth, with views over the landscaped parkland, the lodge has an opulent interior adorned with contemporary artwork and artefacts. It has a large enclosed garden with a small decked area, a paved path and grass.
There are delightful walks around the extensive estate, where you may spot the resident sheep, cattle and peafowl. Continue through the woodlands to the Binns Tower at the top of the hill, where you can soak up the breathtaking panoramic views of Central Scotland.
Please note that there is a cattle grid on the road just outside the lodge.
Glasgow and Ayrshire
If your dog could book a holiday, we think Culzean would be high on its list! Acres and acres of woodland, beaches and parkland make this a wonderful place to explore with your furry companion.
Ardlochan Lodge (sleeps 4) is all on the ground floor and is in a quiet part of the estate, just 2 minutes from the beach. It has its own garden and patio area.
North and South Segganwell (both sleep 2) are adjoining single-storey cottages right on the beach. Wake up to incredible views across the Firth of Clyde and enjoy the miles of coastline walks. The wood-burning stove brings a welcome warmth to the cosy living room in the winter months.
North Firbank (sleeps 4) is close to the beach and woodland walks, and also has its own enclosed side garden.
Just along from the castle, on the clifftop, the Royal Artillery Cottage (sleeps 4) is accessible for wheelchair users. There is a paved courtyard area directly outside and of course 600 acres of country park surround that.
The duplex Coach House (sleeps 5) is found in the 5-acre grounds of the extraordinary villa of Holmwood, designed by Alexander 'Greek' Thomson.
The name Glasgow derives from the Brythonic Celtic word Cleschi, meaning 'dear green place', and you can expect to find plenty of scenic spots nearby, with over 90 parks and formal gardens to choose from.
Dumfries and Galloway
This three-storey house (sleeps 6) is situated down a quaint close, just a couple of minutes from Broughton House. Guests can enjoy use of a private garden at the end of the close, where you can sit out and enjoy your morning coffee, taking in the views across the town as your canine companions stretch their legs.
Walkers will delight in exploring the nearby Galloway Forest Park, as well as Barrhill Wood (a lovely spot for wildlife watchers) and the 5-mile hike to the charming village of Dundrennan. The beaches of the Solway Firth always get a woof of delight as well!
Port Donnel Cottage (sleeps 5) is one of our most popular holiday cottages, perhaps because it offers direct access to a private pebble beach from the garden. Be greeted by the idyllic sounds of crashing waves and enjoy views that reach as far as the Lake District on a clear day. There are also nearby strolls along the Barr Burn or through a wooded valley for wonderful birdwatching opportunities. The scenic Solway Coast has miles of beaches and quaint fishing villages to explore.
We also offer economical, basic accommodation in bunkhouses for groups at some of our properties. These are ideally located for exploring Scotland's great outdoors.​
The Ben Lomond Bunkhouse welcome dogs when you book the four-bed or the six-bed bunkroom to yourselves or when the bunkhouse is booked for exclusive use.
Dogs are also welcome at Mol Mor (sleeps 10), a converted farm steading at the head of Loch Torridon.
Holidays
Take a well-earned break with us, and enjoy Scotland at its glorious, vibrant and tranquil best!
More
Stay in touch
Be the first to hear about our latest news, get inspiration for great days out and learn about the work we do for the love of Scotland.