Archaeology is a vital part of our research and conservation work, and good conservation work is based on a sound understanding of what it is we're protecting. So to learn more about our places, our ancestors and the way people once lived, we study the artefacts they left behind.

We count all kinds of things as artefacts, from pieces of flint used for tools to broken pottery from the 19th century, and the various structures that people have built through the centuries. Archaeology not only helps us uncover the past, but it also affects how we protect important sites. Plus, we get to share new discoveries with our members and get people excited about our history.
We handle all sorts of different projects, from military plane crash sites to listed buildings, and ancient burial grounds to unearthed antiquities.
We survey and map everything from landscapes to Scheduled Monuments. We help to maintain archaeological records for properties and advise on repairs for conservation. We also arrange for teams to come in and excavate when there's some digging to do.
We also work with other people and organisations – our neighbours, universities and government agencies like Historic Environment Scotland – to make sure that our country's historical landscapes are being looked after, and to understand what impact people had on these landscapes in the past.
Did you know?
Across Trust land there are a whopping 11,000 archaeological sites and features, covering every time period from the Mesolithic (8500BC–4000BC) to the modern day.
When changes are happening at our properties, advice from the Archaeology Team helps to prevent any damage to significant sites and make the most of the results of any research. The Trust's archaeological work has informed best practices for conservation around the country. Showing people the value of studying the past helps us to take better care of our properties now, and in the future.
The Trust encourages research programmes on its properties, and some of the findings made on our land have changed the approach of archaeologists in Scotland. All our investigative work can be counted as research, but we also often work with universities to answer more specific questions. Recent work at Mar Lodge Estate revealed evidence of hunter-gatherer activity at the source of the River Dee, with help from the universities of Aberdeen, Dublin and Stirling.
Ben Lawers
Travelling through the Scottish Highlands, by foot or by car, you'll see lots of ruined stone houses and farmsteads – all that remains after decades of rural depopulation.

The National Trust for Scotland undertook a landmark research project at Ben Lawers on North Loch Tayside, with the aim of understanding more about these post-medieval landscapes and how they changed over time. It was one of the biggest projects of its type in Scotland and volunteers, supervised by professional archaeologists, carried out over 22 weeks' worth of excavation over four seasons. We excavated 80 trenches, with input from landscape surveyors, geophysicists, historians, place-name experts and soil scientists from various universities.

The Ben Lawers Historic Landscape Project made the property one of the most intensively investigated landscapes in Scotland. Among other things, the uncovering of faint traces of turf-built structures from the 11th to 13th centuries was a major discovery for upland Perthshire. A detailed mapping survey of the mountain revealed over 2,000 individual structures and 185 miles of stone dykes, earth banks and trackways.

The Ben Lawers team were able to tie many of these excavated sites to specific historical references in the archives of the Breadalbane Estate. The published report then became the touchstone for all medieval and post-medieval landscapes in the Highlands.
One of the most exciting things about archaeology is the discovery of new artefacts that change our understanding of the past and the way people used to live. We've found a 16th-century coin at Castle Fraser, a hidden prison in Alloa Tower, an open-air church at Torridon and human skeletons at the House of the Binns.
Did you know?
A series of pits unearthed at Warren Field in Crathes date to around 10,000 years old. Some people think that the 12 pits, dug by ancient hunter-gatherers, correlate with the phases of the moon, which would make this the oldest luni-solar time reckoner (a very basic calendar) yet found.
Culloden
When the new visitor centre at Culloden was being built, the Trust commissioned Professor Tony Pollard and his team at the University of Glasgow's Centre for Battlefield Archaeology to investigate the battlefield. We wanted to ensure that no historical evidence would be destroyed, but it also gave us a better understanding of the battle. Many objects were discovered that could be displayed – pistol and musket shot, cannon balls, buckles, buttons and personal ornaments.

The work led to plenty of revelations. Thanks to the combination of archaeologists and metal detectors, we were able to redraw the battle lines of Culloden with more accuracy. In addition, we found a wealth of artefacts and personal effects that would bring visitors closer to the gruesome effects of 18th-century warfare. We learned more, too, about the tactics and ferocity of the Jacobite army, as well as locating long-demolished structures on the battlefield.

The work at Culloden was not without its hurdles: the sheer size and extent of the battlefield; the large number of visitors; and the never-ending battle between grounds staff and regenerating bushes. The success of the new visitor centre, and the vivid story we're now able to tell of this famous battle, shows that a little bit of digging goes a long way … but there is still much more to do.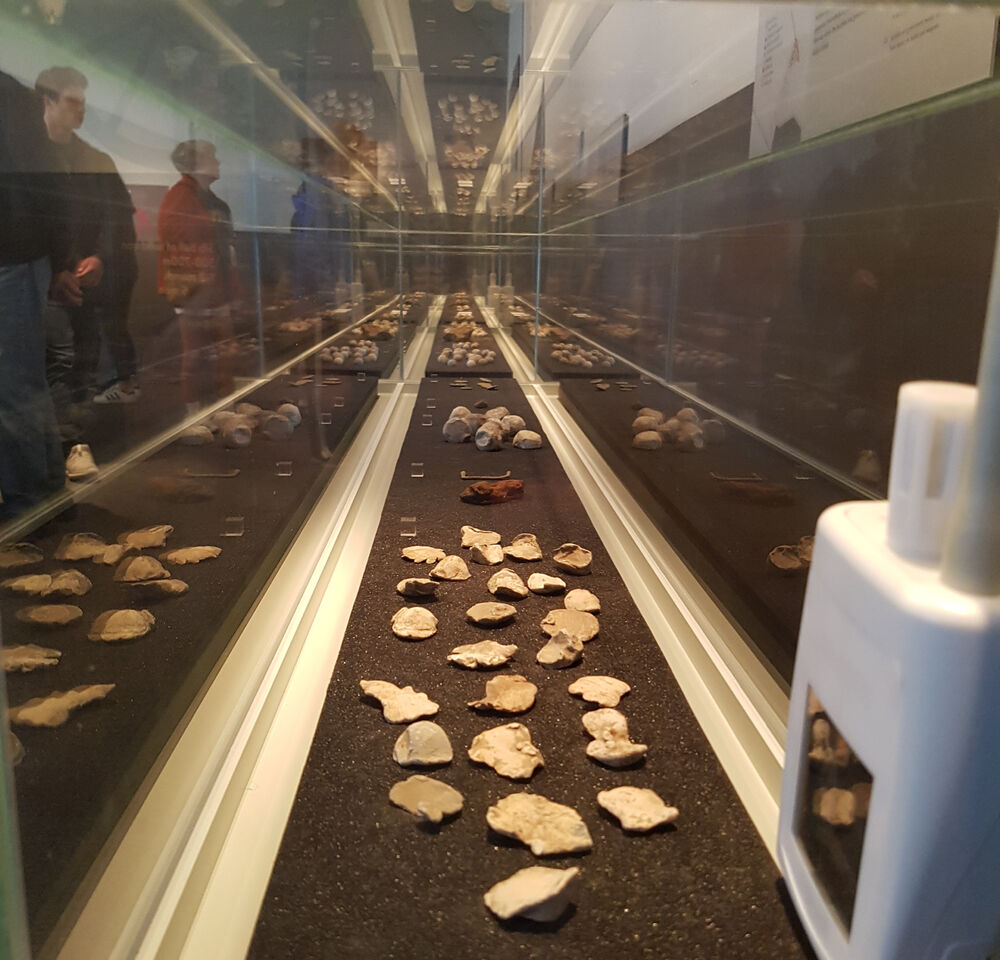 Archaeology finds from Culloden
Newhailes
In 1709 Sir David Dalrymple bought what was once the Whitehill Estate and renamed it 'Newhailes' after Hailes Castle, the family's original estate in East Lothian. The house and its extensive grounds sit to the west of Musselburgh, around half a mile from the Firth of Forth.

It was in the 18th century that the Dalrymple family began to transform the estate into the landscape we see today. Using the small stream (or burn) as the central feature of the estate, the design includes a shell house, Palladian tea house and numerous cascades. All these features came to light as part of the Trust's archaeological work on the estate, with various community digs and projects helping to reveal more of this important historical designed landscape.

And as well as the Picturesque features, the estate also has all the elements of a functioning (and wealthy) 17th- and 18th-century mansion, including a kitchen garden, curling pond, flower garden and grazing land. Our discoveries at Newhailes are remarkable for having remained so undisturbed, and it's still one of the Trust's most significant archaeological sites.
Gardens are constantly changing and the Trust has led the way in studying and surveying the designed landscapes on our properties. We've undertaken drawings and excavations of ice houses, walled gardens, fountains and glasshouses, and thanks to our work we now know more about the people who created and tended our gardens in the past. We've learned that the glasshouses at Culzean were used for growing oranges, peaches and grapes, while the fruit grown at the Pineapple is pretty obvious!
Getting people excited about Scotland and its history is a huge part of why the Trust exists. Archaeology is often very physical and volunteers can make a significant contribution. We provide opportunities for people to take part in fieldwork through our Thistle Camps and public archaeology events, such as digging test pits at Bannockburn. With excavation open days, information sheets, guided walks and appearances on TV and radio, we've managed to share new discoveries and the importance of archaeology with millions of people.
Did you know?
We help to manage parts of 8 different historic battlefields, including iconic sites like Culloden and Bannockburn.

Read more about archaeology