We care for over 76,000 hectares of countryside, home to world-famous natural landscapes.
At Trust places you'll find some of Scotland's most loved natural sights, as well as some less well known but equally inspiring hidden gems. We work to make sure that people of all ages and interests can enjoy the countryside, from Munro-baggers to birdwatchers. We love to share our natural treasures with the world.
All across Scotland there are places of extraordinary natural beauty. You can enjoy rugged wilderness at Kintail, ancient pine woods at Mar Lodge Estate National Nature Reserve, or towering peaks at Torridon. From the seashore all the way up to the mountain tops, you can see Scotland at its most breathtaking.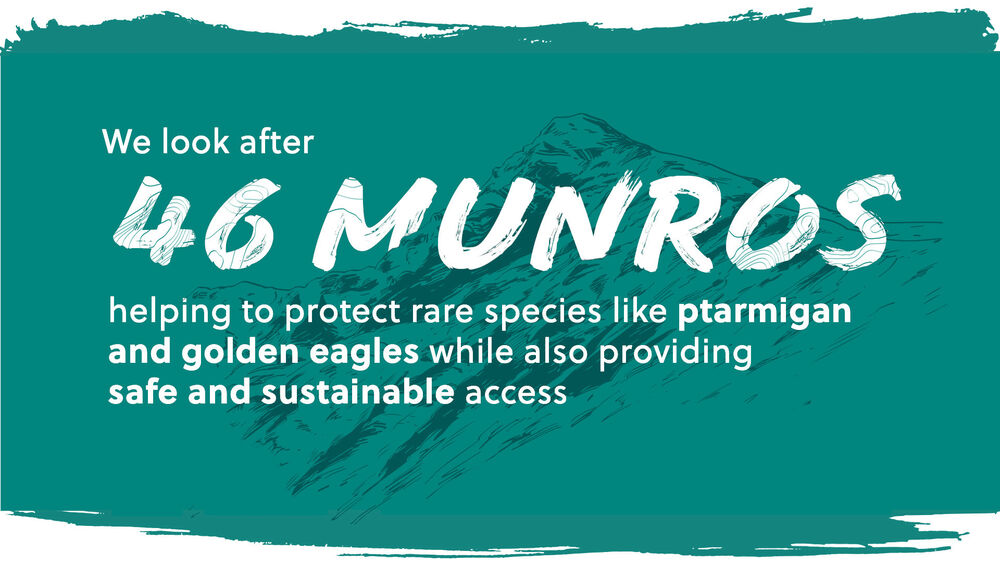 A rich mosaic of natural habitats
From the mountains of Torridon and Kintail to the woodlands of Mar Lodge Estate and islands like Fair Isle and Iona, we care for a enormous variety of landscapes.
Different habitats suit different kinds of animals and plants – the mud flats at Montrose Basin Local Nature Reserve are ideal for waders and waterfowl, while the shell-sand machair grasslands on Canna are rich in flowering plants and invertebrates. Beautiful wild plants across the Trust's meadows and mountainsides, including common species such as bluebells and primroses, and not-so-common species like frog orchids and Iceland purslane. All form essential parts of our ecosystems, supporting insects and in turn birds and other animals.
Our habitats form a complicated network, supporting a vast amount of Scotland's wildlife. These habitats often exist side by side in complex ecological landscapes. Our habitats, as well as those in the wider Scottish landscape, are not static; they change in response to management, climate and other factors. Some changes are for the better, some are for the worse.
Spreading native woodland is good in most (but not all) places. We may step in to protect important open habitats such as meadows and fens from woodland encroachment, but generally we aim for low deer numbers to encourage woodland regeneration. Rising ocean temperatures, driven by climate change, threaten our seabirds, but we work in partnership with others to protect seabirds from invasive predators, such as rats, to help them as much as we can. Across our natural estate we're removing non-native species such as Rhododendron ponticum, where it threatens important native habitats, without compromising non-invasive rhododendrons that are an important part of our garden heritage.
We take extra care to monitor our habitats and step in to protect them when necessary. We also take every opportunity to celebrate the natural places in our care. The more we learn about Scotland's incredible habitats, the more fascinating they become.
Did you know?
We look after 8 National Nature Reserves – Ben Lawers, Glencoe, Staffa, St Kilda, St Abb's Head, Beinn Eighe (Torridon), Corrieshalloch Gorge and Mar Lodge Estate.
Almost two thirds of our countryside places can be found in the uplands, where we look after 46 Munros (mountains over 3,000ft/914m).
We're responsible for four out of the five tallest mountains in Scotland, and we maintain 245 miles of upland paths. Our doors are open to everyone, whether you fancy an easy Sunday stroll through the woods or a challenging climb to the summit of Ben Macdui, which stands at a mighty 1,309m tall.
In 1950, Ben Lawers became the first National Trust for Scotland property to be purchased for the primary purpose of nature conservation, due to its best-known feature: the Arctic-alpine flora. Look out for globeflower and downy willow in the summer, and flowering purple saxifrage in the spring. Ben Lawers is home to the richest plant community of any mountain in Scotland.
All these plants are vulnerable to the effects of climate change – plants near the summit of a mountain, which have adapted to the cold, have nowhere to retreat if the climate warms.
It's amazing to discover that these habitats actually help to regulate climate change themselves. Mosses and other peat bog vegetation remove carbon dioxide from the air in the same way as trees, making them crucial natural assets for combating climate change. The peat soil that covers large areas of our uplands stores great quantities of carbon, stopping it from being released into the atmosphere. In fact, we've estimated that the peat in our upland soils contains 27 million tonnes of carbon dioxide equivalent – that's over 10 times more than all our woodlands put together.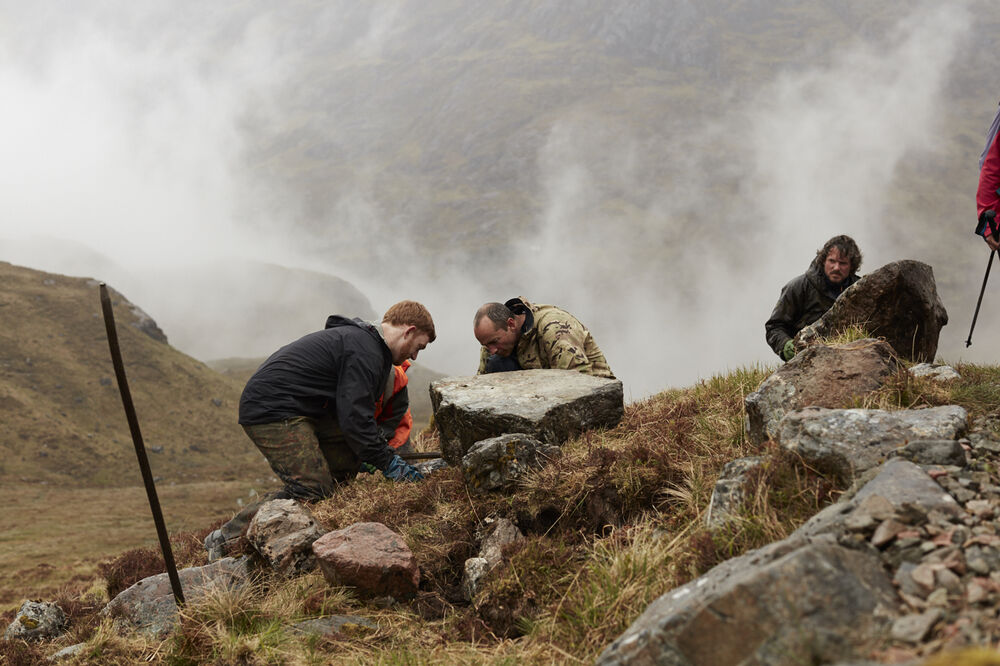 Members of the Trust's footpath team at work.
Upland footpaths
Mountains are far more fragile than we realise. Our upland footpaths are well trodden and are exposed to a constantly changing climate. Rain, frost, snow, gales and the odd bit of blazing sunshine (sometimes all in the same day!) mean that our paths need dedicated care and attention, all year round.
Thankfully, we have a passionate mountain footpath team who work tirelessly to keep our paths accessible. Using the lightest of touches – working by hand or helicopter to avoid heavy machinery, and using locally sourced materials – they've assessed every metre of our mountain footpaths and have a rolling programme of maintenance at places like Torridon and Ben Lomond.
To keep the paths safe and accessible without the need for things like handrails or escalators, the team employs some clever techniques and structures. Stone waterbars guide rainwater into ditches and protect the surface of our paths, while 'stone pitching' involves burying large boulder 'steps' under slopes so that only a small piece of the stone is visible above the surface (a bit like an iceberg).
We're extremely grateful for donations to our Footpath Fund, which lets people show their support for our work and ensures that our paths are maintained for everyone to enjoy.
Did you know?
We're responsible for 245 miles of mountain footpaths – that's the same as the distance between Dumfries and John o' Groats (as the crow flies).
In many cases, our woodlands are full of ancient trees that have stood for centuries. Not only do we want to protect these woodlands as a home for native wildlife, but we also want to make sure that we celebrate our unique plantlife.
Caledonian pinewood
The ancient Scots pine is 'a viking trunk, a warrior tree' (as poet Robert Service wrote) and our country's national tree. Scotland is famous for its native Caledonian pinewoods, and much of our management of Mar Lodge Estate National Nature Reserve is aimed at increasing the cover of Scots pines. We start by carefully conserving the stately old 'granny pines', still producing viable seed after some 200 years, and then we protect the seedlings from grazing red and roe deer. Now, after decades of hard work, Scots pines are springing up in glens that have been largely devoid of seedlings for as long as anyone can remember. Caledonian pinewoods are directly descended from the first pines to arrive in Scotland around 7000BC. They're one of three conifers native to the UK.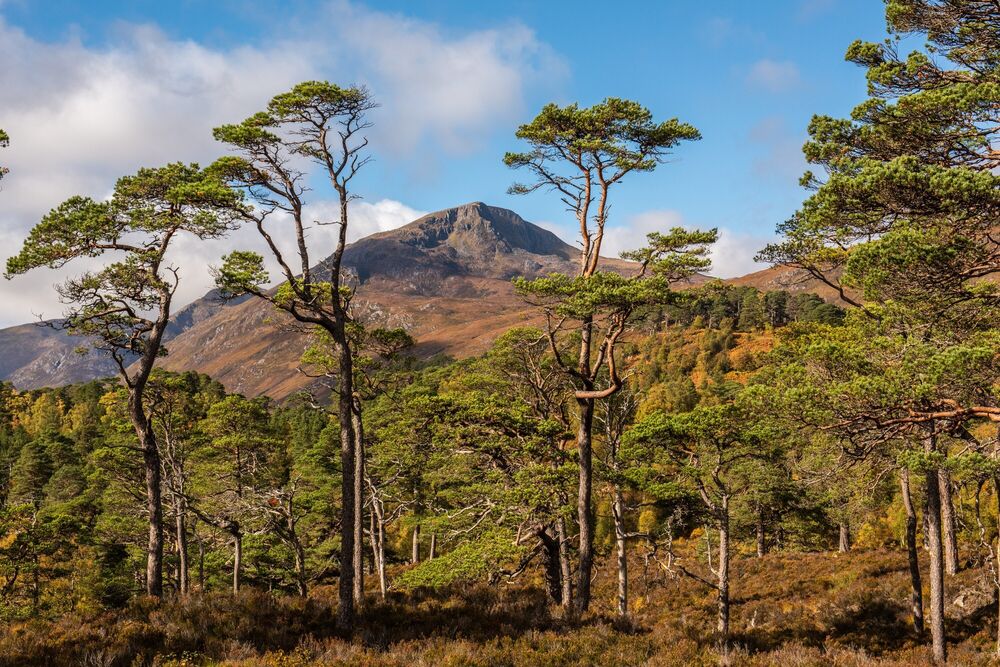 A Caledonian pinewood in the Scottish Highlands
Birch and oak woodland
Birch and oak woodlands are more characteristic of the wetter, western parts of Scotland. The fantastic Coille Mhor ('great wood') at Balmacara forms the core of the Wester Ross Biosphere Reserve. The reserve was established in 2016 and extends from Balmacara to cover carefully preserved and expanding fragments of woodland at Torridon, Inverewe, Kintail and West Affric. The River Garry flows through Killiecrankie – a tranquil wooded gorge where the Highlands meet the Lowlands, brimming with birch, oak and hazel trees that turn gold and crimson in the autumn.
Coille Mhor, an ancient oak woodland at Balmacara.
Montane scrub
Where woodland extends up the mountainside, it eventually gives way to montane scrub, often characterised by willows, juniper and dwarf birch. Our pioneering work at Ben Lawers National Nature Reserve has led to thriving areas of these shrubs close to the natural tree line, providing a safe home for a variety of flowering plants and insects. Montane willows also flourish at Glencoe National Nature Reserve and Grey Mare's Tail.
An example of montane scrub at Ben Lawers National Nature Reserve.
Lowland woodland
Mixed woodlands of large broadleaved trees are a feature of many of our lowland places. The magnificent Old Wood of Drum is home to beautifully preserved ancient trees, some of which date back to its time as a royal hunting forest. Other woods, such as those at Crathes Castle, Culzean Country Park, Brodick Country Park and Castle Fraser, provide beautiful examples of woodland communities of plants and animals.
Did you know?
Ben Lawers is one of the richest sites for arctic-alpine plants in the UK, and has been identified as one of Britain's foremost important plant areas.
The cliffs and sea stacks at places like St Kilda, Unst, Mingulay, Fair Isle, Canna, Staffa, Culzean and St Abb's Head are renowned around the world. We care for these famous landscapes and play a vital role in the conservation of native and endangered wildlife at our coastal properties.
Almost all our coastlines and cliffs are breeding grounds for internationally important colonies of seabirds. Two of the highest sea stacs in Britain (Stac an Armin and Stac Lee) are found at St Kilda. At other places, like Rockcliffe on the Solway Firth and Montrose Basin Local Nature Reserve, there are expanses of mud flats perfect for waders and waterfowl. At Montrose, over 80,000 pink-footed geese stop over on their autumn migration, making the site crucial to their survival.
Coastal grasslands are as biologically diverse as they are beautiful. Spring squill and sea pink crown the cliff tops in many places, while the fertile, herb-rich coastal grassland on Iona and Canna, known in Gaelic as machair, grows on the crushed shells of marine creatures; in the springtime it's home to countless wildflowers.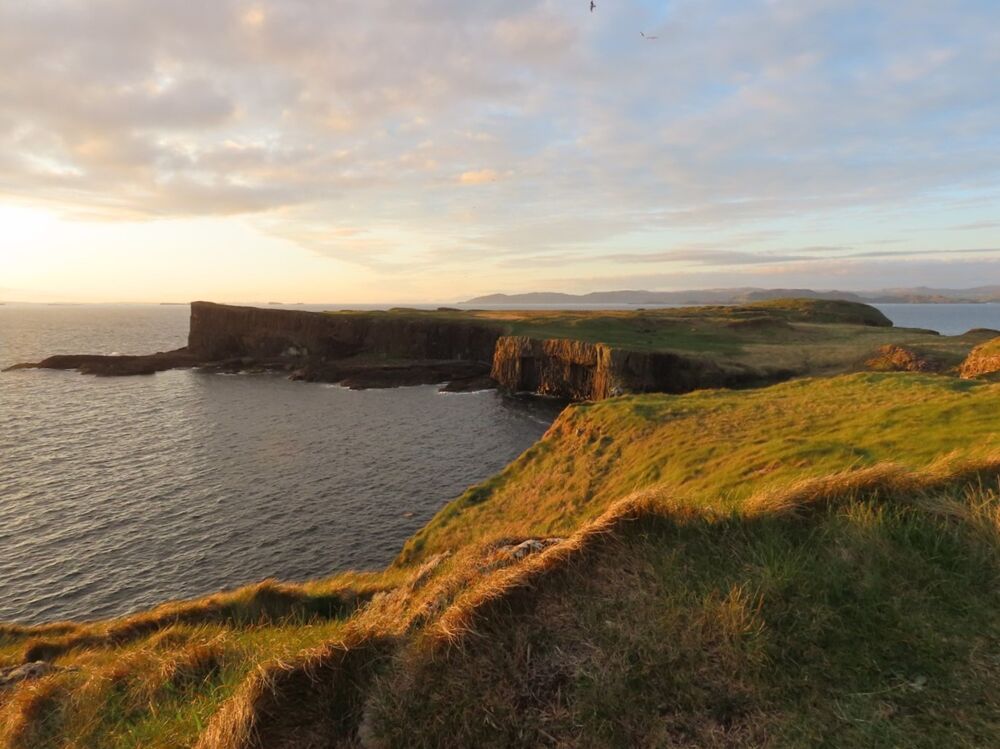 Cliffs provide protection for nesting seabirds, but they also protect delicate plants from grazing. Staffa, St Kilda and Canna all have vegetated cliffs, while on Mingulay, which was once extensively populated by sheep, the plants that grew safely on the cliffs are now spreading out. A colony of aspen is springing up on the east coast, and creeping and eared willows are also on the rise.
It's not the first time we've seen this happen – a similar trend was found at Staffa National Nature Reserve, from where sheep were removed in the 1990s. This demonstrates that careful management of grazing levels on grasslands is essential to the preservation and nurturing of vulnerable plants.
Staffa is certainly one of the most spectacular places in our care. Staffa is named after the Norse word for 'pillar island' due to the great basalt columns protruding from the sea, flanking deep caves. Fingal's Cave, a 69m-long cavern, was described by Sir Walter Scott as 'one of the most extraordinary places I have ever beheld'. After a visit to Staffa in 1829, the German composer Mendelssohn was inspired by the astonishing acoustics of Fingal's Cave to compose his Hebrides Overture.
Did you know?
We care for over 400 islands and islets, several of which are home to some of the world's most important seabird colonies.
Protecting and promoting 76,000 hectares of countryside takes dedication and enthusiasm (and some seriously sturdy shoes).
We look after 8 National Nature Reserves and 26 sites that are recognised as being vital to internationally important nature conservation efforts. Wildlife conservation can mean anything from restricting animal grazing (in order to protect vulnerable plant species), building Scotland's first bat reserve (as we did at Threave Estate), assisting with the Scottish Wildcat Conservation Action Plan or counting red squirrels in one of our woodlands.
Over 1 million people visit our countryside places every year, drawn to the beauty of the landscapes and wildlife. We work hard to be accessible for everyone, from bird-watchers and mountain climbers to parents with young children and those with disabilities.
We spend a vast amount of time maintaining footpaths and trails. Where possible, we make sure that these paths connect to popular attractions or nearby towns, and that they don't disrupt the natural landscape. We've also built viewing hides to let visitors get closer to nature, and created orientation panels that explain what's around them.
Community involvement
Throughout the country, the National Trust for Scotland plays an important role in local communities. We provide employment, bring in tourist income and support tenants – so when we make decisions, we involve local communities to make sure we understand what they need.
In rural areas, where we're a major landowner, this is especially important. In places like Fair Isle, Canna, Iona and Balmacara, we undertake our heritage role while working with local communities to help improve housing, employment opportunities, services and infrastructure, with a focus on sustainable development.
Did you know?
We support some of the finest sites in Scotland for waxcap grassland fungi, often called 'grassland jewels'. These fungi thrive on many of the lawns around our older houses, such as Hill of Tarvit and Haddo House.
Our rugged and remote landscapes have become a haven for climbers, kayakers and all kinds of adventure-seekers. Wild land can be daunting as well as physically challenging, but we encourage people to visit and see nature at its most peaceful and powerful.
We couldn't keep our properties in such good condition without the hard work of all kinds of people, from ecologists and conservation specialists to local volunteers. And that's not to mention our very own countryside rangers! We are one of the largest ranger employers in Scotland and ran one of the first ranger training programmes. We also work with numerous other organisations to ensure that Scotland's landscapes and wildlife receive the best care.
What does a countryside ranger do?
It might be quicker to state what a ranger doesn't do!
They work with wildlife, habitats, visitors and the local community. To be more specific, they take on the following roles: conserving habitats and wildlife; ecological surveying; helping people learn about natural heritage; leading guided walks; welcoming researchers, volunteers and other visitors to our places; working with people who live or work in our countryside; giving presentations; and day-to-day maintenance of our estates.
You may find them on a mountain path clearing drainage channels one day, and on a beach removing plastic waste the next. They stalk deer and they bash bracken. They count red squirrels and they show schoolchildren how a billion spores shoot out from a puffball mushroom. They plant trees and they record scientific data on rare plants. They talk to local farmers about grazing issues and they chat with passers by.
But a National Trust for Scotland ranger's role is much greater than the sum of its parts. They spend their whole time looking after our beautiful countryside, and in doing so inspire a love of Scotland's natural heritage in countless others.
Did you know?
The archipelago of St Kilda is the UK's only dual UNESCO World Heritage Site.
Making sure that visitors and our wildlife are safe is vitally important, so we have plenty of staff at hand to help advise people of the best ways to enjoy the outdoors, be they walkers, climbers or cyclists. We also encourage people to visit the Scottish Outdoor Access Code website, which is a great place to find out more about everyone's access rights and responsibilities in Scotland's countryside.

Read more about countryside