Things to do with friends

Great days out are even better when you share them with friends! From enjoying picnics and long hikes to discovering historic properties, here are some of our favourite things to do in Scotland.
Explore a glorious garden
National Trust for Scotland gardens are not your average gardens! From dramatically landscaped grounds to world-famous collections of exotic plants, each one is different, and we all have our favourites.
Rare plant enthusiasts can head to Branklyn Garden near Perth city centre, where you'll find delicate dog's tooth violets and spectacular Himalayan blue poppies.
Or travel north to Inverewe Garden in remote Wester Ross to admire New Zealand daisy bushes, Tasmanian eucalypts and panoramic views over Loch Ewe.
Don't miss the fascinating array of 'garden rooms' at Threave Garden, created over the years by students at the School of Heritage Gardening. From rose gardens and rockeries to a new Garden of Contemplation, each small garden showcases a different style – this is the perfect place to find inspiration.
Enjoy a picnic
Pack a blanket and your favourite snacks, and take your pick from some of the best picnic spots in Scotland.
Visit Pitmedden Garden in Aberdeenshire where – with almost 6 miles of clipped box hedging, colourful parterres, over 200 fruit trees, and the sweet scents of honeysuckle and jasmine – you can delight your senses before sitting down in the picnic area for a lovely lunch.
Hill of Tarvit Mansion & Garden is a top picnic spot for families. A short drive from Edinburgh, there's plenty of space in the stunning landscaped grounds. To help you work up an appetite, the children can take on the grown-ups in a mini-Olympics, with lawn tennis, putting, croquet and the famous Kingarrock hickory golf course all on offer.
Wildlife spotting
From tiny bugs to Scotland's 'Big Five', our places offer nature experiences you won't find anywhere else.
The much-loved red squirrels have made their home at more than 20 Trust places, including Killiecrankie, where you might also catch a glimpse of woodpeckers, pine martens and even salmon leaping in the falls beneath Soldier's Leap in autumn. Start off at the visitor centre (with its delicious café) to get an idea of what to look out for.
At our wilder places you can see the likes of red deer, otters, seals and seabirds. Mar Lodge Estate NNR is home to a wealth of different habitats, with free-roaming mountain hares, golden eagles and black grouse. St Abb's Head NNR is known as 'seabird city' – here you'll find huge numbers of guillemots, kittiwakes and razorbills nesting on the cliffs from May to July every year.
Walking and hiking
We've got walking trails and hiking routes for people of all ages and abilities at our places, whether you enjoy a gentle woodland stroll or a challenging mountain ascent.
At the Hermitage you can follow a 1.5-mile trail through the heart of a majestic pine forest and stop off at Ossian's Hall – an 18th-century folly – to get the best view of the roaring Black Linn Falls.
For something more challenging, the Falls of Glomach can only be reached by foot. The hike there and back will take you 6 hours, but you'll reap the rewards with a breathtaking view of one of the highest and most remote waterfalls in Britain.
And Munro-baggers can tick off some of Scotland's most famous peaks at our places, including one of the hardest (the Five Sisters at Kintail & Morvich), one of the 'easiest' (Ben Lomond) and one of the tallest (Ben Macdui at Mar Lodge Estate NNR).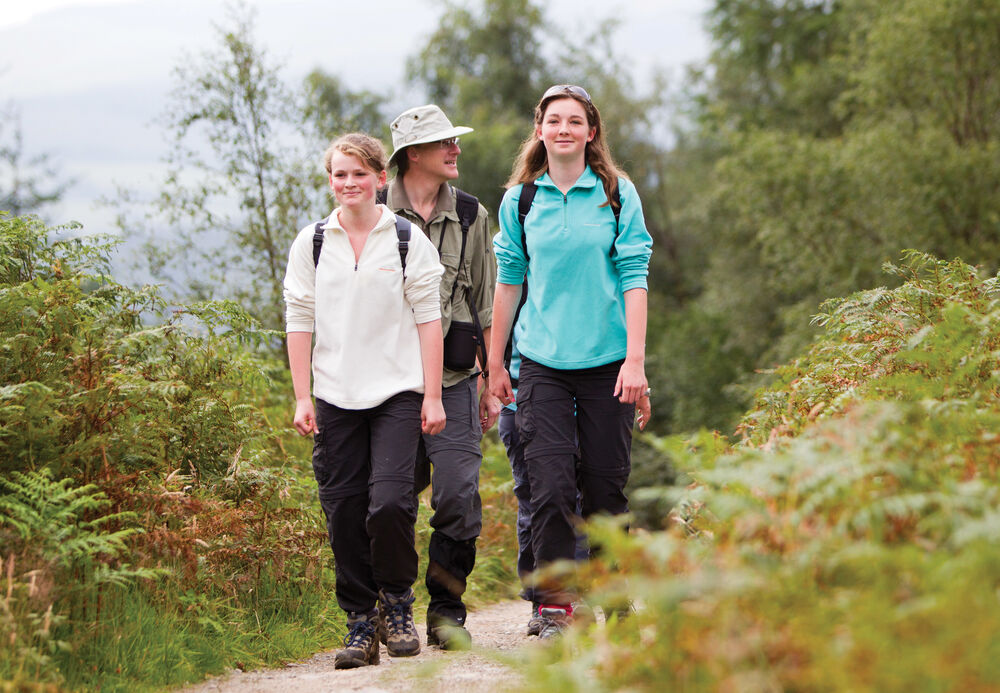 Active adventures
Whether it's just you and a mate, or you're getting together as a family, why not head out into the fresh air and get active?
There are over 30,000 lochs in Scotland of all shapes and sizes, and they're all waiting to be explored. You can kayak along Loch Duich to admire the coastline at Kintail & Morvich, looking out for dolphins and seals along the way. Or, for those who like to pedal instead of paddle, Balmacara Estate is a hotspot for mountain bikers, with exciting trails taking you alongside lochs and over steep terrain.
For younger people with energy to burn, there are mini-adventures to be had at all of our amazing play parks! Little friends can run, swing, climb and explore to their hearts' content at places like the Wild Wood at Crathes Castle and Isle Be Wild at Brodick Country Park.
Discover amazing art
Visiting our places gives you a special experience that you won't get at bigger galleries: the chance to see Scottish artworks in their 'natural habitat'!
One of the best examples is at Broughton House & Garden, where you can see the work of successful 'Glasgow Boy' Edward Atkinson Hornel in the place where he lived and worked from 1901 to 1933.
You can also see works by famous Scottish portrait artist Sir Henry Raeburn at a number of our properties, including at Fyvie Castle, Garden & Estate. Here, 13 of Raeburn's paintings hang on the walls of this imposing fortress, surrounded by lavish interiors and historic artefacts.
The Gallery at Broughton House
Explore Scottish castles
Scotland's castles are one of the jewels in our country's crown – they are filled with fascinating collections and set against some of the most spectacular scenery anywhere in the world. You'll be amazed at the stories they can tell ...
Sitting proudly on its clifftop site, Culzean Castle is outrageously decadent. It was designed by Robert Adam, the top Scottish architect of his day, and contains his famous Oval Staircase as well as a vast collection of pistols and swords. Surrounding the castle are formal gardens, fruit-filled glasshouses and sandy beaches to explore.
Alloa Tower is far more forbidding, at least from the outside. But inside you'll find a sparkling collection of artworks and antiques, which help to reveal the tower's fascinating history involving the Jacobites and Mary, Queen of Scots. The largest surviving keep in Scotland also has a medieval pit dungeon – are you brave enough to sneak a peek?
Find your new favourite museum
Our places tell the story of some of Scotland's most influential figures, from kings and queens to literary icons and famous explorers.
At Culloden you can discover the sombre story of the 1745 Jacobite Rising and almost immerse yourself in the action in our 360-degree battle theatre. Or, a little further north, you can explore the life and work of the famous Scottish geologist, folklorist and fossil hunter at Hugh Miller's Birthplace Cottage & Museum.
Robert Burns Birthplace Museum tells the story of Scotland's National Bard in the cottage where he was born. Nowhere else will you get such a unique insight into the life of a genius – our flagship museum takes you on a journey through the village of Alloway via historical buildings and structures that Burns himself would have known. We also care for a collection of more than 5,000 Burns-related artefacts, including handwritten manuscripts, personal items and even a lock of his hair.
And last but not least ... have a blether over a cuppa
Getting together with pals for a hot drink, a sweet treat and a good chat is a classic Scottish pastime! Here at the Trust we take our baking seriously, and most of our cafés are open all year round, so grab a friend or two and find a cosy corner where you can catch up.
Find your nearest Trust café and inspiration for your next Scottish adventure
Enjoying a break in the café at Culloden
Search for Things to do with friends near you