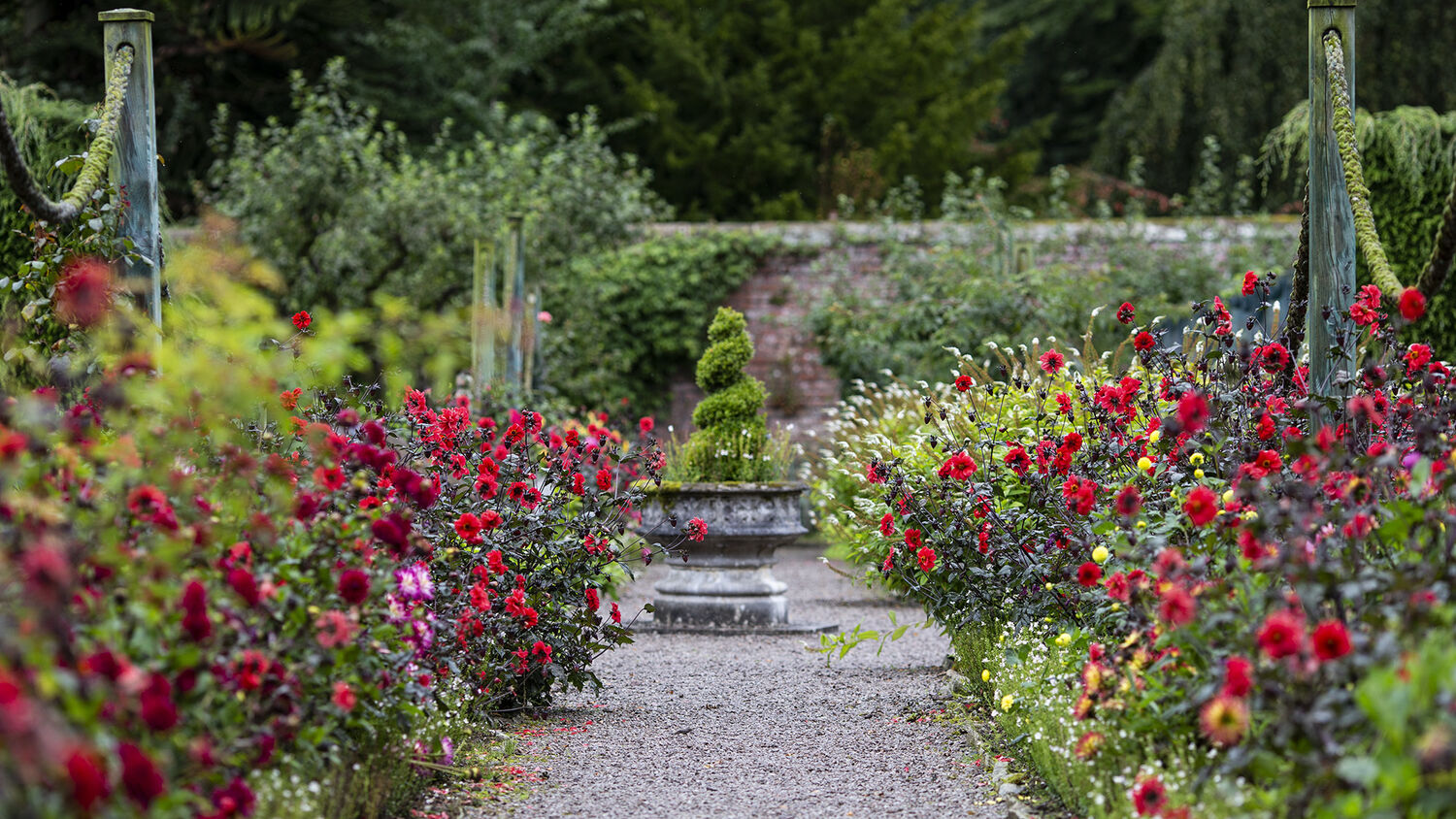 Step out for the perfect stroll at one of our properties. Follow a woodland trail, admire the plants in a walled garden or glasshouse, and spot wildlife on the wider estates.
Inverewe
There's nowhere like Inverewe. Warmed by the Gulf Stream, plants from across the world flourish at this vibrant heritage garden, in a spectacular setting between the mountains and the sea. Located close to Poolewe in Wester Ross, the garden is open from Tuesday–Saturday, 9.45am–4pm. Well-behaved dogs are welcome to visit too.
New for 2022 is an exhibition in the Inverewe Garden Visitor Centre celebrating the life of Inverewe Garden's founder, Osgood Mackenzie, who transformed this windswept promontory into a lush and fruitful place. Start your visit here, before stepping out into the spectacular garden with its celebrated collection of rhododendrons, beautiful blue poppies and the world's most northerly grove of Wollemi pine trees.
Loch Ewe and the surrounding area also has a fantastic variety of wildlife, with otters, seals, eagles and red squirrels among the local residents. For one of the best chances to see many of these species, a boat cruise from Inverewe jetty with local fisherman Jamie Elder cannot be beaten – these trips are recommencing in early May but make sure to book ahead to secure your place.
However, you don't need to take to the water to enjoy a full day at Inverewe. After lunch at Osgood's Café or the Bothy, you've got several enticing options: explore the exhibitions at Inverewe House and the Sawyer Gallery, take a short walk on the low-level Pinewood Trail or discover some of Scotland's most stunning wild landscapes on the longer Kernsary Path, keeping your eyes open for some of the charismatic creatures that call this place home.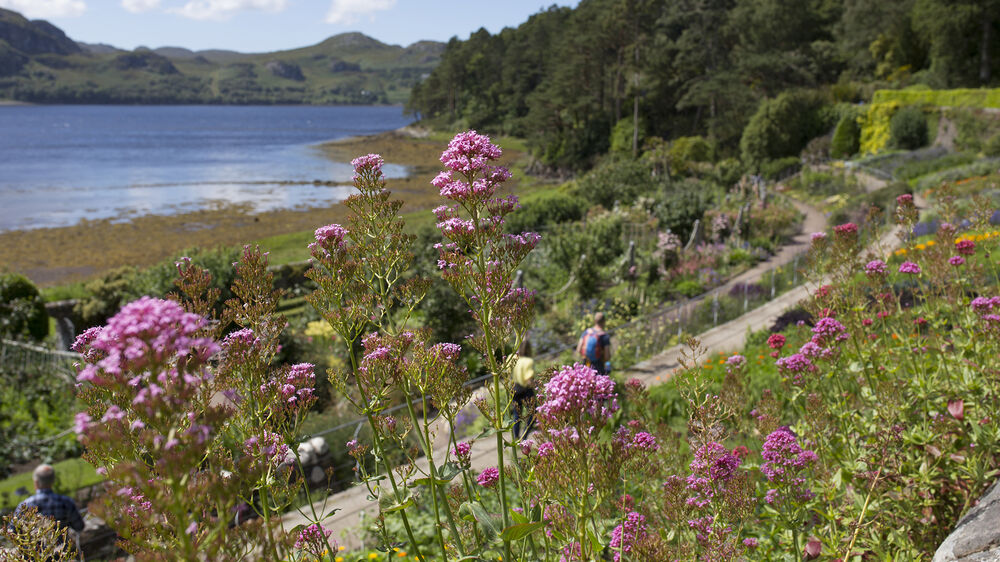 Inverewe Garden and Loch Ewe
Threave Garden & Estate
Spend your day in the fresh air at Threave Garden & Estate near Castle Douglas. Here you can enjoy a walk among glorious gardens before striding out into the richly biodiverse wider estate, where an innovative environmental restoration project is currently underway.
Threave Garden is home to the School of Heritage Gardening for the National Trust for Scotland, and has been for 62 years. Each generation of students leaves its own mark on the space, which is divided into a series of distinct areas (rooms), including ericaceous beds, island beds, a woodland garden and a rock garden. Step inside the Victorian-themed Walled Garden, which grows all types of fruits and seasonal vegetables (both heritage and modern varieties), and discover the Glasshouse displays, showcasing a stunning collection of plants from all over the world. As you wind your way round the garden, you'll find there's a new sensory experience around every corner, including waterfalls, sculptures and the fascinating tree trail that winds through the garden, encompassing British and Scottish champions.
The courtyard of the Stables Café is a great place to watch red squirrels while enjoying a takeaway drink and a snack – but if you don't spot any here, try the squirrel hide beyond the arboretum, in Kelton Hill Wood. And there's plenty more wildlife to be encountered in the wider Threave Estate. Trails lead from the Countryside Centre to our osprey viewing platform, bat reserves and several carefully placed nature hides.
This is a fascinating time to visit Threave, to witness the first impacts of our 100-year project to restore the wetland and woodland habitats at the former Kelton Mains Farm. Already, we have created 7.4 hectares of wetland, planted more than 1000 native trees and are using Belted Galloway cattle to strategically graze the land, improving the biodiversity and encouraging wildflowers, insects and birdlife. Come and see it all come to life this season.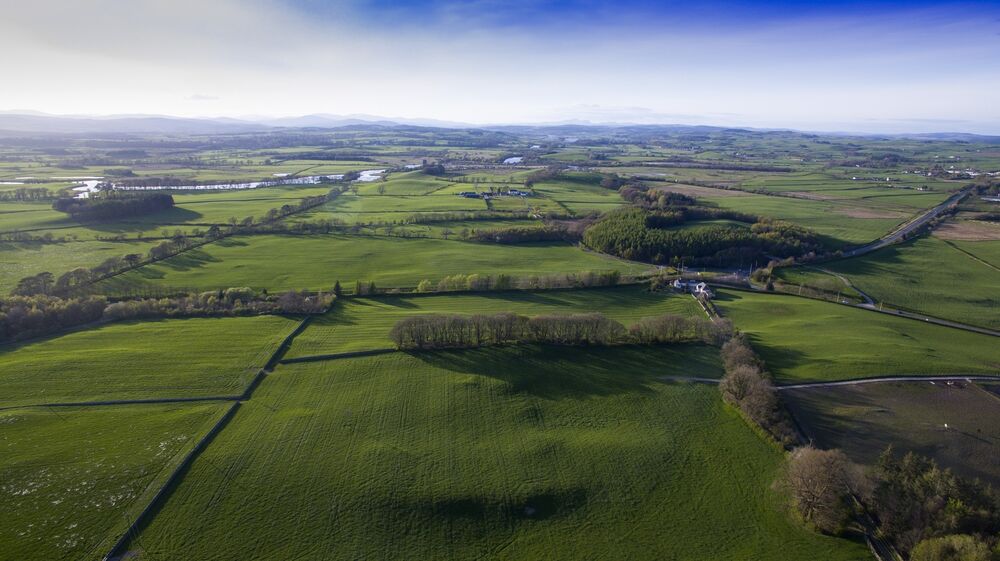 Kelton Mains Farm, part of Threave Estate | Photo: Mike Bolam
Newhailes House & Garden
Kick off your day at this glorious Palladian mansion in Musselburgh with a guided tour, suggests Anna Brereton, visitor services manager.
Peek in open drawers around the house for an insight into family life in the past – they're jam-packed with old possessions. Treasures lurk around every corner, but Anna urges visitors to keep their eyes peeled for some rather incongruous modifications courtesy of Lady Antonia Dalrymple a few decades ago: 'They cut cat flaps in the 18th-century doors,' she explains with a chuckle.
Follow this with a jaunt around the vast and gorgeous grounds. Anna recommends a wander through the trees before a picnic (pack your own or pick up a takeaway sandwich in the café) by the Shell Grotto or the Tea House: 'There's a lovely woodland walk through the 18th-century designed landscape.'
Newhailes' resident potter opens up her studio every weekend, selling her work, and there's also a monthly farmers' market. However you spend your day, there's only one way to round it off, reckons Anna: 'With an ice cream!' Luckily, the parlour in the old dairy serves up sensational scoops, and the Stables Café has an extensive menu of home-baked cakes and other treats.
Stay in touch
Be the first to hear about our latest news, get inspiration for great days out and learn about the work we do for the love of Scotland.