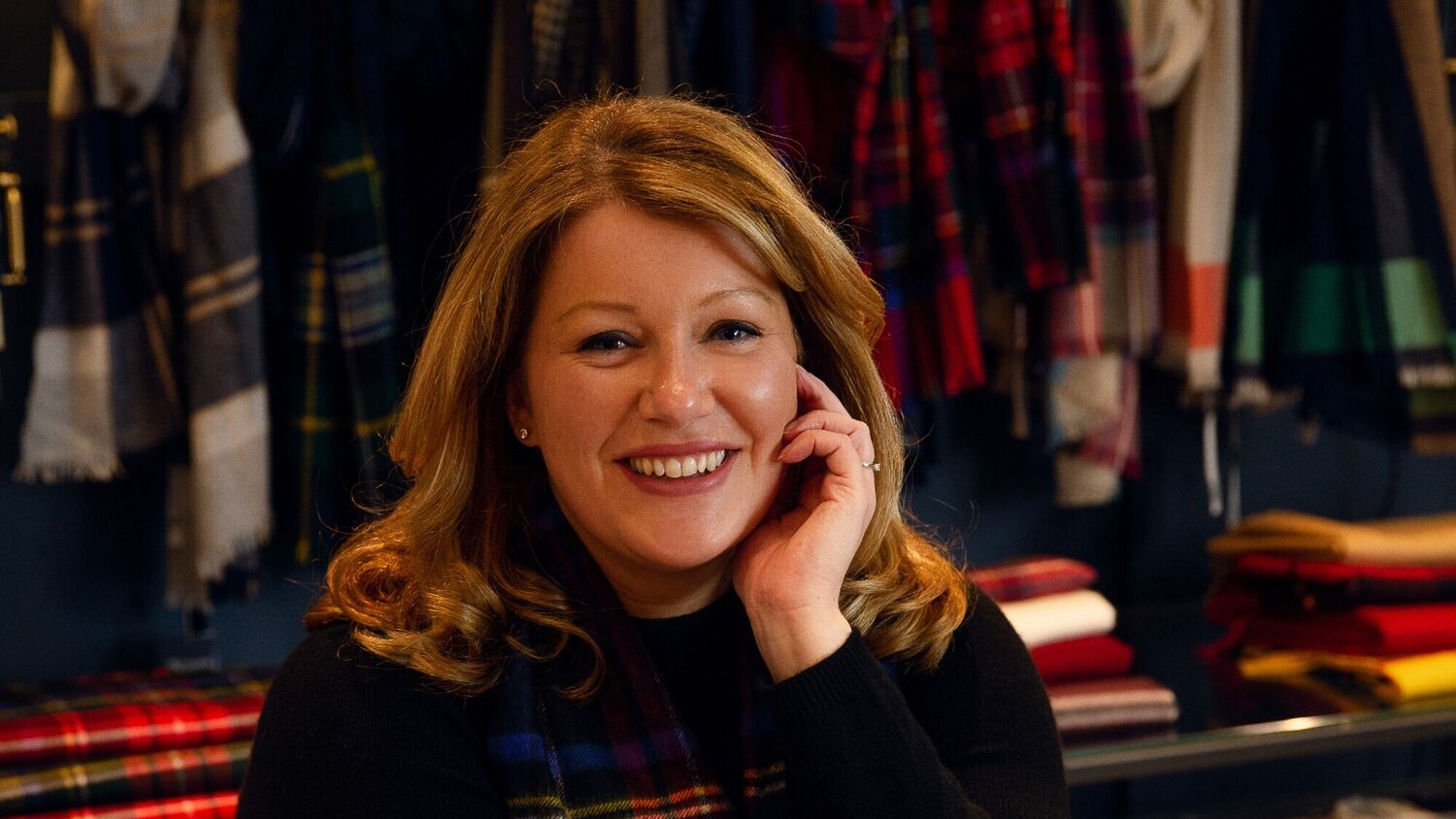 The Trust is proud to support talented makers and craftspeople from across Scotland, by selling their products in our physical and online shops. This time, we meet Jenny Urquhart from Johnstons of Elgin.
My name is Jenny Urquhart, and I'm Chairman of Johnstons of Elgin. We're a family business and I'm the fourth generation, following my father, grandfather and great-grandfather to serve as Chairman.
We've been making the most exquisite cashmere and fine woollen products since 1797, and are so proud that everything we make is manufactured here in Scotland at our two mills. Our focus is very much on working with natural, renewable and sustainable fibres, all of which are super-soft when worn next to the skin. Here in the home market, we're most known for our scarves and each one is made to be enjoyed for many years.
Johnstons of Elgin mill, one of only two vertical mills left in Britain (image courtesy of Johnstons of Elgin)
We began over 220 years ago with blankets and cloths made using wool from locally farmed sheep. We pioneered the weaving of cashmere in Scotland in 1851, the same year that we won our first award – at none other than the Great Exhibition in London. Since those early days, we've been brave in our innovating and have always had a clear vision around maintaining the quality. Innovation plays as important a role as craftsmanship and today we employ around 900 highly skilled people between the two mills.
We celebrate the manufacturing process by allowing and encouraging people to understand it in its entirety, from processing and colouring the raw fibres to blending, carding, spinning, twisting, weaving and finishing every item on one site. Throughout the year, local schools, staycationers and visitors from across the world visit to watch this for themselves. Both mills are open to the public, offering tours of the end-to-end weaving process in Elgin and the knitting process in Hawick.
Our scarves are the iconic product for which we are most renowned; we produce over 2 million cashmere and fine natural fibre scarves every year, all made in Elgin. Our designers thoroughly enjoy collaborating with the National Trust for Scotland team in creating new pieces. We're thrilled that the Trust range has now grown further to reflect the rich and diverse range of its properties and gardens. Each new scarf is inspired by individual Trust places and all follow the same manufacturing process as those we make for the world's leading fashion houses.
At Johnstons of Elgin, we aim to tread lightly, minimising our brand's environmental footprint, and our commitment to sustainability is evident throughout our business. We're founder members of the Sustainable Fibre Alliance (SFA), a non-profit organisation promoting global sustainable cashmere standards to restore grasslands. We now only buy merino wool that is Responsible Wool Standard (RWS) certified, ensuring it comes from farms with a progressive approach to managing their land. All the electricity at our Elgin site is renewable, and we're on a pathway to becoming carbon neutral. We're also working on ways to reduce the number of single-use plastics in our processes. Our EveryYarn range is an excellent example of waste reduction, creating luxurious limited edition products using excess yarn from our main collections.
We're the custodians of a family business that has operated for more than two centuries and we hope our values around quality craftsmanship, community, sustainability and, of course, heritage will carry on into centuries ahead.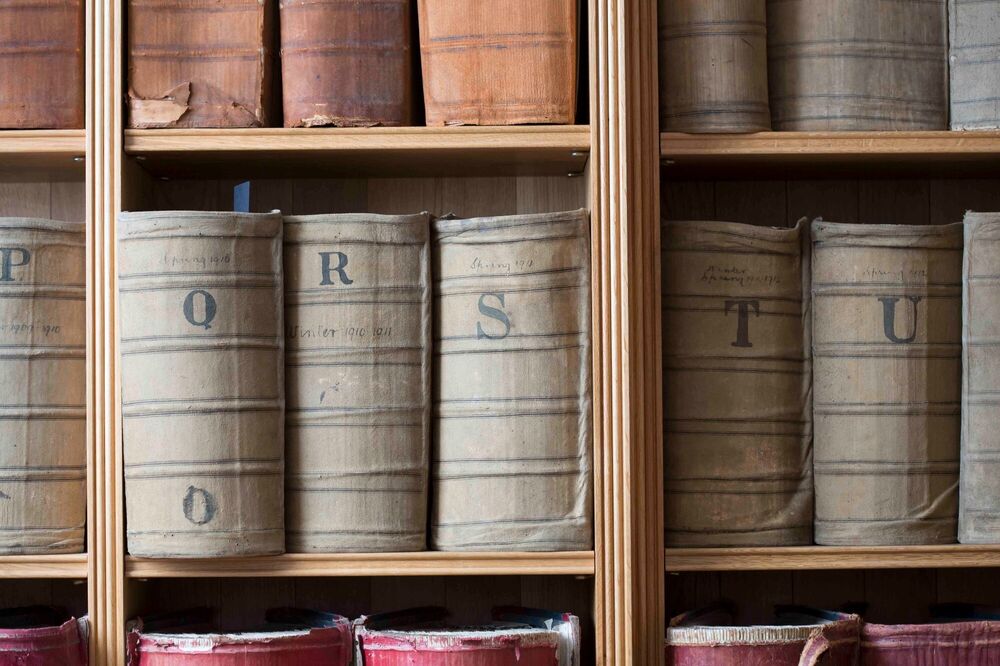 A glimpse of Johnstons of Elgin's archives that cover 224 years of history (image courtesy of Johnstons of Elgin)
What's your favourite thing about running your business?
Everything really. From the energy I get from the creative buzz with the designers, having a sneak peek at the next season's collections and seeing these at each stage of production, to finding out how our latest apprentices are getting on. And from congratulating our colleagues receiving their long service awards to visiting our customers and seeing these new collections in their stores. We have all embraced video meetings over the past year and we've accelerated our digital and online offerings – that's been exciting to see on screen.
What's your proudest moment of your business career?
It's always a highlight seeing our products throughout the world. A few years ago we opened our own Johnstons of Elgin store in New Bond Street London, where the most prestigious fashion houses are located. What made me feel the greatest pride was that every single item in our store was entirely made in this country, and I don't imagine that's something that many others along the same prestigious street could claim. I do hope that our small presence on a street that celebrates global fashion can encourage other brands that our business proposition, in terms of responsible sourcing and manufacturing in this country, is indeed entirely possible and rewarding.
What is your favourite National Trust for Scotland place, and where would you like to visit when we can open our places again?
Brodie Castle is our nearest and a favourite for myself and my children to meet with friends – they love exploring in the Playful Garden and never tire of the brilliant sensory experiences there.
How did you/your business start working with the Trust?
We have appreciated the opportunity to manufacture and supply the Trust for many years. Initially, this was for the supply of more traditional tartans and some new historically important ones. A good example of this is the Battle of Bannockburn tartan, designed in 2013 by Christine MacLeod, who was then property manager at Weaver's Cottage. The first piece of this tartan was woven at Weaver's Cottage by Christine on a 200-year-old loom. Johnstons of Elgin then produced scarves and blankets to be sold at the Battle of Bannockburn when it opened in 2014. I think there's a story behind everything we do, and we love the part we can play in manufacturing.
What's your favourite product that you supply to the Trust, and what was the inspiration behind creating it?
I love them all and could imagine each member of my family selecting a different one! The lightweight merino scarves are a fantastic spring/summer weight, but equally can transition between the seasons. They're so easy to wear and travel with. The colours are especially suited to the brighter months, picking up on the lovely soft, fresh colours of the Trust's flowers and gardens. The Royal Mile tartan colours are bolder with more depth, which mirrors our capital city's rich history. This design, combined with the beautiful brushed finish, is the more traditional of the scarf offerings and perfectly suits the cooler evenings and months.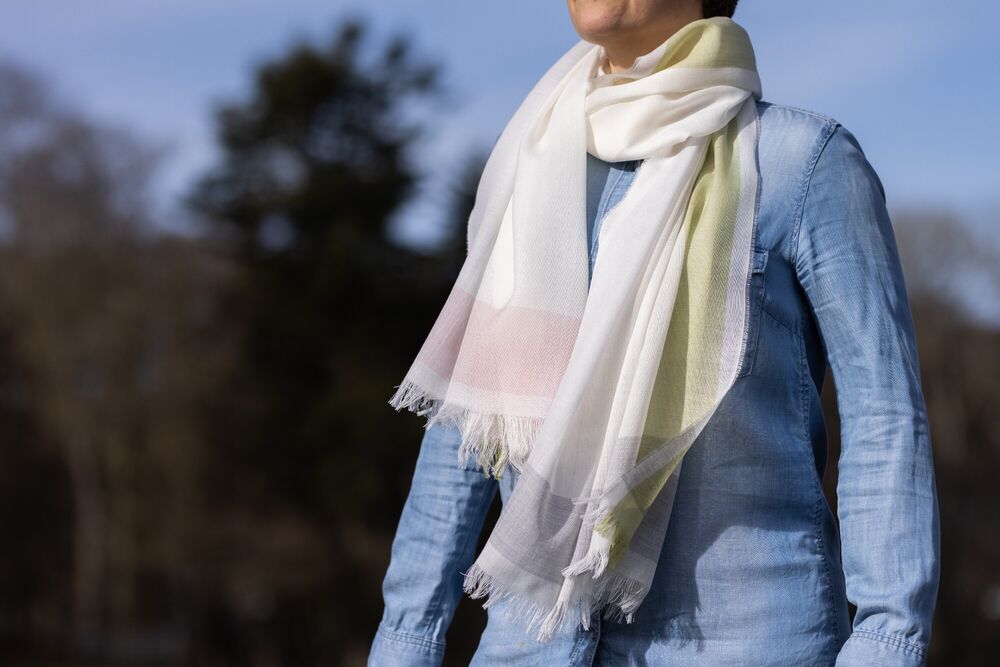 Lightweight merino scarf with Muted Gardens Border
What do you love about Scotland?
I love our settings from the coast to the mountains, rural to urban and the traditions that instantly identify Scotland, like our tartans and estate tweeds. With so many of us becoming increasingly thoughtful and conscious about product authenticity, I'm excited about the opportunities ahead for Johnstons of Elgin and our commitment to always being made in Scotland.
Shop online
Show family and friends you're thinking of them with our collection of great gift ideas.
100% of our profits go towards protecting Scotland's heritage.
Shop now
Stay in touch
Be the first to hear about our latest news, get inspiration for great days out and learn about the work we do for the love of Scotland.