Valentine's Day ideas in Scotland

Looking for some inspiration for Valentine's Day this year? Here are some great ideas for romantic Scottish walks and gifts.
Valentine's Day in Scotland
Depending on where you're from, and how far back through history you look, you might enjoy all sorts of Valentine's Day traditions. In England it was once said that if you put bay leaves at each corner of your pillow, you would have sweet dreams and visions of your future spouse. In Wales, at the end of January, they also celebrate St Dwynwen's Day, when they give each other intricately carved wooden 'lovespoons'. The most popular date for getting married in the Philippines is 14 February – every year mass weddings take place across the country, with hundreds of couples tying the knot simultaneously (and hopefully being careful where they throw the bouquet!).

Here in Scotland, we tend to celebrate Valentine's Day with flowers, cards and chocolates. Of course, people are always looking for new ways to celebrate the life romantic, and we're here with some great ideas.
Romantic places in Scotland
We're not short on romantic scenery here in Scotland, but what about those places you might not think of?
Few places compare to the Hermitage for a sense of tranquillity and romantic atmosphere as you stroll beneath the towering pines. Further south, in Dumfries & Galloway, Rockcliffe is part of a National Scenic Area. It has some of the prettiest coastal landscapes anywhere in Scotland. And then there's The Pineapple near Stirling, a unique historic building bringing a touch of the exotic to a chilly February day.
Although you might not be able to spend this Valentine's Day in the mountains, why not plan bagging your next Munro together? You can reach the peak of Ben Lomond, Scotland's most southerly Munro, with a 5-hour 'couple's climb' (we're going to make it a thing). From there you'll enjoy soaring, soul-stirring views over Loch Lomond and the Trossachs.
There are more Munros at Mar Lodge Estate National Nature Reserve – 15 of them, in fact – as well as a vast number of treks and hikes that take in the spectacular pinewoods and heather-clad moorland.
Of course, it's not only our countryside properties that are great for walks – our castles all come complete with beautiful grounds, each filled with loads of things to see and do. Among the woods, beaches and parkland of Culzean Castle & Country Park you'll find hidden caves, glasshouses and the stunning Swan Pond, while at Crathes Castle you can meander your way through an exquisite walled garden.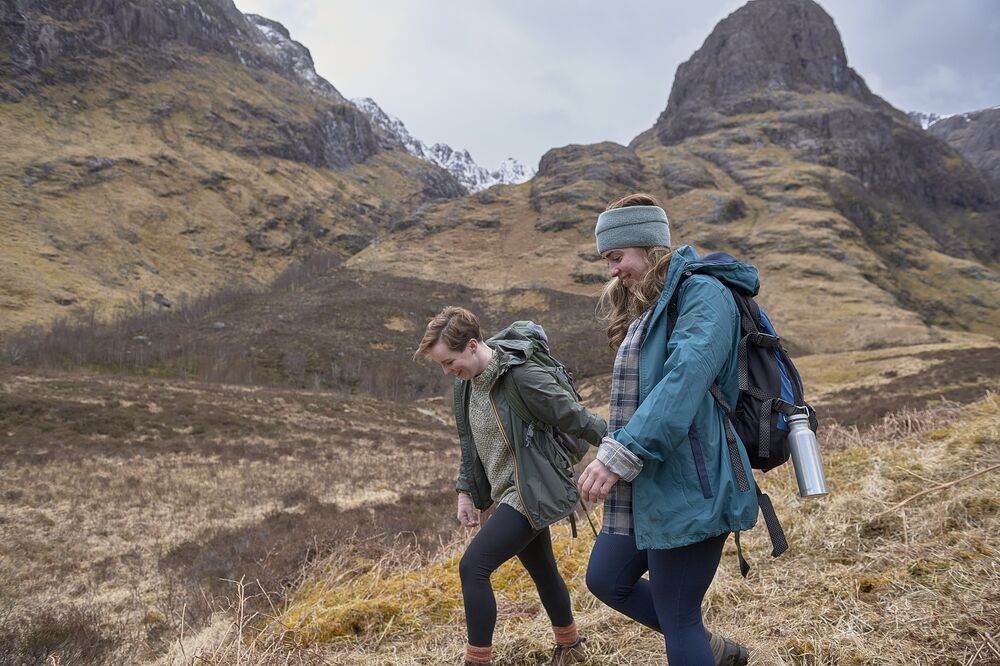 Walking in scenic Glencoe
Mystical landscapes and turreted castles; picturesque villages and stylish city centres: Scotland has everything that you could want for the perfect romantic getaway or weekend break in the UK! Our unique holiday properties are ideal for a couple's retreat, combining scenic locations, cosy interiors, and cultural treasures on your doorstep.
Romance means different things to different people, but Scotland has it all – just like our fantastic holiday homes. A stay at one of our places is a truly special experience, and at the same time you are supporting our work to protect these beautiful places, meaning you can return to your favourite romantic getaway again and again.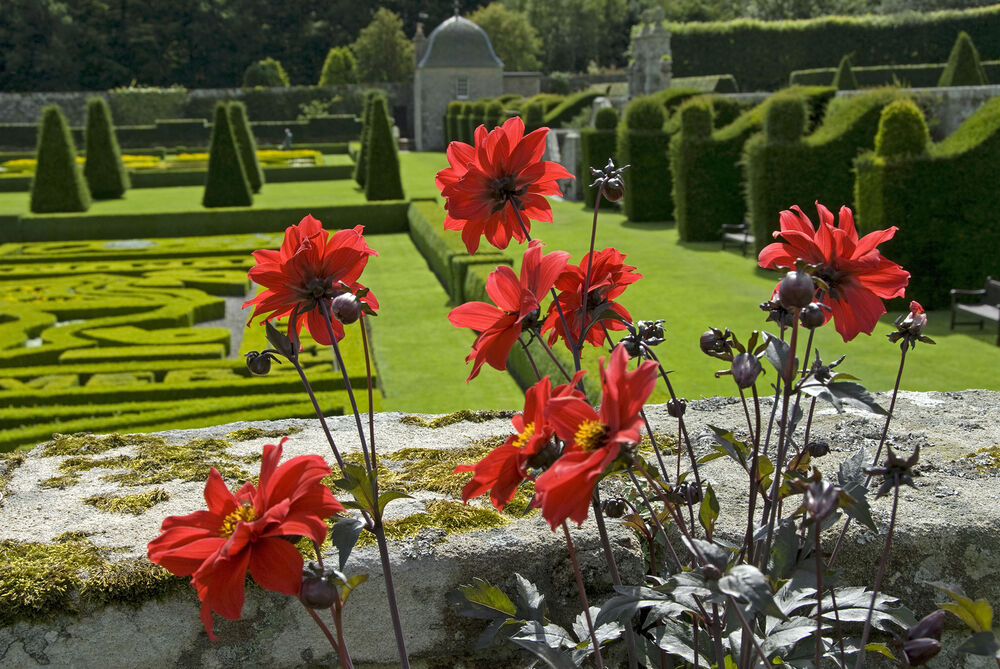 Did you know that in Denmark people often send pressed snowdrops to their beloved instead of roses? We have lots of places where you can see snowdrops in bloom.
At Fyvie Castle in Aberdeenshire you'll find some stunning snowdrops, while at Threave Garden the spectacular snowdrop displays are accompanied by hellebores that provide an extra pop of complimentary colour. At House of Dun & Montrose Basin Nature Reserve the floor of the ancient woodlands are carpeted with snowdrops as far as the eye can see.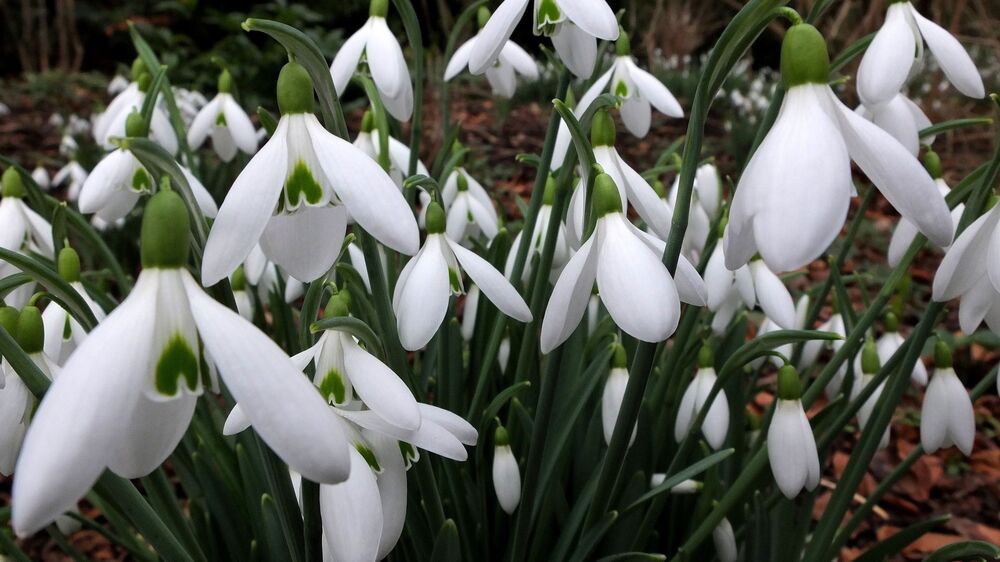 We all know chocolate is a go-to Valentine's Day gift around the world. In Ghana (one of the world's biggest cocoa producers), 14 February has been renamed National Chocolate Day, while in Japan almost half of the year's chocolate is sold around Valentine's Day. But what if your sweetheart doesn't have a sweet tooth?
Choosing a special gift from our online shop will help the Trust to protect the places we all cherish.
We love our range of cosy wool scarves for both him and her, but there's lots more to choose from. Valentine's Day gifts include some lovely skincare products, our range of exclusive whiskies and gins, wash bags, Scottish lip balm and these gorgeous notebooks. Oh, and if jewellery is your thing, then our collections of beautiful silver necklaces would inspire a great gift!
With all these ideas, we're sure you'll have an amazing Valentine's Day. And hopefully you'll fall in love with some of our places along the way!
Search for romantic places near you