Things to do in Ayrshire and Arran
Want to fill your days with scenic walks, outdoor activities and trips to some of Scotland's best-known historic places (including the famous birthplace of Robert Burns)? Go west! The wonderful Ayrshire coastline and the rugged island of Arran are easy to get to and packed with fun things to do.
Here are some of the best things to do in the area. They'll leave you feeling inspired, exhilarated and already planning your next visit!
Burns Cottage and Robert Burns Birthplace Museum
Robert Burns's poetry is known and loved all over the world, and there is no better place to discover the story of Scotland's National Bard than in picturesque Alloway. Here you can visit the humble cottage where he was born and see the sights that inspired some of his best-known works.
Thousands of artefacts, including handwritten manuscripts, artworks and even a lock of Burns's hair, tell the tale of this treasured poet. Our unique museum experience weaves through the village and includes different buildings and landmarks that celebrate his life and legacy.
Don't miss!
The cosy cottage where Burns was born and lived until the age of seven. Hear a spooky rendition of Burns's famous poem Tam O' Shanter in the atmospheric kitchen.
The spectacular Grecian-style Burns Monument, which you can climb to enjoy panoramic views over Alloway and Ayrshire beyond.
Plan your visit
This small, thatched cottage was the home of John Davidson, an 18th-century souter (shoemaker) who was supposedly the inspiration for Souter Johnnie in Robert Burns's famous poem Tam o' Shanter. Tam spends an evening with his friend Johnnie and landlady Nance Tunnock 'wi' reaming swats [creamy ales], that drank divinely'.
In addition to Robert Burns Birthplace Museum and the Bachelors' Club, the cottage helps to paint a picture of the life of Ayrshire's most famous son.
Don't miss!
The life-size sculptures of Tam, Souter Johnnie and Nance Tunnock on display in the thatched outbuilding. They show how Burns visualised his characters.
Robert Burns co-founded the Tarbolton Bachelors' Club in 1780, a few years before his first collection of poems was published. In this red-shuttered 17th-century house he learned to dance, became a freemason and started a men-only debating society.
Here you'll get a rare and atmospheric glimpse into Burns's formative years, and learn how he made friends and socialised.
Don't miss!
The '10 Rules of Membership' for the club, written by Burns.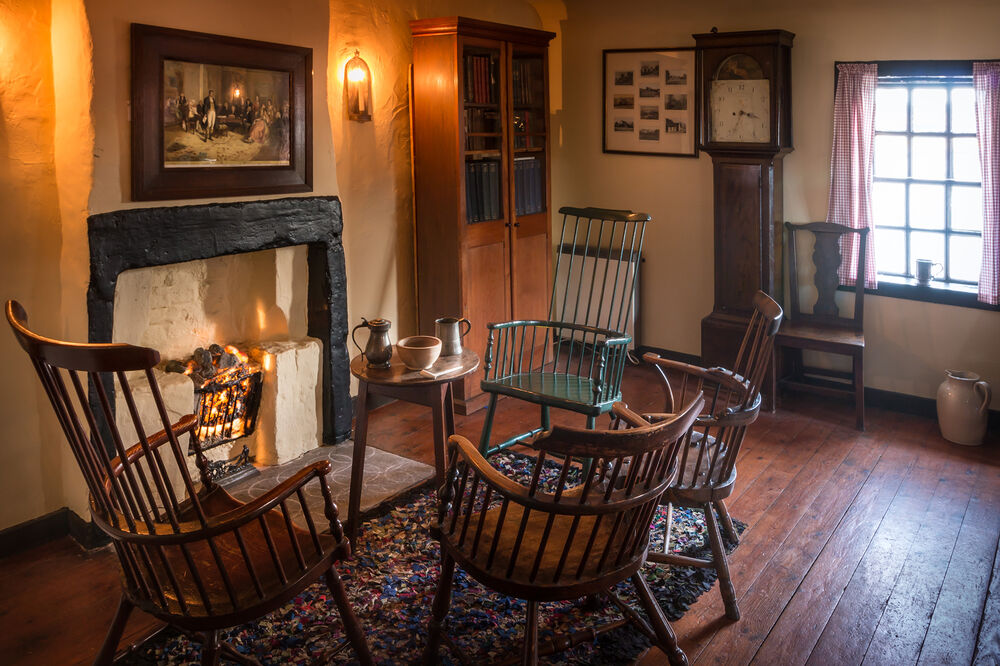 Culzean Castle & Country Park
Widely regarded as one of the most decadent and magnificent castles in Scotland, Culzean was designed by famous architect Robert Adam in the late 18th century. It houses a seemingly endless bounty of treasures, from famous paintings to flintlock pistols.
The castle perches atop the Ayrshire cliffs, offering amazing views across the Firth of Clyde to Ailsa Craig and Arran. The extraordinary surrounding 206ha estate is home to woodlands, beaches, formal gardens and much more, along with plenty of interesting wildlife.
Don't miss!
The Oval Staircase in the castle – this dramatic centrepiece typifies the style of Robert Adam, with its classical colonnades and grand collection of oil paintings.
The serene Swan Pond – sheltered on three sides by beautiful woodland, this is the perfect place to take a gentle stroll or sit and watch the waterfowl.
Plan your visit
Troon
This pretty coastal town, 7 miles north of Ayr, has a few claims to fame. You might recognise it from the hit TV show Outlander, where it provided the setting for the scene when Jamie and Claire boarded a ship to France in Season 1. Or you might know it best as the home of Royal Troon Golf Club, one of the most prestigious links courses in the country.
Our favourite thing about it is the spectacular beaches and panoramic views over the firth to the Goatfell range on Arran.
Follow the Outlander trail around Scotland
Scottish Maritime Museum
Set a course for the town of Irvine (8 miles down the coast from Ardrossan ferry terminal) to visit the award-winning Scottish Maritime Museum dedicated to the story of inventors, craftsmen and explorers who shaped shipbuilding around the world. This is a great place to visit with children before (or after!) taking the ferry across the water to the Isle of Arran.

The Goatfell range and Arran seen from the North Ayrshire coast | Image: John Sinclair
Stay in touch
Be the first to hear about our latest news, get inspiration for great days out and learn about the work we do for the love of Scotland.
Brodick Castle, Garden & Country Park
The historic fortress of Brodick Castle overlooks the Firth of Clyde, watching the ferries bringing people to Arran from the mainland. As the ancient seat of the Dukes of Hamilton, the castle is home to priceless antiques and its walls could certainly tell plenty of fascinating stories. It's also one of our favourite places for children, with lots of interactive activities for young explorers including a dodo trail!
Outside you'll find a fascinating garden, complete with beguiling fairy trails, beautiful sculptures and lots of exotic plants. Brodick is also home to Britain's only island country park, with miles of walking trails and all sorts of wildlife to discover among the woodlands, waterfalls and hillsides.
Don't miss!
The Victorian arcade inside the castle, with traditional roll-a-derby horse-racing and other fun games.
The Plant Hunters' Walk, which tells the story of pioneering gardener Lady Mary Louise Hamilton and the brave explorers who brought rare plants to Brodick Castle.
Plan your visit
Arran is known as 'Scotland in miniature' due to having our favourite Scottish habitats all in one place. And that includes the typical towering, rugged mountains you find in the Highlands. The tallest peak on Arran is Goat Fell at 874m and it's a popular destination for ambitious hill walkers and climbers.
To reach the top takes most folk around 3 hours (and then another couple of hours to come down), and on a clear day you can see hundreds of other peaks, even as far as Ireland and the Isle of Man. If you don't want to climb to the summit, the wider area of Goatfell provides lots of opportunities for scenic walks – the beautiful Glen Rosa is well worth exploring.
Don't miss!
The interesting plants and animals that call Goatfell home: buzzards and golden eagles in the sky; tiger beetles, emperor moths and sweet-scented heather on the ground. Listen out for the cuckoo calling in summer.
The views from the top – best enjoyed with a warm flask and some sweet treats!
Plan your visit
Lochranza Distillery
Whether you're a whisky connoisseur or a first-time taster, a trip to any part of Scotland can be accompanied by a local whisky experience. The oldest distillery in Arran, the first of its kind, is in picturesque Lochranza at the northern end of the island, just a half-hour drive from Brodick Castle.

Stay a little longer
Ayrshire & Arran is packed full of places to visit – why not stay in one of the Trust's holiday cottages in the region and enjoy a break here? From rooms in the grand Eisenhower Apartment of Culzean Castle to staying in a bunk house in Brodick Country Park, we have a wide range of accommodation options. Many of our cottages offer short breaks and are open all year round as well.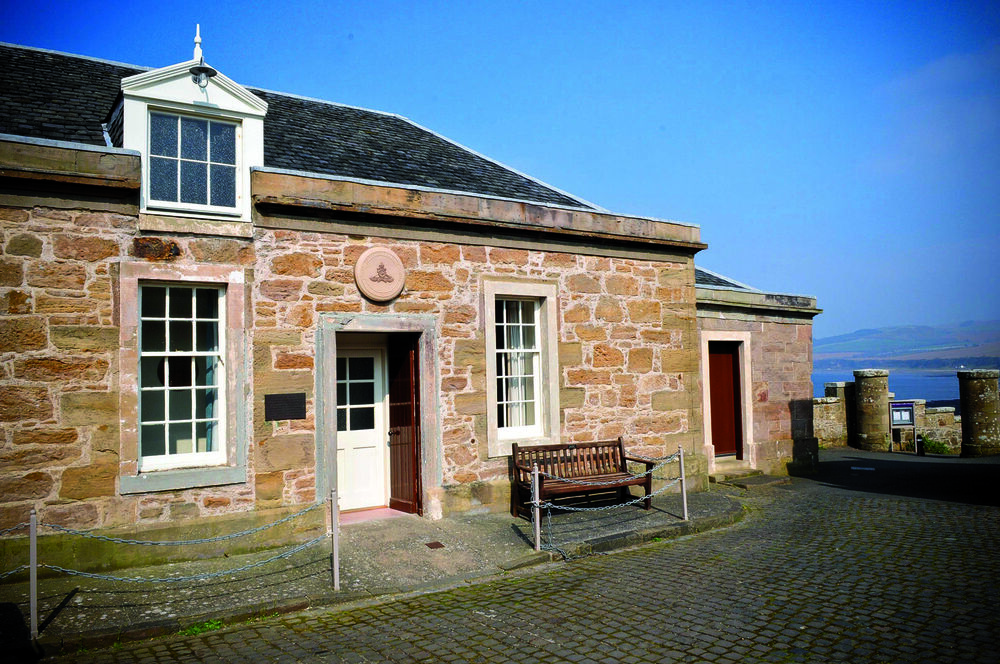 Royal Artillery Cottage, Culzean
Things to do in Ayrshire and Arran