Looking for the best Scottish gardens to visit? Discover the most beautiful gardens near you and all over Scotland, with something to suit all tastes. From Threave Garden in Dumfries & Galloway to Inverewe Garden in Wester Ross, the National Trust for Scotland cares for many glorious gardens and designed landscapes, covering over 1,500 hectares of land.
Culzean Castle, Ayrshire
The gardens at Culzean Castle are simply stunning. Take inspiration from the flamboyant formal gardens, and marvel at the magnificent double walled garden, with its huge herbaceous borders and beautifully restored Victorian vinery.
Branklyn Garden, Perthshire
If you're a rare plant fanatic, you'll love the enchanting Branklyn Garden – an attractive, peaceful haven within walking distance of Perth city centre. Created in the 1920s, and overlooking the city, this verdant spot is an exhibition of colours and rare species.
The garden holds the national collection of the Himalayan blue poppy, as well as many other plants grown from seeds collected by celebrated plant hunters and botanists.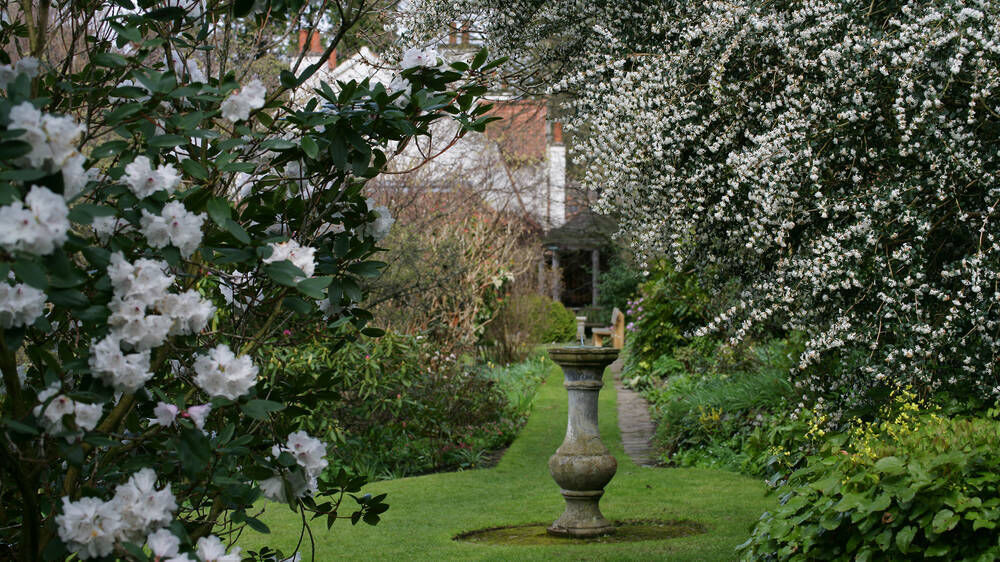 Inverewe Garden, Wester Ross
In one of Scotland's most remote corners, the iconic Inverewe Garden provides a year-round calendar of colour and scent, and is home to exotic plants from around the world, such as Himalayan blue poppies, rare Wollemi pines, New Zealand daisy bushes and Tasmanian eucalypts. Lose yourself in the lush setting and enjoy unrivalled views across Loch Ewe and the wider estate, home to Scotland's 'Big 5' species – red squirrels, golden eagles, red deer, seals and otters.
Did you know?
Inverewe's creator Osgood Mackenzie spent 20 years growing a shelterbelt – a protective brand of trees – around the perimeter of the garden before he planted any flowers.
Crathes Castle, Aberdeenshire
Visit the enchanting Crathes Castle estate and discover one of its best features – the stunning walled garden.

Split into eight areas that incorporate every green delight imaginable, the garden includes sculpted topiary, soft herbaceous colours and modern exotic blooms.
Nature spotters will love the waymarked trails along the Coy Burn. Keep an eye out for buzzards, herons and kingfishers – they've probably been at home on the estate for at least as long as the castle walls.
Brodick Castle, Isle of Arran
The grounds of Brodick Castle offer something for everyone. Take a stroll through the colourful formal gardens, admire stunning waterfalls and bathing pools, and enjoy miles of woodland trails, where you'll spot an abundance of wildlife, including red squirrels. Discover the new Silver Garden, which beautifully reflects the castle's extensive silver collection and includes art installations, along with a silver talking tube, xylophone and wind chimes.
Stay in touch
Be the first to hear about our latest news, get inspiration for great days out and learn about the work we do for the love of Scotland.
The garden at Falkland Palace is widely acknowledged as outstanding both for its historical value and as a work of art.

Wander through the historic orchard, complete with a spectacular display of cherry and apples trees, as well as a living willow labyrinth. Marvel at the beauty of the formal gardens, filled with colour and fragrance from the herbaceous perennials, all set against the backdrop of the stunning palace itself.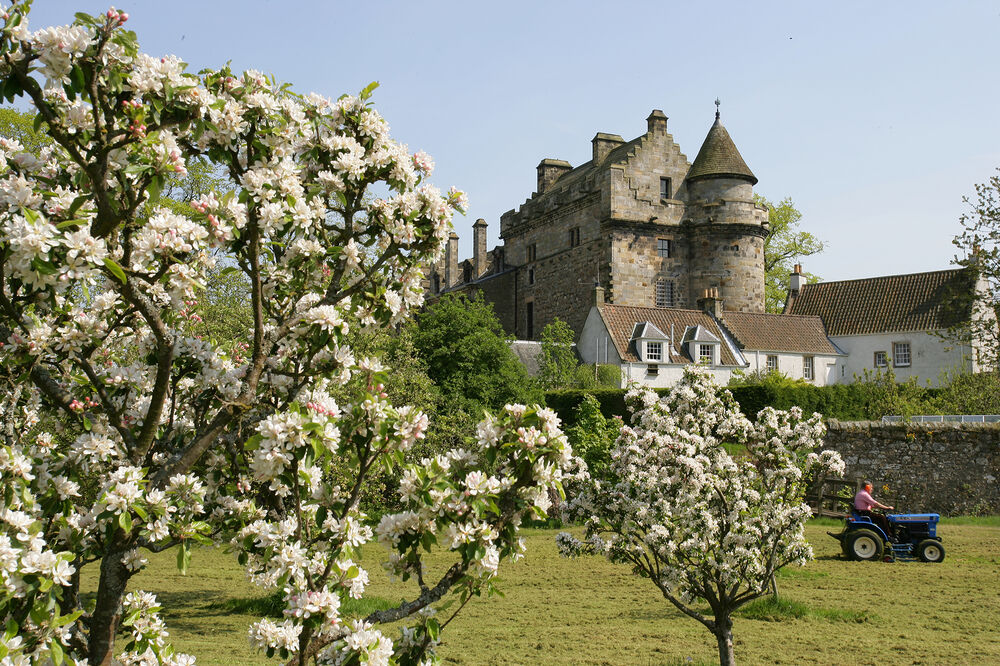 Threave Garden, Dumfries & Galloway
Lovingly created over the years by students of our School of Heritage Gardening, Threave Garden is one of the best examples of landscaped beauty. Divided into a series of smaller gardens to showcase different styles, it includes a rose garden, rockery, walled garden and the brand-new Garden of Contemplation – a beautiful, peaceful space specially designed for quiet reflection.
Glasgow & Argyll gardens
A must-visit for enthusiastic gardeners, Greenbank Garden is an oasis of greenery boasting over 3,600 plant species. Explore the walled garden surrounded by beech trees and wildflower meadows.
Punches of colour, a succession of seasonal plants and delicious fresh fruit and vegetables give the celebrated Geilston Garden its classic yet vibrant feel.
Marvel at the exotic botanicals to be found at the tranquil oasis that is Arduaine Garden, and take a stroll across to the coastal viewpoint to enjoy a remarkable panorama of the Sound of Jura.
Crarae Garden is a spectacular 50-acre woodland garden in a dramatic setting with a wonderful collection of plants centred around the Crarae Burn, which tumbles through a rocky gorge in a series of cascades.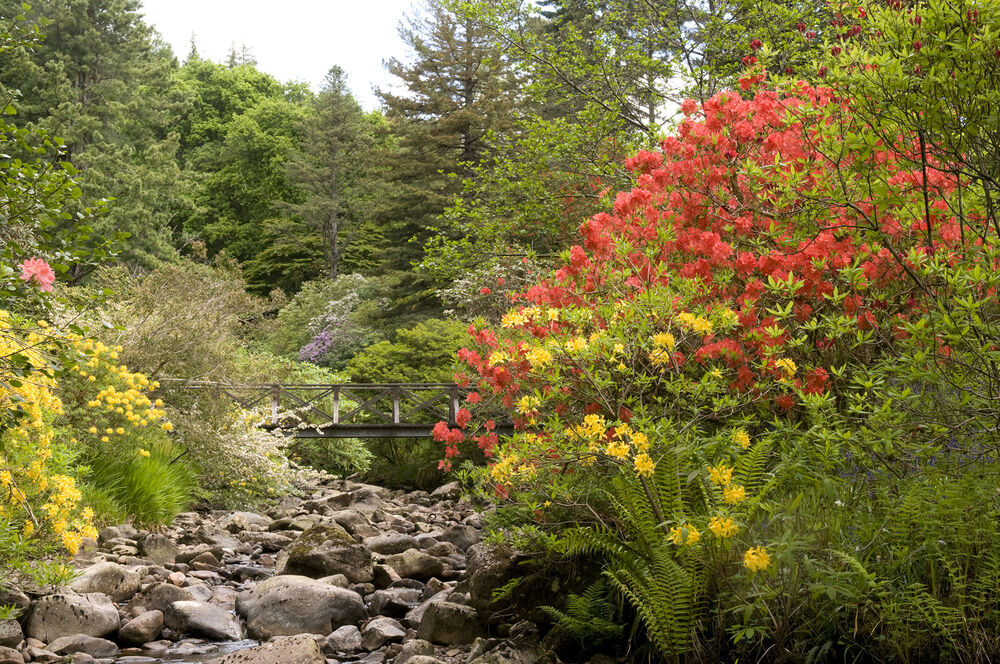 Did you know?
Crarae Garden hosts an amazingly varied collection of trees – some are champions of their species – and a National Collection of southern beech (Nothofagus).
Fife & Stirlingshire gardens
Explore the landscaped gardens of Hill of Tarvit Mansion, with its formal lawns, yew hedging, flowering borders and a sunken rose garden, all designed by celebrated architect, Robert Lorimer.
Take a wander through the Arts & Crafts garden of Kellie Castle, complete with magnificent herbaceous borders, filled with the heavy scent of old roses, along with fruit and vegetables which are all grown organically.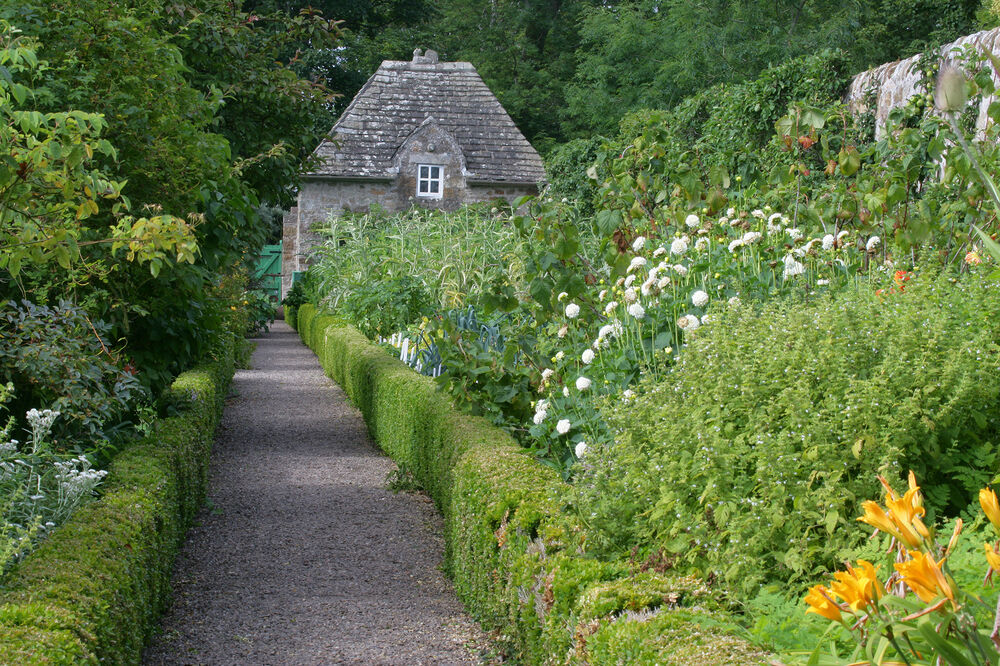 The walled garden at Kellie Castle
The intriguing shape of The Pineapple sits at the head of this relaxing walled garden. The grounds are an oasis for wildlife, where you can enjoy a peaceful walk around the former curling pond.
Culross Palace is a must-see property, with a beautifully reconstructed multi-level period garden, overlooking the Firth of Forth. It is complete with herbs, fruit and vegetables, and rare Scots Dumpy hens.
Search for the best gardens near you