To see Glencoe at its best, bring your walking boots and come prepared for all weathers (especially the wet) ... you'll be rewarded with some outstanding views over the Pass of Glencoe, Loch Leven and Glen Etive, as well as the chance to see lots of rare wildlife and some of Scotland's most poignant historical sites.
Glencoe walks
We look after 60km of footpaths in Glencoe National Nature Reserve, so there's plenty of choice for walkers of all abilities and interests, from tranquil riverside and woodland rambles to epic mountain hikes. You're guaranteed breathtaking Highland views and the chance to spot wildlife, whether you climb high or prefer to explore at a more leisurely pace in the glen below.
There are fantastic views and perfect picnic spots to be found on short, easy walks through the young native woodland that surrounds our Visitor Centre. You can reach Glencoe village from here too, in just over a mile.
At An Torr, a variety of trails explore ancient woodland and pine plantations in the central part of the glen and follow the River Coe as it tumbles towards the sea at Loch Leven. You can climb up through towering trees and lush mossy hillsides to Signal Rock, at the top of Tom a' Ghrianain (Hill of the Sun). This historic spot is thought to have been used by the people of the glen for ceremonial activities for thousands of years and as a beacon where the MacDonalds of Glencoe would gather in times of emergency. It's also reputed to have been used by the Campbells to signal the start of the infamous Glencoe Massacre on 13 February 1692, but there's little evidence for that.
The walk up to Coire Gabhail (also known as the Hidden Valley) is a 2–3 hour climb on a mountain path through a narrow gorge, the remnant of an ancient rockfall. High above the Pass of Glencoe, it opens out into a wide natural amphitheatre, surrounded by the mountain ridges. The MacDonalds once concealed cattle that they had rustled from neighbouring clans up here. In 1692, in the depths of winter, some of those who escaped death at the hands of Government soldiers fled here too.
If you'd like a longer walk but don't fancy a mountain top, the Two Lairigs is a fantastic circular route through two hill passes between Glen Coe and Glen Etive: the Lairig Eilde and the Lairig Gartain. This is a 9-mile walk on hill paths, with some boggy stretches and some unbridged burns to cross. While not an easy walk, it's a memorable one and offers the chance to escape to the wildest corners of the glens.
Munros
We care for eight Munros in Glencoe, some of which are easier to reach the top of (or 'bag') than others, but all of which will require plenty of preparation, stamina and a respect for the risks!
The most recognisable peak is the pyramid-shaped Buachaille Etive Mòr, the 'big herdsman of Etive', which comprises two Munro summits at the eastern end of Glencoe, overlooking Glen Etive and Rannoch Moor. Its north face has long been a favourite location for rock climbers.
Perhaps better for Munro-bagging beginners is its often-overlooked neighbour, Buachaille Etive Beag. Also encompassing two Munro summits, there's a well-maintained mountain path for much of the route. The views from the top across Loch Etive and over the surrounding peaks are utterly unforgettable.
At the western end of the glen, Bidean Nam Bian is the highest of Glencoe's mountains and combines another two Munro summits. Its dramatic northern ridges are known as the Three Sisters. The walk is a complex, challenging route with plenty of scrambling.
Strictly for the most experienced climbers is the ridge of Aonach Eagach, linking the Munros Meall Dearg and Sgorr nam Fiannaidh. Famed as the narrowest ridge on the British mainland, it offers hard, exposed scrambling, requiring experience and a seriously good head for heights.

For more inspiration and advice on walking in Glencoe, plus daily weather updates and avalanche forecasts in winter, pop into our visitor centre and speak to our Welcome Team.
More outdoor adventures at Glencoe
Glencoe is also world-renowned for rock climbers; under snow and ice, it becomes one of Scotland's most popular winter climbing and skiing locations.
Glen Etive is a favourite spot for campers, while the pools, waterfalls and rapids of the River Etive are cherished by wild swimmers and paddlers alike.
From spring through autumn, our popular Land Rover tours offer the chance to head slightly off the beaten track with our rangers. You can choose between a 1½-hour or 3-hour tour, and discover all about the glens' history, wildlife, geology and more!
Check our Events page for further information, dates and bookings.
An Torr trails
Difficulty

Easy

Time

Blue Trail – 45 mins; Black Trail – 1 hour; Yellow Trail – 25mins

Distance

Blue Trail – 1¼ miles; Black Trail – just over 1 mile; Yellow Trail – ¾ mile

Facilities

Car park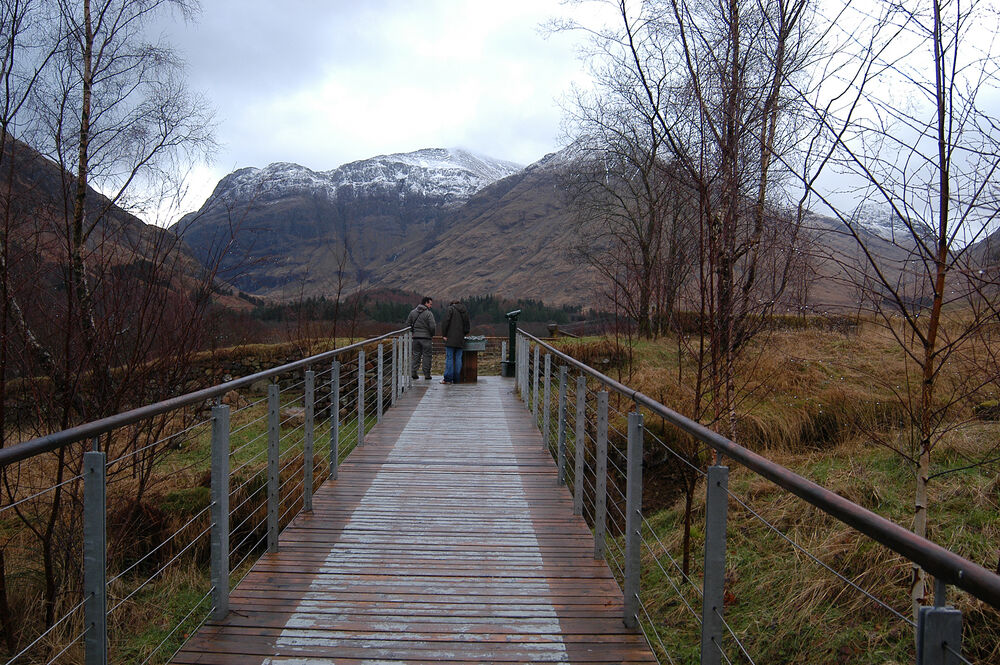 Woodland trails
Difficulty

Easy

Time

30 minutes

Distance

Blue Trail – just over 1 mile; Black Trail – ½ mile; Yellow Trail – 300m (the Yellow Trail is an all-access trail)

Facilities

Car park