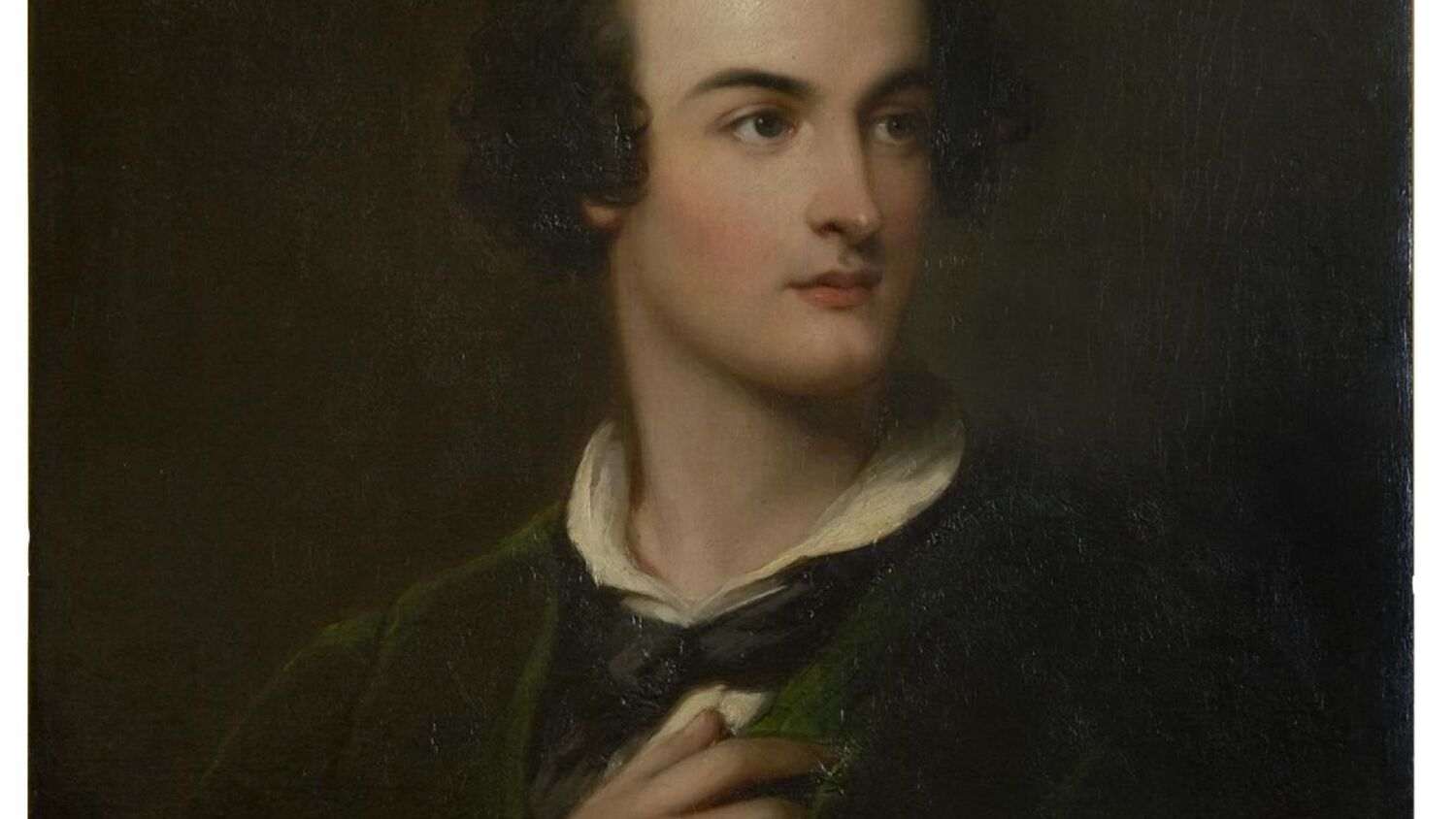 Handsome and rich, William inherited the extravagant spending habits and the sense of family pride held by both his father and grandfather.
William was born on 19 February 1811 at the Hamiltons' London home in Grosvenor Place. His parents – Alexander, the future 10th Duke of Hamilton and Susan Euphemia, youngest daughter of the famous collector and novelist William Beckford – had married the previous year. His only sibling, Susan, was born in 1814. William was educated at Eton before following in his father's footsteps and graduating from Christ Church college, Oxford in 1832.
He held several important offices in his lifetime including Knight Marischal (1846–63), an office created in 1633 for the Scottish coronation of Charles I, and Lord Lieutenant of Lanarkshire (1852–63). However, like his father, William wasn't particularly active in his official roles and was better known as a collector of silver and books as well as a member of the Roxburghe Club, a prestigious and exclusive bibliophilic society. His pride was another trait that he had inherited from his father; the former Lord High Chancellor Henry, 1st Baron Brougham (1778–1868) referred to him as the 'Very Duke of Very Duke'.
In 1843 William married Princess Marie Amelie of Baden (1817–88), the youngest daughter of Napoleon I's adopted daughter Stéphanie de Beauharnais (1789–1860) and Karl Ludwig Friedrich (1786–1818), Grand Duke of Baden. The 10th Duke of Hamilton was an admirer of Napoleon I, and the wedding was undoubtedly arranged because of Marie's close connection to the Emperor. The celebrations took place on 23 February at Mannheim Palace, Germany, and the couple stayed on the Continent for their honeymoon.
When William and his 'illustrious consort' finally visited Hamilton Palace on 14 September 1843, there were extravagant celebrations, including a 4-mile-long procession, triumphal arches, crowds of spectators and lavish dinners for about 2,800 people. They were received on the steps of the Palace by the 10th Duke, watched by a crowd of onlookers, which was reported to be as large as 40,000 or 50,000. A commemorative book with large lithographs of the great event by Maclure & Macdonald of Glasgow was produced, and copies were distributed to family and friends ... and handed out later to important visitors to the Palace.
After spending a week at Hamilton Palace, William took Marie to Brodick Castle on the Isle of Arran, where as a young bachelor he had entertained his friends in the 1830s. The steamship Lady Kelburne was hired on Saturday 23 September to transport them down the River Clyde from the Broomielaw, Glasgow, for their stay at Brodick. With the main Hamilton residences still controlled by the 10th Duke and Duchess, Brodick had been allocated as a suitable property for the newly married couple to live in when they stayed in Scotland.
The painting below shows William and Marie (on the top step) grouped around the old front door of the castle, with a selection of friends and William's sister Susan (to the left of William). The door and steps still exist, and visitors today pass them walking along the path from the café to the main entrance of Brodick Castle.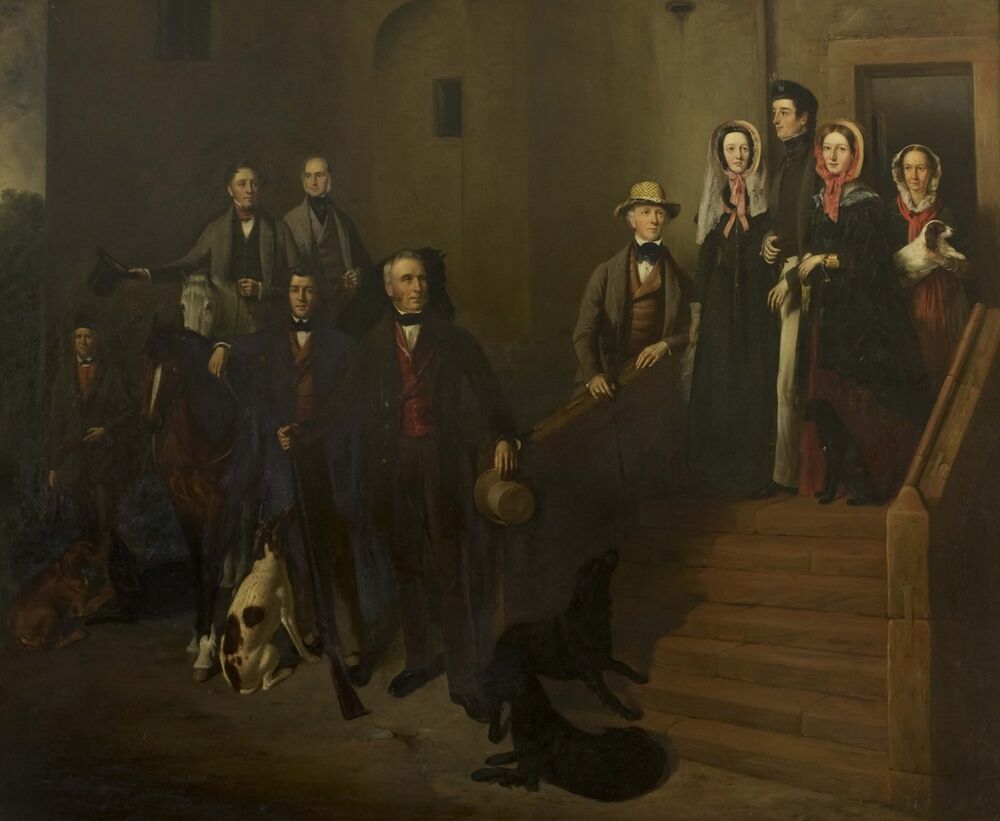 The Old Front Door, Brodick Castle by an unknown British artist, 1851, oil on canvas, Brodick Collection
Soon after their first visit, William and Marie began trying to persuade the 10th Duke to build an extension to Brodick Castle that would make it suitably lavish for entertaining their distinguished friends and relatives. After extensive discussions between the 10th Duke, William, Marie and the Scottish architect James Gillespie Graham (1776–1855), the building work officially started in May 1844. In October that year the couple held a dinner and ball at Brodick for friends and tenants to celebrate Marie's birthday. Scottish author Sir Thomas Dick Lauder (1784–1848) wrote an account of some of the visitors and the activities that took place. Marie was pregnant at the time and couldn't join in with the dancing, but Lauder commented that he had never been to a 'merrier or better conducted ball' and that 'nothing could be more affable or kind than the conduct of the Princess & Marquess to everyone, however humble'.
Between 1845 and 1850 the couple had three children: William (1845–95), Charles (1847–86) and Mary Victoria (1850–1922). Queen Victoria (1819–1901) was named as Mary's godmother. William and Marie's marriage wasn't particularly happy, and the couple spent much of their time apart, usually living between London, Paris and Baden-Baden. William is believed to have fathered an illegitimate daughter in 1846, which may have contributed to the couple's estrangement. However, the correspondence between William and Marie throughout their lives is often affectionate and they clearly cared for each other, even if the marriage was not a romantic success.
In 1852, after the death of his father, William became the 11th Duke of Hamilton and 8th Duke of Brandon. In the same year, he appointed the English architect and landscape designer William Andrews Nesfield (1793–1881) to make improvements in the grounds at Brodick Castle, rerouting the drive to make the entrance to the grounds more picturesque and impressive. Shortly after, he purchased 22 Arlington Street in St James's, London, from the former Tory MP Henry Somerset, 7th Duke of Beaufort. The property cost £60,000 (nearly £3 million today) and he spent vast sums on it over the next decade. In 1853 he sold his estates in Lancashire for £329,800, which allowed him to continue redecorating his home and adding to his collection of books, art and decorative objects, including purchasing beautiful pieces of Continental silver such as the quirky drinking vessels below.
On 12 July 1863 the Duke collapsed at the fashionable Maison Dorée restaurant in Paris and was taken to his hotel in the Place Vendôme. He had apparently been dining with Marie's cousin Napoleon III, and unfounded rumours circulated that William had been injured during a drunken altercation between the two men. When he died 3 days later, Marie was by his side. Despite their estrangement, they still cared for each other and she had travelled to Paris to be with him in his final hours. He was 52 years old and his personal wealth was less than £140,000, a comparatively modest sum for the head of such a prestigious family.
---
Join me next time when we'll take a closer look at Princess Marie's life, her family connections and friendships with international royalty and rulers, and how she dramatically shaped the development of Brodick Castle in the 1840s.
This series of blogs would not have been possible without the expert knowledge and generosity of internal and external colleagues. Particular thanks are due to Dr Godfrey Evans for his extensive research on the Hamiltons and their collections; Dr Amy Frost for taking the time to discuss her work on Beckford, his Jamaican plantations and their enslaved workers; Dr Bet McLeod for sharing her knowledge on William Beckford and the Hamilton ceramics; and to Sue Mills, Education Officer at Brodick, for always being patient and generous with her knowledge of the castle.
Stay in touch
Be the first to hear about our latest news, get inspiration for great days out and learn about the work we do for the love of Scotland.