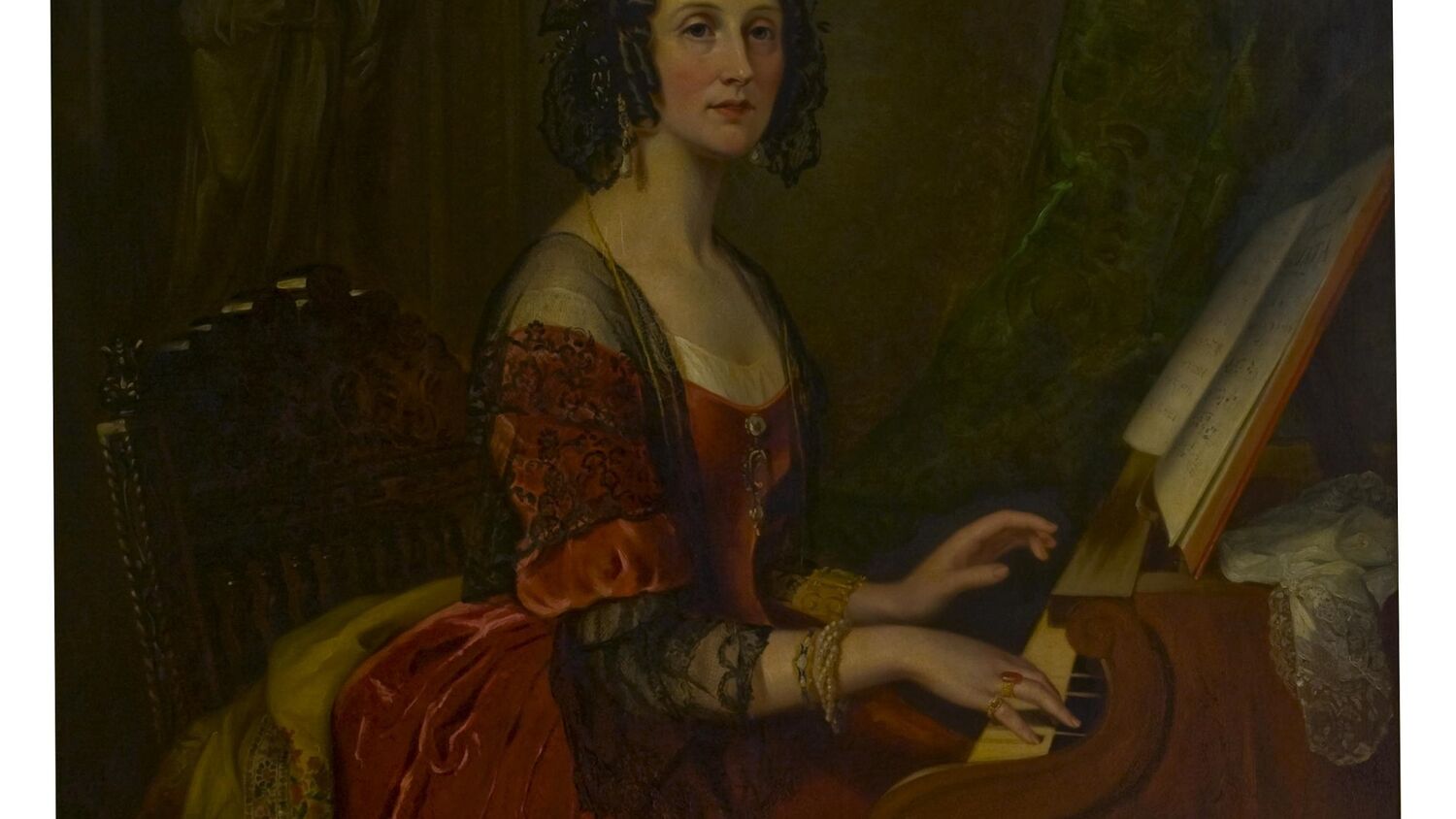 A patron of the arts and a talented musician in her own right, Susan's story is often overshadowed by the eccentric lives of both her husband and father.
Susan Euphemia Beckford was the younger daughter of Margaret Gordon (1762–86) and William Beckford (1760–1844). She was born at the medieval Château de La Tour-de-Peilz near Vevey, a town on the north shore of Lake Geneva in Switzerland, on 14 May 1786. At the time, her parents and older sister Margaret (1785–1818) were in self-imposed exile after news of her father's relationship with William Courtenay had become a public scandal in Britain.
Read more about the life of William Beckford
Sadly, Margaret never recovered from Susan's birth and she died within a few weeks of puerperal fever. One of Margaret's aunts, Lady Euphemia Stewart (c1747–1818), was with the family at the time and she wrote to her sister, Susanna, Countess Gower (1742–1805), that 'poor Mr. B. is inconsolable'. She encouraged Susanna to tell their friends and relatives that Beckford was 'certainly quite changed and cares for nothing but what she valued'. However, her pleas were in vain and William was advised by other members of the family not to return to England for his wife's funeral. Instead, his mother, Maria Beckford (1725–98), took Margaret and Susan back to England shortly after their mother's death and was largely responsible for raising them while William remained in Europe.
Maria Beckford was a conservative and religious woman. Perhaps to shelter them from her son's eccentric lifestyle and the gossip that surrounded him, Susan and Margaret were brought up by their grandmother in relative seclusion. However, despite living quite modestly, the girls received the highest level of education. As well as speaking fluent French, Susan and Margaret were taught by the artist William Hamilton (1751–1801). Susan became an accomplished painter of miniatures and a keen musician and singer.
Susan and Margaret were the heiresses to Beckford's vast fortune, accumulated through the family's sugar plantations in Jamaica worked by thousands of enslaved labourers. In 1801, with Susan and Margaret both now teenagers and approaching marriageable age, Beckford gave his daughters a yearly allowance of £10,000 each, a huge figure even by contemporary standards. However, within a few years, with profits from his sugar plantations declining and his own expenditure rapidly increasing, Beckford reduced their allowance to £1,000 a year. Although this was still a large income for a young woman in this period, it pales in comparison to the amount of money Beckford was spending on his collection and on the building of Fonthill Abbey. This might give us further insight into his personality and his relationship with his daughters.
As the girls grew into young women, society began to dwell more openly on their appearance and accomplishments. While both women were praised for their beauty and deportment, the landscape painter Joseph Farington (1747–1821) was among many who believed Margaret to be the more attractive, considering Susan to be 'ordinary in her face and general appearance'. The poet Samuel Rogers (1763–1855) also remarked on their appearance and personalities, describing Margaret as 'a perfect angel' but highlighting that Susan 'never failed to excite' admiration.
Despite Margaret being the elder sister and considered to be more attractive, it was Susan who secured the more prestigious marriage. After apparently rejecting a marriage proposal from one of William's friends, an older Spanish aristocrat who (like Beckford) was thought to be homosexual, it was arranged that Susan would marry a distant cousin: Alexander Hamilton (1767–1852), the future 10th Duke of Hamilton. Alexander was not only Susan's cousin and Beckford's friend, but he was also the brother of Anne Hamilton (1766–1846), who had been Susan and Margaret's guardian since the death of their grandmother in 1798. He was 20 years older than Susan.
The marriage was undoubtedly orchestrated for the mutual benefit of the two men. As the Duchess of Hamilton, Susan would assume the prestige and titles that Beckford had longed for himself; Alexander would reap the financial rewards of marrying one of the richest heiresses in Britain. As well as reportedly paying off £20,000 of Alexander's debts, Beckford agreed to pay the couple an annual allowance and transferred ownership of some of his Jamaican plantations and their enslaved workers to his daughter and son-in-law. [1] Susan and Alexander married on 26 April 1810 in London. They had two children together: William (later the 11th Duke of Hamilton) was born in 1811 and their daughter, also Susan, in 1814.
Margaret, on the other hand, appears to have rejected the idea of an arranged marriage. On 16 May 1811 she eloped with James Orde (1776–1850), an army colonel who had served in Africa and the West Indies. Following her elopement, Beckford disowned his eldest daughter. It is unclear if Susan remained in contact with her sister or ever met her two nieces, who were also named Margaret (born 1814) and Susan (born 1816).
Susan appears to have had a much better relationship with her father than Margaret. Although Beckford rarely visited Hamilton Palace, and possibly never visited Brodick Castle, the pair remained in contact through letters and would likely have met while staying in London or Bath. Susan also seems to have inherited Beckford's taste for collecting and passion for music. Around 1821 she was made an honorary member of Bologna's Accademia Filarmonica, and a few years later Beckford gave her the Pleyel piano depicted in the above portrait by Willes Maddox. This piano would probably have been kept in the Duchess's apartments at Hamilton Palace and may even have been played by the renowned Polish composer and pianist Frédéric Chopin (1810–49). Chopin visited the Duchess at Hamilton Palace in 1848 and is thought to have given her piano lessons.
Susan inherited approximately £80,000 and what remained of her father's property and collection when he died in 1844. [2] This collection included furniture, paintings, decorative objects and books, many of which were sold in the intervening years but some are now on display at Brodick Castle. Some of the items, like the two paintings above by French artist Jean-Antoine Watteau (1684–1721), were extremely important to Beckford and had hung in his private apartments at his home in Bath. The paintings were put up for sale in 1848 but later appeared in the Easton Park inventory of 1852. They were most likely withdrawn from the sale after the catalogue had been completed, and may even have been kept because they had sentimental value for Susan.
Susan's story is often overshadowed by the lives of her flamboyant and eccentric father and husband (including this article, despite my best efforts!). Working from home during the pandemic with limited resources has made it particularly clear how little has been published on Susan's life so far. I can't wait to be able to get back into the archives and speak to colleagues at other organisations to learn more about Susan, her collecting tastes and her experiences, not just as the daughter, wife or mother of 'important men' but as an individual with her own opinions, skills and aspirations.
---
[1] I have only recently become aware that some of the plantations and enslaved workers in Jamaica were included in the marriage settlement. I plan to find out more about this by working with colleagues who are already undertaking research in this area to improve our understanding and interpretation of Brodick Castle and the collection.
[2] Susan's elder sister Margaret died in 1818.
This series of blogs would not have been possible without the expert knowledge and generosity of internal and external colleagues. Particular thanks are due to Dr Godfrey Evans for his extensive research on the Hamiltons and their collections; Dr Amy Frost for taking the time to discuss her work on Beckford, his Jamaican plantations and their enslaved workers; Dr Bet McLeod for sharing her knowledge on William Beckford and the Hamilton ceramics; and to Sue Mills, Education Officer at Brodick, for always being patient and generous with her knowledge of the castle.
Stay in touch
Be the first to hear about our latest news, get inspiration for great days out and learn about the work we do for the love of Scotland.