How the current strain of avian flu is affecting the birds in our care, and guidance on what to do if you find an unwell bird while out and about.
Last updated: 30/08/23
What is avian flu
Avian flu is an infectious disease transmitted between birds.
The risk to human health is very low. However in rare cases it can also be transmitted to humans, and it is important that if you find a bird you suspect has been infected (whether dead or alive) or one that is behaving strangely, you do not touch it. For more advice and guidance, please see the section further down the page.
Poultry, other captive birds and wild birds can all become infected, and there are different strains of the virus. It can also be spread through bird faeces.
Beginning in 2021, we have seen the impact of avian flu on seabirds breeding at our coastal and island properties during the summer months, including great skua, gannets, guillemots, and kittiwakes (all pictured below).
We have also seen other species affected, including outside of the summer months, such as wildfowl and gulls.
We are working hard to understand the impact on the many bird species, including over 1 million seabirds, which are in the Trust's care.
Impact at our places
Please note the situation is changing rapidly. This information is as up to date as possible and will be reviewed and updated accordingly.
At our affected places we are working hard to monitor the bird population and watching out for any signs of infection. Records of infected birds are being kept. We have joined up with national efforts to monitor the numbers of dead and symptomatic birds as well as gathering our own information through emergency surveys.

We have not had to close any sites to visitors but we have taken advice from NatureScot to restrict access immediately in the vicinity of affected bird populations.

---
Fyvie Castle, Garden and Estate
We had a confirmed outbreak of avian flu (H5N1) in the winter of 2022/2 which mainly affected greylag geese. A small number of birds have been affected so far.

Vivian Bisset, North East Ranger
Like everyone working with wildlife this year, we have been closely watching our birdlife to see how avian flu may affect other bird species over the autumn and winter. Sadly, we now have a confirmed case at Fyvie Loch. We'll continue to monitor and report on any cases, so we can add to the understanding of this disease and how it's impacting on our wild birds.
We have an outbreak of avian flu (H5N1) affecting seabirds here which began in 2021 with great skuas, then worsened in 2022, affecting large numbers of gannets and great skuas and unknown numbers of puffins. In 2023 most of the breeding season seemed to be relatively free of the virus but at the time of writing (August 2023) national surveillance shows it is spreading closer to St Kilda.

Susan Bain, Western Isles Manager

Scotland is a very important place for many seabirds including the great skua, with over 60% of the world's population breeding on Scottish Islands, mostly in Shetland and Orkney but also on some west coast islands such as St Kilda. A survey completed in 2022 by our Seabird Ranger, Craig Nisbet, found that over 2/3 of our breeding birds had died due to avian flu. This high mortality rate has also been seen in other places like Unst and Fair Isle. The Great Skua population was also counted in 2023 and they seem to have remained at the level counted in 2022.
We carried out emergency gannet surveys in 2022 and 2023 to count carcasses and census the population. We will report the findings once we have the results. We are fearful that the impacts will be large for gannets, though perhaps not as bad as some other gannet colonies where the birds are very tightly packed together. St Kilda's steep sloping colonies, where birds are more spaced out, may have lead to slower spread of the virus between neighbouring birds.
We had a serious outbreak of avian flu (H5N1) affecting seabirds in 2022, and late in the season in 2023 a different strain of the virus returned and again took a heavy toll. We have counted 514 dead seabirds on the cliffs during 2023 alone, and many more will have died elsewhere and not been recorded. Kittiwakes and guillemots have been particularly badly affected. One positive is that the newly established gannet colony managed to raise chicks in 2023, whereas in 2022 only one chick fledged.

Hear about the impact at St Abb's Head from Ranger Ciaran Hatsell, in this episode from season six of the Love Scotland podcast.
Avian flu: a report from the front line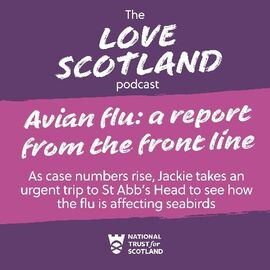 Season 6 Episode 7
Following last year's episode (Season 4, Episode 3) investigating the 2022 outbreak of avian flu at Scottish seabird colonies, Jackie returns to St Abb's Head National Nature Reserve in the wake of new cases being reported. Joined by ranger Ciaran Hatsell, Jackie learns how this year's cases have been identified and exactly how the disease is impacting kittiwakes at St Abb's Head and beyond.
We have had a suspected outbreak of avian flu (H5N1) affecting seabirds on these islands. Mingulay has signs and ropes in place to keep visitors away from the main puffin nesting area to keep both birds and people safe.
Staffa and the Treshnish Isles
Avian flu was confirmed on these islands in 2022. During 2023 we have not currently had any cases confirmed, though at the time of writing flu has been confirmed on nearby Canna. Please note there may be restrictions to access on certain parts of the islands to keep people away from the immediate vicinity of nesting seabirds.

During 2022 there was evidence of bird flu reaching Canna, with a small number of dead birds found on the island and dead adult guillemots ringed on Canna being found washed up on neighbouring Skye. In 2023 the early season passed without sign of avian flu but sadly it was confirmed right at the end of the season to be affecting kittiwakes and gulls.
Fair Isle has a seabird population, and great skua are being affected by avian flu. It is being monitored by Fair Isle Bird Observatory.
Iona and nearby islets
Iona and its islets support a seabird population including, gulls, puffins and fulmars. We have no suspected cases in seabirds, though it may have gone unnoticed in remoter parts of the island group. During winter of 2022/3 a symptomatic barnacle goose was found on Iona.

Advice and who to call
The advice we are sharing is currently aligned with government guidance.
If you see a dead or dying bird:
Do not approach or touch the bird
Report it to the DEFRA helpline on 03459 33 55 77 or online at at www.gov.uk/guidance/report-dead-wild-bird
If you can, please alert a member of National Trust for Scotland staff
Your local council website may also have advice and information on how to report a sighting so they too can keep a record of infections in the area.
NatureScot are also releasing regular updates and public advice:
NatureScot advises public landings to stop on 23 islands
What you can do to help
As well as the advice above about what to do if you find a bird you suspect is infected, you can also help during your visit by taking some precautions.
Please keep your distance from the birds.
Disinfectant foot mats may be available at some sites. If so, please use them both when you arrive and when you leave. If you are going to visit another area or island with a seabird population (or if you keep birds at home), disinfecting your feet when you leave is especially crucial.
The risk to human health is very low, but in order to keep safe please also wash and sanitise your hands before eating, drinking, or smoking.
Supporting the National Trust for Scotland helps us take care of important wildlife and their habitats, which becomes even more crucial in times like these. Our rangers and countryside teams are vital in protecting our outside spaces and the vast array of wildlife that call them home. At our coastal and island properties, seabird monitoring and habitat conservation are two of the ways we do this, and your support is crucial to our work.
For more information on the current strain of avian flu at our affected properties, you can visit our property pages and also follow updates on social media.
Stay in touch
Be the first to hear about our latest news, get inspiration for great days out and learn about the work we do for the love of Scotland.