16 Feb 2021
Scotland's most famous glen to receive funding to improve visitor experience
If you love Glencoe and Glen Etive, you'll be pleased to hear that a project which aims to empower tourists to explore the Glens responsibly is set to receive vital funding to help balance the needs of visitors, local people and the landscape.
The Sustainable Visitor Infrastructure project, run in partnership by the Highland Council, the National Trust for Scotland and Glencoe and Glen Etive Community Council, has been awarded £375,000, subject to conditions, in Round Three of the Rural Tourism Infrastructure Fund (RTIF). The project will be boosted by contributions from project partners, including £100,000 from the National Trust for Scotland.
Launched by the Scottish Government in 2017 and administered by VisitScotland, the RTIF has so far invested £9 million in infrastructure at outstanding scenic areas and popular rural tourist spots.
Our project is one of 13 initiatives across Scotland to receive support in this third round of funding. We aim to make the community and landscape more resilient to rising visitor numbers with more fit-for-purpose parking, paths for walkers and visitors, signage and waste disposal facilities.
Glencoe and Glen Etive are two of Scotland's most well-known and well-loved natural wonders. Much of the area is a National Nature Reserve, recognised for its wildlife and precious habitats, and cared for by us. Around two million vehicles travel through the Glens on the A82 each year and this places pressure on the environment and local people.
What will the funds go towards?
The largest element of the project will be an upgrade of Glencoe's busiest parking areas beside the A82 at the iconic Three Sisters viewpoint. A busy stop-off for photographs and access point to the popular Coire Gabhail or Hidden Valley walks and other mountain hikes, demand for these car parks often leads to irresponsible parking and hazardous driving.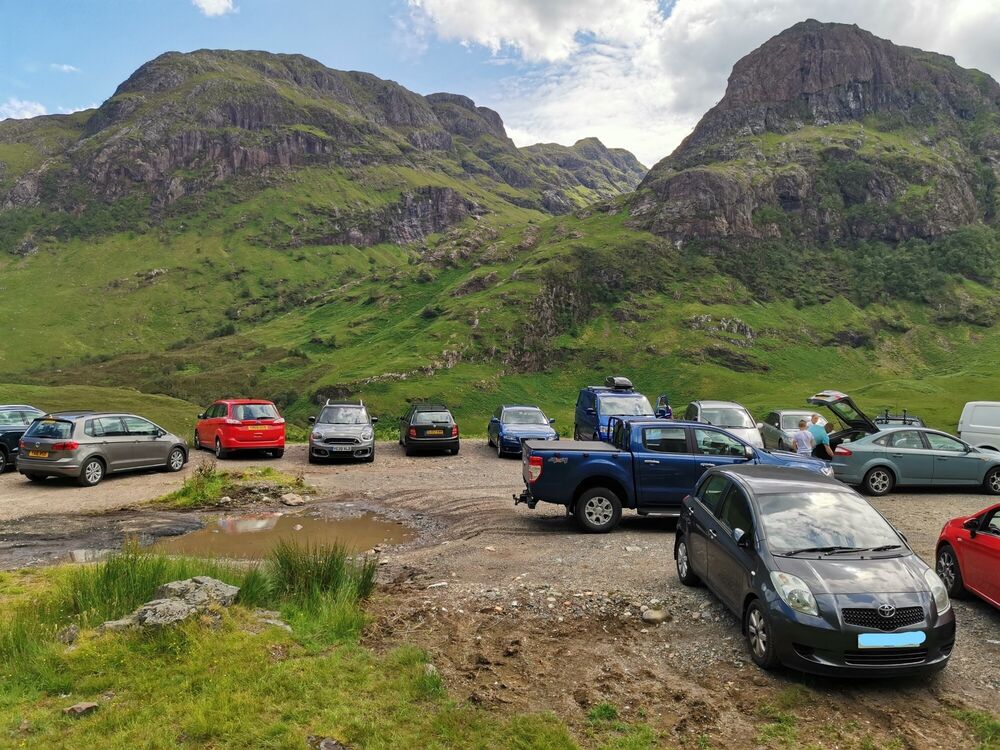 One of Glencoe's busy park areas on the A82
The planned improvements will maximise vehicle capacity within the existing car park footprint, marking out a safe and efficient layout. An all-ability path will replace an existing informal trail to a viewpoint near the Coire Gabhail parking area, helping to safely separate pedestrians from vehicles and reducing the impact of thousands of feet on the sensitive hillside habitat.
Other parking hotspots likely to receive attention include Altnafeadh, where the West Highland Way climbs up the Devil's Staircase and Glen Etive, including the popular view made famous in the James Bond movie, Skyfall.
A key element of the project is the construction of purpose-built visitor waste hubs at four locations in the Glens, either upgrading existing amenities or providing new facilities. While visitors will be encouraged to take their litter home, new signs in popular car parks will include local facilities maps showing where the nearest waste hubs, public toilets and local motorhome waste disposal sites can be found.
Overflowing rubbish bins in Glen Etive
Improvements to footpaths include an upgrade of the trail from Glencoe village towards the Clachaig Inn. The community is also exploring the establishment of a park-and-ride, hop-on/hop-off shuttle bus service, and the creation of the 'Glencoe Greenway', a traffic-free route that would link the Glens with the National Cycle Network's nearby Caledonia Way.
Quote
"We're delighted to have been earmarked for this funding. It will enable us to invest in positive, sensitive infrastructure improvements to make visiting this area a better, more sustainable experience for everyone."
Operations Manager, Glencoe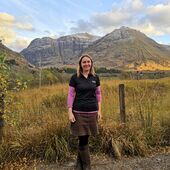 Emily continued, 'Over the last few years we have worked together on the challenges we share as a result of a growing number of visitors. We're now keen to take a step forward with solutions.
'While a significant proportion of the funding will be directed towards improved parking, the reality is that it would be near impossible to meet peak parking capacity demand at the height of the season without tarnishing the landscape everyone comes to enjoy. So, while the interventions we seek here will make safe, sustainable improvements to parking provision, the over-arching, long-term strategy is to balance vehicle access with attractive alternatives to access by car.'
Viki Sutherland, Chair of the Glencoe and Glen Etive Community Council adds: 'After lockdown ended in 2020, we experienced one of our busiest ever summers and this brought into sharp relief some long-standing issues. Together we have mapped hot spots for over-parking, littering and anti-social camping between Glencoe village and the Glencoe Mountain Resort, and developed an action plan to help accommodate everyone who wishes to visit our stunning area.'
Shaped by a wide range of views
This project has been informed by local collaboration, extensive traffic monitoring and the results of an online survey. Our survey was launched on social media to gather views on the current challenges in the Glens and test ideas for how best to address them. Over 3,000 people completed the questionnaire, spending an average of 18 minutes doing so and providing the equivalent of 945 hours of feedback. It's one of the most extensive and detailed surveys of public opinion on outdoor access and visitor behaviour in Scotland in recent years.
Emily Bryce explains: 'We were keen to focus on positive and practical solutions to address issues of littering, dirty camping, road safety and parking capacity. We provided a range of suggestions and asked for respondents to rate them and share their ideas too. We got over 6,000 comments in total, which showed us just how much passion people feel for this place and their shared concern for the challenges we face.'
The survey results underlined the need for action with 70% of respondents believing that Glencoe and Glen Etive's 'natural beauty and landscape are being negatively impacted by popularity'. Three-quarters of those who took part said they had observed litter on their visit, almost half had felt unsafe or inconvenienced by the parking and driving they experienced, and more than 40% had encountered human waste or soiled wipes and tissues in the landscape.
On the subject of parking capacity, only 40% of those surveyed supported the idea of building new car parks in the Glens, highlighting concerns about infrastructure impacting on the views and landscape people come to enjoy. The top two choices, favoured by over 90% of people, were to invest in existing parking areas to improve their safety and efficient use of the space and to enhance footpaths and cycle routes to provide better access to the Glens without a car. The concept of a park-and-ride, hop-on/hop-off shuttle bus, like often found in America's national parks, was supported by 85% of respondents.
Our survey results showed a debate on littering between those who think people should be responsible for taking away everything they bring with them when visiting the countryside and those who think more facilities should be provided; and between those who think more education is needed and those who think more enforcement and penalties are the way forward.
Respondents preferred the idea of purpose-built visitor waste hubs, rather than introducing extra bins throughout the landscape. 80% also liked the idea of providing litter-picking kit to enable sight-seers and walkers to help with the clear up while visiting. The least popular option was the introduction of camping management zones or permits, though respondents felt it was reasonable to ask campers to give highly used areas a rest to enable the landscape to recover.
80% of those who completed our survey backed the introduction of alcohol byelaws to target excessive alcohol consumption in locations which suffer from anti-social camping. There was also recognition for the need to employ people on the ground, both rangers to chat with walkers and campers, encouraging responsible access, and police or traffic officers to enforce laws around illegal parking or anti-social behaviour.
Survey respondents were asked their views on how best to fund the solutions and whether they would be willing to contribute. 96% felt that the area should receive additional local authority and government funding and 90% said they would pay a reasonable contribution when parking in popular car parks, if they knew it was going towards maintenance and conservation. Two-thirds of respondents would also donate to a fundraising appeal.
We then asked what was considered to be a 'reasonable' parking contribution for vehicles to pay towards investing in and maintaining visitor facilities, infrastructure and ranger services in Glencoe and Glen Etive. The most popular choices ranged from £3–£4 for two to four hours, to £5–£6 for a full day and £9–£10 for an overnight stay.
Emily Bryce says, 'We were heartened to see that the vast majority of people who completed our survey supported the need for visitors to make a contribution towards caring for the places they visit and the provision of facilities here. Grants like the RTIF provide a fantastic injection of investment, but we need sustainable ongoing income to help maintain facilities, look after the landscape and encourage visitors to respect nature while exploring the outdoors.'
Glencoe & Glen Etive survey results autumn 2020
What next?
The Glencoe and Glen Etive RTIF project hopes to be ready to begin the introduction of new facilities and infrastructure improvements in autumn and winter 2021. Watch this space for updates.
Stay in touch
Be the first to hear about our latest news, get inspiration for great days out and learn about the work we do for the love of Scotland.