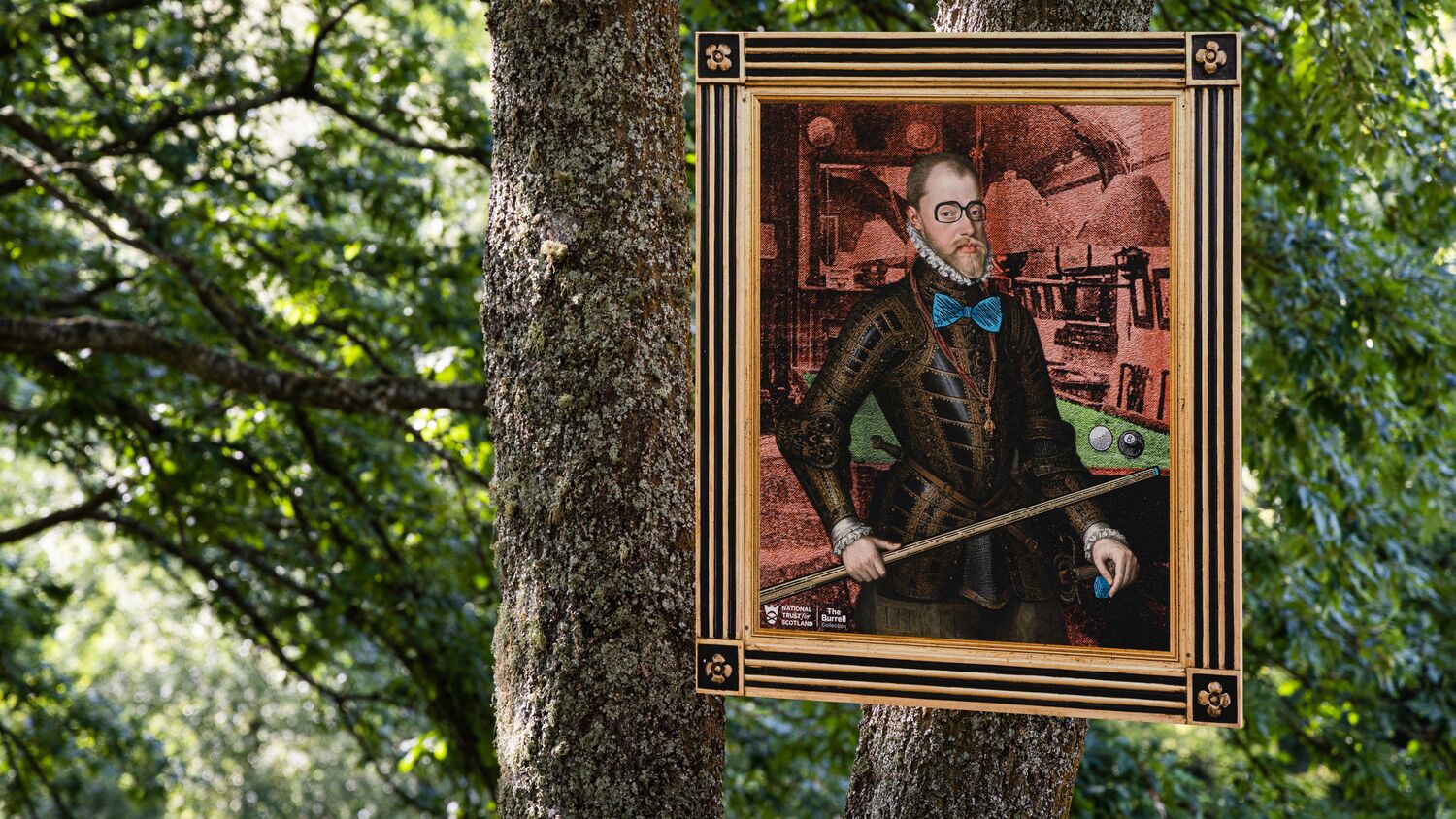 Pollok House artworks have been given a light-hearted new look and relocated throughout Pollok Park, as part of a creative approach to highlight the treasures to be discovered within the historic house.
The Art Gone Wild trail featuring ten masterpieces from the Pollok House collection (reproduced with some modern tweaks!) is being displayed on lamp posts, gates and tree branches lining the route from The Burrell Collection to Pollok House. Packed with contemporary references including taking the perfect selfie with William Blake, an 18th-century superhero, a skater boy after Gainsborough, and a game of pool with Philip II of Spain, the trail is designed to bring a bit of humour to art history, to break down stereotypes when it comes to visiting stately homes like Pollok House and encouraging discussion about the paintings themselves.
Pollok House, the magnificent 18th-century seat of the Maxwell Stirling family, was gifted to the people of Glasgow in 1966 along with its world-class art collection. Largely assembled by Sir William Stirling Maxwell in the 19th century, the collection boasts work by Old Masters – defined as European paintings dating roughly from the 13th to 18th centuries – including famous names such as El Greco, William Blake, and Alonso Sanchez Coello (to whom the collection's most famous painting, Lady in a fur wrap, was attributed in 2019).
The famous collection is gradually returning to the walls of Pollok House after a period in storage. With the reopening earlier this year of The Burrell Collection, this leafy corner of Glasgow's southside is fast becoming one of Scotland's leading cultural destinations. However, few of the tens of thousands of visitors who have visited The Burrell Collection have perhaps realised that another collection awaits them only a few minutes away.
This was the challenge for Alexis McCluskey, Engagement Manager at Pollok House, who was asked to develop new way to help direct visitors between The Burrell Collection and Pollok House.
'We wanted visitors to get a sense of our collections and a taste of what Pollok House has to offer. With true Glasgow gallus, working with a team of volunteers all based in the local area, we put together our own take with some 21st-century edits to our famous artworks! It's fun and creative and we hope will encourage people to come and see the originals hanging in Pollok House.'
On the trail at Pollok Park | Image by Leading Lines/Dougie Cunningham
Quote
"This temporary trail is certainly tongue-in-cheek, it is meant to make you smile, but it also opens discussions on many key themes within our collection: ideas of masculinity, fashion, power, the representation of women, militarism and hero worship, amongst other topics."
Operations Manager (Glasgow & Ben Lomond)
The Art Gone Wild trail is one of several projects that have been set up to answer the question, 'How do we find new audiences for Old Masters?', a theme which will be explored in greater detail in a free afternoon symposium hosted at Pollok House on Sunday 25 September 2022. Part of the nationwide Art History Festival organised by the Association for Art History, the development of the Art Gone Wild trail will be presented in greater detail alongside the Trust's new project on telling the history of the Habsburgs to family audiences through the art collection at Pollok House. The symposium is free, but booking is essential.

Book now: Paintings Gone Wild, New Audiences for Old Masters
---
The Art Gone Wild Trail is open now and will run until 31 October 2022 in Pollok Country Park, linking The Burrell Collection with Pollok House.
Stay in touch
Be the first to hear about our latest news, get inspiration for great days out and learn about the work we do for the love of Scotland.