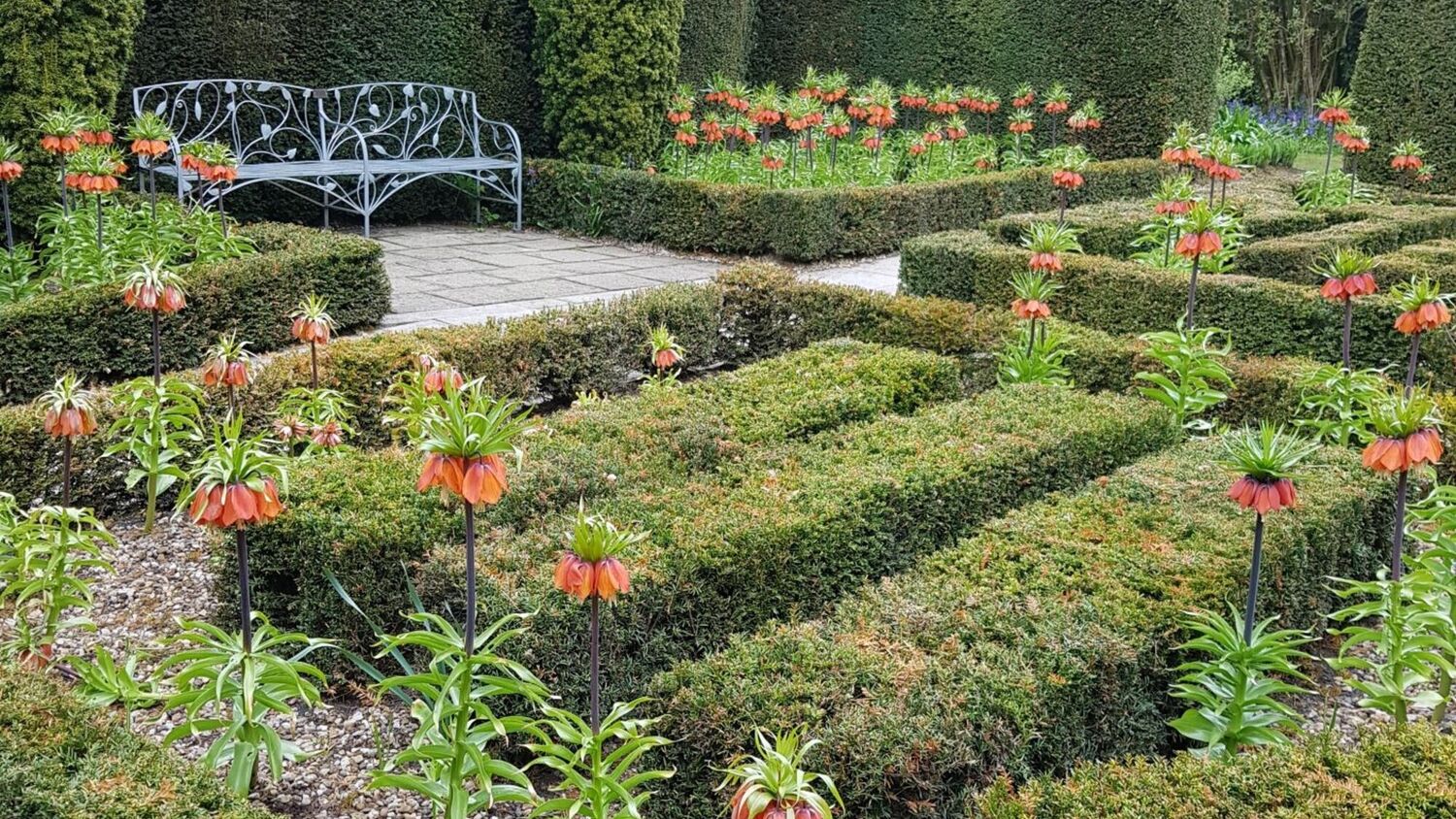 Thanks to the Friends of Greenbank Garden, we've been able to replant our parterre garden with some amazing bulbs.
The parterre garden at Greenbank started out as strawberry beds. In 1990, students from Threave School of Gardening entered the Chelsea Flower Show with a 'fleur-de-lis' parterre in box hedging, which won a gold medal. Afterwards, we were able to accommodate the winning design as a permanent feature here at Greenbank Garden, experimenting with several plantings including spring-flowering hyacinths, tulips and summer annual bedding.
Unfortunately, after several years the box hedging of the parterre garden became increasingly affected by box blight, resulting in much dieback. On the 250th anniversary of the construction of Greenbank House, we decided to replant the parterre with yew hedging, kept at the traditional low parterre height. This was planted out with several of our Which? Gardening trial plants, that they generously allowed us to keep. In later years, to help cut down maintenance, the parterre was gravelled.
Since the Trust took over Greenbank Garden in 1976, the Friends of Greenbank volunteer group have raised many thousands of pounds, contributing to the purchase of plants, machinery and whatever the garden was needing at a particular time. Sadly, the Friends have recently decided to stop their activities and generously donated money for the replanting of the parterre garden and woodland garden. In the parterre garden we have planted crown imperial fritillaries (Fritillaria Imperialis 'Rubra Maxima') for dramatic spring effect, followed by dark blue camassias (Camassia esculenta) later in the summer. These are perennials, so we can look forward to the same flowering display year after year.
We've been getting many positive comments from our visitors about this new display, and we'd like to thank the Friends of Greenbank Garden for their generous donation.
I love this place
By joining the National Trust for Scotland, you can protect the places that matter to you and experience the best that Scotland has to offer.
Join today
Stay in touch
Be the first to hear about our latest news, get inspiration for great days out and learn about the work we do for the love of Scotland.