Things to do near Edinburgh

Looking for something to do near Edinburgh? Here are 13 of our favourite things to do in and around Scotland's capital city, from unique buildings on the Royal Mile to great gardens and landmarks that are just a short drive away.
Looking to explore how your ancestors might have lived? Take a tour of these noble properties just a short distance from Edinburgh ...
1. With its wee rooms and curious connecting passages, Culross Palace isn't what you'd first expect from its grand exterior, but inside it will dazzle you with fantastic painted ceilings and beautifully restored wood-panelled interiors. Used as a filming location in the Outlander series, it's the star attraction in one of Scotland's most picturesque villages, and gives a flavour of what life was like here in the 17th and 18th centuries.
2. The Jacobite Risings are a fascinating period in Scottish history, and you can learn about the stories of those who fought for the Stuarts' cause at a number of Trust places. John Erskine, 6th Earl of Mar, played his role in leading the 1715 Rising – and he once lived at Alloa Tower. This medieval keep, the largest of its kind in Scotland, is packed with art, antiques and intriguing tales.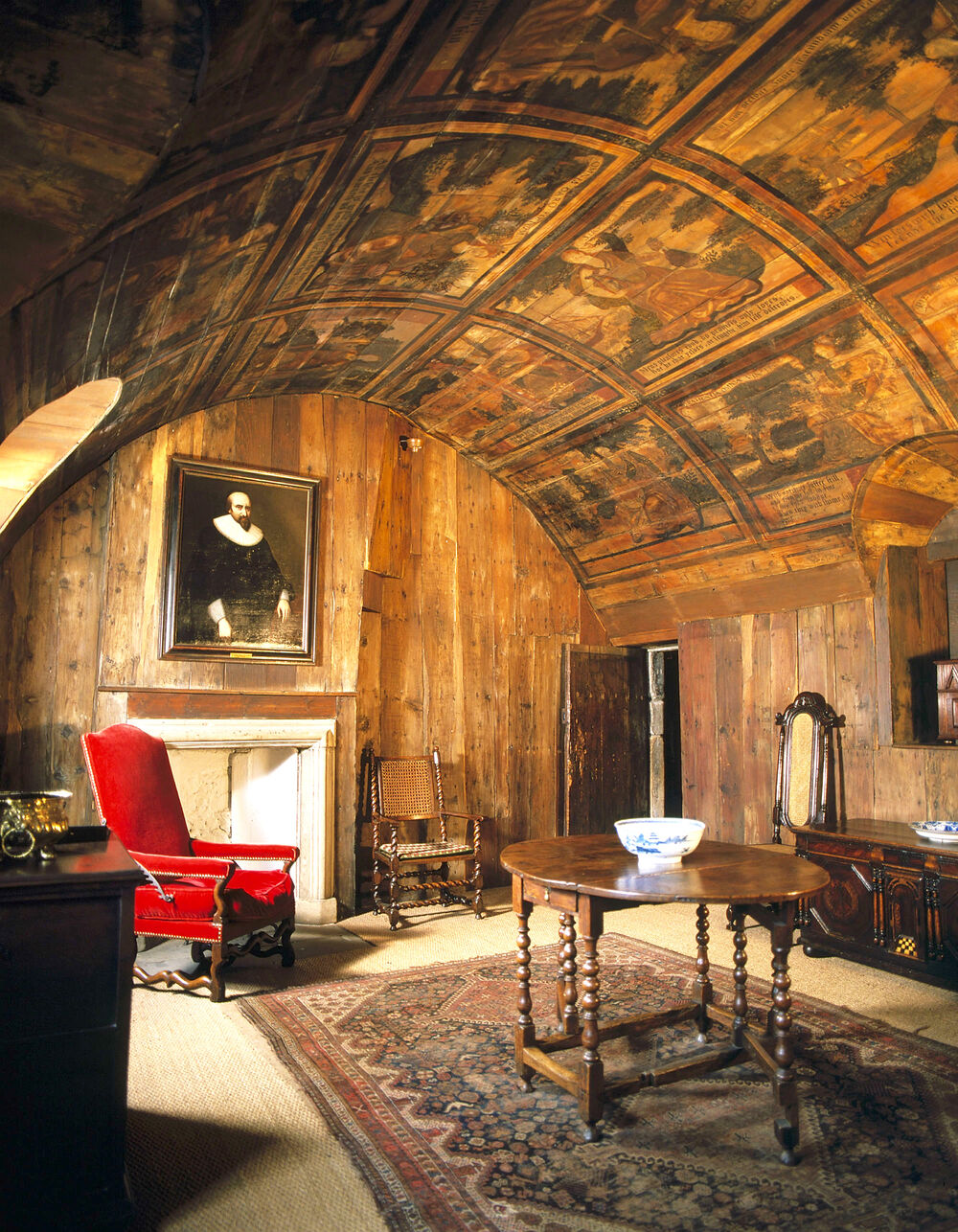 Painted ceilings at Culross Palace
Whether you're on a road trip or staying in the city, you can delve into Scotland's merchant and military history.
3. Follow in the footsteps of Robert the Bruce with a short trip to Bannockburn. Pose in front of the shimmering bronze statue of the celebrated king of the Scots, explore the site of his greatest victory, and come face-to-face with medieval warriors at our multi-award-winning Battle of Bannockburn experience.

4. Climb the cobbles towards Edinburgh Castle and keep your eyes peeled for a gilded bird of prey. There on the right you'll find the entrance to Gladstone's Land, one of the oldest buildings on the famous Royal Mile and a portal into the past.
Explore the various rooms and see how some of 17th-century Edinburgh's wealthiest citizens used to live, work, play ... and parade their riches.​
Discover more with membership
From just £4.65 a month, experience unlimited, year-round access to Scotland's national treasures.
Join us
See how Scots used to make a living at these perfectly preserved Trust places near Edinburgh.
5. Looking for things to do with the family? Robert Smail's Printing Works is a hands-on experience that's great for children and adults alike. See how letters, posters, pamphlets and tickets were printed before the digital age in this living museum of Victorian history. You can even try to pass your printing exams in the Caseroom.
6. When it's not being used as a backdrop for films and TV shows, Preston Mill in East Lothian shows visitors what a working watermill looks and sounds like. Take a tour of this architectural oddity and learn more about the gruelling nature of the miller's work – from heavy lifting to dealing with floods, mice and dust.
Learn more about the story of Scotland's people, from 18th-century city-dwellers to well-to-do Edwardians.
7. Designed by Robert Adam, the finest architect of his day, the Georgian House will whisk you back in time to the era of the Scottish Enlightenment.

See how Edinburgh's upper classes entertained and impressed their peers, and dress up in replica Georgian costumes – perfect for children and any playful parents!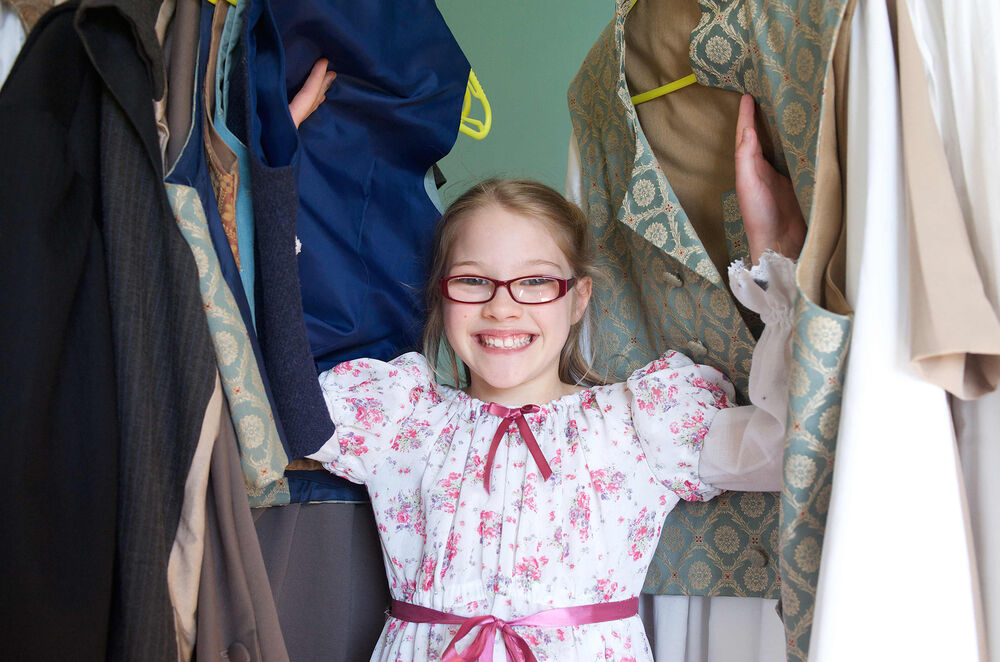 Costumes at the Georgian House
8. Anyone in love with Downton Abbey will fall head over heels for the detailed record of Edwardian 'upstairs and downstairs' life on show at Hill of Tarvit Mansion in Fife. Keen golfers can even play nine holes as it would have been in the 1920s on the restored Kingarrock hickory golf course.

Of all the things to do around Edinburgh, nothing calms the soul quite like a stroll through an idyllic garden.
9. Escape to a tranquil paradise on Edinburgh's doorstep by visiting Malleny Garden. Leave the hustle and bustle behind and enjoy the stunning colours and aromas of the plants on display, from 400-year-old yew trees to a National Collection of 19th-century shrub roses that includes more than 100 different varieties.
10. Want to feel inspired for your next garden project? From wild meadows filled with hopping hares to colourful themed borders crammed with rare flowers, you'll get plenty of ideas for your own oasis from a day spent strolling around Inveresk Lodge Garden. Take a notebook and jot things down, or just sit back and relax among the roses, honeysuckle and herbs.
Become a member
By becoming a National Trust for Scotland member you're helping us to preserve Scotland's history for future generations.
Join now
Some of the best things to do in Scotland are free! Visit these spectacular Trust places for a great value day out.
11. Enjoy one of the best walks in Scotland less than an hour from Edinburgh at St Abb's Head. From the Mire Loch Loop to the Discovery Trail, take your pick of beautiful routes as you stroll through wildflower meadows and along the dramatic clifftops that are home to thousands of nesting seabirds.

12. Newhailes, in Musselburgh, is just outside Edinburgh and offers a range of walks in the 18th-century designed landscape, where different views open up around every corner.
See if you can spot the elaborate shell grotto, the classical summerhouse and the Ladies' Walk, an elevated promenade designed to lift both body and mind.
13. Take a road trip to Linlithgow and visit the House of the Binns, where access to the bewitching landscaped gardens is free. Ask one of our friendly rangers for directions to the Binns Tower – it stands on top of a nearby hill, and from there you can enjoy far-reaching views over central Scotland.

*Parking charges may apply at some of our places for non-members.

Don't forget that members benefit from free access to all our places. Find out more about how to join.
Stay in touch
Be the first to hear about our latest news, get inspiration for great days out and learn about the work we do for the love of Scotland.
Search for things to do near Edinburgh