The Ardess Hidden History Trail is a low level, 1.5km walk through the lower woodlands, which links a dozen or so different archaeology features and reveals some of the stories of the past. It normally takes around 40 minutes to complete. The trail starts at the information hub in front of our ranger station and is suitable for all ages and levels of fitness.
The people who once lived here spoke Gaelic. Ardess is Gaelic for the high (ard) waterfall (eas), referring to the prominent waterfall on the slopes above.

At first glance, Ben Lomond appears a wild and untouched place. But for hundreds of years people have worked this land and altered it in the process. As you walk the trail, you'll find many bracken-covered mounds of stone. In fact, these are the ruins of houses, farm buildings and field-walls. They are reminders of an active community of farming families who lived by the banks of Loch Lomond several hundred years ago. Most of the sites on the trail were built 200–400 years ago.

At the start of the trail you'll also find the Ardess Cruck House, built using local, natural materials to give an idea of the type of buildings that would have been in use here up to the early 1800s.
The Walk Highlands website offers a great description of the West Highland Way section beside Ben Lomond and the loch.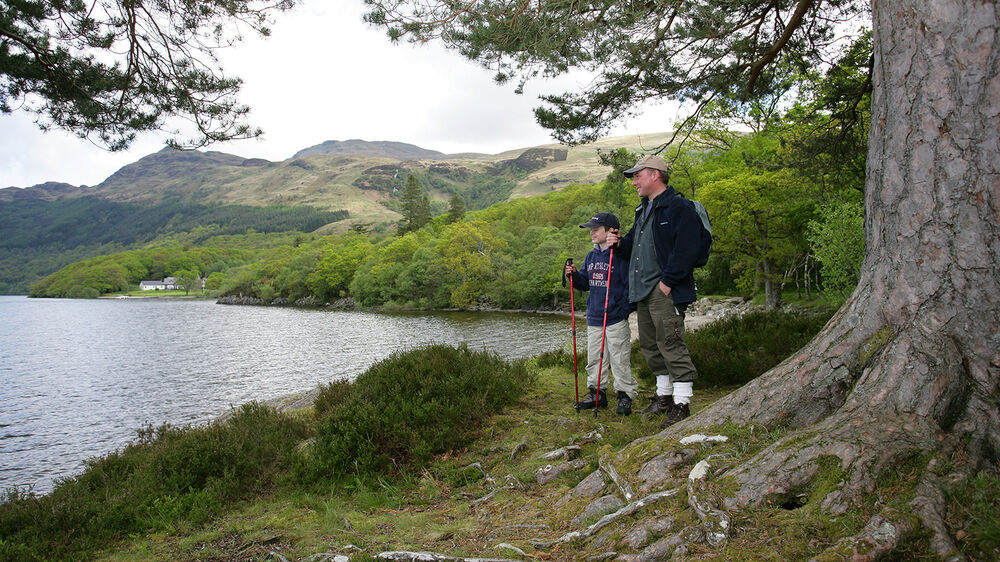 Ardess Hidden History Trail
Difficulty

Easy/Moderate

Time

40 minutes

Distance

1 mile

Facilities

Parking and toilets at car park