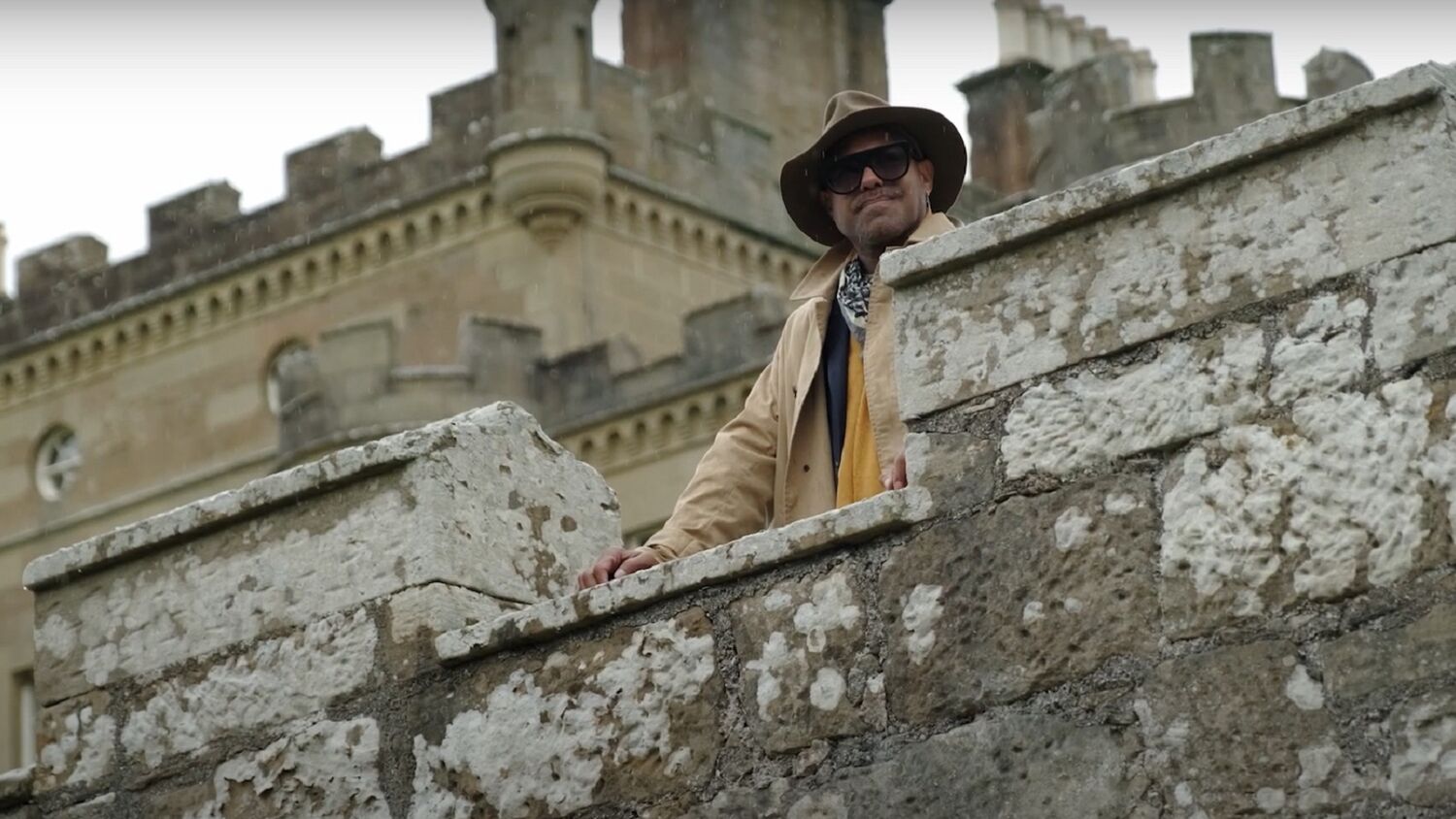 In September 2023, we welcomed artist and filmmaker Billy Gerard Frank to Scotland for a film premiere, academic symposium and artistic residency at Culzean Castle.
'Scipio' Kennedy (d. 1774) was born in West Africa, and was kidnapped and enslaved as a child. Brought to Culzean by a Scottish sea captain, who bought him in the Caribbean to become a personal servant for his daughter, Scipio lived in the area for the rest of his days. We know about aspects of his experience through limited archival sources, including the dates of his manumission and marriage, but many of the details of his life are currently lost to us.
This hidden life is the focus for Grenadian artist and filmmaker Billy Gerard Frank, who undertook an artistic residency at Culzean Castle in September. He spent a week on the estate, meeting the team and discovering the grounds. Billy was also the keynote speaker of the recent Encountering Children of Empire symposium, sharing his work Palimpsest: Tales Spun from Sea and Memories that first appeared at the 2022 Venice Biennale.
Billy's residency is a first step in exploring and sharing Trust places and their histories in new ways through creative practice. Whilst considering his film project, he shared his experience of researching Scipio in the very places he had lived.
Quote
"Walking around at Culzean Castle, overlooking the sea, you can't help but feel his presence in the landscape, which in itself at every level and from every angle makes for memorable and dramatic cinematic images."
Billy tells us more in the short film below:
Transcript
My name is Billy Gerard Frank. I'm a multi-disciplinary artist and filmmaker.
I'm originally from Grenada and grew up in the UK; I'm based in New York.
I'm here at Culzean Castle to do an artist residency exploring the life of Scipio Kennedy; that's going to be a film project of some sort or installation.
Scipio Kennedy came to the castle as a young boy at the age of 10.
He was given as a wedding gift to the Lady Jean Kennedy, and he spent his whole life here in the castle and the surrounding area. He died at the age of 80.
While I'm here, I'm the keynote speaker for a symposium that is happening, entitled Encountering Children of Empire, looking at the role that children played in the slave trade.
I think it's the first kind of symposium that is really exploring this subject.
My mother's side of my family was Scottish descendent.
There's a lot of MacFarlanes and Bethils, and different family names, all connected to Scotland.
A lot of people actually from Grenada and the smaller islands, particularly Carriacou and Petite Martinique -- that is the sister isles of Grenada -- have a lot of Scottish connections.
There's a lot of fiddle music in Carriacou and the smaller islands, and also the boat-building business, which is a tradition in Carriacou -- that's also connected to Scottish roots.
Coming here to work on this project feels like a sort of homecoming in a way because Scotland has always played a major role in my life, growing up as a place that I'm connected to but never really been to.
I was so honoured to be the keynote speaker and presented my Venice Biennale film in 2022 here.
The conversations that we've been having and this work that the National Trust for Scotland is doing around Facing our Past -- the campaign that is looking at Scotland's role in the slave trade and its own entangled relationship with slavery.
I would like to extend my gratitude to the National Trust for Scotland and also the University of Glasgow, for giving me the opportunity to be here to present my work but also opening a space in which this conversation could happen.
It's important that this conversation continues with scholars as well as artists and lay people as well, to bring them into the conversation.
You can find out more about the Trust's ongoing project to research the legacies of slavery in Scotland in our Facing Our Past story. This project is part of the wider research we undertake into the history of our places and other topics of interest to our supporters.
Stay in touch
Be the first to hear about our latest news, get inspiration for great days out and learn about the work we do for the love of Scotland.