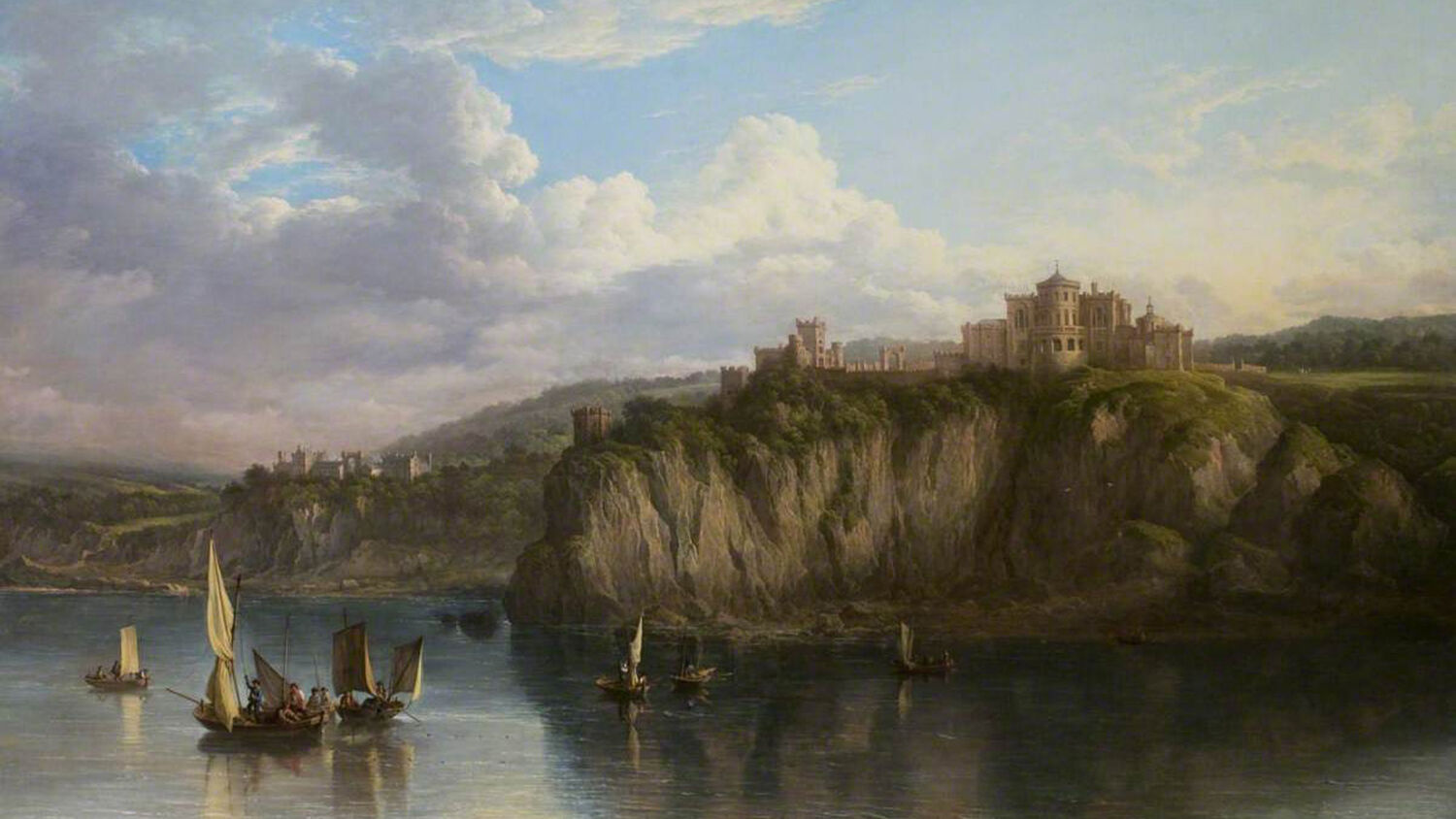 ​Jennifer Melville, Project Leader for Facing Our Past, discusses the legacy of slavery and empire at our properties. Watch as she explores the more difficult and deeper aspects of our stories, and sheds new light on them through the delivery of textured, varied and truthful stories.
Picture a young man walking up to the door of a grand Scottish home – Inveresk Lodge, near Musselburgh. It is the 1780s. He is married, his wife is pregnant and they're desperate for help.

The young man is Robert Wedderburn. His father is James Wedderburn who, like so many Scottish settlers in the West Indies, fathered children to slave women; Robert is one of them. Robert has come to ask his father for help, but James, now married to a Scottish woman and with a white family of his own, disavows his son and sends him away. Many years later, in his seminal book The Horrors of Slavery, Robert exposed his father's rape of his mother Rosanna and his habit of having her whipped naked, and recalled his visit to Inveresk:
'I visited my father, who had the inhumanity to threaten to send me to gaol if I troubled him ... He did not deny me to be his son, but called me a lazy fellow and said he would do nothing for me. From his cook I had one draught of small beer, and his footman gave me a cracked sixpence.'
Robert Wedderburn (1762–1835/6), radical and anti-slavery advocate, from the frontispiece to his book, The Horrors of Slavery, 1824
The National Trust for Scotland has a wealth of such stories about slavery associated with its places. The tale of Scipio Kennedy at Culzean, and his successful assimilation into the Scottish community of Kirkoswald, is well known. But we have been less forthright in relating darker, more difficult, stories and in explaining some particularly challenging – to modern eyes, even offensive – items in our collections. The truth is that many of the places now in our care were built, or made much grander, using the enormous wealth accrued through the subjugation of others – slavery in the West Indies and indentured servitude in the East.
Our collections contain a considerable number of controversial objects – perhaps most notably the throne, family paintings and jewellery seized from the royal family of Awadh (Oudh) in Uttar Pradesh. This 'war booty' was brought back to Leith Hall in Aberdeenshire by Col Alexander Sebastian Leith-Hay. He was born in 1818 at Grenada in the West Indies, to a family that benefitted from slavery. In November 1857 he led the 93rd Sutherland Highlanders Regiment in their storming of Sikandar Bagh, the summer residence of Wajid Ali Shah (1822–87), the last Nawab of Awadh. Leith-Hay's role in what has been long-known here as the Indian Rebellion, but which Indians call the First War of Independence, has been retold in bravado terms. He came away unscathed with a large white cockatoo, which spoke Hindustani; 'his narrowest escape was when a round shot took his bearer's head off ...'. Col Leith-Hay commanded the slaughter of all 2,200 of the sepoy mutineers who had made the palace a stronghold. This reprisal remains one of the darkest episodes of Britain's involvement with India.
Implicit in colonialism and empire was a perception of superiority, partly based on a belief in racial superiority. The recent enthusiasm for DNA testing has shown a much more complex racial heritage of the British people than has been hitherto appreciated. We are aware of recent immigration, such as the Ugandan Asian crisis in the 1970s and the Windrush generation. But as early as 1805 William Wordsworth's saunter through London streets conjures up a marvellously varied scene, and one that he was:
…………………., well pleased to note
Among the crowd all specimens of man,
Through all the colours which the sun bestows,
And every character of form and face:
The Swede, the Russian; from the genial south,
The Frenchman and the Spaniard; from remote
America, the Hunter-Indian; Moors,
Malays, Lascars, the Tartar, the Chinese,
And Negro Ladies in white muslin gowns.
(from 'Residence in London', Book VII of The Prelude; or Growth of a Poet's Mind; An Autobiographical Poem; 1805)
Earlier this year, DNA analysis of the skeletons recovered from the Mary Rose, which sank in July 1511, revealed that the Tudor crew was in fact racially mixed and geographically disparate, some of them originating from southern Europe and North Africa.
Still further in the past, the Declaration of Arbroath describes how:
the Scots … journeyed from Greater Scythia by way of the Tyrrhenian Sea and the Pillars of Hercules, and dwelt for a long course of time in Spain …
We want to engage with new, more diverse audiences and tackle the difficult subjects of colonialism, slavery, the subjugation of the underprivileged and those disadvantaged through their gender, orientation, colour or circumstance. So we would do well to consider how the stories that were formerly deemed too sensitive to address might actually offer a fresh perspective on this conundrum. Instead of presenting our properties as the physical manifestation only of success and privilege, if we use them to reveal the complexities of our heritage and culture, we can make every visit, every online encounter, every guided tour more meaningful and relevant.
Project Reveal was a Trust-wide collections digitisation project, which resulted in an updated database with high-quality images and unique object numbers for every item in the National Trust for Scotland material culture collections. Six regionally based project teams, supported by experienced project managers, worked across all our properties with collections to complete the inventory in 24 months from July 2017 until July 2019.
Addressing the legacy of slavery and empire at the National Trust for Scotland
Transcript
Hello everyone. I'm going to talk today about addressing the legacy of slavery and empire at the National Trust for Scotland and at our properties, and online.
We've got so many fascinating stories related to slavery and empire at our properties, and the recent Black Lives Matter movement has brought this very much into focus. And I think we're all very aware that these are stories that we should be telling. But also, stories that can engage our audiences and increase visitor engagement with our properties and collections.
Our recent amazing fundraising campaign that's going on at the moment has been headlined by Brian Cox, who's very generously given his time, I believe, to the Save Our Scotland campaign.
So he's a classical example, isn't he, of a Scot who's gone abroad and done extremely well, And throughout history, there are examples of that.
And, of course, Scots went abroad because it was very hard to make a living here. They went to better themselves, really. And that's always been the case.
And coming back to Scotland, they've brought back an awful lot of wealth and riches in monetary terms, but also in cultural terms too – enriching our world.
A classic example, probably, of that is the Pineapple – this extraordinary building that we own. And in our terminology on the website, we do talk about pineapples. We talk about where they came from, and when they were first grown in Scotland in our first glasshouses. But we don't say an awful lot about the man who actually owned the building, Sir John Murray, Earl of Dunmore, who actually had quite a lot of jobs abroad. He worked as Governor of Virginia, where he fought trans-Appalachian Indians. He was Governor-General of The Bahamas, and he actually offered freedom to any slaves who fought patriots on the side of the crown.
Now, so when we describe that property as a summerhouse, we might also think about touching on those stories of the person who built it, and how he accrued his wealth, or at least part of his wealth.
Our vision of being caring, brave, curious, vibrant and inclusive needs to encapsulate all of these stories. And it's not that we haven't done that in the past – we actually did have a project running about ten years ago where we were addressing specifically properties on the west coast of Scotland, so places like Greenbank, Geilston, where we have known for a long time that there are slavery connections. And a local history group has picked up on those stories – here's the Mearns History Group going into some detail about the slavery stories at those properties.
We also produced a schools leaflet in 2011 on slavery, and it's still available online. And I think an updating of that would be something we could certainly look at.
And, of course, we have the famous story of Scipio Kennedy at Culzean – an African boy who was brought back in the retinue of the wife of the Earl of Cassillis. And we tell that, pretty much, as a good-news story because he was looked after very well by the family. They bought property for him valued at about £90 sterling, which was a lot of money in those days. And eventually he married a local girl and they had, I think, about nine children – descendants of whom are still around in the area. And Scipio is actually buried nearby.
So that's, on one level, a good-news story. And here a blog written by Hannah Teasdale who worked until quite recently at Culzean.
But I suppose the deeper story of that, which we don't tell quite so well, is the fact that he was a boy who was forcibly removed from his own family to come and serve a Scottish family. So maybe being a little bit more honest about the more difficult aspects of that story would be good.
Here's an example of Scipio Kennedy's manumission document, which actually belongs to the National Archives of Scotland. And it's pretty amazing, isn't it, to see that he's actually signed that himself. So there's the physical manifestation of that, really, very fascinating life.
Now, these stories have all been dealt with in some detail by various writers and academics. So, through the 2000s we have examples by Douglas Hamilton and Iain Whyte addressing Scotland's role in the slave trade. And, more recently, the famous academic Tom Devine has focused on this too. I think he felt, rather late in the day, that he'd rather ignored the subject, so he's redressed that balance much more recently.
And the real gamechanger for all of us has been this amazing website called the Legacies of British Slave-ownership, which was created by the University College London. And it's a gamechanger in the sense that you can search that database for surnames and place names. And what it's really highlighted is the very large role that Scots played – and Scots of every class – played in ownership and compensation of slaves.
Now, the amazing thing really, and perhaps the greatest irony of all, is that compensation for slave ownership was given to the owners, not the slaves. It was the biggest pay-out, I think, ever in British society, so the equivalent of about £17billion now.
Slavery was abolished in 1833, the Act was actually enforced the following year in 1834. And in 1837, the Act was passed to compensate slave owners for their very valuable commodity of slaves. And over the next few years, people have submitted claims, many of which were successful.
So it's possible to go through the records, and if we just take an example of the Baillie family, which married into the Brodies of Brodie Castle. Now, there's Elizabeth Baillie, and she's a classic example of a very demure Victorian lady who's probably never been to the West Indies, but has inherited slaves and done extremely well in the process.
And as in the case of many of our properties, at about the time of her marriage, about the time of the compensation, the house was extended. There had been plans to extend it, but these were actually finalised and carried out at that point.
And in terms of collections items, there are lots and lots of objects in the house that either relate to the British Empire – a piece of ivory – or this specimen wooden table is a classic example of work that would have been produced either in the Americas or in the West Indies.
Now, Edinburgh itself, the New Town, was really created to a large degree on Empire and slavery money. It just wouldn't have been possible to build houses on that scale and of that quality without the influx of money from foreign places. Much of that money came from the West Indies.
A classic example is the north side of Charlotte Square where we own, as you probably know, numbers 5, 6 and 7. And when we look at that group of houses which were acquired there by the 4th Marquess of Bute, and then laterally by the National Trust for Scotland, we can see that there was actually compensation given to people living at numbers 6 – so that's Bute House – and also at number 8. Now, at number 8 we have, again perhaps rather ironically, Angus McKellar, who was Moderator of the General Assembly of the Church of Scotland, and later joined the Free Church. He married into the Stirlings of Keir, a very large slave-owning family, so had his compensation through his wife. And it was often through the wives, as it was for the Baillies and the Brodies, that that happened.
Now, at number 6, now the official residence of the First Minister of Scotland, we have probably the grandest house in the whole of the New Town, if not Edinburgh. And on the slave lists of the family who owned that, the Campbells, we can see a list of slave children. One of them described as a "quadroon", meaning a quarter black – they were very specific about that. And a "creole", meaning he was born in the West Indies rather than in Africa. And his surname, you'll see, is Gairdner, his first name Alick – a very Scottish name, and probably with a Scottish father.
The next owner of the house, John Sinclair of Ulbster was compensated. And you can see the enormous wealth that that brought the family. Here he is in a magnificent full-length portrait by Sir Henry Raeburn. And his sister was able to marry into the French aristocracy, into the family of Prince Jules of Polignac, whose mother was actually a very good friend of Marie Antoinette.
So that gives you an idea of the meteoric rise of these people into the aristocracy through this wealth.
And then looking a little bit closer, again, we can see actually that our own Georgian House was lived in by a man called John Lamont. And, actually, although he wasn't compensated, his son-in-law was.
So there we are, a straight row of houses where compensation was possible.
Now, in many ways, the Georgian House is interesting and unusual for us, because it's full of what are, in effect, props rather than original collection items. It's been dressed to look like a Georgian House. So that really frees it up in terms of what we can do with it. And many of you will know that we did an Enlightenment House - A Play in Five Rooms a while ago, which was a great way of theatricalising the experience, and turning what can be rather staid rooms into a theatre, really, of Hume and Adam conversing over claret and venison.
So the possibilities exist. We did the same below stairs with the servant – the cook, rather – but the same could be done with the stories of people living locally, not just people who lived in that house.
But possibly Malvina Wells, a young girl who was brought back to Scotland from Carriacou in Grenada – that's where she grew up. She was a maidservant to one of the little girls in this picture – the Maclean family who then subsequently married a Macrae – and lived in Scotland. So she came back to the New Town and worked as a maidservant at 33 Great King Street. She then, at one point, was living as a landlady, I think really, as the proprietor of a lodging house in Thistle Street. And then laterally again working as a maidservant at 2 Randolph Crescent, and then 14 Gloucester Place, where she died. And she's actually recorded in another great website, the Mapping Memorials to Women in Scotland – this is her gravestone, which was put up by the Macrae family.
Another family were the Lindsays. You'll perhaps be familiar with the famous movie Belle, which records the story of Dido Belle, whose portrait – here with her cousin Elizabeth – hangs at Scone Palace in Perthshire. But Dido had four half-sisters, one of whom married a bookseller in Edinburgh, who was actually a very good friend of Robert Burns. So Robert Burns knew that woman whose mother is just recorded as Martha G, but would have been a slave. And Burns himself, of course, signed up to go and work on the plantations. But then, fame and fortune and a growing family meant that he didn't have to go in the end. And my understanding is he was rather reluctant to go and, like a lot of people, was swept up in the anti-slavery moment and famously wrote The Slave's Lament about five years after he'd signed up to actually go and work in the West Indies.
And, of course, he's known for A Man's a Man for A' That, which may be linked to Wedgwood's famous plaque of "Am I Not a Man and a Brother?" – part of the movement for the freeing of slaves.
But throughout the time of the Burns Museum, it's important to remember that it has created, really, a place of pilgrimage for many people. This is a wonderful photograph of Clark Gable. And, again, Black Lives Matter movement has shown how Clark Gable actually tried to decolonise the set of Gone With the Wind, that famous movie that he was in. And when Hattie McDaniel won the award, the Oscar for best supporting actress, she was made to sit separately from the rest of the cast, which Gable was not at all happy with. And they remained lifelong friends, and he attended her funeral. So we can see his visit to the Burns Museum as a pilgrimage – I think it's quite valid to do that.
The same is true a few years later of Cassius Clay, who became Muhammad Ali, the famous boxer. This is a wonderful photograph of him with some of his fans at the Burns Museum. And I love the idea of us being able to tell those ongoing stories of slavery continuing to be relevant at the properties.
I mentioned, a little while ago, the case of Joseph Knight, and this is Newhailes, the home of Lord Hailes whom, as I mentioned, was one of the judges ruling on the Joseph Knight case. This is a book that was written about the case – it's a famous case because it was a ground breaker in the sense that it was really there to decide whether you could be a slave in Britain. And this was a ruling case which decided in the favour of Joseph Knight.
Now, nearby Inveresk Lodge is open by the Trust – the gardens only – but it was on the steps on the outside of the house that this man, Robert Wedderburn came to visit his father. He'd come from the West Indies where his mother was a slave, and he wrote a very famous book recording the terrors, really, of being a slave and how his mother was whipped at times. He went to Inveresk, arrived with his pregnant wife, and asked for some support from his father. And he accounts in his book, The Horrors of Slavery, how he was turned away with a bent sixpence.
Now, Robert Wedderburn was the oldest son in the family and it's worth remembering, I think, that his much younger brother – white and legitimate – inherited the estate. He was able to marry one of the Clerks of Penicuik, and this is a beautiful picture of her, again, by Sir Henry Raeburn – who painted so many of these people – round about the time of her marriage. It's now at the Yale University Art Gallery in New Haven, Connecticut. And it's another collections item that should really be telling this story, because as a couple they were able to buy this very grand house in Heriot Row. And James Wedderburn who, as I said, was 20 years younger than his brother, became Solicitor General of Scotland, so had a very successful life.
More recent research is beginning to reveal also how many of our lands were funded by slavery money. So there's a professor in Halifax, Nova Scotia, Karly Kehoe, who's doing a lot of work on the Glenaladale estate, which is the site of the Glenfinnan monument. And so, we describe it as being a Jacobite pilgrimage centre, don't we? And as a site for Harry Potter scenery, but perhaps we should also think about how the property was actually funded through slavery.
Equally, on the east of Scotland we have records of many people who were producing linen and flax – weaving linen from flax. And that linen was then shipped out to the West Indies for clothing for slaves. So, in that way, these small weavers – people living hand-to-mouth, really – were benefitting from slavery. Here are the servants and slaves in the Americas wearing that linen.
And as we're planning to amalgamate the House of Dun with the Angus Folk Museum, we have the perfect opportunity to describe how that money impacted on the local community at every level.
In Leith Hall we have a collection of items which were seized during the First War of Independence as India describes it. We call it the Indian Mutinies sometimes, we really shouldn't because that's not an appropriate way to describe the freedom fighting going on during the British Raj. The items that were seized, in the past, have been written in very patriotic terms, in terms of how they were seized, and it was almost rightful ownership. But actually, these were the family possessions of the King of Oudh – the family still exists in India, so those are difficult stories.
Looking at the terminology we use is really important, and we are going to be having Zandra Yeaman joining us hopefully later in the year to look at terminology and how we address items in our collections. And curator Sarah Beattie has also been doing that at Brodick, where she's given guidance notes to the staff there on what terminology they can use for very contentious objects at Brodick which were purchased with slavery money of the Beckford family.
Again, later this year, we're going to be doing an exhibition on E. A. Hornel, and this really moves me on to the British abroad and the attitudes we had and have projected for many years, and how we should really start to question them a lot more. So, we're using original documents, letters sent back from Japan when Hornel was with another artist called George Henry. And there is a degree of infantilisation of the Japanese, which is really very disturbing now in those letters, as well as questionable interaction with the Japanese. So all of that's going to be covered in the exhibition which really looks at the morals of the British at the time, and questions again their morals and how that impacted on their work.
The Tenement House in Glasgow is a classic example where we're telling very well, I think, a story of a fairly well-to-do tailoress in Glasgow. But we own other apartments in the building, and I know there is a keenness amongst the people associated with that property to tell other stories, other layers, as they do for example at the Tenement Museum in New York or the National Trust does with the Backs in Birmingham. So I think it would be great to think about those other stories.
And I was really delighted last week to get this email from Ana Sánchez-De la Vega at the Tenement House, where she's focusing on the collections there and posting, relating to the Black Lives Matter movement, these amazing images that she's found in the archives there. And she's highlighting online whilst the property is closed. So that kind of contextualisation, I think, is really exciting and really to be encouraged.
Ultimately, it all boils down to what we tell the public, doesn't it? And we have some amazing guides and volunteers across the whole country, and I think the message I'd really like to get across is how there needs to be a complete democratisation of this information, engaging people and getting everybody on board – embedding it in our practice, projects are great – but this needs to become part of what we do every day. It can provide much greater enrichment for the public, but it can also make every visit more meaningful and more worthwhile.
Stay in touch
Be the first to hear about our latest news, get inspiration for great days out and learn about the work we do for the love of Scotland.