The National Trust for Scotland and the Beniba Centre for Slavery Studies (University of Glasgow) held a two-day symposium exploring the histories of children in colonial spaces.
Our symposium was held at Culzean Castle, where 'Scipio' served in the household of the Kennedy family in the early 18th century. Scipio had arrived in Scotland as a young child, having been kidnapped from his home in Guinea, West Africa, and enslaved. He spent the rest of his life on the Ayrshire coast. Although we know that he prospered there, his early years remain obscure, reflecting a more general difficulty with exploring the history of children in colonial archives.
This two-day event (14 and 15 September 2023) brought together international academics with a descendant of Scipio, Scottish curators and focus groups. The keynote speaker was Grenadian American artist filmmaker Billy Gerard Frank, who undertook a residency at Culzean Castle in September, exploring Scipio's life.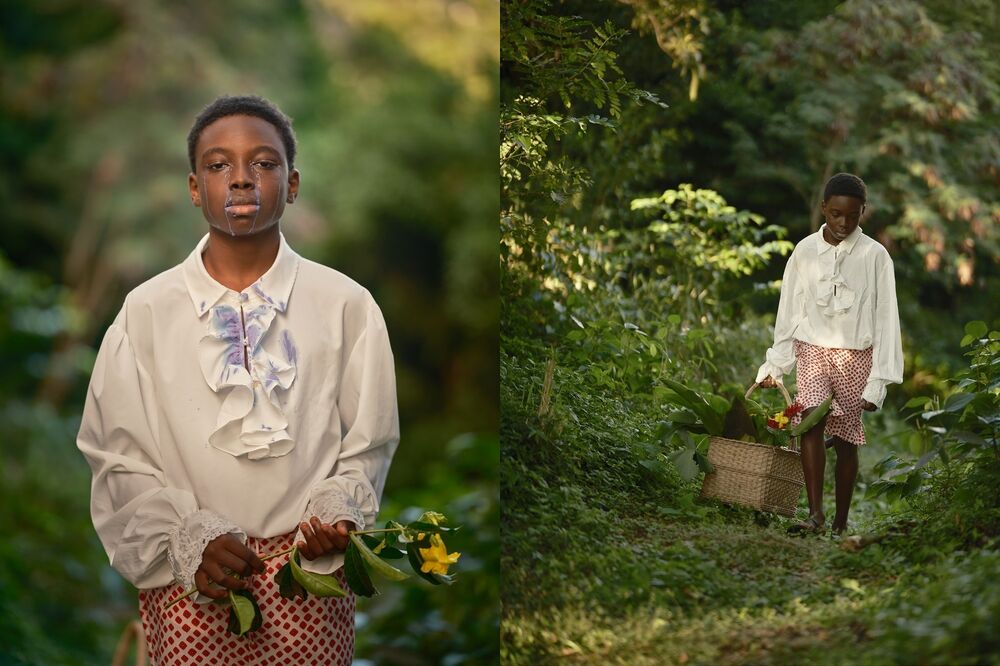 Billy Gerard Frank, Palimpsest: Tales Spun from Sea and Memories – Indigo Milk, diptych, 2022
In his art film Palimpsest: Tales Spun from Sea and Memories, Billy Gerard Frank explores fragments of the life of Quobna Ottobah Cugoano who, whilst employed as a servant for artists Richard and Maria Cosway, was introduced to all the pageantries of class, race and power in 18th-century England. Through his book Thoughts and Sentiments on the Evil of Slavery (1791) Cugoano played a seminal role in the abolitionist movement.
In the diptych above, Cugoano is a boy in Grenada, crying tears of indigo – a major crop that was farmed by enslaved people and used as a dye in British clothing. His tears suggest the sea; he had crossed the Atlantic twice at the age he is shown here. The dislocation forced upon him as a child is manifest in the juxtaposition of his expensive attire – that of an exotic servant – and the tropical treescape of his youth, through which he treads. The tears also convey the blueness of deep sadness, serving as a powerful symbol of the shared sorrow of an entire generation of enslaved people. Cugoano embodies the grief of all enslaved ancestors for whom he will later, through his writings, become a powerful voice.
Download
Download the Encountering Children of Empire conference guide.
Speakers (A–L)

Derek Alexander
Derek studied prehistoric archaeology at the University of Edinburgh, specialising in the later prehistory of temperate Europe. He joined the National Trust for Scotland in 2000 as the West Region Archaeologist, with responsibility for providing advice on the archaeological aspects of all properties in the region, for conducting small-scale research projects, and for commissioning and managing larger projects. Derek was appointed Head of Archaeological Services for the Trust in 2011 and is responsible for the archaeology on many of the Trust's Highland properties, including Culloden, Torridon, Kintail and Balmacara.
Dr David Alston
David is the author of Slaves and Highlanders: Silenced Histories of Scotland and the Caribbean (Edinburgh University Press, 2021), winner of the Saltire Society Scottish Book of the Year 2022. His current research is on the role of Highland Scots in the slave plantations of the Caribbean, especially Guyana, before emancipation in 1834.
Find out more about David's work on his website
Dr Peggy Brunache
Dr Brunache is a lecturer in Public History and Archaeology at the University of Glasgow and the founding Director of the Beniba Centre for Slavery Studies. As a historical archaeologist, she has excavated sites in West Africa, the Caribbean and the United States. Many of her public-facing projects include designing MOOCS [online learning programmes], and working with theatres, science and culture festivals. Her international media appearances include the Discovery Science Channel, BBC and ITV, as well as in documentaries in the US and Germany.
Sarah Connet
Sarah has worked in membership organisations since 2017. She started off working with student volunteers in higher education, before moving to the Participation team at the National Trust for Scotland. The main focus of her work has been engaging members and breaking down barriers to access, and she is currently building partnerships with community organisations in her current role of Participation Officer.
Sarah Cowie
Sarah has worked in a range of institutions, including charities, independent museums, local authority museums and national museums, to engage a wide variety of audiences. She currently leads learning at the National Trust for Scotland.

Dr Kate Ekama
Dr Ekama is a South African historian. She is currently a postdoctoral fellow at Stellenbosch University where her research focuses on slavery in the 19th-century Cape Colony. Kate's work addresses the financial underpinnings of slavery in the colony, and she is especially interested in the financial lives of enslaved people in Cape Town before emancipation.
Professor Corinne Fowler
Corinne is Professor of Colonialism and Heritage at the University of Leicester. She specialises in colonial history, decolonisation and the British countryside's relationship to Empire. Her most recent book is Green Unpleasant Land: Creative Responses to Rural England's Colonial Connections (Peepal Tree Press, 2020). Her forthcoming book is The Countryside: Ten Walks Through Colonial Britain (Penguin Allen Lane, 2023).

Corinne is co-investigator of the Rural Racism Project with Professor Neil Chakraborti and Dr Amy Clarke from the Centre for Hate Studies. Corinne is also co-investigator on the AHRC project 'Addressing the Histories and Legacies of Empire in Literary House Museums: Dove Cottage and Beyond', which brings together academics, consultants, stakeholders and community groups to investigate the colonial links of Romantic-period literary house museums, using Wordsworth Grasmere as an initial focus.
Professor Fowler directed a child-led history and writing project called Colonial Countryside: National Trust Houses Reinterpreted (2018–22, Heritage Lottery and Arts Council). This project was widely covered by the media. In 2020 Corinne co-authored an audit of peer-reviewed research about National Trust properties' connections to empire: Colonialism and historic slavery report. The report won the Museums and Heritage Special Recognition Award in 2022.
Billy Gerard Frank
Billy Gerard Frank, born in Grenada, West Indies, is a multi-media artist, filmmaker, educator, and founder of the Nova Frontier Film Festival and Multi-Disciplinary Lab, showcasing and incubating the works of filmmakers and artists from and about the Global African Diaspora, the Middle East and Latin America. He is also a Lecturer in Directing and Design at Yale's David Geffen School of Drama.
Frank's works address issues of migration, exile, race and global politics, relating to gender, minority status and post-colonial subjects. His mix-media artworks and films have been exhibited and screened in group and solo shows in museums, institutions and international film festivals. He represented Grenada at the 58th La Biennale di Venezia 2019 and was one of the artists in the collective representing Grenada in the 2022 La Biennale. Frank currently lives and works in Brooklyn, New York.
Dr Shantel George
Dr George is a lecturer in history at the University of Glasgow. She works on trans-Atlantic slavery and emancipation, with a particular focus on the British Caribbean. Shantel received her PhD from SOAS, University of London, and is currently finishing her first book, 'The Yoruba are on a Rock': Recaptured Africans and the Orisas of Grenada (under contract with Cambridge University Press). She is also working on a second project examining the global history of the African kola nut.
Dr Gordon Gill
Dr Gill has a PhD in history from Howard University in Washington DC. He has taught courses on the Caribbean, the African Diaspora and Africa at Howard University, Oberlin College in Ohio, and at SOAS in London. His research focuses on enslavement and African Diasporic activities in the Caribbean. Dr Gill is in the process of completing a book manuscript entitled Restructuring the Swamp: Labour, Resistance & Identity in the Slave Society of British Guiana, 1781–1834.
Julie Gilliland
Julie is currently the Visitor Services Manager for the National Trust for Scotland at Greenbank Garden, in the Southside of Glasgow. Having arrived at Greenbank in 2018, she is focused on the visitor journey and experience, and is keen to work with academics, community groups and individuals to reinterpret the history of the site.
Victoria Hepburn
Victoria Hepburn is a Postgraduate Research Associate in the Department of Paintings and Sculpture at the Yale Center for British Art, New Haven, Connecticut. She is also in the final stages of completing a PhD with Professor Tim Barringer in the Department of the History of Art at Yale University.
Dr Alicia Hughes
Dr Hughes is a curator and art historian who specialises in early modern image-making and interdisciplinary histories of collecting in the 18th and 19th centuries. She received her PhD in History of Art from the University of Glasgow in 2021, where she was part of the Leverhulme Trust-funded project, 'Collections: an Enlightenment Pedagogy for the 21st Century'.
Prior to joining the British Museum as Project Curator for the AHRC-funded 'Sloane Lab: Looking Back to Build Future Shared Collection' project in 2022, she was a Curatorial Assistant at the Hunterian in the University of Glasgow. She has held postdoctoral fellowships with the Bibliotheca Hertziana – Max Planck Institute for Art History in Rome and the Paul Mellon Centre for Studies in British Art in London.
Dr Tara Inniss
Dr Inniss is a Lecturer in the Department of History and Philosophy and Deputy Dean (Outreach) in the Faculty of Humanities and Education at the University of the West Indies (UWI), Cave Hill Campus. The areas of focus for her teaching and research include: history of medicine; history of social policy; and heritage and social development. In 2002–03, she received a Commonwealth Split-site PhD Scholarship to study at the UWI and the University of Manchester. In 2007, she completed a Masters in International Social Development at the University of New South Wales in Sydney.
Dr Inniss has served as a delegate for the Government of Barbados on the World Heritage Committee. She also has been a member of the research team that assembled the nomination dossier for UNESCO World Heritage properties Historic Bridgetown and its Garrison and The Industrial Heritage of Barbados: The Story of Sugar and Rum. She currently sits on several committees for the Barbados Museum & Historical Society and the Government of Barbados. She serves as the Secretary-Treasurer for the Association of Caribbean Historians (ACH).
Dr Antonia Laurence-Allen
Dr Laurence-Allen is Regional Curator for Edinburgh and East at the National Trust for Scotland, responsible for leading and advising on research, interpretation planning and engagement strategy for the collections and interiors of 14 Trust properties. Antonia has 30 years of experience in history and heritage, including running an education department for an art gallery in Canada, starting a community arts business in Fife, and curating exhibitions with the Trust's painting and photography collections. With a PhD in the history of photography from the University of St Andrews, she is a specialist in Scottish photographic history and the visual culture of 18th- and 19th-century Britain.
Antonia is on the Board of Trustees for Edinburgh's Stills Gallery and Scotland's Centre for Photography, and is a distinguished Alumni for the Herron School of Art at Indiana University. She represents the Trust on a number of research networks and her most recent publication examines the culture of display on Edinburgh's Lawnmarket in the late 17th century.
Hannah Lawrence
Hannah is originally from the coast of North Carolina, and travelled first to England and then Scotland to study history. Her passion for history was ignited as a young girl, when the truth of the American plantation systems was relayed to her in hushed tones. The enslavement of African people was glossed over by her teachers and was a footnote in the plantation estates that she visited. Hannah became an intern for the National Trust for Scotland and wrote an eight-part blog series on Scipio Kennedy.
Hannah currently resides in Malta, where she continues to undertake historical research. She is currently researching Scipio's life, and plans to release the first biography on his life.
Dr Anthony Lewis
Dr Lewis has been Curator of Scottish History at Glasgow Museums since 2006. He is currently responsible for collections covering Scottish government and nobility, Scottish banking, Jacobite and Hanoverian conflicts, Scottish military medals, mental health collections, Scottish literature (including Robert Burns), Scottish communion, trade and transport tokens, and Scottish rural life, as well as working closely with the Provand's Lordship collection.

Anthony received his PhD on 'The Builders of Edinburgh's New Town 1767–95' from the University of Edinburgh in 2006 and a book of the same title followed in 2014. His research interests include Scottish history, archaeology and urban history, as well as museum provision and professions. He has delivered many tours, talks, lectures and university courses concerning these fields and has had numerous articles published on Scottish history, including Glasgow's legacies of slavery and empire. He has added acquisitions to the collections and continued to update object descriptions and collection knowledge to be shared and developed further. He has developed community co-curated displays and exhibitions on Glaswegian pilgrimages, Glasgow archaeology, medieval Glasgow and Georgian Glasgow.
He is currently developing digital displays with families living on South Uist to represent their thoughts and feelings on artwork made by their relatives, which reside in the Art Extraordinary collections, and physical displays developed through working with psychiatric hospital patients and carers.
Patrick Lorimer
Born in Ayr, Patrick grew up in Ayrshire and founded ARPL Architects, a firm of conservation architects based in Ayr. Now retired from practice, Patrick remains deeply involved in community projects and is Chair of the local community council in Ayr.
Speakers (M–Z)
Alexis McCluskey
Alexis loves helping teams and visitors connect to the emotional nuances of heritage. She is currently working on performing arts programming for East Ayrshire Leisure Trust. She has recently started a consultancy that aims to help heritage professionals use empathy to examine the complexities of history and create accessible, diverse visitor experiences.
Dr Jennifer Melville
Dr Melville joined the National Trust for Scotland in late 2013, first as Head of Collections, Archives and Library Services and then as Head of Curatorial and Conservation Services. She has been leading the Facing Our Past project since September 2020.
Previously, Jennifer led the Fine & Applied Art teams at Aberdeen Art Gallery & Museums, where she curated exhibitions, published monographs and exhibition catalogues on several Scottish artists and movements, managed historic properties, and acquired art and artefacts in a wide variety of fields.
She received her degree in the History of Art from the University of Aberdeen and followed this with postgraduate study at the University of Manchester. She completed a PhD at the University of Edinburgh in 2000. Jennifer has held external posts including Scottish chair of VAGA (Visual Arts and Galleries Association), the professional body for contemporary visual art & culture professionals; sitting on the steering group of Artist Rooms – Anthony d'Offay's gift of contemporary art to the nation; and advisory boards for the University of Aberdeen's Art Committee, the Reviewing Committee on the Export of Works of Art and Objects of Cultural Interest (Acceptance in Lieu scheme) and the selection committee for the Edinburgh International Arts Festival.
Dr Erin Millions
Dr Millions is a settler historian whose research centres Indigenous children and families to explore histories of Indigenous education and health in 19th- and 20th-century Canada and the larger British Empire. Her work includes translating these histories to public and Indigenous community audiences through community-engaged projects, including the Manitoba Indigenous Tuberculosis History Project, the Welcoming Winnipeg initiative, and the Canadian Geographic Paths to Reconciliation project.
She is currently an Assistant Professor in the Department of History at the University of Winnipeg.
Dr Désha Osborne
Dr Osborne is a Chancellor's Fellow/Lecturer in the School of Literatures, Languages and Cultures at the University of Edinburgh. She previously taught literature in the Department of Africana, Puerto Rican and Latino Studies at Hunter College, City University of New York. Dr Osborne completed her PhD in English at the University of Cambridge, where her research was a full-length study of the poem Hiroona: An Historical Romance in Poetic Form; she later published the critical edition with the University of the West Indies Press.
The daughter of Caribbean immigrants, she is a scholar of Caribbean and transatlantic literary history, and her teaching and research are focused on colonialism, slavery, and the migrations of people, culture, and ideas. Her current project is a historical and literary exploration of the lives and legacies of Black and mixed heritage people and their Scottish enslavers in the 'ceded islands' of the Eastern Caribbean during the 18th century.
Dr Caroline Palmer
After a career in biological anthropology at the University of Oxford, Dr Palmer moved to Wales in 1982 and became a researcher and writer on historic gardens and estate history. She has studied a number of estates where 18th-century people of colour from the West Indies found themselves either as gentlefolk or as servants. Family history research has revealed that she is descended from one such migrant, Scipio Kennedy.
Alex Renton
Alex is a journalist, broadcaster and the author of books including Blood Legacy: Reckoning with a family's story of slavery (Canongate, 2021).
Dr Jenny Shaw
Jenny Shaw is an Associate Professor of History at the University of Alabama. Her second book, The Women of Rendezvous: A Transatlantic Story of Family and Slavery, is forthcoming with UNC Press in 2024. This examines the interracial family born to wealthy planter John Peers in 17th-century Barbados. The project traces the lives of five women with whom John fathered children (including two English wives, two enslaved women and a white servant woman), his eighteen offspring (enslaved and free), and their descendants. Mining legal records, deeds, wills, plantation registers, estate inventories, shipping logs and ecclesiastical documents from England and the Caribbean, The Women of Rendezvous reveals how the forces of empire shaped the lives of the women and their children, and how in turn the women and children navigated racial and gendered hierarchies in both Barbados and London.
Dr Christine Whyte
Dr Whyte is a global historian focused on West Africa, slavery and its abolition, and the history of children and childhoods. At the University of Glasgow, she founded the Beniba Centre for Slavery Studies and is an active member of the Centre for Gender History. Her work explores the importance of children and ideas about childhood to labour regimes, particularly those systems designed to bring an end to slavery.
In March 2020, Christine started a Wolfson Foundation/British Academy fellowship project titled Recapturing Childhoods. Its primary focus is on the historical experiences of enslaved children, particularly after emancipation. Children played a central role in systems of slavery, as well as its abolition. The project launched from the question: if children are at the heart of so many practices of slavery, what happens to them when slavery is brought to an end?
As part of that project, from 2020 to 2021 she worked with the charity Who Cares? Scotland to research the history of African Mission Children in Scotland and the lives of children sent to live on-board HMS Mars in Dundee. She also sat on the steering group for the National Trust for Scotland's Facing Our Past project.
Dr Kristy Warren
Kristy Warren is Senior Lecturer of Black History at the University of Lincoln. She researches the socio-political history of British colonialism and its afterlives in the Caribbean and wider diaspora. Kristy has worked on a number of research projects including the Legacies of British Slave Ownership project at UCL, the Common Cause and Bigger Picture projects at the University of Nottingham, and 'MNS disorders in Guyana's jails' project at the University of Leicester.
She also works with cultural institutions to help create content and programming that better reflects the histories, experiences and desires of marginalised groups in the UK.
Lisa Williams
Lisa is an author, poet, and founder of the Edinburgh Caribbean Association. She curates a range of arts events across Scotland to promote Caribbean culture. She runs educational and anti-racist programmes and leads walking tours focusing on Edinburgh's Black history.
Lisa has an MA in Arts, Festival and Cultural Management and is an Honorary Fellow in the School of History, Classics and Archaeology at the University of Edinburgh. Lisa is currently working toward her PhD at the University of St Andrews.
Stay in touch
Be the first to hear about our latest news, get inspiration for great days out and learn about the work we do for the love of Scotland.