As Halloween arrives, Dr Ciaran Jones challenges some of the misconceptions relating to the witches of Scotland.
Halloween is upon us: a time when the supernatural and all things spooky come to the fore in people's minds. It is also a time when organisations, groups and individuals promote and talk about witches and witchcraft. Some people will choose to 'dress up' as witches for Halloween – the scary, old women clothed in a black robe and black pointy hat, equipped with a broomstick and sometimes accompanied by a black cat.
Surprisingly though, the history of witches and witchcraft is rarely discussed around Halloween. Who were the historical witches of Scotland? What did they look like and what sort of magic were they accused of practising? The National Trust for Scotland has recently been seeking to answer some of these questions, as well as uncover the historical connections between the Trust's properties and the witch trials – a period in the 16th and 17th centuries when witchcraft was a statutory crime in Scotland, in which around 4,000 people were formally accused and perhaps 2,500 executed.
The majority of those accused – around 85% – were women. But the women who were accused (and sometimes executed) did not look like the Halloween witch of the 21st century, nor were they overly poor or destitute – another common misnomer peddled since the early 18th century. The accused were usually servants to landed families, or the wives of artisans and tenant farmers from the rural villages across the Lowlands. Isobel Gowdie from Nairnshire, arguably the most well-known Scottish accused witch in Britain, was the wife of a tenant farmer, John Gilbert, who likely worked on the lands of the Laird of Park. And one of the so-called witches of Pollok, Bessie Weir, who was accused in the 1677 case of attempted bewitchment against Sir George Maxwell of Pollok, was the wife of a weaver from Paisley. These were ordinary people, not social outcasts or deviants who were maligned by their communities. And although the historical records reveal several accused witches who developed reputations as quarrelsome or troublemakers, very few were deemed monstrous, evil or wicked.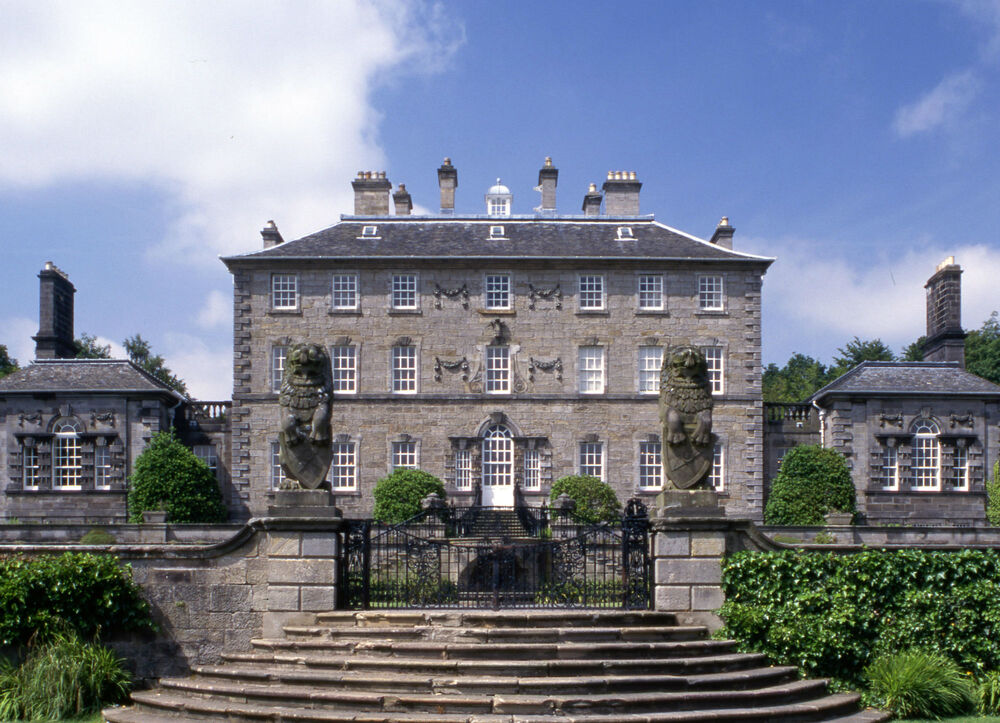 Pollok House as it looks today, which stands in Pollok Country Park: the Maxwell family lived for six centuries on the site
The Halloween witch cackles and curses her victims at parties, especially when no sweets are offered during trick-or-treating, but what forms of magic did contemporaries in the 16th and 17th centuries think accused witches performed? There were two main types of witchcraft. First, malefice – sometimes referred to by the Latin term, maleficium – was a form of harmful magic that was directed at people, property or animals. This usually took the form of curses, and accused witches who performed malefice were known to spoil food, such as butter, bewitch their neighbours and their livestock. In 1699, Bessie Wanton of Cupar was accused of bewitching and tormenting eighteen-year-old James Tarbot, causing him to exhibit possession-like symptoms such as falling into fits.
The second form of magic was demonic witchcraft, and this usually preoccupied the minds of the intellectuals of the day and the authorities involved in prosecuting the crime of witchcraft. Demonic witchcraft was the idea that witches practised harmful magic and served the Devil. According to this line of thinking, witches did not inherit their powers – they received them after making a pact with the Devil. The witch in service to the Devil was thought to be part of a conspiracy to destroy or overturn Christian society. This view of witchcraft saw it essentially as a religious crime, a type of heresy or false belief. In 1675, four women from Culross appeared before the Justiciary Court at Edinburgh under suspicion for witchcraft: Katherine Sands, Isobel Inglis, Janet Hendrie and Agnes Hendrie. After interrogation, all of them confessed to making a pact with the Devil, receiving his mark and attending a witches' sabbath in the ruins of the old west kirk – a place just outside the town where they allegedly danced and worshipped him. Before they arrived at Edinburgh, the accused were most likely imprisoned in the old tolbooth, now the Culross Town House.
So, as we are enjoying the festivities offered at this time of year, and engaging in things all witchy and spooky, we need to be aware that we are also, perhaps inadvertently, playing upon or trivialising historical narratives, memories, and cultures in which people from the past were accused, tortured and even executed. It's okay to enjoy Halloween, as long as we remember the ordinary people like Bessie Weir and Isobel Gowdie, who were accused as witches and suffered terrible fates.
Stay in touch
Be the first to hear about our latest news, get inspiration for great days out and learn about the work we do for the love of Scotland.