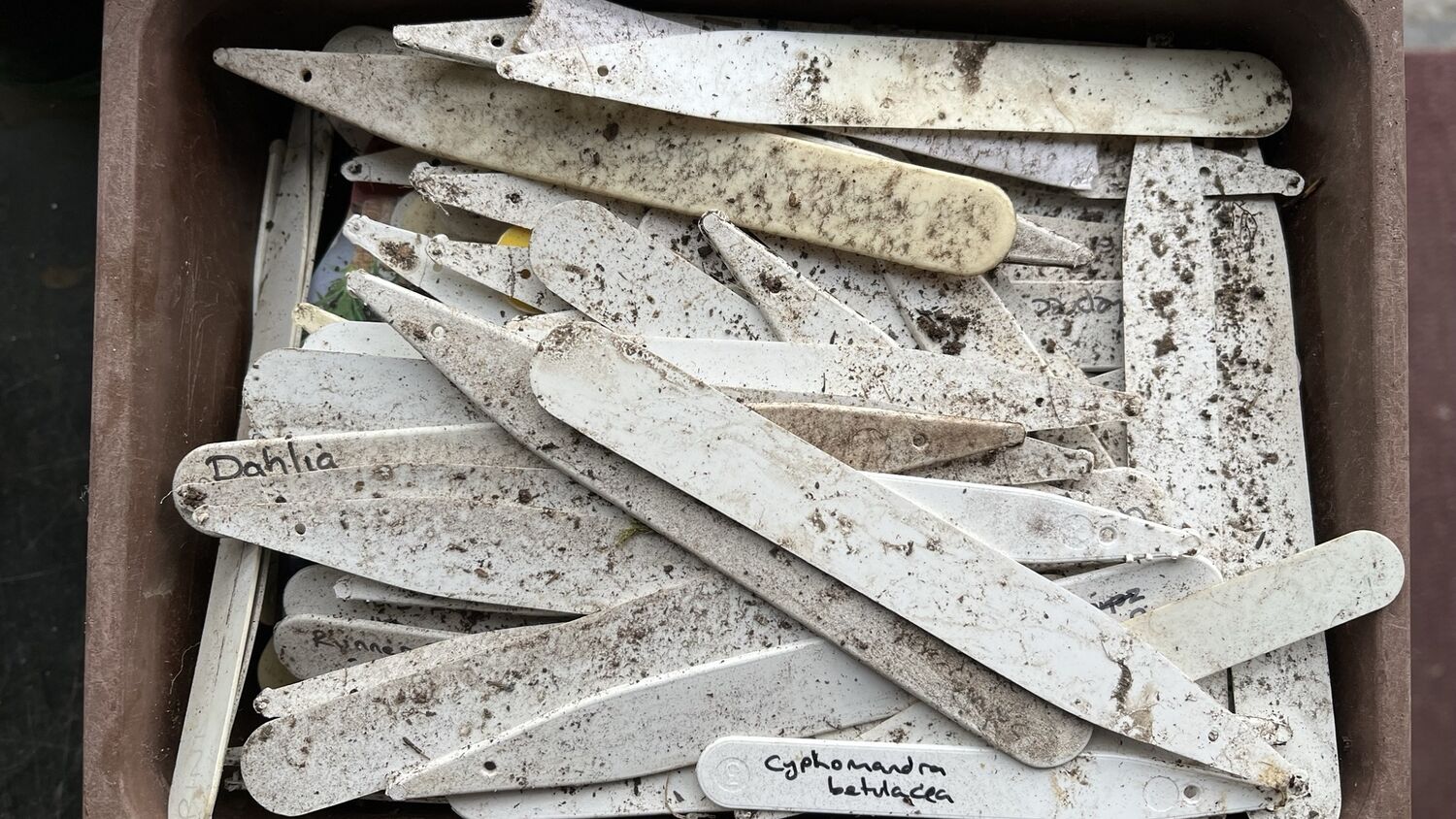 Over the course of the Plant Listing at the National Trust for Scotland (PLANTS) project, the project manager is sharing a behind-the-scenes look at what the team are working on, as well as some reflections on progress. Here is Dr Colin McDowall's second entry.
Recently, standing on the front lawn of Scottish Baronial-style Threave House, it felt like summer was coming to a close. September is the month when plants in the garden thin out; when herbaceous borders do not suddenly disappear but gently fade. The intensity may slowly seep away, but splashes of bright colour remain with, for example, Symphyotrichum novae-angliae (New England aster), Rudbeckia (gloriosa daisy) and Eupatorium (Joe pye weed). If the garden draws to a graceful end in September, then October is really the beginning of the next horticultural year. This is the time to start planning and preparing for next spring and summer. Decisions made now can make a big difference to your 2023 garden.
It is no different for the PLANTS project. We are now reflecting on 15 weeks of garden audits, filled with hard work and incredible achievements, as well as a television appearance on Beechgrove Garden. We also look forward to processing everything we've done so far, and planning for the next exciting phase in the gardens we'll audit in 2023.
This year, the North and West inventory teams have had a productive auditing season, recording thousands of plants. Despite a summer which swung from temperatures over 30C to rainstorms and midge swarms, nine places have had their first PLANTS survey:
Broughton House & Garden
Crathes Castle & Garden
Culzean Castle & Garden
Drum Castle & Garden
Greenbank Garden
Haddo House
Holmwood
Inverewe Garden
Threave Garden & Estate
Two key themes have surfaced: the importance of numbering systems and the invaluable assistance of gardeners.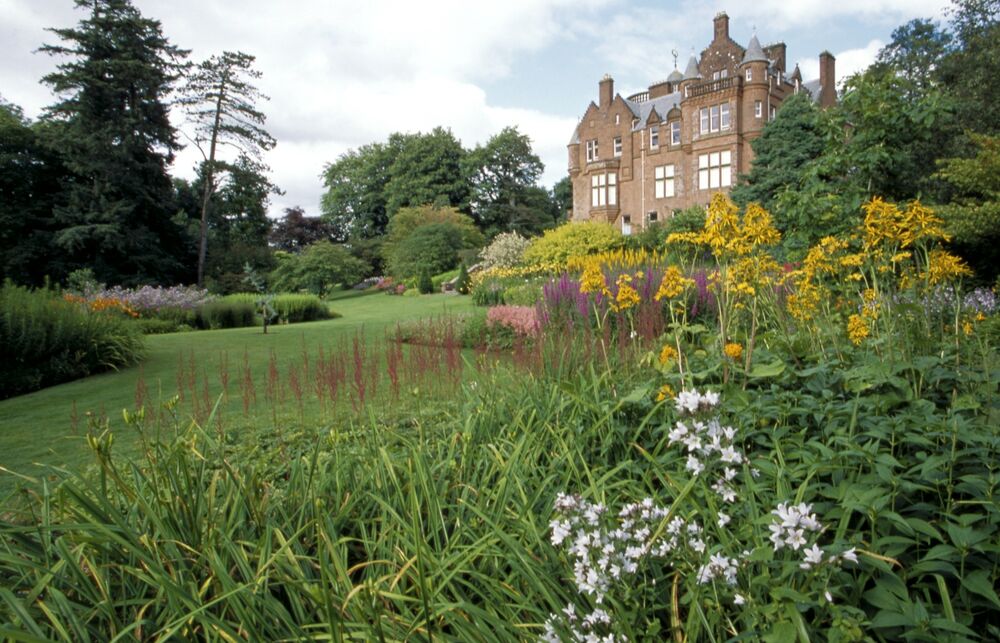 Right plant, right place: plant numbering system
In the 1960s, gardener Beth Chatto popularised the concept of 'right plant, right place'. This is the idea that if you give a plant the right growing conditions, it will reward you tenfold. For the PLANTS project, an alternative definition comes to mind – has the plant you're looking at been correctly identified and is it in the location the records implied it should be? Although many plant species have a long lifespan – two Picea sitchensis (Sitka spruce) at Culzean were planted in 1851 – our project captures each plant at one moment in time, both for contemporary use and for posterity. Based on this data, resources will be allocated, policy decisions shaped and the Trust's collection compared to others. But how will a gardener easily locate the plant they are looking for?
For each of the thousands of plants so far examined, we have recorded (either digitally or on paper) the genus, species or cultivar (ideally all three!); the location; and whether it matches an existing accession record in the database. In the past, the location of a plant could be as general as '8 Poa cita (silver tussock grass) in the Vinery Border'. To ensure our catalogue is accessible, one of the first decisions we took was to use a location numbering procedure to make finding the right plant in the right place quicker and easier.
The system chosen by the project was inspired by the one that has been in use at Crathes Castle for many years. On the planting plan above (from Crathes's Blue and Pink Border), each plant species has its own location number. Numbers begin at the left-hand corner of the bed, moving from left to right and from front to back including up the walls. Using this system, anyone will be able to locate an individual plant, tree or shrub, regardless of their knowledge of the garden. This system also offers an insight into the scope and diversity of the garden's plants, as well as the ability to create a history and maintenance record on individual plants, and the ability to track phenology (when a plant flowers, when its leaves turn colour, etc).
The benefits of such a system were evident when the North inventory team audited Crathes in August. While identification of some species was up for debate, the location reference system helped identify and locate the thousands of plants in the walled garden.
Read more about our work here in the Crathes Garden blog: 'A passion for plants'
I visited the team in August, and it was a pleasure to spend time in the eight garden rooms that make up the walled garden at Crathes. The garden was developed by the Burnett family over many centuries, but especially from the 1920s onwards by Major-General Sir James Burnett, 13th Baronet and his wife Lady Sybil. The couple were influenced by Gertrude Jekyll and her book Colour Schemes for the Flower Garden, and both were recognised by contemporaries as important gardeners. In 1904, Jekyll visited the garden at Crathes and commented on the 'brilliancy of the colour masses'. The quote could have come from a modern-day visitor: the double herbaceous borders, the white border (all white flowering plants) and the Red and Golden Garden all contribute to a kaleidoscopic effect.
Clipped plants like the mushroom-shaped Prunus lusitanica (Portuguese laurel) and structures like the 18th-century dovecote, flanked by Corylus avellana 'Contorta' (corkscrew hazel), stood out. I was particularly taken by the Burnetts' astonishing collection of 79 varieties of viburnum, ranging from the pale pink Viburnum x bodnantense 'Charles Lamont' (developed at Bodnant Garden in Wales by Frederick Puddle in 1933) to the Viburnum farreri (named after Reginald Farrer who collected it in China) and a long-established Viburnum rhytidophyllum (planted by Sir James himself). Although Crathes is primarily an herbaceous garden, I saw so many unusual small trees and shrubs grow, including Decaisnea fargesii (blue bean shrub or dead men's fingers), Garrya fadyenii (Fadyen's silktassel), Carpenteria californica (tree anemone), Hoheria lyallii var. ribifolia (mountain ribbonwood) and several other plants that are normally too tender to grow so far north. Building an effective system for identifying, recording and locating this broad and exciting collection is a very rewarding task indeed.
Growing with gardeners: garden-based learning
PLANTS project staff have been fortunate to work alongside some of the most expert gardeners in the UK. Connecting with the gardeners at our audits is the number one factor that will ensure success. Experienced staff gardeners are always happy to help and keep us on the right path by answering our queries, from the simple things like the cultivar name of a particular Miscanthus sinensis (Chinese silver grass), to the more complex issues, such as identifying the species of Hypericum (St John's wort) in a bed, whether it is maculatum or perforatum.
Kevin Doidge, First Gardener at Inverewe, came to see the team while we were auditing an area of the Walled Garden. I must admit to thinking, 'Oh no! He's going to test us!' Of course, he wasn't. Without lecturing, he talked to us about the exotic plants that were unknown to us – every plant had a story. The fruit of Lardizabala biternata (zabala fruit), an extremely rare climbing plant native to Chile and Peru, is sold in local markets there as a delicacy. The Mexican Tigridia orthantha (tiger flower) bears upward-facing flowers with three long petals, ideal for pollination by hummingbirds. Each of its blooms lasts one day. I observed this kind of knowledge being shared regularly over the audit season. Horticulture is so much more than gardening. When you meet an experienced gardener, the breadth of their knowledge is staggering; it is not just about cutting the grass.
The North team auditing at Inverewe Garden
I was also impressed by how keen garden staff were to learn more about their own gardens. In August, I met Susan Bennett (garden guide and the blogger behind Notes from Crathes) with Dave Allen (volunteer) working on tree labels in the Crathes garden. Both are very knowledgeable about their garden but remain intrigued by certain mysteries too. For example, the mystery vine in the Dovecote border (mentioned in Susan's blog from November 2020) is thought to be Ampelopsis glandulosa var. brevipedunculata (porcelain berry) but it requires further investigation.
At Threave Garden & Estate, Nick Hoskins (former Head Gardener of Broughton House Garden) helped answer questions and audit the garden with the West team. His enthusiasm for getting answers to questions that have bothered him for a long time was infectious. In particular, he was intrigued by a sloping area of the garden filled with a wide range of acid-loving plants including interesting species like Rhododendron degronianum subsp. heptamerum (rhododendron), Vaccinium macrocarpon (American cranberry) and Zenobia pulverulenta (honeycup), to name just a few.
It has been a privilege to see the hard work of the inventory teams supported by kindness and help from the wider Trust team, including operations managers, head gardeners, gardeners and volunteers. As the season has progressed, it's been a personal joy to see the inventory teams gain in knowledge so quickly. There have been fulfilling moments where a PLANTS team member has walked around a garden or a certain bed and suddenly realised that they knew more of the plants than not. They will never look at the world in the same way again.
Stay in touch
Be the first to hear about our latest news, get inspiration for great days out and learn about the work we do for the love of Scotland.