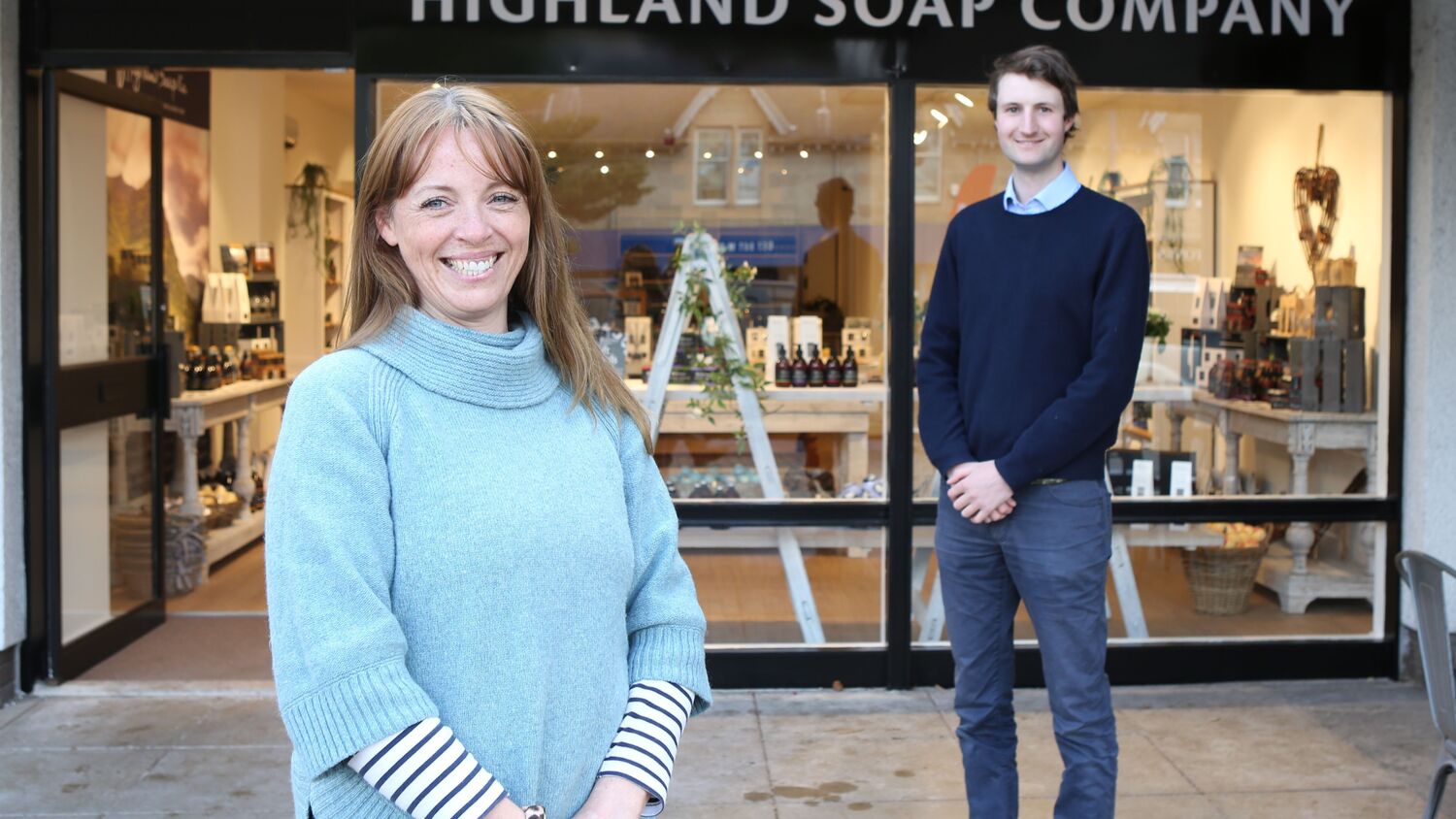 The Trust is proud to support talented makers and craftspeople from across Scotland, by selling their products in our physical and online shops. This time, we meet Emma and Archie from Highland Soap Co. and founder Emma talks us through her love and passion for the business.
Please introduce yourself and your business
Hello! The Highland Soap Company makes organic soap and skincare products at our workshop in Fort William. We use sustainable ingredients and packaging and have a range of fragrances, from Wild Scottish Raspberry to Whisky & Honey.
Where are you based?
We have just opened a new workshop by the 13th-century Old Inverlochy Castle with views over Ben Nevis, set in six acres of grounds. It is really spectacular and a real inspiration for us to keep our products as natural as our surroundings.
The Highland Soap Company workshop
When and how did you start your business?
The Highland Soap Company was started in my kitchen in the 1990s. I wanted to use organic and natural soap and skincare products but found that there weren't any that looked, smelt and felt nice – so I started to make my own! My father had a little shop in Spean Bridge so I started by selling my creations in there.
What products do you make/design/create?
We have a lovely range of products: bars of soap, hand washes, lotions and bubble baths. We also make shampoos, body washes, conditioners and hand creams, all in a range of fragrances: Hebridean Seaweed, Rose & Patchouli, Highland Lavender, Bog Myrtle and lots of others. Some are fruity, some floral, others herby – we have something for everyone!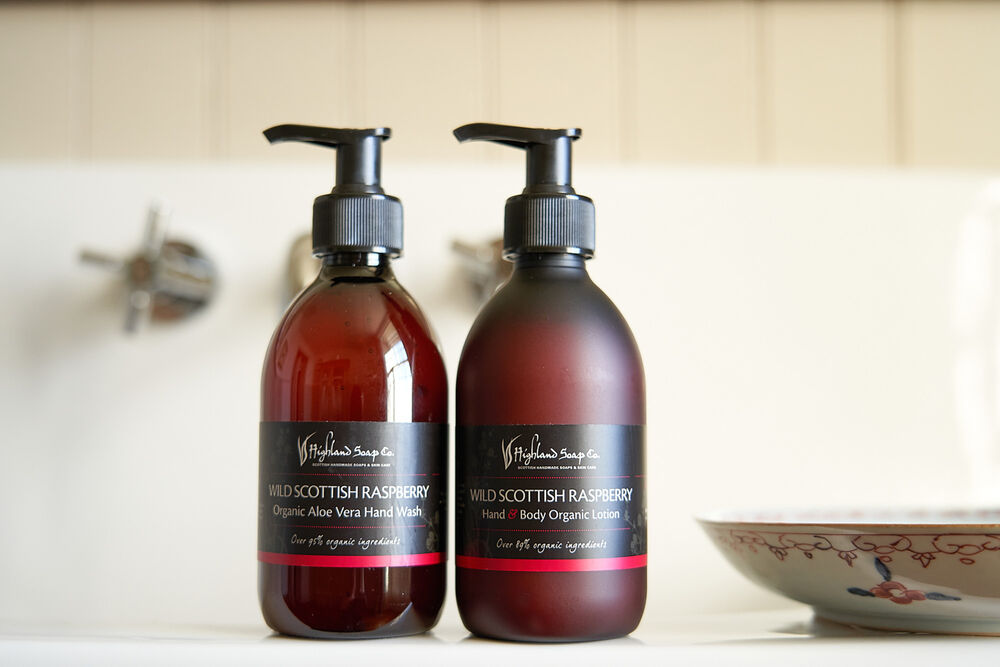 Wild Scottish Raspberry Hand Wash, and Wild Scottish Raspberry Hand and Body Lotion
What makes your business unique?
Our products are made with organic, natural ingredients and we are the only soap maker in Scotland to really focus on the sustainability of our products. We use bottles made from sugarcane plastic, offer refills in our shops and a return scheme for our candle jars.
Are there any interesting materials that you use?
Absolutely. Our bog myrtle range is made with essential oils distilled in our own copper pot still. Scots herbalists have used this wonder-shrub for centuries for anti-ageing and all sorts of skin conditions so when we found that we couldn't buy it any more for love or money we started wild-harvesting and making our own.
Are there any eco-credentials you can mention?
Oh yes. That is really the core of what we are trying to achieve. From the solar panels on the roof of our workshop to the 1L glass refill bottles we sell that save 100g of plastic each, we are really doing what we can to minimise our impact.
What's your favourite thing about your business/running your business?
Running my own business really gives me the chance to focus on the product. What I love is coming up with new fragrances, becoming more sustainable and making really beautiful soaps and skincare products without having to compromise on any of the values that I started the business with.
Emma Parton, founder of Highland Soap Co.
What's the proudest moment of your business career?
Very recently! We have just opened the beautiful new Highland Soap Company Visitor Centre & Larder Café. We have been open a few days now and we have been given such a lovely reception locally. People can visit and see how we make our products, check out gift ideas in our shop or enjoy coffees, cakes and lunches in our Larder Café with its beautiful views. From next year you'll be able to join soap-making classes too! Everything is coming together nicely and I am so proud.
What is your favourite Trust place and where would you like to visit?
I just adore Glenfinnan. With the viaduct on one side, famous for featuring in Harry Potter, and beautiful views past the monument across Loch Shiel, it is a magical spot.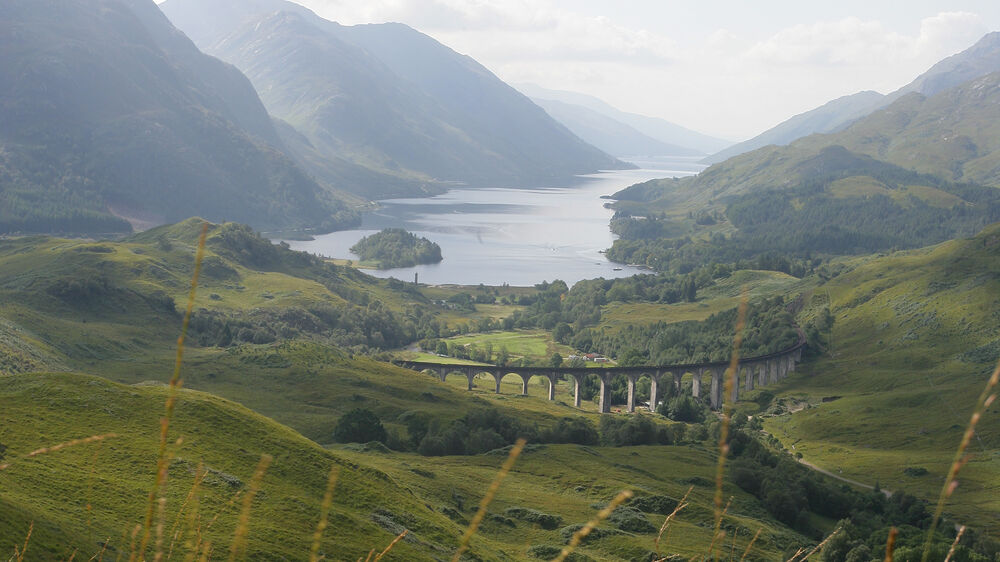 The Glenfinnan Viaduct and Glenfinnan Monument, at the head of Loch Shiel
How did you/your business start working with the Trust?
Angus MacDonald, the father of my business partner Archie, is a novelist and wrote the Ardnish series of romantic novels set in the Highlands. Angus went into one of the Trust's properties and after he persuaded the manager there to stock his books he said 'oh, and you might meet my son Archie to discuss Highland Soap!'. God loves a trier and we went from there to supplying 17 sites in a year. It has been wonderful for us and allowed us to hire a full-time team member here. Good local jobs make such a difference to a small community like ours.
What's your favourite product that you supply to the Trust and what was the inspiration behind creating it?
I love our Scottish Raspberry Cranachan Handmade Soap. It is a weighty bar and feels large in your hand. Raspberry cranachan is a pudding or desert, made from raspberries, oats and honey. Making it into a soap has been fun! It has quite a sweet smell and is really popular.
Highland Soap Co. Raspberry Cranachan Soap Bar
What do you love about Scotland? #fortheloveofscotland
Ours is a country of clean air, clear rivers and natural landscapes and these are all qualities that we reflect in our products. Hopefully you'll love them too!

Shop online
Show family and friends you're thinking of them with our collection of great gift ideas.
100% of our profits go towards protecting Scotland's heritage.
Shop now
Stay in touch
Be the first to hear about our latest news, get inspiration for great days out and learn about the work we do for the love of Scotland.