The Trust is proud to support talented makers and craftspeople from across Scotland, by selling their products in our physical and online shops. This time, we meet Burgess Hay from Burgess Bagpipes.
Please introduce yourself and your business
Hello, I am Burgess Hay. Burgess is my first name – it's a family name and it was my turn to get it. With my wife Fiona and son Scott, we are a family business that designs and manufactures bagpipes, Scottish Smallpipes, Border Pipes, Great Highland Bagpipes and bespoke items made to order.
A modern bagpipe maker needs many skills, including: wood and metal turning, woodwork, metalwork, leather work, a practical hand, and sophisticated machine and computer skills. Skills bound together with an artistic eye, a feel for the materials and how it looks and feels in your hand.
We have chosen to follow the path of pipe making family businesses from the past. Like the 'Glens' of Edinburgh (circa 1850) who in addition to making bagpipes made scientific instruments and furniture. We use our skills and specialist equipment to make bespoke items, and ship our beautifully crafted products all over the world.
Where are you based?
We are based in Dunphail, halfway between Grantown-on-Spey and Forres. Until the 1960s it was a railway station stop and now 60 years on it's a vibrant, diverse and compact rural community.
When and how did your business start?
The business in its current format started in 2015. However, you don't just wake up one morning and decide to become a bagpipe maker. Our family piping tradition can be traced back to the 1700s – the knowledge and skills take generations to build.
Pivotal was Fiona's father, the world champion piper John McDougall of Kincraig.
I am a professional industrial design and manufacturing engineer, and for the previous 30 years had played about with pipes and reeds in the search for the perfect bagpipe chanter. Fiona is a successful Celtic artist. Scott had just completed a course in Scottish Traditional music with the UHI in Uist. In the summer of 2015, the time seemed right, and I proposed that as a family we pull together our combined skills. And so, Burgess Bagpipes Ltd was born.
The Hay family of Burgess Bagpipes: (from left to right) Scott, Fiona and Burgess
What products do you make/design/create?
In addition to our range of bagpipes, we design and make bespoke items. We can turn our hands to most things: kitchenware, chopping boards, coasters etc.; etch drinking glasses and slate; produce carved wooden house and country signs, door panels, branded river and coffee tables; point of sale displays and bar tops; metal items, inlayed and carved; and leather work, shaped and etched, for covers, straps and pendants.
What makes your business unique?
I suppose what makes our business unique is the complete package. A genuine Scottish family. A family that has always made and created things. Our deep-rooted connections with the past, our family history and traditions, combined with the use of ultra-modern technology.
We use the sum of all our talents, knowledge, care and experience and strive to achieve something that can't be put into words. It's the feeling of pleasure you get holding something someone else has made for you. That connection between maker and user is unique. And we are the only Highland Bagpipe maker in the Highlands of Scotland.
Are there any interesting materials that you use?
As pipe makers we use lots of exotic materials but beech is our favourite for our non-bagpipe products. Between the 16th and 18th centuries, there was a huge Royal hunting forest which belonged to the Earl of Moray close to Culloden Moor. In 1746, a beech sapling was growing. Almost 300 years on the tree had to be felled to make way for a new bridge over the River Nairn. Our workshop is right next to Logie Timber sawmill and they dried and milled the tree, and so it lives on in some of the products we make. All the wood milled for us by them comes from the Highlands and the exact location of each tree is known. When working the wood, I often wonder what these trees witnessed and what stories they could tell. Imagine – the wood in your hands could be 300 years old.
Jacobite toasting tray and drinking glasses
Are there any eco credentials you can mention? For example the use of recycled materials?
Being as eco friendly as possible is very important to us and our customers. All our wood comes from sustainable sources, including the African blackwood used in our bagpipes which we import from a regulated and licenced sawmill in Africa or a UK, Fair Trade, FSC approved supplier.
We work closely with Scottish sawmills that specialise in hardwoods and semi-processed boards in beech, oak, ash, elm and burr elm, all from local trees. Any packaging we supply is made from recycled materials. Where possible we are moving away from labels and packaging, instead permanently marking the product with bar or QR codes.
The finishing and waterproof coatings we use are eco-friendly water-based products made in the UK. We have also consciously decided not to use components made abroad. Alternatives are designed by us and made in Scotland or the UK.
What's your favourite thing about your business/running your business?
The brilliant people we meet and the amazing places we get to visit.
What's the proudest moment in your business career?
There is no one specific moment. Just an overall sense of achievement and pleasure in seeing people enjoy and appreciate what we do!
What is your favourite Trust place and where would you like to visit?
Without doubt Culloden is my favourite Trust property. With so many interesting places it is difficult to choose, but a close second would be Glenfinnan. It has that raw beauty, standing looking down Loch Shiel and imagining a rowing boat coming ashore, the passengers ready to change history.
How did you/your business start working with the Trust?
We have a long connection to Culloden and the Trust. In 1746 we had an ancestor fight in the battle. In 2008 Scott won a competition run by the Trust to open the new battlefield visitor centre. Then in 2018, unaware of any of this, the team at Culloden contacted us to work on a project to promote Highland tradition. A partnership developed and now here we are supplying products and onsite with educational and cultural projects.
What's your favourite product that you supply to the Trust and what was the inspiration behind creating it?
It's got to be the stag's head Sgian Brew. Worn with the kilt in place of the Sgian Dubh, I did not invent the idea but it's such a modern twist on a traditional item. I designed the stag's head opener part to replace a standard imported component. It gives it a real Scottish feel and is made in Scotland from stainless steel.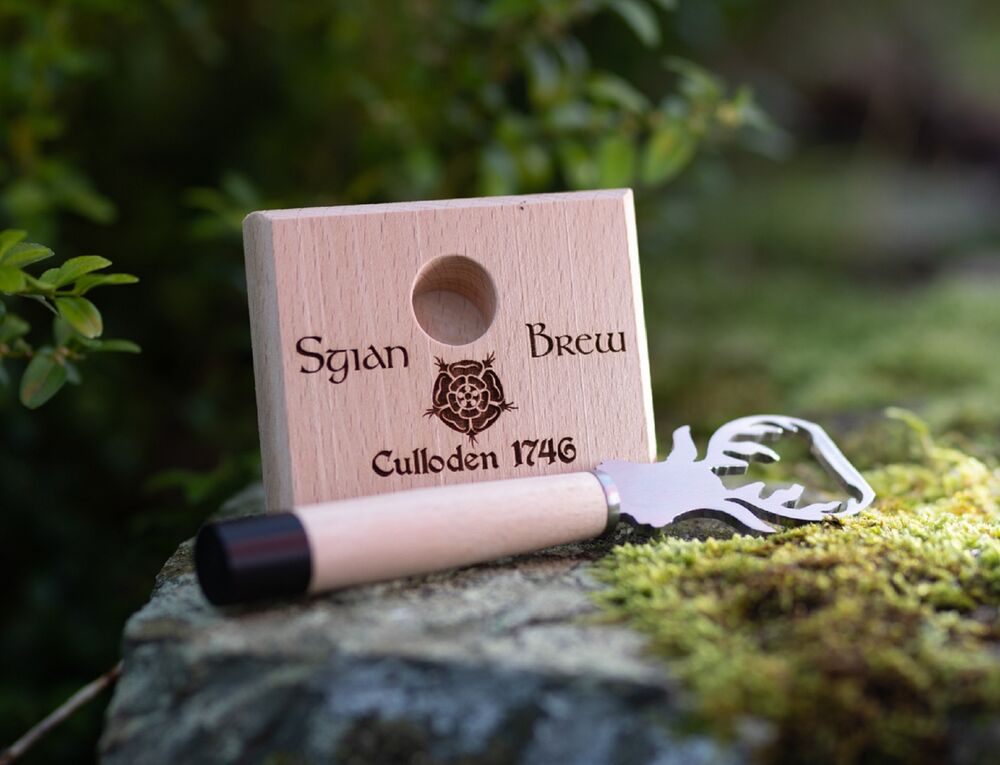 The stag's head Sgian Brew
What do you love about Scotland? #fortheloveofscotland
Scotland is a beautiful place, but it's the folk that give it its heart and soul.
---
Shop the Culloden Battlefield Collection, created exclusively for the National Trust for Scotland by Burgess Bagpipes.
Shop online
Show family and friends you're thinking of them with our collection of great gift ideas.
100% of our profits go towards protecting Scotland's heritage.
Shop now
Stay in touch
Be the first to hear about our latest news, get inspiration for great days out and learn about the work we do for the love of Scotland.