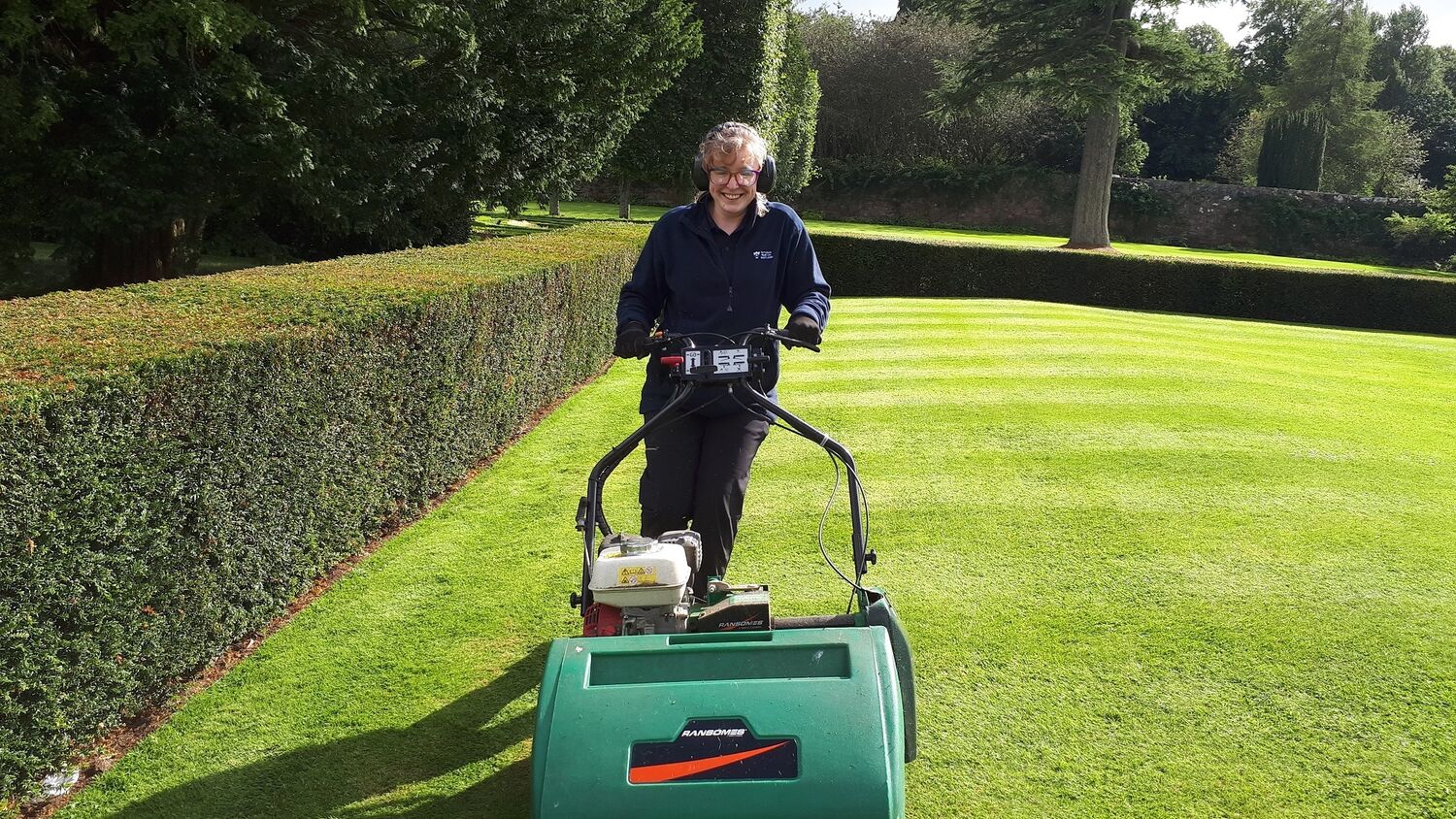 Harriet Godby joined the Trust as an apprentice at Pitmedden Garden in August 2019. Here, we take a closer look at what being an apprentice means to Harriet, and Ann Steele from our gardens team shares what it means to the Trust as a whole.
Why did you apply for an apprenticeship?
Harriet: Apprenticeships appealed to me because practical experience is the way I prefer to learn. On-the-job training with people who can teach me the actual skills needed for my chosen profession is more effective, in my opinion, than learning a whole bunch of theory that you might never use! Apprenticeships are also brilliant because you're paid to do the job, so it's a fantastic alternative to other types of courses – it means that apprenticeships can target a more diverse range of people, rather than just those who can afford unpaid training. Learning as you work is a great way to get to know your strengths and to improve on any areas where you're less confident. Experiencing all the different aspects of your chosen trade helps you to decide what things you enjoy doing, and thus gives you ideas for a long-term career.
Ann: Apprenticeships have been a route into professional gardening for centuries and that's for a good reason – they really work! As an employer in heritage horticulture, we know that, while theoretical qualifications are of course valuable, just as valuable – if not more so – is the learning that comes on the job, building day-by-day, season-by-season and year-by-year. Our industry is short of professional gardeners with the right combination of skills and experience needed to manage our special places, so we decided an apprenticeship programme was a great way to grow our own!
What has been your favourite thing so far?
Harriet: I have really enjoyed working with the team of gardeners. They have trained me in a huge range of things, from the everyday skills such as mowing grass and weeding, to loads of fun extras like welding. They're great people and we all get on well, and this has really helped with learning new skills and improving my confidence.
Ann: Our industry is particularly short of young talent – and that input is vital to keeping our great gardens relevant to future generations. I feel incredibly lucky to have had the opportunity to introduce young people to all the wonderful potential that a career in horticulture holds.
What advice would you give someone else starting this journey?
Harriet: I'd suggest trying as many different things as you can, because the careers that you might be pushed towards by school (or whoever else) may not necessarily be right for you. I did 2 years of uni and the best thing I did was drop out and start my apprenticeship. So, trying new things and keeping your options open might lead to you finding something you really enjoy. I'd also suggest ignoring people who tell you that you can't do things, because they're normally wrong and you can do whatever you want!
Ann: I found it really helpful to speak to others who were managing apprenticeship programmes before starting our own, learning from their direct experience.
What do you hope for the future?
Harriet: I hope that more companies start to offer apprenticeships in a wider range of trades, because it's essential to train people to ensure the continuation of businesses and services, not just manual trades like horticulture but for many different professions. I feel that some companies may see apprentices as just an expense, which is very much not the case. Apprentices add value to any company by bringing new ideas and perspectives, without which businesses cannot hope to advance. It's not about taking a chance on someone; it's an investment in a person who'll be an asset to the company, not a burden on resources.
Ann: We've been on a 3-intake journey with our own Garden Apprenticeship programme. I'd love to see the owners of other large gardens developing similar programmes to encourage more young people in this sector, for the benefit of us all as employers.
Who would you like to thank?
Harriet: My family has always supported my choices, including dropping out of uni, even if they didn't think it was a good idea at the time! I would especially thank my partner who has always been amazing and has encouraged me whenever I have needed support.
Ann: I'd like to thank the anonymous donor who has helped fund our Garden Apprenticeship programme – college accommodation, transport there and travel to other places. As a charity, we really value the help such donations bring, helping to make dreams possible!
---
Have you ever visited one of our gardens and wondered how you could recreate it at home? Or perhaps you'd like some expert help in adding some splashes of colour to your garden? Join our new ROOTS subscription scheme and receive a special pack every six weeks with gardening goodies to help your garden bloom – and six times a year the packs will also contain a packet of Scottish seeds for you to grow at home.

Stay in touch
Be the first to hear about our latest news, get inspiration for great days out and learn about the work we do for the love of Scotland.