After two years of closure, the Gallery at Pollok House will reopen with an exhibition on 'Glasgow Boy' artist Edward Atkinson Hornel and his trips to Japan in the 1890s and 1920s. The exhibition will tell the story of how he portrayed Japan in his paintings, and the legacy of these experiences on his life and works back in Scotland.
Hornel holds an important place with the Trust. His home, Broughton House in Kirkcudbright, has been in our care since 1997. Its famous garden and rich collections have remained firm favourites and are amongst our most loved.
As part of the exhibition, 16 original works will be brought from Broughton House to Pollok House, many of them to be exhibited in Glasgow for the first time. The exhibition will open on 24 March and will close on 19 June 2022.
The new exhibition at Pollok House will take visitors on a journey from the rich art scene of 1890s Glasgow to the shores of Japan, which had then only recently permitted outside visitors. Glasgow's passion for Japanese art and culture was led by the city's influential art patrons such as dealer and agent Alexander Reid and collector Sir William Burrell, who, along with other wealthy individuals in the city, paid for Hornel's first trip to Japan in 1893–4.
Emma Inglis, the exhibition's curator says: 'Hornel was above all a commercial artist. The burst of paintings inspired by his first visit to Japan tapped into the prevailing culture of Japonisme in Scotland and were snapped up by collectors. 20 years later, though this fashion may have waned, he found an alternative market for paintings of children in the Galloway countryside. These romanticised views of girls posed by the shore, among blossoms or in woodland owe much to the Japanese paintings that came before. Tracing the full development of Hornel's later oeuvre from the 1890s through to the late 1920s is an important element of our exhibition.'
On Hornel's travels he collected highly textured paintings of women and girls, depicted against densely worked landscapes in luminous, jewel-like colours which influenced Hornel's trademark painting style. Alongside a selection of Hornel's paintings from Broughton House, we will exhibit items from his extensive photographic collection. This will trace the evolution of his painting style from the 1880s to the late 1920s, showing the impact of photography and how his work was shaped by his encounters in Japan.
Photograph of a young woman in Sri Lanka hand weaving
Dr Sam Gallacher, Operations Manager for Glasgow, says: 'A major theme within this exhibition is about connections and networks. Not only between Hornel and Japan, as one would expect, but connections with real pertinence to the history of Pollok Country Park. Sir William Burrell, whose collection sited in the park reopens to the public this spring after a major refurbishment project, was one of the financial sponsors of Hornel's trip to Japan.
'Moreover, one of Hornel's collectors was Sir John Stirling Maxwell, founder of the National Trust for Scotland, who purchased three of Hornel's Japanese paintings for Pollok House, his home and our venue for this exhibition. As such, we're seeing this exhibition as something of a homecoming for E A Hornel, and an opportunity for us to say more about this important chapter in the artistic heritage of Pollok and Glasgow.'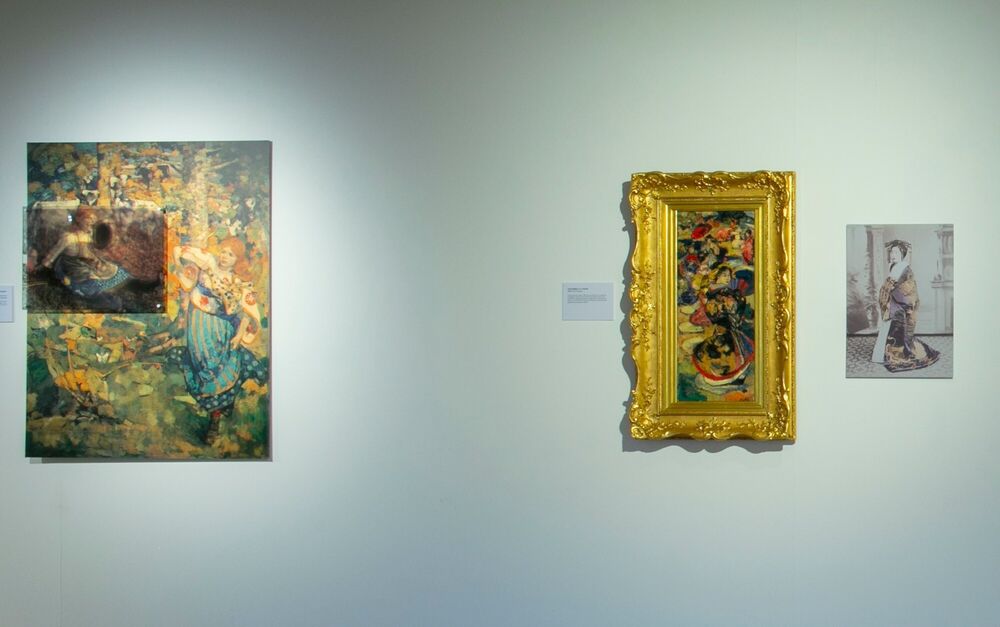 Hornel's work is exhibited in a variety of galleries and museums.
The exhibition has drawn on recent research into Hornel's use of photography, which was crucial to his art. In many instances, Hornel copied poses directly from his collection of photographs onto the canvas. Photography influenced the formats of his canvases and the compositions of his works.
---
You can visit the exhibition Hornel: From Glasgow to Japan, in line with Pollok House's opening hours, from 24 March–19 June 2022. Keep an eye out for our programme of specially curated talks, tours and activities which will accompany the exhibition.

Stay in touch
Be the first to hear about our latest news, get inspiration for great days out and learn about the work we do for the love of Scotland.