27 Nov 2018
'Eilean – The Island Photography of Margaret Fay Shaw' / 'Eilean – Na Dealbhan aig Mairead Fay Seathach'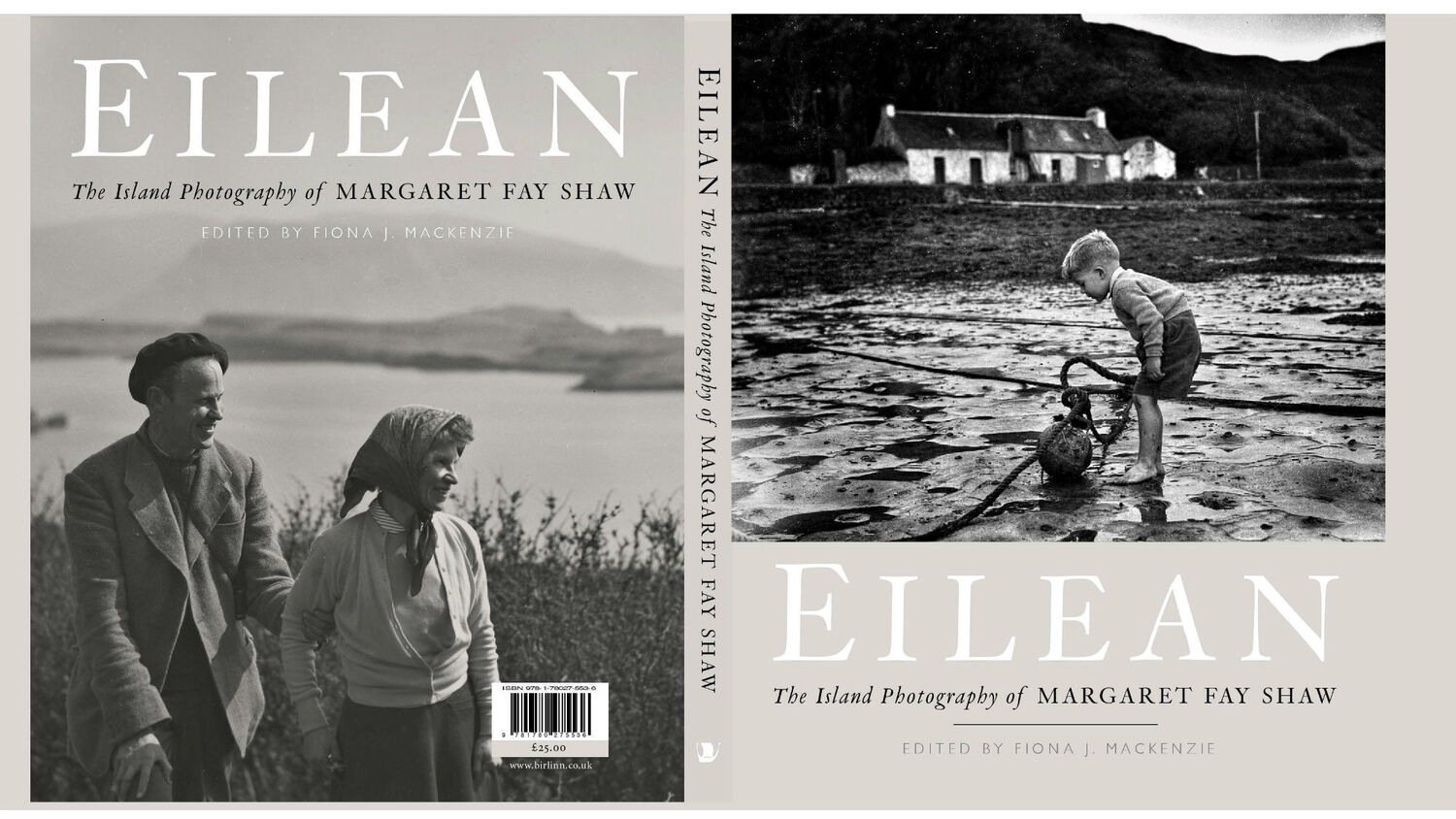 The first collection of Margaret Fay Shaw's photography has just been published. The National Trust for Scotland's Canna Archivist, Fiona Mackenzie, describes the project, using images from the book.
In 1924 a young woman from Pittsburgh, Pennsylvania, took a fateful trip through England and the south of Scotland, through the Isle of Skye and up to the Outer Hebrides. Her name was Margaret Fay Shaw and that trip was the first step in her career as one of Scotland's most influential folklorists and female photographers of the 20th century.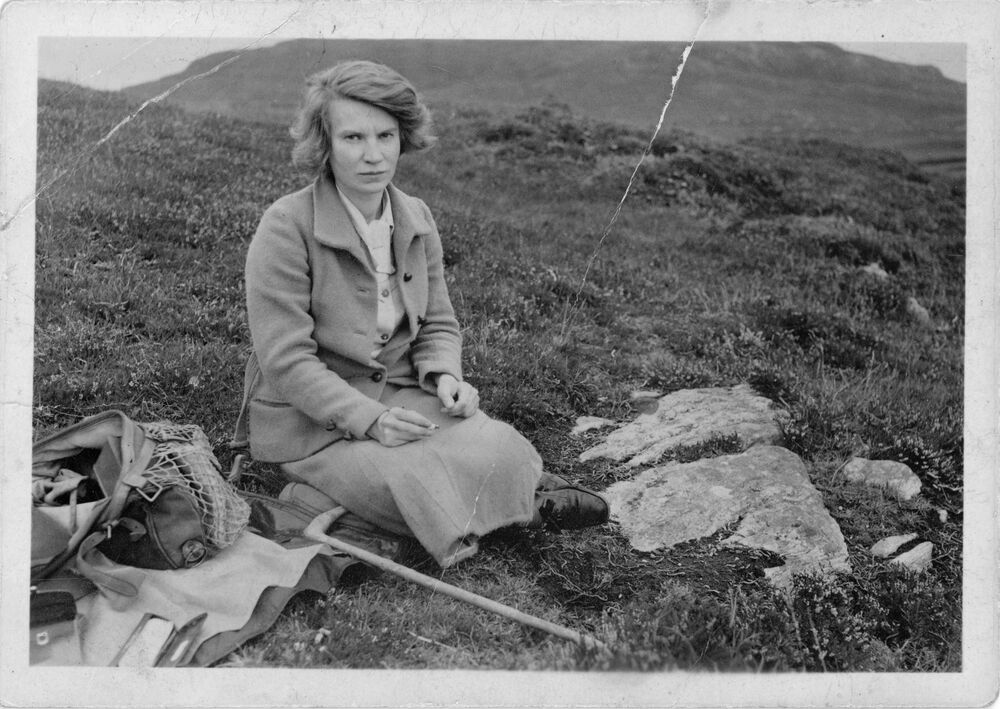 Margaret Fay Shaw in front of the lens for once
On her journey through Skye, with her two friends Isobel and Catherine, Margaret made many friends along the way and had some great adventures.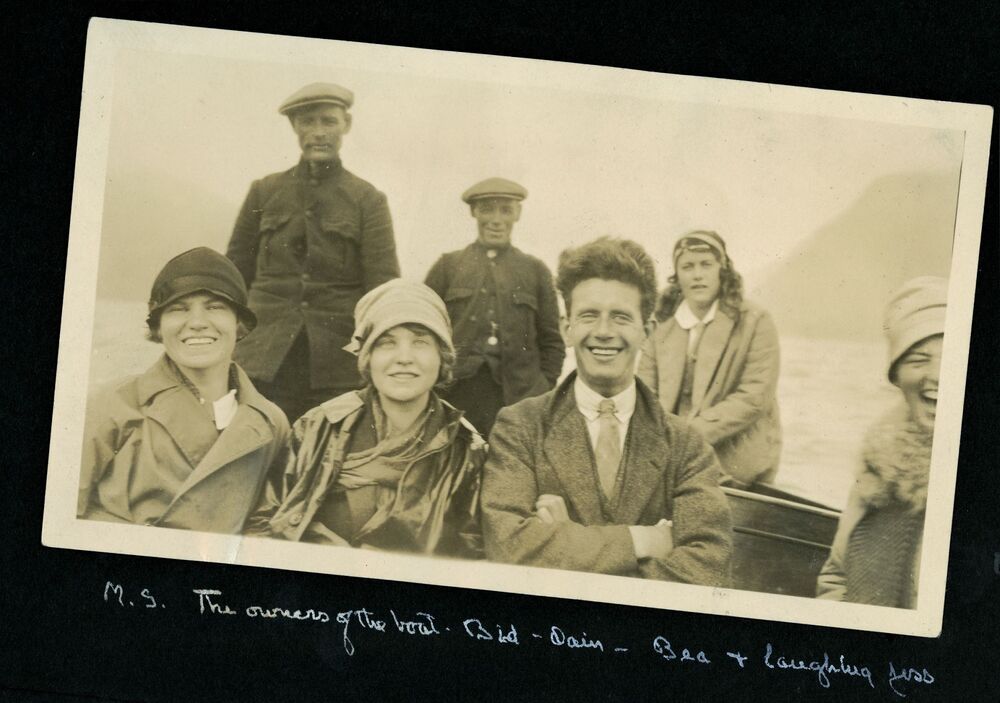 Margaret and her travelling companions Biddy Iain Bea and 'Laughing Jess'
It was on this Skye trip that she began to develop her photography skills. She had no formal tuition and not a lot of money for equipment but she did have an inherent talent for composing an interesting and artistic photograph. When she eventually came to live in South Uist in the Outer Hebrides in 1929, she went to live with the Macrae sisters, Peigi and Màiri, in the tiny, extremely basic Taigh Màiri Anndra in North Glendale, South Lochboisdale. Although there was no running water, electricity or carpets, Margaret thrived (although it has to be said that she would occasionally take off to the Lochboisdale hotel and book a room so she could have a hot bath and a fine dinner!). Here you see her in the doorway, taken by Peigi Anndra who had probably never before held a camera.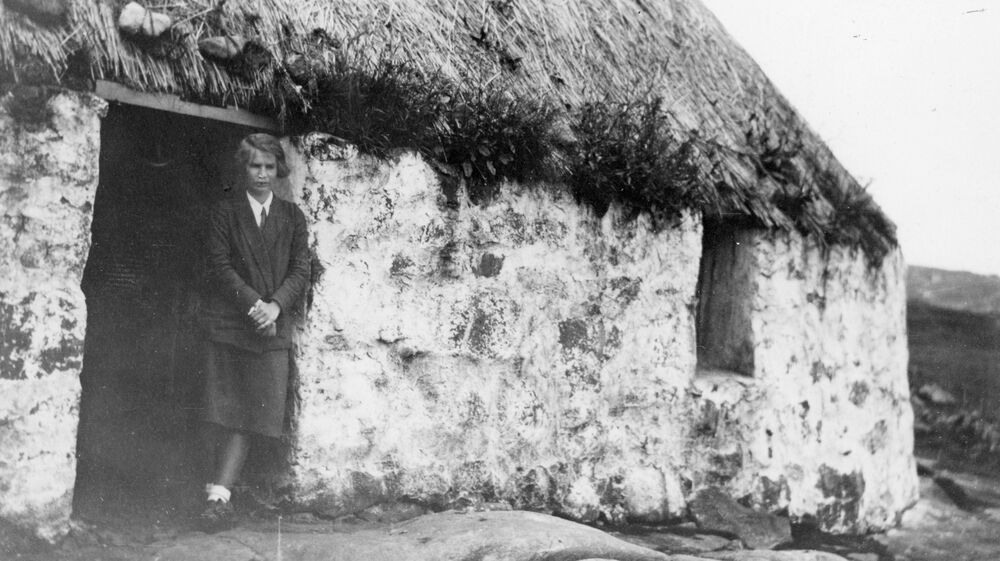 Margaret Fay Shaw in the doorway of Taigh Màiri Anndra
During the next 20 or so years, Margaret went on to become not only one of the most important collectors of Gaelic song in Scotland and Nova Scotia but also one of the first contemporary female photographers and film makers of the 20th century. She depicted a disappearing way of life on the west coast of Scotland.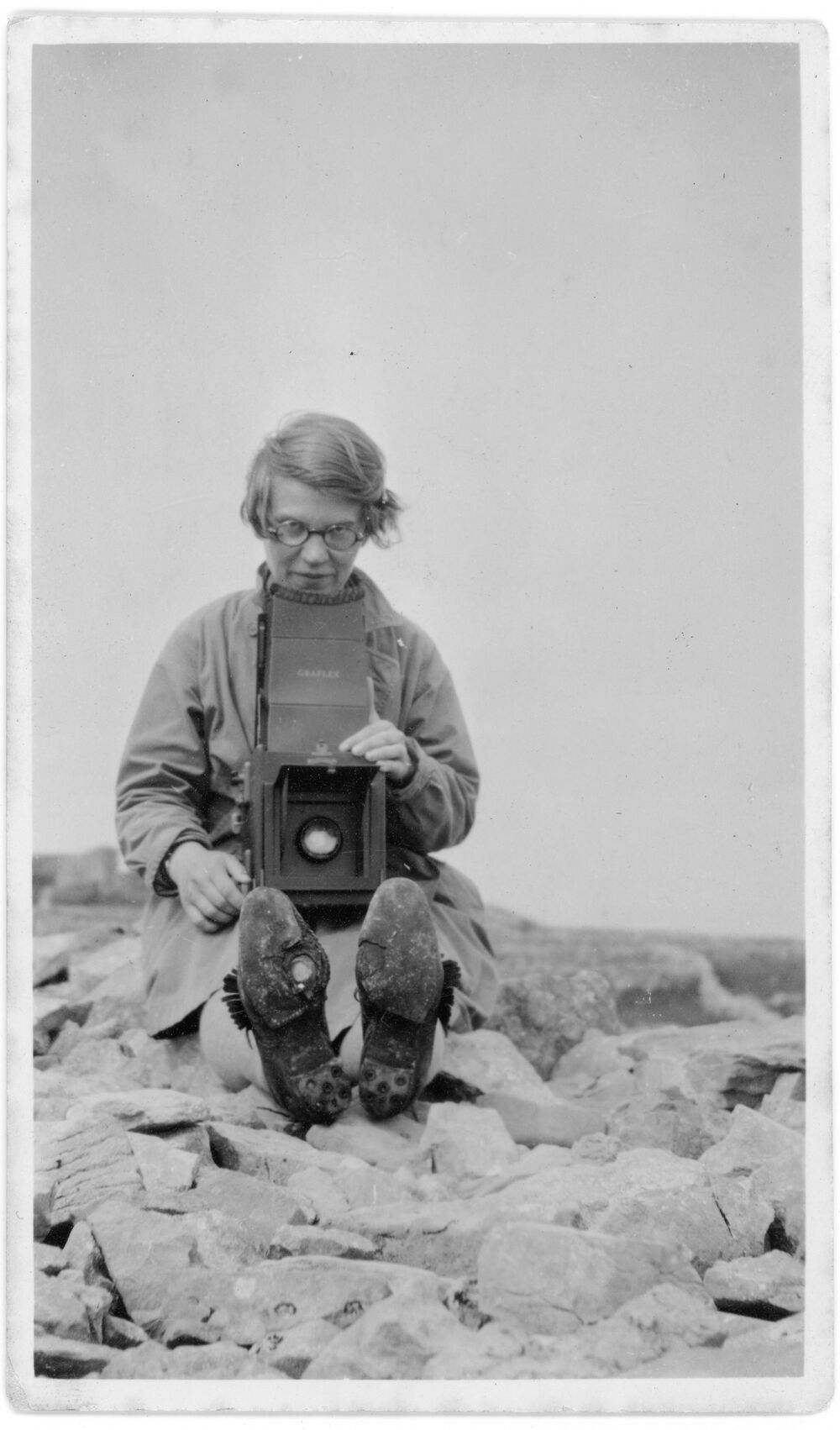 Margaret and her favourite Graflex
Here is Margaret's own description of the camera she used to take most of the images contained in Eilean:
'My camera was a large Graflex in which one loaded metal sheaths with cut film, four by five inches. I would have liked to develop the film myself, but the water was from a stream that was filled with peat particles and I had no way to filter. The camera weighed ten pounds, heavy to lug, especially when I added a 17 inch lens. I had no light meter and for taking my friends by their fireside, I had a problem of making them stay immobile while I guessed that a count of six would be sufficient. The results were usually good which delighted us both. Since they had never had their photographs taken they thought it was a miracle.'
The residents of North Glendale scraped out an existence from the Uist soil and sea, and Margaret found it difficult to survive financially during her time there. Living as a local, she explored the landscape and traditions over several years, gradually making a name for herself, with publishers and broadcasters willing to buy her images.
Digging for Lugworms, 'The Listener', 1934
'I was able to increase my small substance with selling photographs to various newspapers. I was pleased when paid ten shillings and when one was used by The Observer, I was overjoyed to receive two guineas. I became ambitious: one was on the cover of the BBC magazine, The Listener. I earned money with that camera. The Glasgow Bulletin paid me 7/6d for another picture and the cheque from the Glasgow Herald came made out to John Campbell, my husband.'
In 1933 Margaret also took a tour of the Irish Aran islands and left us with some beautiful and emotive images.
'With my camera I trudged along the one narrow road of hard clay for photographs, followed by children, little to say but broad smiles. But when I opened the elongated Graflex it looked dangerous and they fled!'
Shy children, Aran Islands
Compiling Eilean
I decided to limit this book to those images Margaret took on islands – primarily Uist, Skye, Barra, Eriskay, Mingulay, Canna and the Aran islands. The process of putting the images together for Eilean was a long and complicated one. Not least because the collection of nearly 9,000 images had to be whittled down to a reasonable number that would be representative of both the 'classical' and 'technical' aspects of Margaret's photography, as well as the more personal side of her life in the islands. I didn't always choose the most technically perfect image, but definitely picked those that tell Margaret and John's story.
I also decided that the collection deserved to be more than just a collection of photos with minimal labelling of names, places and dates. Margaret has blessed us with many wonderful pieces of writing and correspondence, so why not use these to enhance the images, to place them all in context? Many of the images have little or no original accreditation in terms of names or dates. This meant that a lot of research was required, to tease apart the subject matter and relate them to Margaret's autobiography, her diary entries and her personal correspondence. In some cases it was impossible to be able to state with any certainty who a particular person might be, but I hope that the anecdotes and stories will help to place the whole collection into context and increase the reader's enjoyment of the images.
Eilean was launched at the West over Sea book festival in Tobermory in October, where I gave a presentation that included Margaret's images and films, songs, an original sound archive recorded by John Lorne Campbell and stories from biographer Ray Perman and executor Professor Hugh Cheape.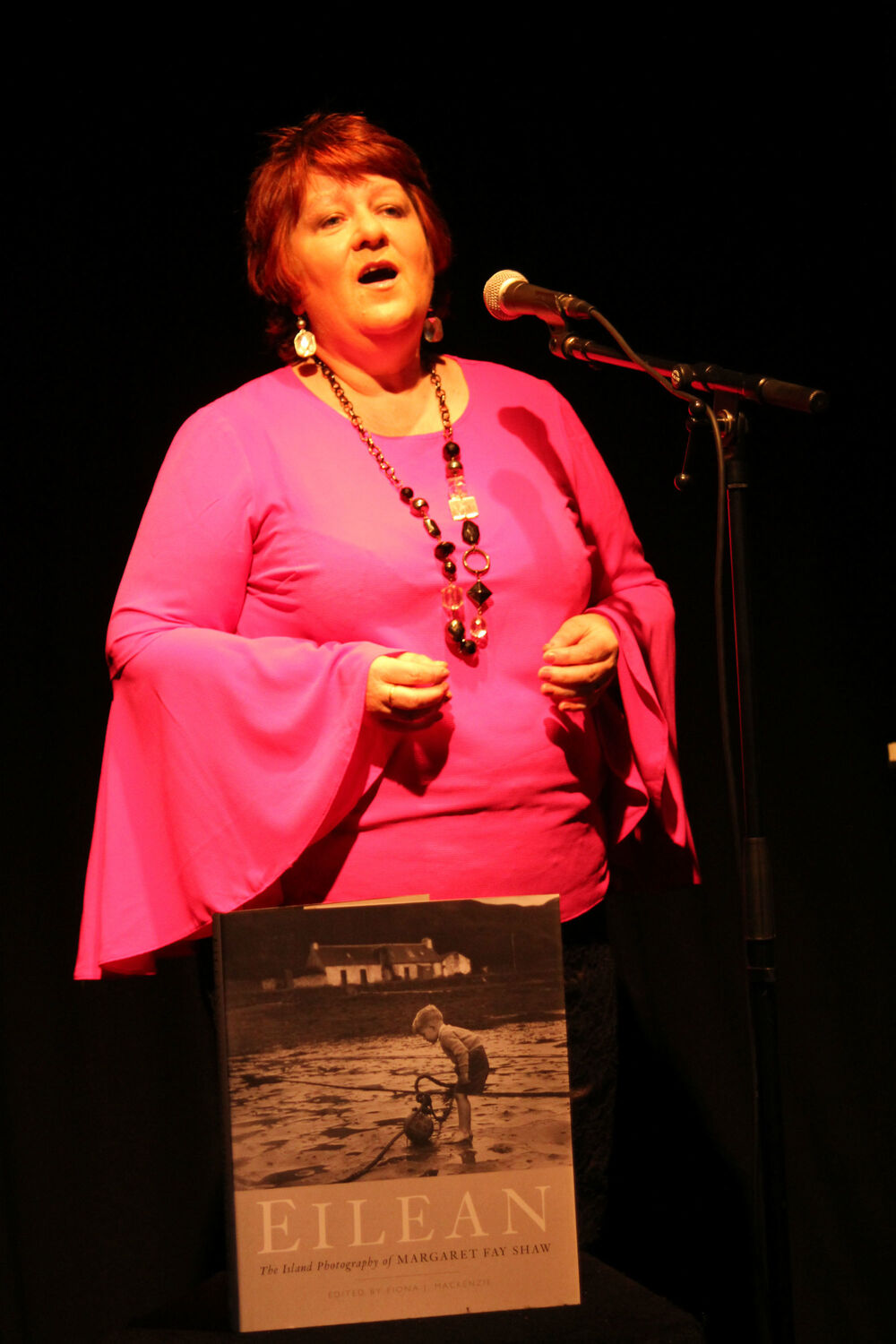 Fiona at 'Eilean' launch, Tobermory
This first collection of the photography of Margaret Fay Shaw is published by Birlinn Ltd and is available for sale in bookshops and online.
Stay in touch
Be the first to hear about our latest news, get inspiration for great days out and learn about the work we do for the love of Scotland.