One of the country's smallest castles becomes Scotland's biggest ever augmented reality Instagram filter. Try it out for yourself and you could win an amazing prize!
We've teamed up with Lidl to create a first-of-its-kind, eye-popping augmented reality 3D model of one of the country's most picturesque and petite castles, Craigievar. The interactive Instagram filter launched on Friday 25 September, and magically superimposes an incredibly life-like projection of the fairytale castle into the users' 'real-world environment' via their smartphones.
Users can summon up the castle in an instant on their smartphone or tablet, via the face filter on Lidl's Instagram, or by using a QR code, found within the Lidl Book of Big Adventures booklet (available from participating Trust places and in any of Lidl's 103 Scottish stores).
Try the AR filter (mobile app only)
Check out our gallery to give you some inspiration:

The startlingly lifelike 'sensory projection' appears on their screens and can be placed anywhere in the real world. Moving the phone around, the castle can be seen from every angle. In a nod to the mythical beasts carved on the castle's figurative cannons, the filter also features its own flying dragon, with flapping wings heard as it circles the turrets.
The AR filter was conceived during the coronavirus pandemic to allow visitors to experience the Aberdeenshire castle, which has remained closed this year, in an innovative and unique way. Typically, the exquisite example of Scottish Baronial architecture receives 22K visitors annually - believed as one of the inspirations for Walt Disney's Cinderella Castle - with visitors flocking to see the enchanting rose-hued turrets.
This is the first time an augmented reality filter has been created on this scale in Scotland. The entire exterior of the 26.3m (86ft) high building, which dates back to 1576, was meticulously scanned with a fleet of drones. Hundreds of images were combined to build the model, which were then used to craft the 3D Instagram filter.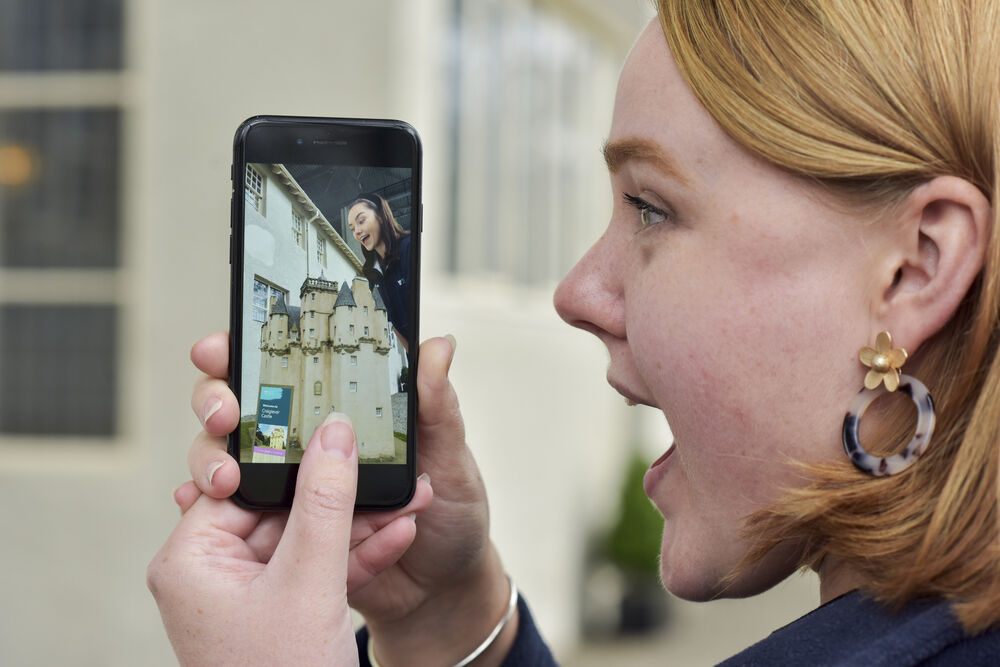 Ross Millar, Regional Director for Lidl GB, said: "At Lidl, we're 'Big On' supporting Scottish families to lead healthy and active lifestyles, and that means helping find ideas to spend fun and wholesome time together. We're delighted to be launching this innovative project with National Trust for Scotland, and hope that people have trolley loads of fun exploring this magical Scottish landmark in a truly unusual way."
Dr Daniel Rhodes, National Trust for Scotland archaeologist said: "It's brilliant to be able to share Craigievar with people in this way, especially just now. It's a lot of fun to have a pink castle popping up in your living room and being able to fly around it but what you're seeing on your phone is a conservation-grade scan of the property.
"That's valuable to us in a number of ways. It gives us an incredibly detailed documentation of the property that we can refer back to in future years and you can really see how the castle was constructed over the centuries by the different habitants.
"It also shows off the property in a way that's never been done before in Scotland. Using an augmented reality model within Instagram is hugely fun and it's a way of bringing conservation and our country's history to people in a way that wouldn't have been possible until a few years ago."
The Lidl Book of Big Adventures
We're working with our friends at Lidl to create fun family activities you can try this winter.
More
Stay in touch
Be the first to hear about our latest news, get inspiration for great days out and learn about the work we do for the love of Scotland.