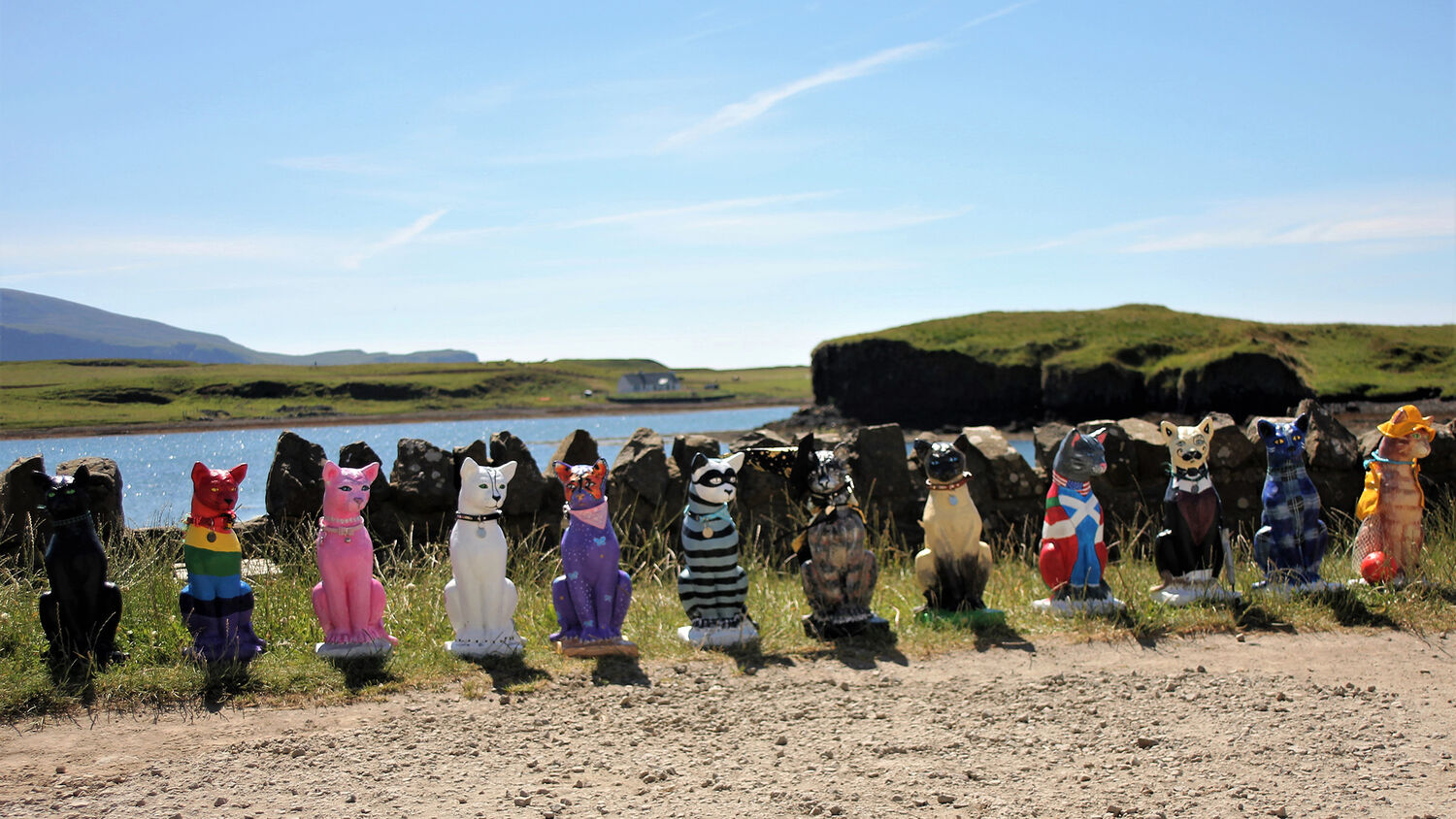 The Isle of Canna has been overrun by a new feline race! 'Cats Gu Leor' form a children's trail, inspired by the cats that belonged to John and Margaret Campbell of Canna House.
John and Margaret Campbell of Canna, who gifted the island to the National Trust for Scotland in 1981, are remembered for their passion for folklore, history, art and Gaelic culture. They're less well known for their other passion – cats! John and Margaret bought Canna in 1938 and until their deaths (in 1996 and 2004 respectively) had a house full of cats of all shapes and sizes. Some were moggies; some were prize Siamese (they bred Siamese cats for many years); but all were very much part of Canna House. They had their own personalities, contributing to the story of the house and the island.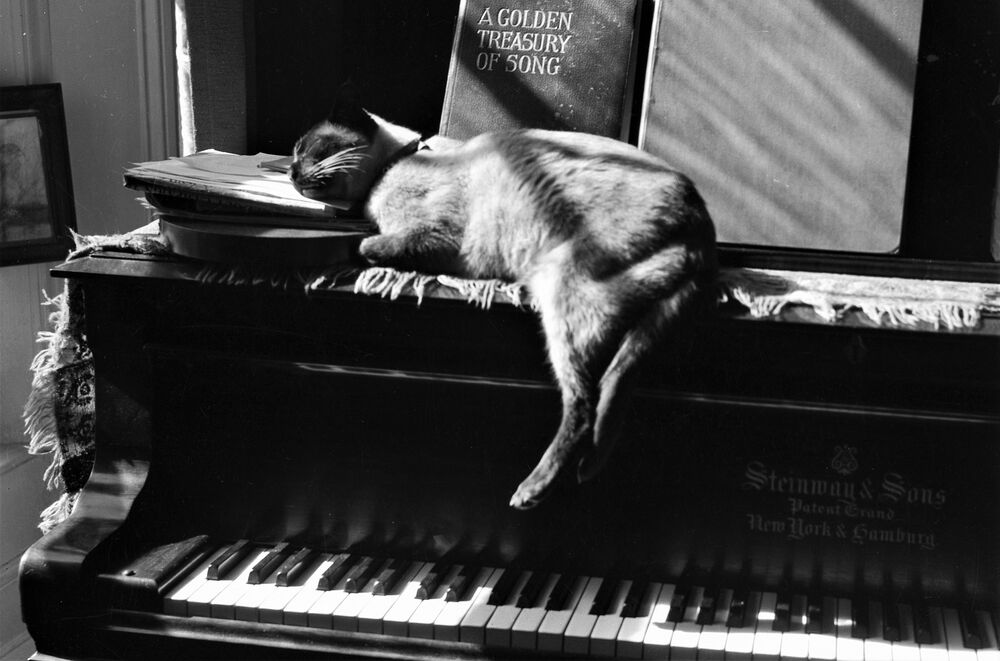 Pooni the Siamese, Ruler of Canna House for almost 18 years, enjoys the sunshine on Margaret Campbell's Steinway piano
Canna archivist Fiona Mackenzie, with the help of a donation from the Highland Members' Centre, decided that the cats' stories deserved to be heard and has created a pawsitively miaowvellous children's trail on the island, featuring just some of the cats and their tales.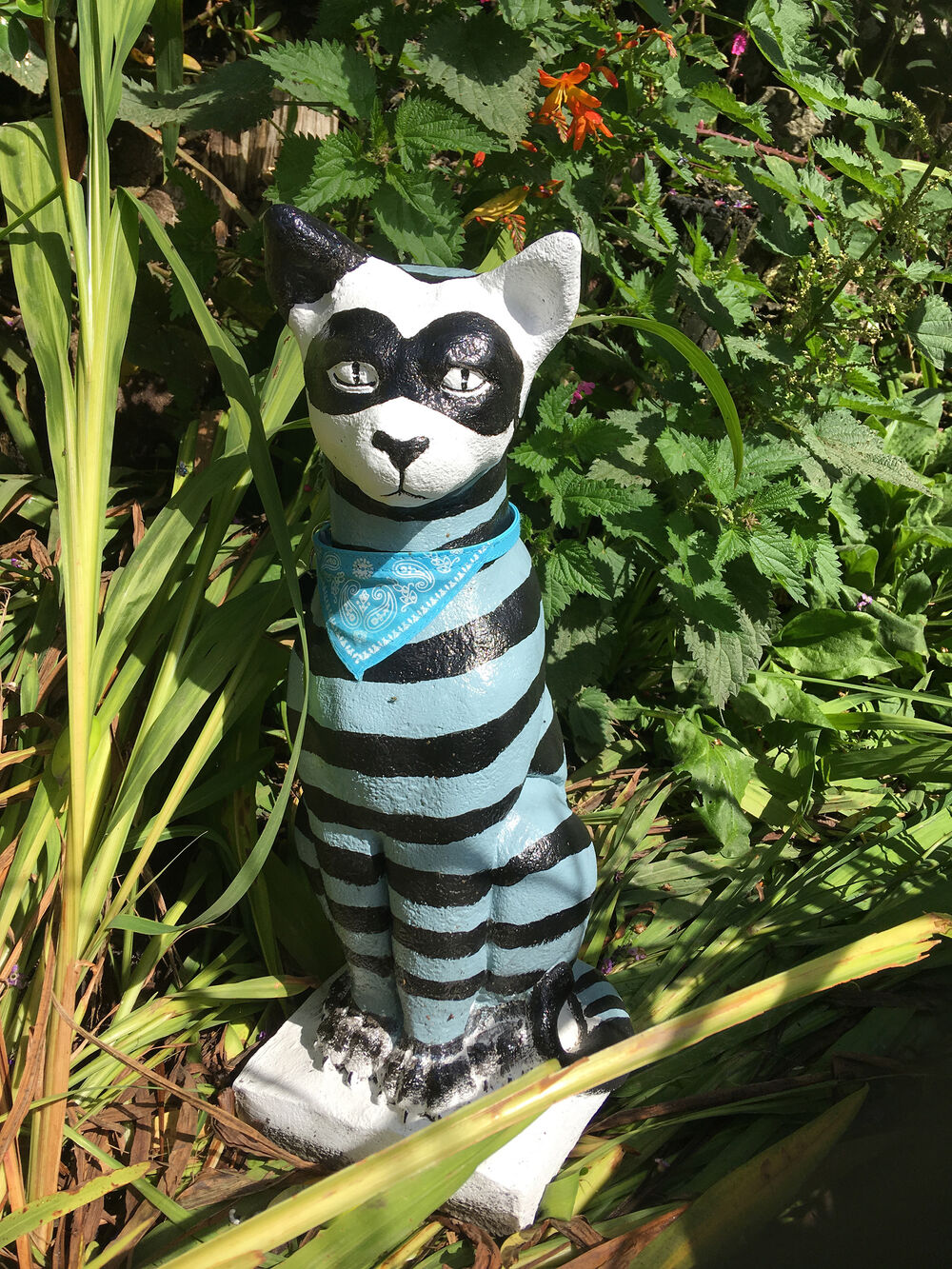 The cat Tom Beattie was the inspiration for the short story The Trial of Tom Beattie, written by John Lorne Campbell
Fiona said: 'I hope that this trail of 12 stone cats will intrigue visitors and inspire them to find out more about Canna, the Campbells and the work of the National Trust for Scotland on the island.'
Two artists, Yvonne Lyon and Raine Clarke, undertook a week-long creative residency. Based in the Old Dairy, they decorated each cat according to stories from the Canna archives. Visitors and residents popped into the workshop and had a go at painting the pusses as well as finding out about the whole purr-pose of the pawrject.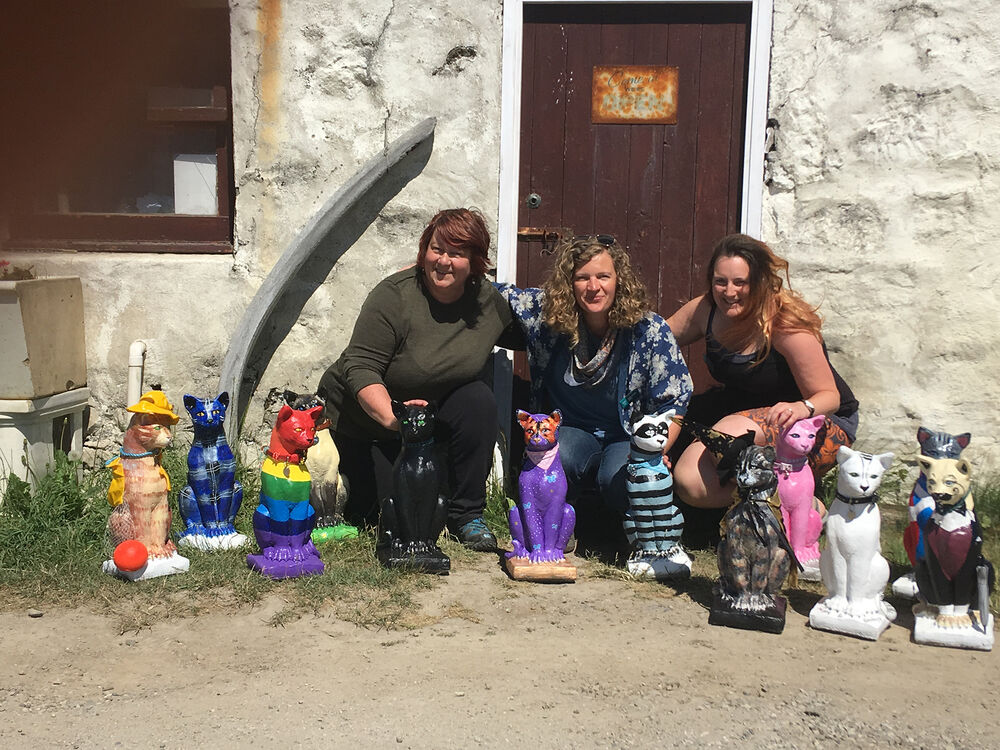 Fiona Mackenzie with artists Raine Clarke and Yvonne Lyon
The pusses all have tags on their collars, which tell their occasionally pawculiar names. These include intriguing nomenclawtures as Kinkipoo, Sir Pooji Boyte, Wicked Willie and Pinxtu.
You can pick up a clue sheet from various points on the island, including the waiting room, the shop, the telephone box and the Old Dairy. Have some fun hunting all the pusses down and ticking them off. Then we'd love you to take a selfie with your favourite and post the pic on our dedicated Facebook page, where each puss has its own pawfile.
For a purrfectly pawsitive visitor experience, you Canna do better than the Canna Cats!
Tom Beattie, Mrs Pink, Sir Pooji Boyte, Piccola, Pinxtu and Wicked Willie in the foreground
Stay in touch
Be the first to hear about our latest news, get inspiration for great days out and learn about the work we do for the love of Scotland.