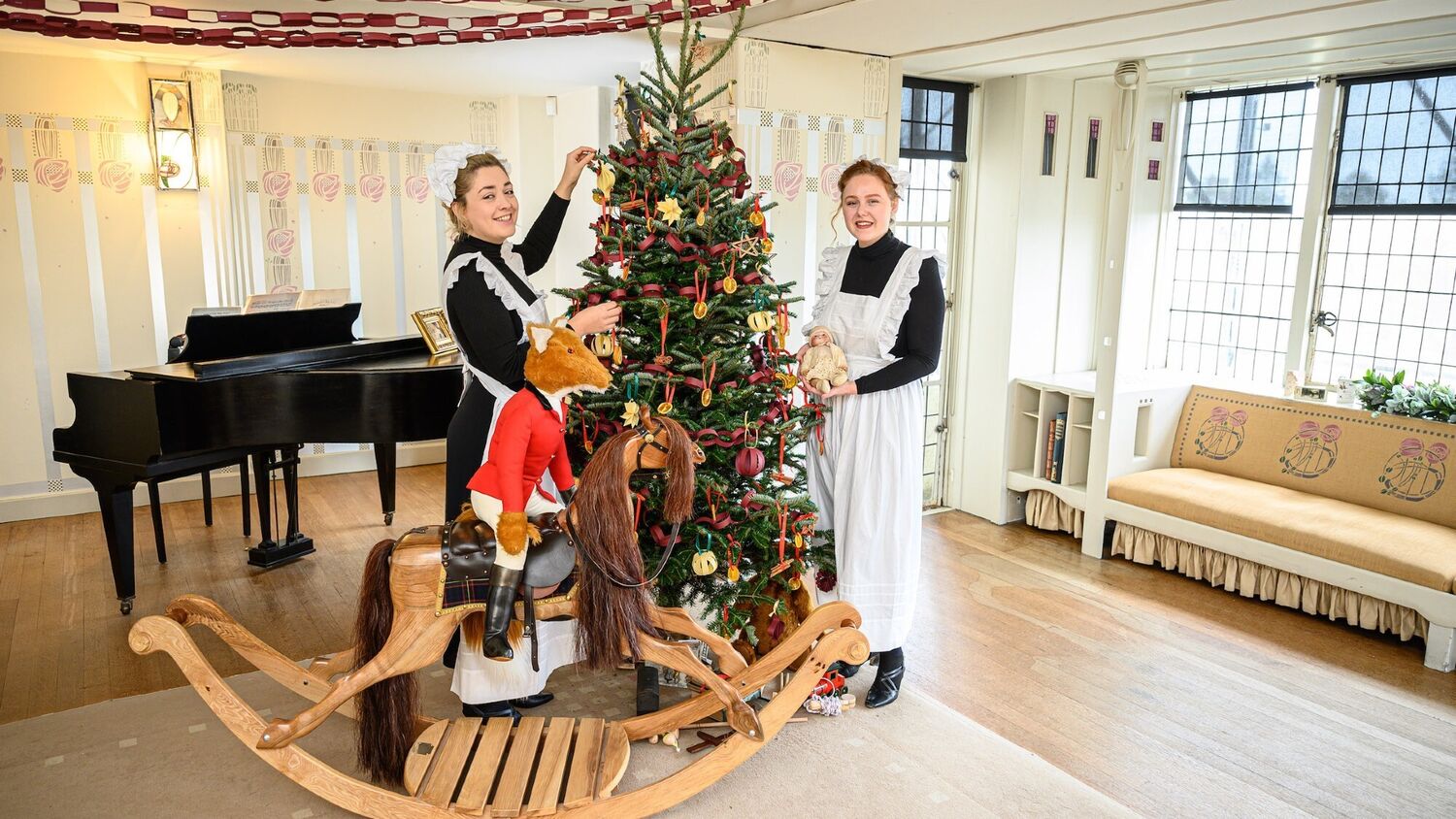 It was 1958 before 25 December was made a public holiday in Scotland. After an Act of Parliament made the celebration of yule illegal in 1640, Hogmanay was, for many years, a far more significant occasion. But we know that even in the earlier years of the 20th century, families at some of our properties enjoyed joyful Christmas celebrations.
Last year, our team at the Hill House did some research into how Christmas would have been observed in the Edwardian era at the Helensburgh home designed for Walter Blackie by Charles Rennie Mackintosh. Through a contact at the Glasgow School of Art, we even tracked down the printing block for a Christmas card designed by Mackintosh for the Blackie family to send to their friends in 1908, four years after they'd moved into the house.
The family's letters from around this time give us a fascinating insight into an Edwardian Christmas. Correspondence between Walter's wife, Anna, and their son, young Walter, reveal the gifts they exchanged and how the family celebrated in the first decade of the new century. Books, wooden toys, a rocking horse and a signature handkerchief were among the presents. The letters also tell us that young Walter sent his family coals as a Hogmanay good luck charm.
The family business was book publishing, and it's interesting to see Blackie books being recommended as ideal Christmas presents in the Helensburgh and Gareloch Times of 1908. The company published an edition of the hugely popular A Christmas Carol by Charles Dickens, which also contained his lesser known novella, The Cricket on the Hearth.
Paper decorations were the order of the day for Edwardian families, including handmade paper chains to adorn the Christmas tree. On Christmas Day, families would sit down to a feast of special dishes such as goose with apple stuffing and roasted vegetables, followed by Christmas pudding. A special treat at this time of the year for the children growing up at the Hill House was alphabet soup, made with letter-shaped pasta.
Decorating the Christmas tree Edwardian-style at the Hill House
Christmas Day menu for the Blackie family
Stay in touch
Be the first to hear about our latest news, get inspiration for great days out and learn about the work we do for the love of Scotland.