Using innovative mapping technologies, the National Trust for Scotland is generating 3D 'digital twins' of important heritage and archaeological sites, helping to build immersive virtual tours to explore our places.
What is a digital twin?
Digital twins are virtual representations of the real world, generated by digitising the natural and built environments. Digital twin technologies enable us to record, analyse and monitor our fragile historical sites at a groundbreaking new level of detail.
This technology also allows us to create inspiring new ways for you to explore and learn about Scotland's most iconic historical and archaeological sites as virtual tours. Blending 3D data science and technologies with traditional storytelling is opening up exciting opportunities to retell and relive the stories of Scotland's past in the digital era.
Digitising Canna
In 2018, Scottish digital mapping firm Geo.Geo helped to create a highly detailed digital replica of Canna and Sanday, the most westerly of the Small Isles of the Inner Hebrides. They captured thousands of images using advanced drone technology and stitched them together to create a highly detailed photorealistic 3D world – a process known as stereo photogrammetry.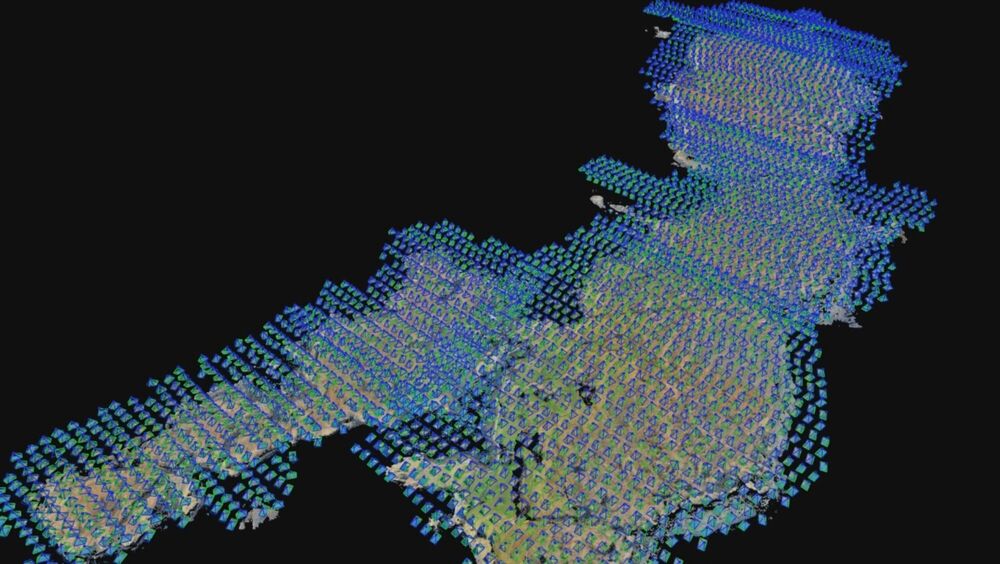 When thousands became one – stitching together a digital replica of the islands
Using this virtual model, we're proud to showcase the first 3D virtual tour of the islands of Canna and Sanday.
---
The virtual tour allows you to explore freely around Canna and Sanday. Notable places of interest are highlighted and you can find out more about them. The tour also includes local music from the islands, as well as the full BBC interview from 1955 with Margaret Fay Shaw.

In the future, we're hoping to create further immersive experiences of the islands, as well as other important archaeological and historical sites. We'll be exploring the use of more advanced game engines to enable you to experience history in a first-person, fully interactive world … maybe even all together! Re-creating virtual worlds to explore together has been a growing and popular sector, such as the recent rise of the game Valheim, an online multi-player Viking survival role-playing simulation. Future applications of digital twins for archaeology and heritage is certainly going to be exciting.

'Valheim', the Viking life simulator (credit: Steam)
This project was facilitated by the Trust's Archaeology Team, with the invaluable input of the staff on Canna.
---
We hope you enjoy the virtual tour of Canna and Sanday. Don't forget to let us know what you think – on Twitter @NTS_Archaeology, or email dalexander@nts.org.uk or paul@geogeo.co.uk
Stay in touch
Be the first to hear about our latest news, get inspiration for great days out and learn about the work we do for the love of Scotland.