Our historic buildings are under threat from many factors – time, animal pests, vandalism and the Scottish climate! Ongoing maintenance is critical to ensure the places which demonstrate our rich history survive.
Despite our planned conservation programme, we're feeling the impact of the pandemic. Activity delayed by lockdowns and shortages of materials, are creating a backlog of urgent works.
We simply cannot lose these places; they are fundamental to Scotland's identity.
As a charity, we can only protect our places with your support. Your donation today will support our conservation programmes and protect our special places. Please, if you can, donate today.
Caring for our past – the challenges
It costs a lot to protect Scotland's historic castles and homes. Although supply chain and price rise issues have begun to stabilise, industry forecasts for construction cost inflation up to 2025 are as high as 5.5% – this may add tens of thousands of pounds to some of our conservation projects.
And it's not just inflation that makes conserving our buildings so expensive. We have to make working at height safe and secure, and so a scaffold to access the high-level areas of one of our larger buildings (such as Brodick Castle or Craigievar Castle) will cost in excess of £250,000 … and that's before we even start the actual work!
We're also feeling the impact of the pandemic – there are delays in other conservation programmes and shortages of materials, creating a backlog of urgent works. Another consequence of the lockdowns was the reduction of income for the Trust, making it even harder to meet costs. Lockdowns and the reduction of international tourism has meant that we are ever more reliant on donations to ensure that our tangible links to Scotland's past can be protected for the future.
Quote
"National Trust for Scotland places are where we discover and experience former ways of life while making new memories with our loved ones. A donation today will help us protect our buildings, so that future generations can benefit from them as we do today."
Head of Building Surveying (Operations)
How your support will help
A donation today will enable us to work with partner organisations to encourage more young people into trades and professions that care for the fabric of Scotland's historic buildings. With your help, we can bring together experts and traditional building skills to preserve our places, allowing more people to engage with Scotland's heritage.
Your support will also help us streamline our conservation efforts and work more efficiently. Our building teams are currently embarking on a full survey of all the buildings in our care. Using traditional skills alongside state-of-the-art technology, we will design the best conservation strategies for them, working to future-proof our places against climate change as well as reduce their carbon footprint.
A gift today will mean we can continue our wide-ranging and complex work. From projects such as the uncovering of Gladstone's Land's 17th-century ceilings and the restoration of Falkland's 500-year-old statues, to 'simply' clearing gutters and painting drainpipes – all this work is essential in protecting Scotland's unique built heritage.
Conservation in action
How we're protecting our places
Culzean Castle & Country Park
Down at the south-east edge of the Culzean estate lies the old entrance to the castle, Swinston Lodge – flanked by the unique Cat Gates. These ornate gate pillars are topped with 200-year-old statues of cats, carved from Coade stone. This is a manufactured stone often used in sculptures.
Recently, cracks have started to appear on the cats; they are also suffering from algae growth due to their location under the tree canopy and the general dampness in the area. To restore them, a specialist will remove any failing or inappropriate historical repairs and then add a lime-based mortar mixed with stone dust, which will consolidate the cracks.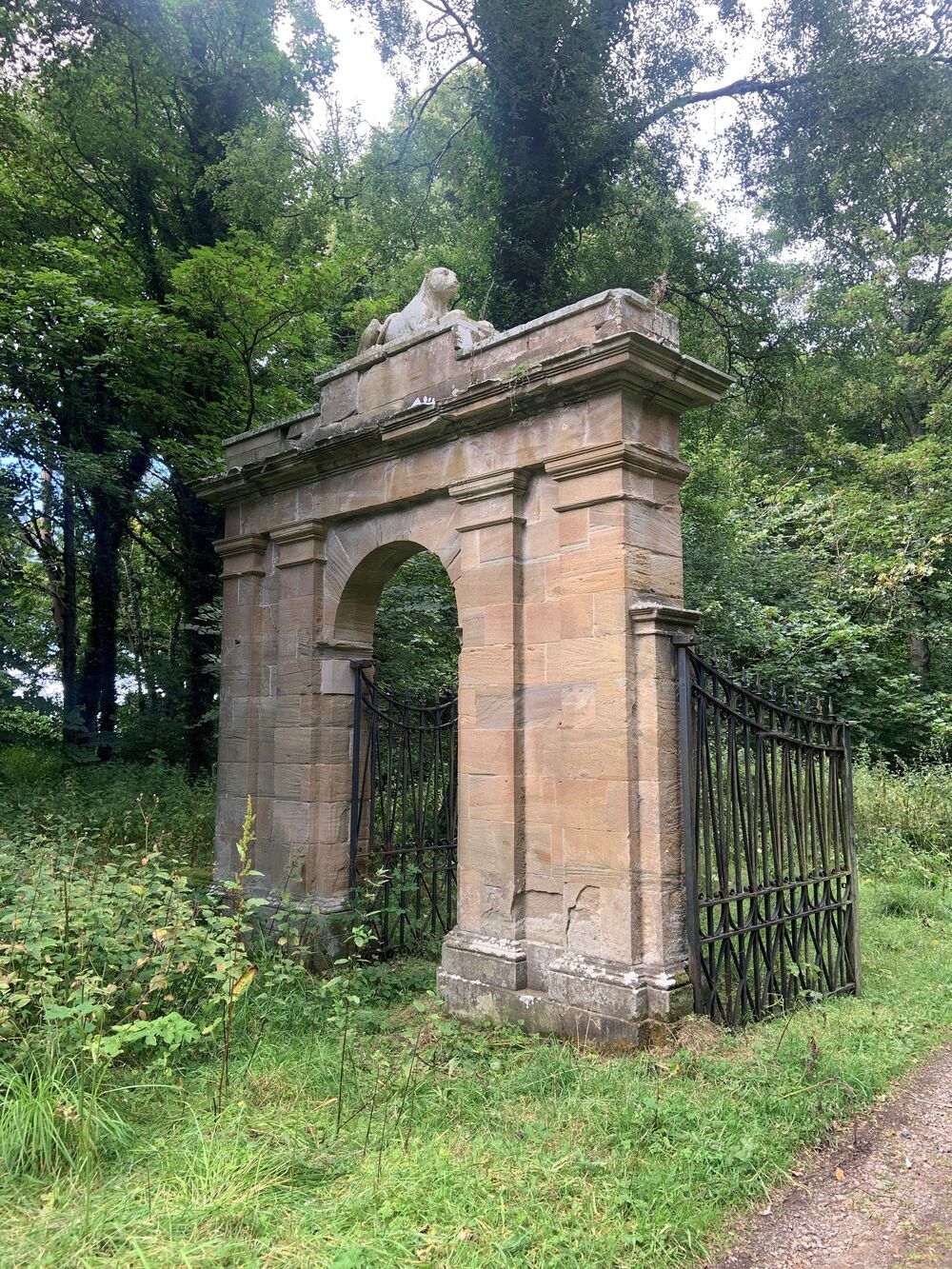 Drum Castle
The tower at Drum Castle is one of Scotland's oldest tower houses and dates to the 14th century, when it began as a royal hunting lodge for the Old Wood of Drum. The 700-year-old stone tower is finished in a lime-based mortar but sections of this are now beginning to fail due to water ingress.
The medieval open wall walk, hidden behind the crenellated battlements at the top of the castle, means that water is not easily shed away from the building, thus making the high-level masonry vulnerable. This is exacerbated by the current climate crisis and increased rainfall. This problem is certainly not unique to Drum Castle and is in fact an issue at many properties across Scotland.
A team of specialists are exploring how we can better protect the wall walk and crenellations, to move rainwater away from the fabric of the building. Once this is in place and the thick stone walls have begun to dry out, we'll be able to repoint the walls.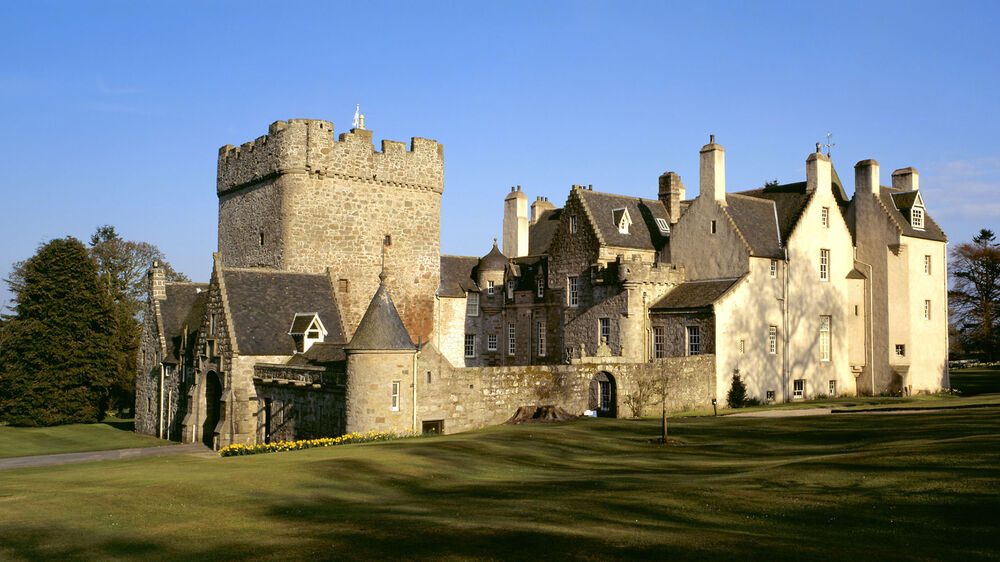 Beaton's Croft
Beaton's Croft is a traditional 19th-century thatched cottage on the Isle of Skye and is the only original cottage of this style remaining on the island.
Next to the cottage is the byre, where animals would have been kept. We're restoring this structure by replacing some of the cruck frame (curved timbers) that supports the roof. We'll also refresh the common rush thatch on the byre and the cottage itself, ensuring protection from Scotland's elements.
Sourcing materials for the job has been tricky. While common rush is found widely, the stems must be long enough to create a thatch that will cover the roof, which can be more difficult to source. To replace the cabers in the roof (the vertical timber poles on which the turf and thatch rest), we must source a kilometre of birch stems! These need to be selected and cut by hand, making it more expensive than usual.