For many of our wedding couples, their venue of choice holds a special place in their hearts. Jack and Rachael were no exception. Here they explain what drew them to Haddo House.
'We'd originally considered getting married on my dad's farm', Rachael reflects. 'But we soon realised it would be a huge job to transform the steading into a place fit for a wedding, so it was back to the drawing board. And that's when the idea of Haddo House came along.'
As a little girl, Rachael often visited the National Trust for Scotland property and would walk around the grounds of 'the big house'. She dreamed of getting married there, and so it had sentimental attachment for her. More recently, exploring Haddo on dog walks with Jack meant the groom had a connection to the place too.
'When we went to view Haddo as a wedding venue, we were blown away by the beauty of the buildings and their surroundings. We loved the fact that we'd be able to enjoy our whole day in one place, with no need to shuttle guests from church to reception.'
The chapel in Haddo's grounds has that elegant, old-world charm they were after, so the couple decided not to add too much in terms of decoration, opting instead for simple floral accents from local supplier Trina's Art & Flowers.
Jack and Rachael chose to host their reception in the Hall, and it was here that they really made their mark. Their goal was a look that reflected the romance of the years they'd spent together, while still encapsulating their down-to-earth personality. 'We brought in Illumin8 Events to dress the space with soft white drapes, and our florist decorated the Hall with generous white flowers and greenery,' recalls Rachael. 'We hired a bar from Rustic Look Aberdeen and hand-made our table plan using a map marked with places we've been together.'
The couple wanted to zhush up the Hall and get it looking exactly the way they envisioned, and the venue team were very accommodating. Rachael says: 'I had previously explained to Demi [Haddo's wedding coordinator] that we were going to be very busy with our families in the days leading up to our wedding and she did everything she could to make it easier and more enjoyable for us. Usually, couples are lucky if they get access to their venue the day before, so to have access over five days to decorate the Hall was incredible.'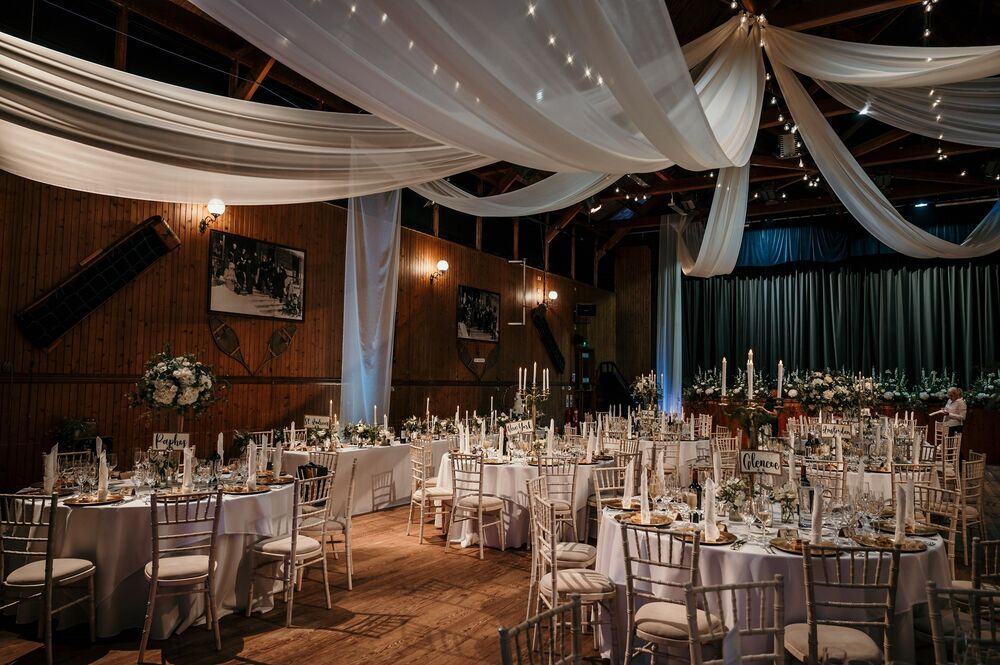 Haddo Hall beautifully decorated for the wedding reception | Image: Simon Clubb Photography
In fact, Demi's hard work throughout the entire planning process was essential to the smooth running of the day, say the couple. 'Haddo House is blessed with kind and helpful people, and Demi went above and beyond to make sure we were happy. We visited Haddo numerous times before our big day and she was always on hand to answer all our questions. A month before the wedding, Demi contacted all our suppliers and made sure they were all on the same page, which really took a weight off our shoulders.' The couple have nothing but fond memories of their wedding day and time working with Haddo's team.

Quote
"Haddo House holds so much history and we felt honoured to get married there."
By choosing a Trust venue for your wedding, you'll be supporting our vital conservation work. Your support allows us to continue to conserve and protect beautiful places like Haddo House for future generations to enjoy. Thank you!
To discuss your wedding plans in more detail so we can help plan your perfect day, please get in touch.
---
This article first appeared in Tie the Knot Scotland magazine.
Wedding photography by Simon Clubb Photography.
Stay in touch
Be the first to hear about our latest news, get inspiration for great days out and learn about the work we do for the love of Scotland.