From the outside, The Tenement House on Buccleuch Street in Glasgow's Garnethill looks like an unassuming home in a traditional Scottish street. Inside though, the four rooms are frozen in time, giving a rare glimpse into life in Glasgow in the early 20th century.
Shorthand typist Miss Agnes Toward lived at the Tenement House from 1911 until 1965, and preserved her furniture and possessions with love and care. She held on to all sorts of things that most people would have thrown away, and this extensive personal archive has become a valuable time capsule for visitors today, faithfully restored by the National Trust for Scotland.
Here are some of my favourite things!
Wally Dugs
Wally is a Scots word for porcelain and 'Wally Dugs' are china figurines that were widespread from the 1800s onwards. They were mass produced, so a common feature in many homes and they usually come in pairs, as we have at Tenement House. They were likely painted by children in factories and that fact really connects with younger visitors, especially when they find out the factory workers didn't get to choose the colours. We had an exhibition of local kids' new designs of Wally Dugs and they were so creative.
There's a secret language with Wally Dugs too. People apparently used to put them in their window and send messages with them. If they were facing one way it said one thing and if they were facing another way it would mean something else. You wouldn't think that when they're sat on a mantlepiece but the Victorians, in a time where courting was quite constricted, had to create their own language of sorts.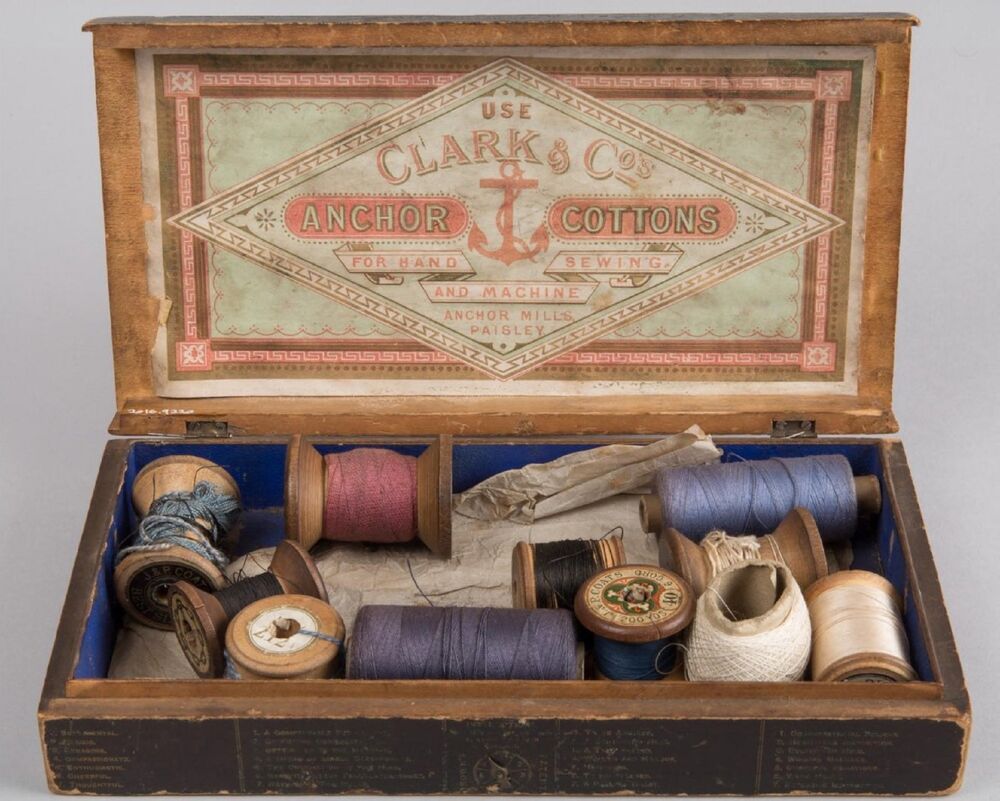 The thread box belonging to Agnes' mother, a dressmaker
Thread box
Agnes Toward lived in the Tenement House with her mother (also called Agnes) who was a dressmaker and had her own business. This box of threads from the mid 1800s was like a gift that you would buy for someone's birthday. I think it speaks about the way women saw sewing as a way of being creative and to explore their own personalities. This box is quite rare because it has a fortune teller on the side. You spin a wheel to find out if the man you're going to marry would be handsome or suchlike. Women's lives would change quite a bit when they were getting married and at the same time, especially at times of war, there was a lot of uncertainty.
Photograph of young Agnes
This is Agnes when she was about six years old, around 1902. We think the photograph was taken at 6 Rose Street, where Agnes and her mother lived before moving to Buccleuch Street a few minutes away. She's standing on a chair looking out of the window and we have that chair in the Tenement House so they must have brought a lot of the furniture with them. She's looking really nice and wearing an apron dress that would presumably have been made by her mother. We normally see her as an older person, living on her own at Tenement House, but it's really wonderful to see her as a child, so playful and innocent. We've got her scrapbooks and letters to her mother in the archive too and you really get a feeling for her character. She loved to doodle and they're really funny and cute.
Hot chocolate powder
This is the tiniest tin of hot chocolate. It's got 'Van Houten's Cocoa' on the side and I think it was from Holland. Hot chocolate was quite a luxury which is maybe why the tin is so small – I don't think you could make the tiniest cup out of it! There's a lovely art deco label and it's nice to think of Agnes enjoying a fun thing like this, something that we we enjoy in our own homes today. Apparently, she liked chocolate a lot because there's all sorts of adverts and little boxes of chocolates that she kept from the likes of Cadbury.
Newspaper cuttings
Our archive is full of newspapers. Agnes became a bit of a hoarder towards the end of her life. Whenever she saw a recipe or a tip for cleaning she would have kept the scrap of paper. She was a keen cook and had lots of recipes about how to make shortbread – I think she was perfecting that one! Interestingly, on the back of the cutting there's an article about the National Trust for Scotland acquiring new properties, around 1950. Little did she know that her own home would be one of them!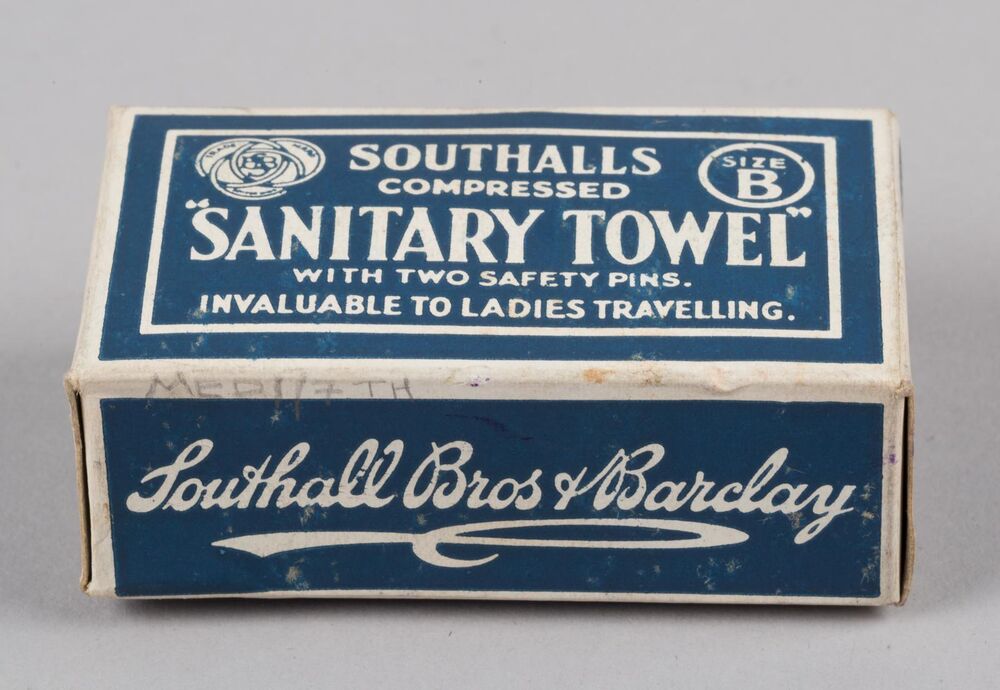 A box containing a sanitary towel and two safety pins, by Southall Bros & Barclay
Box of sanitary towels
We found these in the archives and put them on display in 2018. They'd been kept away from public view and I thought, 'Why?'. It's valuable to show the lives of people in the past and how they navigated living in the times they did.
Quote
"The reaction has been really positive and we're missing chapters of the book if we don't talk about these things."
Visitor Services Manager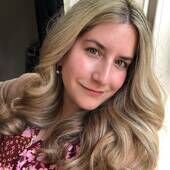 These come in a very discreet blue package and are called 'travelling sanitary pads'. During World War I, field nurses found that the Cellucotton used in surgical dressing and bandage was particularly absorbent and they began to use them as disposable sanitary pads before being mass produced. Did Miss Toward buy this product for travel, as suggested on the box? Most probably, as we know that Agnes holidayed on the Scottish coast each year. It may also be likely that this box remained forgotten about amongst her many belongings. In the end, this little unopened box became something special – an item she decided was worth keeping all her life.
Wedding dress
We have the wedding dress on display in one of the cases in the exhibition space downstairs. It's Agnes' mother's dress and people are surprised that it was purple, but the tradition of marrying in white really only came about after Queen Victoria created the trend. In Mrs Howard's day, middle-class people would generally just wear their best clothes for their weddings. This dress is a little special as Mrs Howard, being a dressmaker, put a lot of effort and detail into it. The buttons and cuffs and little pockets are really stunning. She also had the smallest waist that I've ever seen – that's a talking point in itself!
Tiny lipstick and perfume bottle
This tiny lipstick is by Revlon and the name of the colour is 'Cherries in the Snow'. We identified the colour from fragments of information on the label and have worked out that it was introduced in 1945. It's bright red and there was a trend for this colour after the end of World War II amongst 'Victory Girls'. We know that there were a lot of Victory Day celebrations in Glasgow and Agnes seemed to have kept lots of things to celebrate the end of the war. We also have a little glass perfume bottle that we keep on her dressing table and if you open it up you can still get a fresh, flowery smell. I think it's so unique to be able to connect with her like that. It breaks down the image of her from black and white photos to think about her in full makeup and even know what she smelled like.
---
This story first appeared in The Scots Magazine

I love this place
By joining the National Trust for Scotland, you can protect the places that matter to you and experience the best that Scotland has to offer.
Join today
Stay in touch
Be the first to hear about our latest news, get inspiration for great days out and learn about the work we do for the love of Scotland.