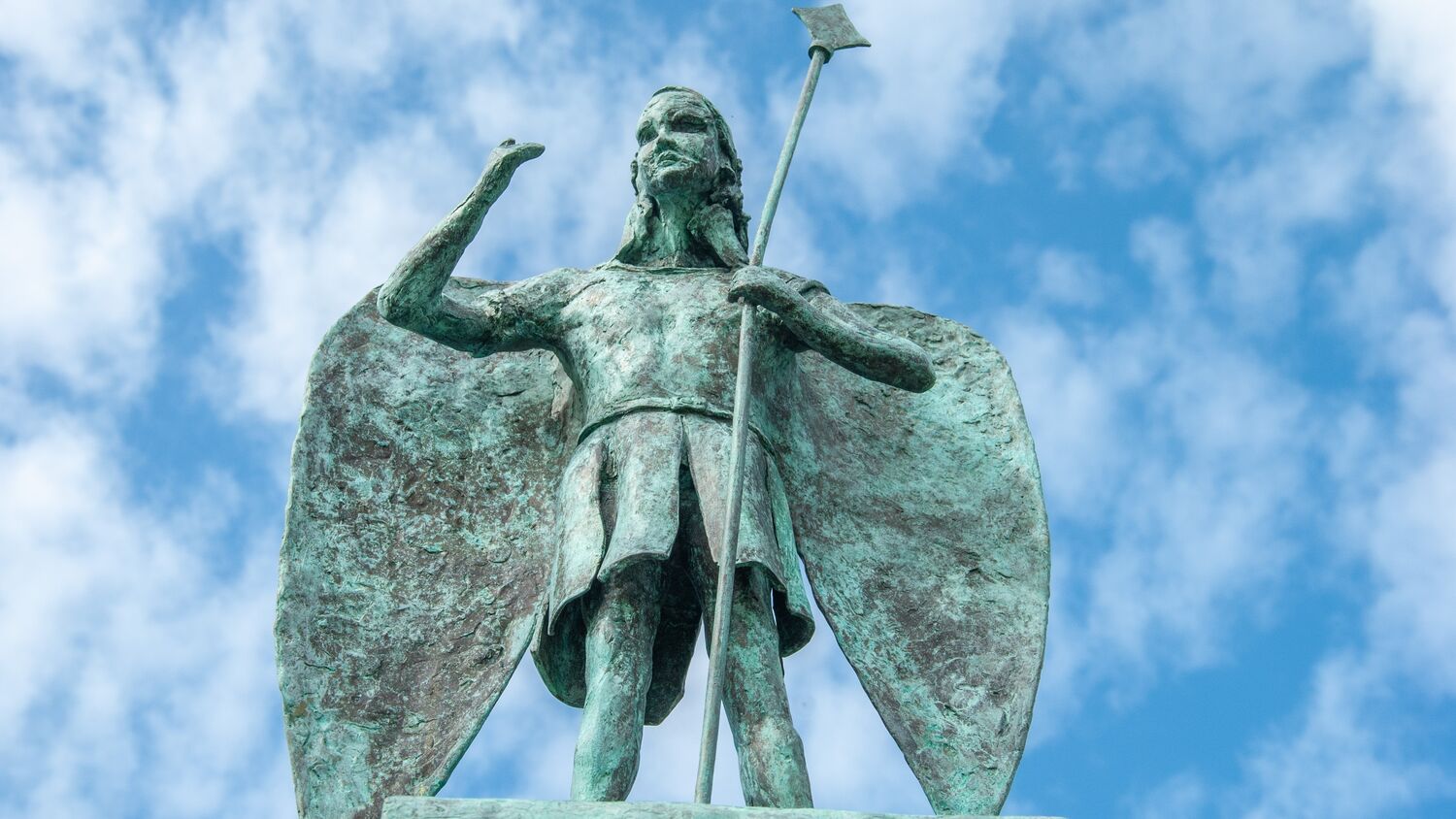 Là Fhéill Mìcheil – St Michael's Day – happens on September 29th. Canna House Archivist Fiona Mackenzie looks at some of the folklore traditions surrounding this oft-forgotten Christian festival.
What is Michaelmas?
Michaelmas, or The Feast of Michael and All Angels, signifies the end of the harvest, the start of autumn and the beginning of the shorter days. An annual feast day, and 'quarter day' in the calendar, of the Western Christian Church, Michaelmas is celebrated on September 29th. It takes its name from the Archangel Michael, the leader of heaven's armies and the angel who defeated Lucifer.
How is Michaelmas celebrated?
St Michael is known as one of the principal angelic heroes and a protector against the dark of the winter nights. Traditionally Lucifer's forces were believed to be stronger in the days of winter darkness, hence all the customs and rites associated with this time of year.
Here we explore Hebridean traditions and feast customs, as recorded by the folklorist Margaret Fay Shaw of Canna in her book 'Folksongs and Folklore of South Uist'.
Traditions
There is a tradition that you must not harvest brambles after September 29th as this is the date that it is said that Lucifer was expelled from Heaven in retaliation for his evil deeds, landing in a bramble bush. He could have spat upon them, so do not pull a bramble after the 29th!
On Michaelmas Eve, it was a strange legal custom steal your neighbours horse, as long as it was returned by the next night. Perhaps don't try that one out anymore!
It was also a custom to give a Michaelmas Daisy as a present, because its pretty colours and daintiness protected against the advancing darkness of autumn and winter.
Food
As with other feast days, food plays an important role in rites and customs and Michaelmas is no different. It was an important tradition to eat a goose which had been fattened on the remains of the harvested fields, in order to protect against times of financial hardship through winter. There was a rhyme which went:
Eat a goose on Michaelmas Day, Want not for money all the year.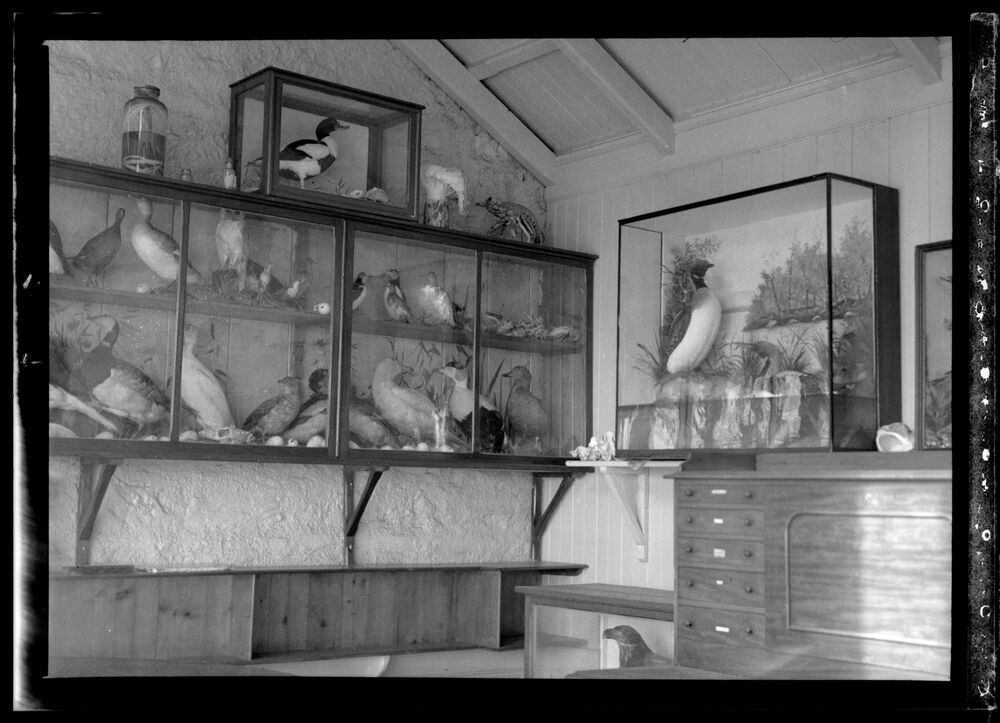 A case of the taxidermy birds in Canna House, left for the Campbells by the previous family | Image by Margaret Fay Shaw
It is also a Hebridean custom to pull up the last of your carrots on the 29th, and if you find a two-pronged carrot that is extra lucky! A Gaelic rhyme that accompanied the lifting of the carrots went as follows:
Torcan torrach, torrach, torrach, Sonas curran còrr orm,
Michael mil a bhi dha m'chonuil, Bride gheal dha m'chonradh.
(Cleft fruitful, fruitful, fruitful, Joy of carrots surpassing upon me,
Michael the brave endowing me, Bride the fair be aiding me.)
Donald Macleod, the gardener for Canna House in the 1940s, beside the carrot patch | Image by Margaret Fay Shaw
The most common custom of a Hebridean Michaelmas however was the baking of the Bonnach Struthan or Struan Cake, baked by the eldest daughter of the family and supposed to represent the fruits of the fields. It was while the men were guarding the horses that the women would make the Struthan. Margaret Fay Shaw discovered a Struthan being baked for the event and wrote down the recipe and method.
If you want to have a go at making your own, then perhaps use a pastry brush instead of a feather these days to achieve the pancake-layer look!
Her recipe instructs you to bake as follows:
Four saucerfuls of barley, a pinch of baking soda, enough water to make a dough. Knead and shape into a bannock and bake on a girdle, 2 eggs, 2 tbsp syrup, 2tbsp cream. Beat and spread on one side of the bannock, with a feather, holding it in front of the fire. Turn and repeat on the other side. Put on several coats.
She gives an alternative method too:
A pound of flour, teaspoonful baking soda, salt, enough milk to make a dough, carraway seeds, currants or raisins. Bake on a girdle, turning as it bakes. When ready, spread the mixture on one side and baked then on the other – 3 tbsps treacle, 1 tbsp sugar,1 tbsps milk and as much flour as will make a dough that can adhere to the bannock. It can be done in a girdle or in a not too hot oven. As you turn the bannock on the fire, say this traditional rhyme:
Progeny and prosperity of family, Mystery of An Dagda, protection of Bride.
And remember the Hebridean blessing itself:
Là Fhéill Mìcheil nì sinn struthan, Gabhaidh sinn dheth gu cridheil cairdeil, Mar bu choir a bhith.
(On St Michael's Day we will make a cake, We will partake of it in a joyful friendly manner, As is proper.)
Stay in touch
Be the first to hear about our latest news, get inspiration for great days out and learn about the work we do for the love of Scotland.