Our adventure playgrounds are the perfect way to introduce children to Scotland's heritage while giving them the chance to let off steam.
Whether at Newhailes House & Gardens near Edinburgh or Brodick Castle on the Isle of Arran, regular visitors will have noticed the addition of adventure playparks at several Trust properties in recent years. Living in Edinburgh, I remember how the arrival of the Weehailes playpark at Newhailes caused a sensation – the excitement among locals ran high for weeks beforehand, and families flocked there when it finally opened.
The rave reviews from my son after a visit with his holiday club confirmed that it more than lived up to the hype. 'It's so much fun to get lost in! Lots of places to crawl through and hide! Zip wires and a massive bookcase!'
His bubbling enthusiasm took me back to the previous summer, when our visit to Culzean Castle saw him scramble up and disappear into the castellated tower of the superb Adventure Cove, race shrieking along the massive walkway, then pop out of a tunnel or down a slide.
A story of place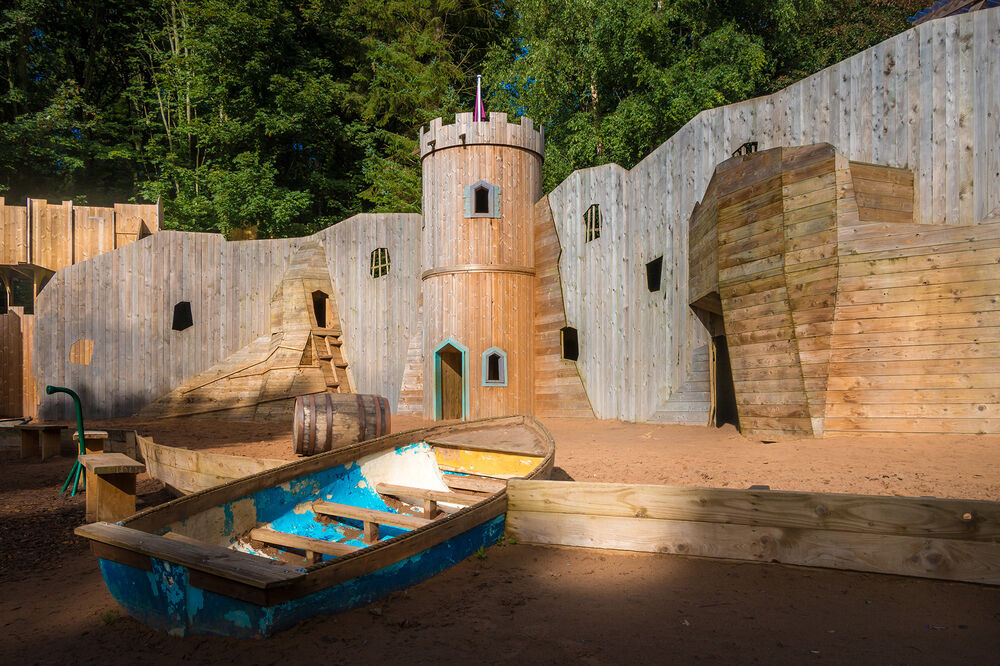 Culzean's Adventure Cove | Image by Flying Mirrors
Created to replace a previous playground, Adventure Cove was designed to mirror Culzean Estate in miniature. 'Its structures interpret the architecture and heritage of the estate, with nods to all the famous landmarks – a mini Eisenhower tower, a castellated walkway that echoes the sweeping viaduct, and boats and whisky barrels on the beach that hint at a history of smuggling,' explains the Trust's Caroline Smith, who commissioned specialist firm Creating Adventurous Places (CAP.Co) to build the playpark.
'The story of the smugglers' cove, with its caves and spiral staircase into the castle, really captured our imagination when we first visited,' enthuses Simon Egan from CAP.Co. 'That's how they made their money 300 years ago: by smuggling contraband from the Isle of Man. What an amazing nugget of inspiration!'
Like all the Trust's newer playparks, Adventure Cove interprets elements of the property's history, giving youngsters a chance to engage with and learn about heritage through play.
Quote
"Anyone can install slides and climbing frames, but the real fun starts when we link a playpark to a property's particular significance and history."
National Trust for Scotland
A little enlightenment
An equally compelling but entirely different narrative thread runs through Weehailes at Newhailes. 'Here, the Trust was keen to convey the story of the Scottish Enlightenment, so we came up with the concept of a wee village with a grand library as a centrepiece,' explains playground designer Stephen Vass. 'Every part has play value: kids can climb up the bookshelves and crawl through the servants' tunnels. The wee village around the library has a clock tower and doocot to climb up. It encourages problem-solving, with a maze for kids to navigate their way through.'
'The grand library in Newhailes House is just a staggering thing,' adds Simon Egan. 'We haven't copied it architecturally but instead reflected the sense that it's the heart of the place. Crawling through the fireplace into the library gives that sense of discovery of Scots going out into the world during the Enlightenment.'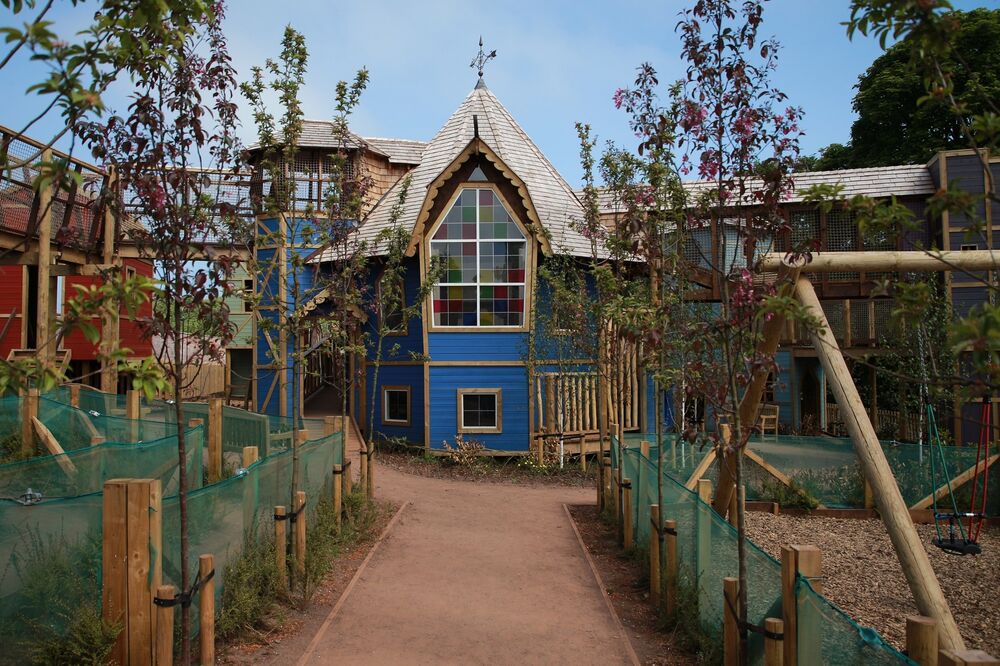 Weehailes: Newhailes creatively transformed into miniature | Image by Stewart Attwood
Playing with language
At Robert Burns Birthplace Museum in Alloway, the Scots Wa-Hey playground is inspired by the life and work of Scotland's bard. 'There's a mini Burns Cottage with small spaces to crawl through, and landmarks from the Tam o' Shanter story: a witch's cauldron, a zip wire representing the witches chasing Tam, and a mini Brig o' Doon,' explains Caroline Smith. 'The Scots language is a key part of the property's significance, so we also have Scots words and phrases dotted throughout the play area. These might be familiar to some kids, but for others it can spark interest and curiosity.'
Robert Burns Birthplace Museum learning manager Chris Waddell is a big fan of educating children through play, and believes that playgrounds such as Weehailes and Scots Wa-Hey are the perfect entry point to learning about Scotland's heritage, especially for our very young visitors.
'An adventure playground can be a springboard into heritage as well as into outdoor learning,' he says. 'Trying to force information about the metrical structure of vernacular 18th-century poetry onto five-year-olds simply isn't going to work. But if you give children a shot on the swings that are themed around witches and Tam o' Shanter, they're subliminally getting introduced to the world of Burns and the linguistic elements of his poetry.
'That's what the Trust's adventure playparks do – they take the broader themes of the place and pitch them precisely at the correct age group.
'While creaky old guys like me can have a great time looking at Burns Cottage and the manuscripts on display, there has to be something for the grandweans. And if a kid goes to an adventure playground and enjoys it, they're going to want to come back.'
Many places to play
Close to the Scots Wa-Hey playground is the Poet's Path, an imaginative Burns-themed sculpture trail that links Burns Cottage and the museum. Just like the playground, it is a brilliant place for sparking young imaginations as children make their journey between the two sites. 'We started with a "tim'rous beastie" – a huge mouse which the kids just love,' explains Caroline Smith. 'We have a sculpture of a fox in chains from the poem "Liberty Regain'd" and a haggis, of course. Our latest sculpture is the Twa Dogs – a beautiful piece which people have really engaged with.'
It's another family-friendly activity to enjoy at this most popular of Trust places. As learning manager Chris Waddell says, 'Let the kids play on the fantastic play area that we've provided. But once they've done that for half an hour, take a look around. At most of our places there's an element of duality: you can do things indoors and out; you can learn about history, culture, language, but also about plants and animals.'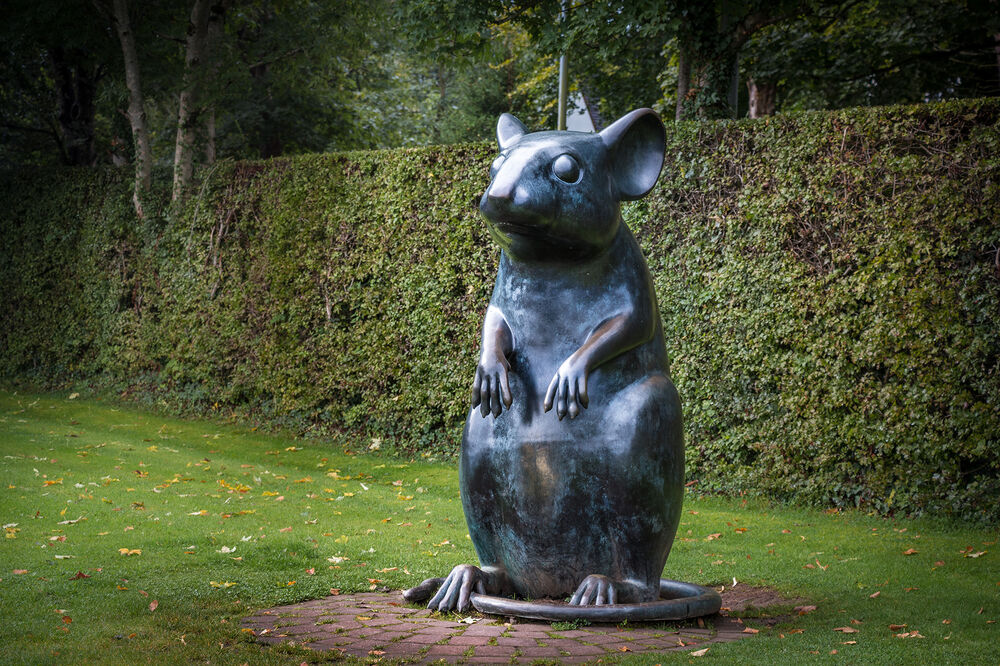 The 'tim'rous beastie' (the Wee Mouse) on the Poet's Path
A warm welcome
It is wonderful to hear the cheerful noise of excited children exploring the nooks and crannies of the library at Weehailes and introducing themselves to the Wee Mouse and Twa Dogs at the Robert Burns Birthplace Museum. At Culzean, Adventure Cove is full of activity. 'I like the climbing!' chimes six-year-old Elise, who is here from Irvine with her mum and wee brother Nathan. The siblings are delighted that they've both managed more demanding climbs than they could before.
Six-year-old pals Mila and Alice are visiting from Milngavie. 'I think it's really cool,' says Alice. 'There's loads of climbing stuff and we've been bouncing and bouncing! After this, we're going down to the beach.'
---
Read more: discover seven of our favourite Trust playgrounds!

Stay in touch
Be the first to hear about our latest news, get inspiration for great days out and learn about the work we do for the love of Scotland.