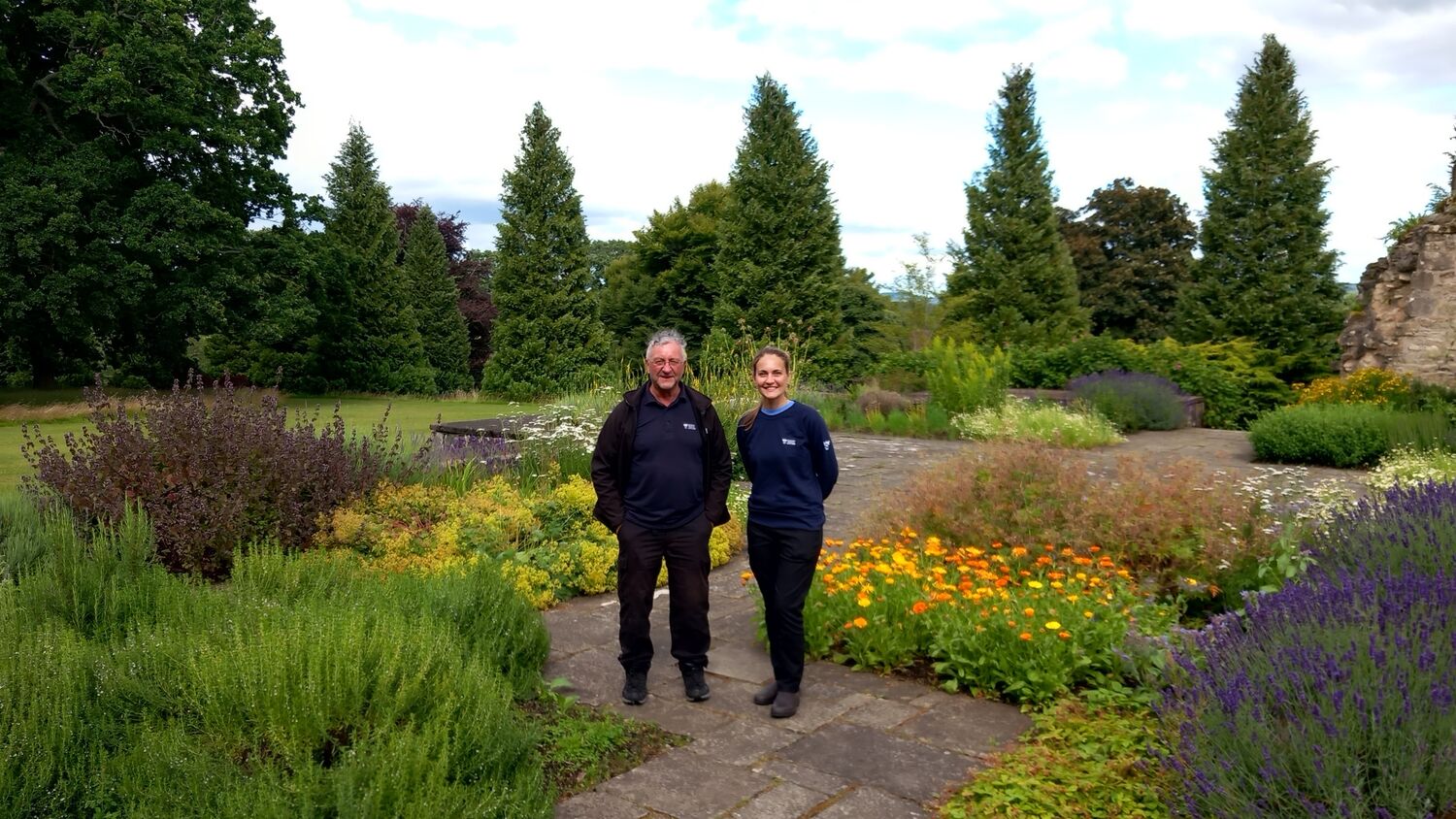 In April 2023, the PLANTS project welcomed a brand-new team, recruited to audit Trust gardens in Edinburgh and the East. Inventory Team Manager Alistair and Inventory Officer Charlotte wanted to take this opportunity to introduce themselves.
The PLANTS ('Plant Listing at the National Trust for Scotland') project, an ambitious three-year undertaking to create a plant inventory across Trust gardens, welcomed two new team members in April 2023. The Edinburgh and the East team was recruited one year into the project in order to audit the 11 garden properties in the region. Over the next year and a half the team will work in diverse gardens, from urban oases like Inveresk and Malleny to designed parklands including House of Binns and Hill of Tarvit.
Alistair Chalmers – Team Manager
Before becoming Team Manager for Edinburgh and the East, Alistair spent nine years working as a gardener at Branklyn Garden in Perth. With over 20 years of experience lecturing on horticulture, the PLANTS project particularly appealed to Alistair because of his taxonomic training and identification skills. He is therefore keen to use the opportunity to explore Trust gardens and discover the treasures therein.
Alistair's earliest garden memory was sowing Malcolmia maritima (Virginia stock) when he was around 10 years old. He has gone on to create an informal woodland garden at his home with a small meadow, where he delights in encouraging Pilosella aurantiaca (orange hawkweed), which would be regarded as a pernicious weed in a more formal garden.
When asked to name a favourite plant he's come across so far in the PLANTS project, Alistair immediately went for Meconopsis 'Branklyn', one of the spectacular cultivars to be found in the Perth garden. Alistair would advise that anyone interested in getting into horticulture spend time working on the aspects they enjoy most and building a career around that.
Charlotte Bottone – Inventory Officer
Prior to joining the Trust, Charlotte lived on the Isle of Mull and worked as a kitchen gardener for a private estate. Charlotte is particularly excited about the opportunity to conserve and celebrate plants, hopefully shining upon them the limelight they deserve. She thinks plants are often overlooked despite providing so many wonderful benefits.
Charlotte's first garden memory was following behind her dad with a toy lawnmower as he cut the grass in the garden. These days, Charlotte doesn't cut the grass that often, preferring the 'naturalistic' garden style: letting grass grow into a meadow, blurring the line between the garden and the landscape, including native plant species in the garden, and encouraging as much wildlife as possible.
While auditing Branklyn Garden, Charlotte fell in love with the Cardiocrinum giganteum (Giant Himalayan lily). They can take up to seven years to flower from seed but grow up to 3.5m tall, producing fragrant trumpet-shaped flowers in summer and amazing seed pods in autumn, which eventually dry to look like piranhas! Charlotte would recommend that anyone passionate about gardening grow what they love and get as much practical experience as possible – it's the best way to learn.
---
Plant Listing at the National Trust for Scotland (PLANTS) is the biggest horticultural audit project undertaken by the Trust and aims to celebrate, protect and better understand the flora and vegetation across our gardens and designed landscapes.
Stay in touch
Be the first to hear about our latest news, get inspiration for great days out and learn about the work we do for the love of Scotland.