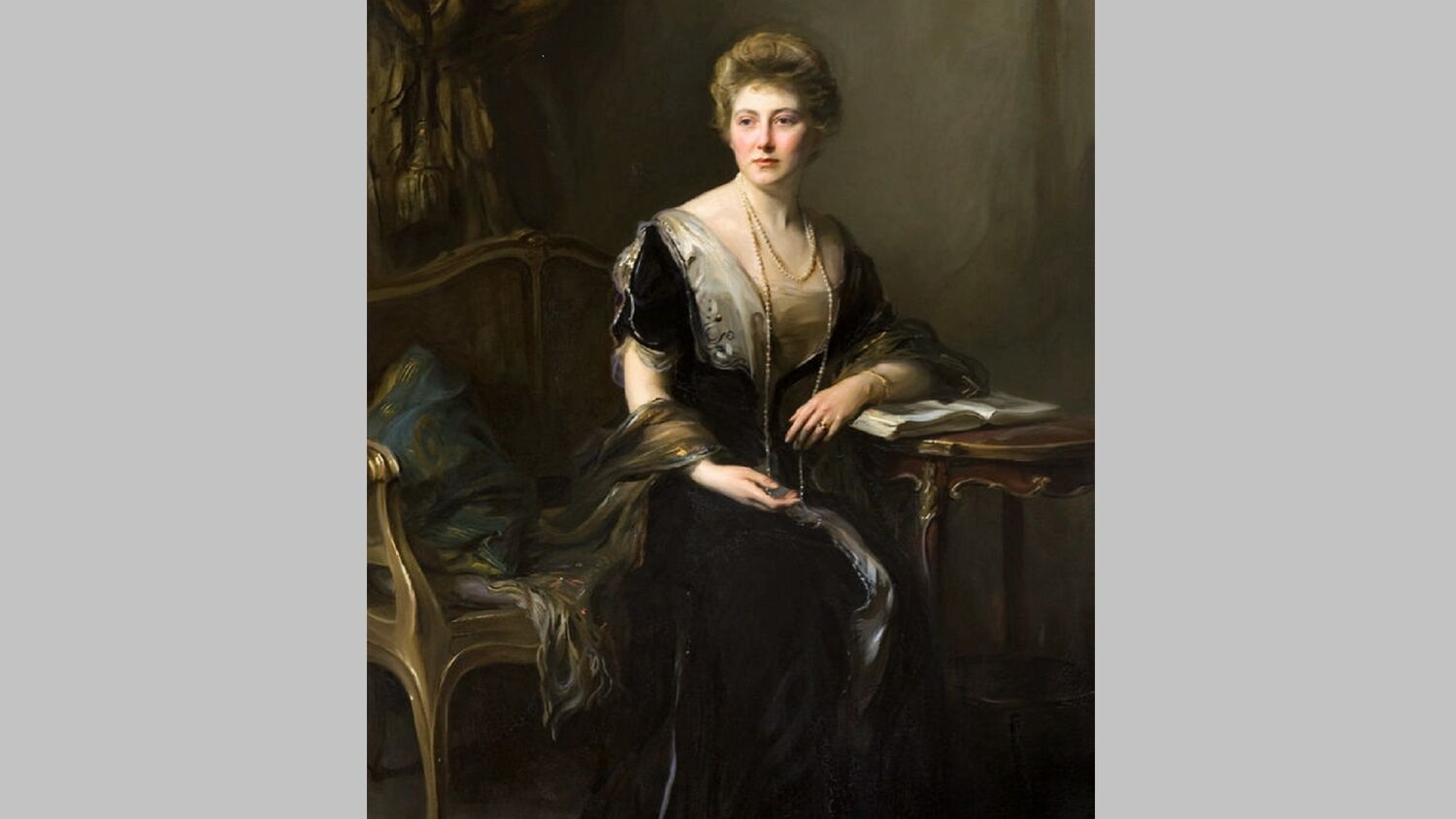 Political and financial circumstances in the early 20th century had a dramatic effect on British society. Gone were the ruinously expensive days of racehorses, priceless art and luxury yachts. For the first time in its history, Brodick Castle became a family home, to Lady Mary and her family.
Mary was born on 1 November 1884 in London. She was the only child of William, 12th Duke of Hamilton (1845–95) and Mary Montagu (1854–1934). The 12th Duke was often absent when Mary was young, so it is difficult to say what their relationship was like. However, there is a copy of Alice's Adventures in Wonderland signed by William and given to his daughter as a Christmas gift in 1890. It is nice to imagine that the 12th Duke and his young daughter enjoyed looking together at the beautiful Alexander Crichton dodo and other Alice-inspired decanters at Brodick Castle alongside her illustrated copy of the novel.
Mary was 10 years old when her father died in May 1895. Women were unable to inherit the Hamilton estates and titles at this time, and the 12th Duke's fourth cousin Alfred Douglas-Hamilton (1862–1940) became the 13th Duke of Hamilton. However, Mary's father had made special provisions for her. While Alfred inherited much of the Hamilton property and assets (as well as about £1 million in debts!), the 12th Duke's will explicitly left Brodick Castle, the family estates on Arran and the Easton Park property in Suffolk in trust for Mary.
Mary was said to be a shy child and she lived a relatively quiet life at Easton Park with her over-protective mother. A later account suggests Mary's dance classes were populated with chairs to represent the other couples, because the Duchess of Hamilton refused to allow other children to attend. Mary was a keen artist (enjoying drawing and sculpture), and she also played the violin and piano. Along with her mother, Mary was a skilful horsewoman and hunter, and later became an extremely knowledgeable gardener.
For Mary's 21st birthday the tenants and staff on Arran presented her with an illuminated album of painted views of Arran, while residents and staff at Easton contributed a diamond and ruby bracelet. She also received the below engraved mirror, most likely from her mother; her fiancé James, Marquis of Graham and the future 6th Duke of Montrose (1878–1954), is said to have given her a golden retriever puppy.
Mary and James married on 14 June 1906, uniting two of the most prominent aristocratic families in Scotland. The ceremony took place at St George's Church, Hanover Square, London and was attended by King Edward VII as well as various members of the aristocracy. The New York Times reported that Mary was both extremely wealthy and extremely popular, and crowds of onlookers were said to have attended to catch a glimpse of Britain's 'richest woman'. [1]
After their honeymoon, Mary and James returned to Easton Park. They had 4 children together: James (1907–92), the future 7th Duke of Montrose; Mary (1909–99); Ronald (1912–78); and Jean (1920–2017). Mary retained the Hamilton love of hunting and the outdoors, and her children took riding lessons and enjoyed the freedom of rural life. The Grahams lived at Easton until 1913 before moving to Scotland just before the outbreak of World War I, when James was appointed as a director of the Glasgow-based shipbuilding company William Beardmore & Co.
Life for the Graham family in the first decades of the 20th century was very different from the richly extravagant lifestyle of the Hamiltons in previous centuries. Although still very wealthy by contemporary standards, Mary and James would face many financial issues throughout their marriage as they navigated historical family debts (predominantly from gambling) and the high tax rates that were implemented after the First World War. The family spent about half the year at Buchanan Castle near Loch Lomond, which had been owned by the Dukes of Montrose since the late 17th century, and then their summers on Arran.
Writing about life at Brodick, Jean, Mary's youngest daughter, recorded that breakfast was served promptly at 8am before a day of playing and riding with the groom. She recalled that sea bathing started on 15 May and continued until 30 September, regardless of the weather, and that the children spent their days playing tennis, riding, fishing and lobster potting around the family's estates. She wrote that her parents were:
'homely people, with an intense sense of humour and complete unity one with the other … Some are apt to think of a duke and duchess living with a permanent Hollywood backcloth – the Duke and Duchess of Montrose were real people, highly civilised … Both had their feet placed firmly on the ground...' [2]
Framed black and white photograph, early 20th century, Brodick Collection | the young boy is believed to be Mary's younger son Ronald.
Early 20th-century photographs of the family show this simpler way of life, with barefoot children playing on the sand or paddling in the frothy sea. However, the family still maintained their status, and the Duke and Duchess continued to entertain their high-profile friends at Brodick; the windswept children in some of the photographs are the cousins of the Graham children: the young Rainier III, Prince of Monaco (1923–2005) and Princess Antoinette of Monaco (1920–2011).
Following the outbreak of the First World War, the Grahams, like most British families, became heavily involved in the war effort. Easton Park was turned into a Red Cross hospital under the management of Mary's mother, who was said to have been so committed that she only left the site twice between September 1914 and January 1919. In Scotland, James became a Commander of the Royal Naval Volunteer Reserve (he was partially deaf and therefore never called for active service) and was responsible for naval recruiting. Mary worked as a nurse at Bellahouston Hospital before moving to Brodick to create an auxiliary Red Cross hospital in Lamlash. This was just one of over 3,000 auxiliary hospitals across Britain. They were predominantly staffed by local women and generally provided convalescent care for wounded soldiers rather than treating serious medical conditions.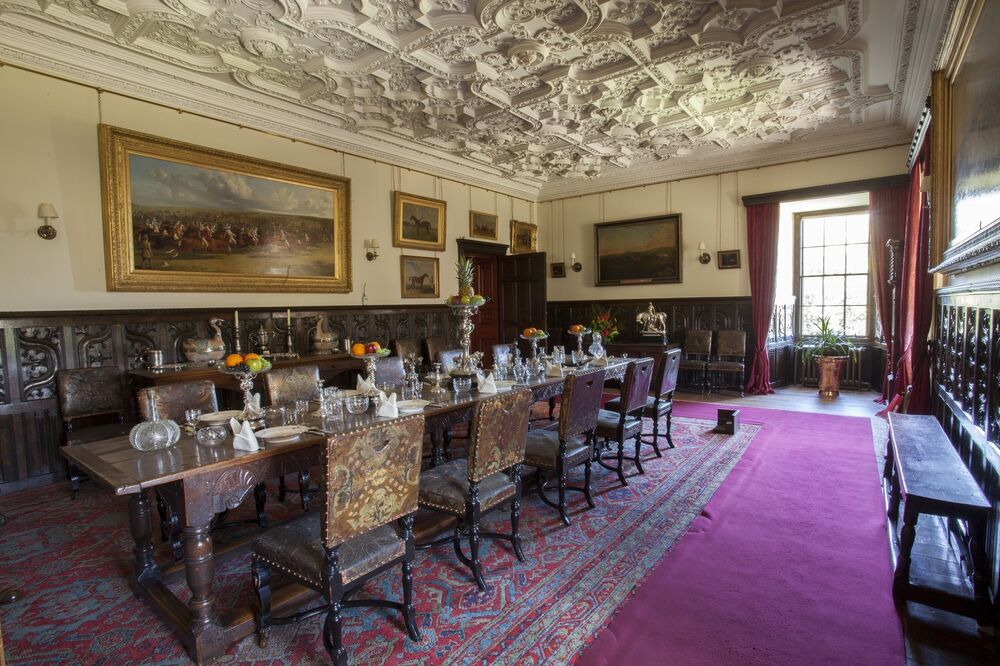 The panelling in the Dining Room came from the Hamiltons' Suffolk estate and was installed at Brodick in June 1921.
Many wealthy, aristocratic families struggled financially after the war, and estate sales became a common occurrence. In order to cover the family debts, Mary decided to sell Easton Park in 1919. The sale included the main house, 32 farms, over 4,800 acres of land, 132 buildings – including houses and businesses – and 2 entire villages. Some of the features from these properties were removed and installed at the family's other properties. For example, the carved wooden panelling in the Dining Room at Brodick Castle was originally from the Suffolk estate and was installed at Brodick in the summer of 1921.
Mary also purchased two family portraits by William Hoare (1707–92) of James, 5th Duke of Hamilton (1703–43) and his third wife Anne Spencer (1720–71) from auction at Christie's in July 1925. The portraits had left the Hamilton collection in the early 19th century, when they were given by Archibald, 9th Duke of Hamilton (1740–1819) to his son-in-law Edward, 11th Duke of Somerset (1775–1855).
James inherited his father's titles in December 1925, after which time James and Mary were known as the Duke and Duchess of Montrose. Around this time, they sold Buchanan Castle, probably to cover the death duties of the 5th Duke, and then spent far more time on Arran. Some of the fixtures and fittings from Buchanan Castle were also removed and later installed at Brodick, including the elaborate oak fire surround in the exhibition room and the magnificent chandelier in the Drawing Room.
Despite many of the social and financial challenges that affected the family in this period, hunting and shooting remained an integral part of life at Brodick; both the men and women of the family were keen deer stalkers. In the 1930s, the head keeper had a large team of 18 men, 70 dogs and 6–8 ponies. Mary enjoyed stalking and regularly accompanied the men through Glen Rosa; several of the trophy stag heads in the Entrance Hall were shot by her on the Arran estate.
View from the Boudoir Landing of the display of stags' heads shot on the Brodick estate; at least one of these was shot by Mary.
Mary died on 21 February 1957, aged 72. Following her death, the castle, its garden and a considerable portion of the collection were accepted by the Treasury in lieu of death duties and transferred to the National Trust for Scotland.
---
[1] The New York Times, 15 June 1906
[2] From the old Brodick Castle, Country Park and Goatfell guidebook, National Trust for Scotland
This series of blogs would not have been possible without the expert knowledge and generosity of internal and external colleagues. Particular thanks are due to Dr Godfrey Evans for his extensive research on the Hamiltons and their collections; Dr Amy Frost for taking the time to discuss her work on Beckford, his Jamaican plantations and their enslaved workers; Dr Bet McLeod for sharing her knowledge on William Beckford and the Hamilton ceramics; and to Sue Mills, Education Officer at Brodick, for always being patient and generous with her knowledge of the castle.
Stay in touch
Be the first to hear about our latest news, get inspiration for great days out and learn about the work we do for the love of Scotland.