The Trust is carrying out multiple tree plantings across its properties as part of the Queen's Green Canopy initiative, a UK-wide scheme to commemorate the Queen's Platinum Jubilee.
After a foggy start to the day, the weather brightened as the Edinburgh & East team, along with volunteers from Central Services, got together to plant over 140 new trees at Bannockburn.
Many trees were planted at Bannockburn during the construction of the new visitor centre 10 years ago, and these are mostly now well established. There have been some further plantings with the local school and by our own ranger team over the years, but some of these have unfortunately been vandalised and uprooted.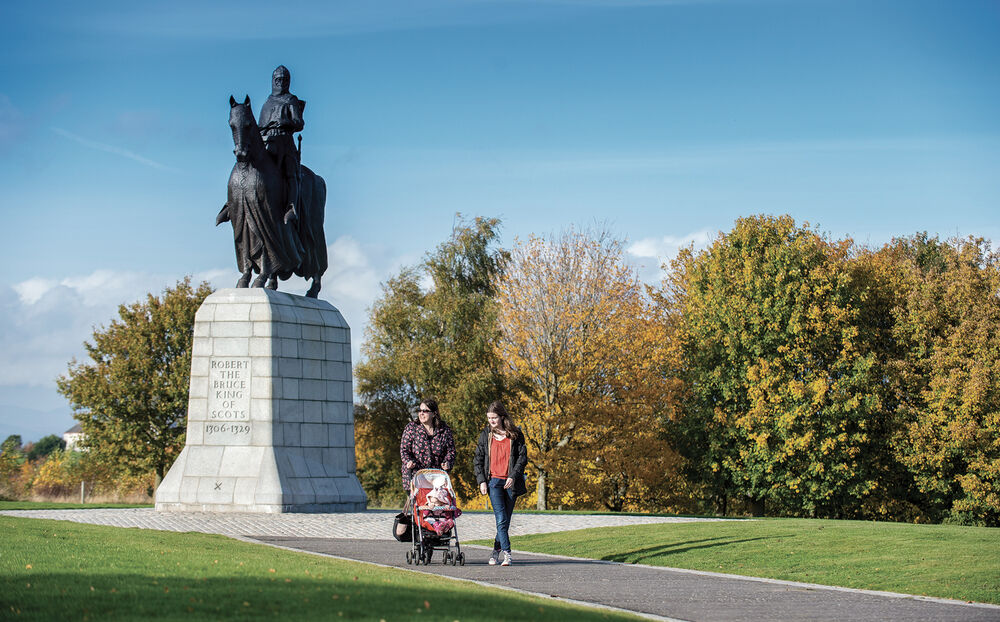 The grounds at the Battle of Bannockburn
This latest round of tree planting has been to establish an oak woodland on the site, which will in due time encourage more wildlife and biodiversity as well as allow teams to tell the story of the battle. There are more species dependant on oak than any other tree species. Along with the oak, we have planted birch, which will act as a nurse crop whilst the oak establishes. Some of these will be removed in the future to give the oaks space to grow.
Following advice from Threave Head Gardener, Michael Lawrie, and in line with the Trust's new strategy, we have chosen to use biodegradable cardboard tree shelters. It will be interesting to see how long they last before we need to replace them, or if the trees establish as the guards break down.
Read more: Planting trees for the jubilee

---
Thank you to Stuart Maxwell, Eilidh Nicolson, Gary Jenson, James Bell, Sarah Magee, and Sharon Uytendahl, who came along and made the planting day a success.

We are grateful to Camelia and Adam Symes, who live in the Lodge at Inveresk Garden, for sourcing many of the young trees.
Stay in touch
Be the first to hear about our latest news, get inspiration for great days out and learn about the work we do for the love of Scotland.