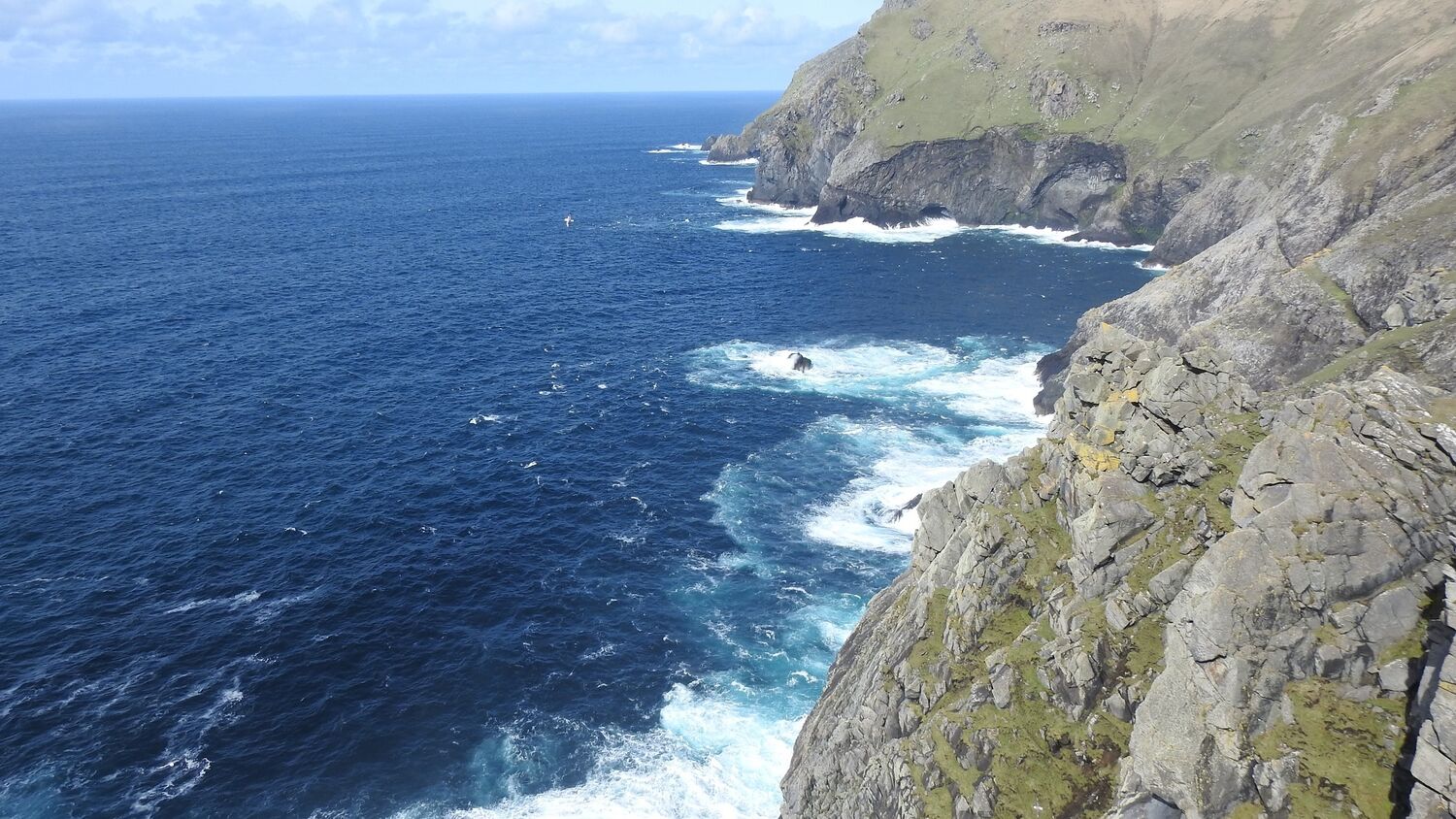 Hailstones are battering the window and the sea is wild out there. As always, the wather dominates life here on Hirta. We have had sunny days with clear blue skies this week, but with this cold spell comes the chance to share our first update of the 2023 season.
The National Trust for Scotland team left Hirta between September and October last year, leaving only QinetiQ staff on the island for the winter. Just as the seabirds go back to sea, the weather becomes so rough that sea crossings become increasingly difficult; nature dictates a natural end to our island year.
As a seasonal staff member, I am not employed by the Trust for the full year. This past winter, I was fortunate to be able to go and work on the conservation island of Aride in the Seychelles from November until February. A mile-long island in the Indian Ocean, Aride (like St Kilda) is a very important site for breeding seabirds and hosts large colonies of fairy terns, white-tailed tropicbirds, frigatebirds, brown noddies, fodies, wedge-tailed shearwaters, Seychelles warblers, sunbirds and the highly protected Seychelles magpie-robin. It has the world's largest colonies of lesser noddies and tropical shearwaters, as well as nesting hawksbill and green turtles, Aldabra giant tortoises, skinks, crabs and a myriad of marine life. I happily traded my winter gear for bare feet and 32 degrees!
My work involved monitoring and recording many aspects of the island: the seabirds, turtles, weather, vegetation and the beach. As with St Kilda, there were rigorous biosecurity protocols to follow, and I was quickly asked to join the other rangers in leading guided tours for visitors.
Read more about biosecurity on St Kilda
It was fascinating to see how conservation actions taken 50 years ago, in terms of returning the island vegetation to native species from a predominant coconut plantation, were reaping benefits for the whole ecosystem. Some of the birds that had left the island are now returning of their own volition, including the Seychelles sunbird and the Seychelles blue pigeon. Others, notably the Seychelles warbler and the Seychelles magpie-robin, have been part of extensive re-introduction programmes, the former being incredibly successful and the latter currently undergoing daily monitoring to measure success.
I immersed myself in island life and managed to visit another UNESCO World Heritage Site – Vallée de Mai, home of the ancient coco de mer (a rare species of palm tree). I am very thankful to the staff on Aride who welcomed me into their community for a short while.
It was with great excitement that I returned to St Kilda at the end of March! We have maintained the same ranger team now for the third year running, so it was fantastic to get back together. Clare had already been back for about a week, so we had an incredible amount of catching up to do when I arrived. I think it took me about three hours to get from the helipad to the Manse … meeting old friends on the base along the way. Craig returned the following week, and the Manse Team 2023 was complete!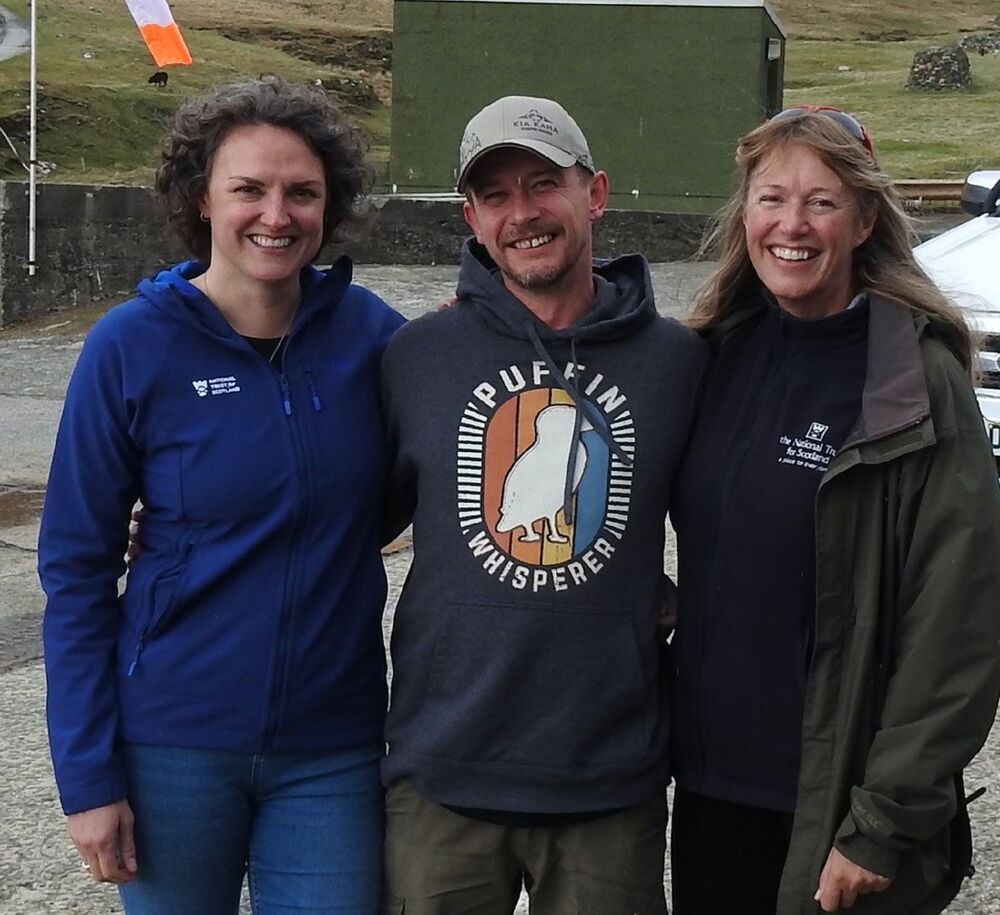 The last few weeks have been all about getting the island prepared for visitors, monitoring and assessing for repair work on the built structures, and monitoring our seabirds (particularly in the wake of the devastation caused by avian flu last year). We will not know the true impact on our seabird populations yet; nor do we know whether our birds will be hit in the same way this year. We are taking a precautionary approach and following the same guidance from NatureScot (the Scottish Government's nature agency) to ensure that we do everything to protect both seabird populations and people.
It is still early in the season, and we are anxious to see our regular birds. We have already noticed an increase in white-tailed eagles this year (up to four have been seen so far) and we have had the highest number of black-crowned night herons in Scotland over the past few days (four). Oystercatcher, wheatear, yellowhammer and grasshopper warbler make up some of our regular and more unusual sightings.
We have also had several seal pups sleeping on the slipway near the Manse – this is a favourite haul-out site over winter, but the gradual increase in human presence on the island seems to have encouraged them to find a new place in the bay.
As I've been preparing the church, school and museum, I've been aware of how much has changed since last year with respect to COVID restrictions. Since we are so far from medical help, we have perhaps been more cautious than most, and it has been good to return to welcoming passengers on board their cruise ships, with a more relaxed feel. Our first visitors arrived last week, basking in glorious sunshine and all very happy to have made the crossing.
We face an exciting year ahead, filled with researchers, craftspeople, volunteers and contractors who will all be calling St Kilda 'home' for a few weeks. Although it seems like a long way off, with the many preparations under way involving travel, accommodation and practicalities, they will be here before we know it.
I know that the season ahead will be full, varied, hard work and, above all, great fun!
From the edge of the world
St Kilda blog
Find out more about what it's like to work on these incredible islands.
More
Stay in touch
Be the first to hear about our latest news, get inspiration for great days out and learn about the work we do for the love of Scotland.