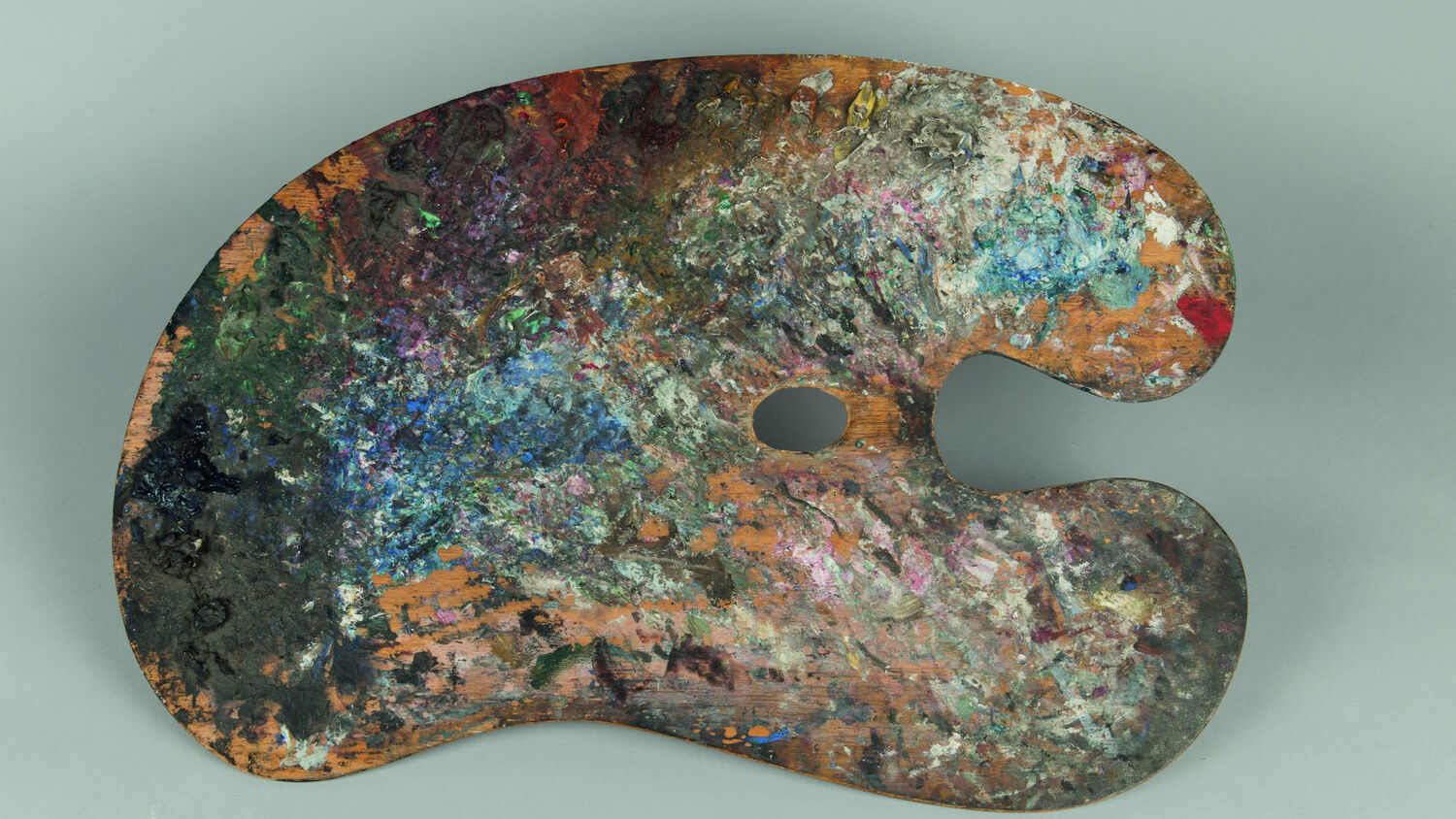 From painters to designers and everything in between, Scotland has given the world some of its finest artists – and you can see their work at many of our places.
Scotland has a wonderfully rich artistic heritage. From the Renaissance period, through the 18th and 19th centuries via the Scottish Enlightenment and the Glasgow Style, and right into the modern day, our country's artists and designers have accompanied poets, musicians and even gardeners in showing that Scotland is a beacon for creativity and culture.
Lots of the National Trust for Scotland's places have connections to great Scottish artists – some contain notable works and others are even notable works themselves! Of course, we're used to viewing art in galleries, but visiting our places lets you see some of Scotland's finest works of art in their 'natural habitat'. This helps paint a picture (excuse the pun) of how these artistic pioneers worked, who they worked for, and how their skill and vision was often applied far beyond the canvas, turning buildings themselves into artistic achievements.
So who are the artists whose stories we love to share?
The Lorimers
The Lorimer family were a prodigious bunch and have been likened to a Renaissance dynasty for their abundant and varied talents. Among the descendants of Professor James Lorimer (a successful 19th-century lawyer) were the painter John Henry Lorimer (1856–1936), the architect Sir Robert Lorimer (1864–1929), the sculptor Hew Lorimer (1907–93) and the artist Hannah Lorimer (1854–1947), who, like several women in the family, was extremely talented in her own right but is often overlooked.
Kellie Castle was the holiday home of the Lorimers from 1878, and many of the more artistic interior touches were completed by the most well-known member of the family: Sir Robert. As a young man, Robert was inspired by the Arts & Crafts ethos to bring a vibrant, colourful, feminine feel to interior renovations. Influenced by these interiors, he went on to become a renowned architect, known for designing furniture and gardens (a great example of which can be seen at nearby Hill of Tarvit). His son Hew was a much-respected sculptor who, together with his wife Mary, created the home we see today. Kellie Castle stands as a testament to the creative vision and talents of the entire Lorimer family.

Don't miss:
Robert Lorimer's furniture
Hew Lorimer's studio and sculptures
John Henry Lorimer's painting entitled Hannah Lorimer Embroidering a Bedcover
Alexander 'Greek' Thomson
Like Sir Robert Lorimer, Alexander 'Greek' Thomson (1817–75) was an architect with an innate eye for design and aesthetics. In the mid-19th century, Thomson was working in Glasgow during the industrial boom and city-wide expansion – his early commissions were for warehouses, tenements and suburban villas. But Thomson's interest in ancient civilisations, the Greeks in particular, led him to develop a unique and experimental style, incorporating into his buildings everything from classical columns and scrolls to anthemia (motifs based on radiating palm leaves) and tributes to Homer's Iliad.
Thomson's finest domestic building is Holmwood. It shows in extravagant, vibrant detail how Thomson blurred the lines between art and architecture. Every element of the villa's design heightens its exotic appearance, and the interior, with its hand-painted stencils and motifs and decorative plaster and woodwork, turns Holmwood into a classical work of art.
Don't miss:
Thomson's exquisitely styled and gilded Drawing Room
Hand-painted stencilled designs on show throughout the house
Edward Atkinson Hornel
After moving from Australia to Kirkcudbright with his parents at a very young age, E A Hornel (1864–1933) grew up to become associated with the Glasgow Boys – a group of popular artists in the late 19th and early 20th centuries. Hornel become one of the most commercially successful Scottish artists. He was known for his use of texture and detail, and he painted everything from landscapes and portraits of children to intricate depictions of flowers and woodlands. Some of his most recognisable work was done in collaboration with another Glasgow Boy, George Henry.
Hornel's work, along with paintings by his friends and contemporaries, is on display at Broughton House, which Hornel purchased in 1901 and turned into his personal studio, showroom and home. With an artist's interest in designing the space to suit his needs, he even installed a trapdoor that made moving his paintings from his studio to the gallery and showroom directly above much easier! There's no better setting to view Hornel's work than in the house where much of it was created.
Don't miss:
Hornel's paintings in the Gallery (which is one of the finest rooms at any of our places – it's a work of art in itself)
The beautiful garden at Broughton House, created by Hornel and his sister Tizzy, and inspired by Japan.
A new exhibition of Hornel's work and photography collection at City Art Centre in Edinburgh.
Charles Rennie Mackintosh and Margaret Macdonald
Charles Rennie Mackintosh (1868–1928) is arguably Scotland's most famous designer and architect. He was a student at Glasgow School of Art when its reputation for decorative arts was booming, and Mackintosh led the way in the emergence of the iconic Glasgow Style. Moving away from a classical approach, he embraced his love of things like geometry, nature, Scottish history and Japanese art, to create his own avant-garde style that drew attention and acclaim across Europe (although he never achieved the same fame in Scotland during his lifetime).
Mackintosh's greatest domestic work is undoubtedly the Hill House, which was built for a Glasgow publisher (Walter Blackie) and completed in 1904. With Blackie's permission, Mackintosh was able to experiment, and he took full control of every element of the house – from the window fittings to the clocks and kitchen cupboards. The property's distinct and dramatic interiors, with wildly different tones in different rooms, were a collaboration between Mackintosh and his wife, fellow Glasgow Style trailblazer Margaret Macdonald (1864–1933). Her delicate embroidered hangings and intricate textiles are some of the house's most famous features – many of Mackintosh and Macdonald's creations tread a fine line between functionality and aesthetic beauty.
Don't miss:
The Drawing Room, where both Mackintosh and Macdonald's interests are brought together
Macdonald's famous 'sleeping princess' gesso panel
Mackintosh's watercolour landscape, which he painted in France after moving abroad for his health.
Sir Henry Raeburn
Probably Scotland's most famous painter, Henry Raeburn (1756–1823) painted characterful portraits of the wealthiest and most important people of his day. In so doing, he helped to make his subjects seem more erudite and improved their social standing. Famous for works including The Skating Minister (1790s; now on display in the National Gallery of Scotland) and for his intuitive approach, which saw him paint straight onto canvas (often without sketching first), Raeburn was knighted in 1822 by King George IV, for whom he served as Portrait Painter.
You'll find work by Raeburn at a number of our places, including Craigievar Castle, the Georgian House, Hill of Tarvit and Robert Burns Birthplace Museum. At Fyvie Castle there are a whopping 13 Raeburn portraits that sit alongside other works by artists such as Gainsborough (1727–88) and Romney (1734–1802). In an interesting link to another entry on our list, an original of Raeburn's portrait of Thomas Reid, a Professor of Moral Philosophy at Glasgow University, hangs at Fyvie Castle … while a copy of the same portrait hangs at Kellie Castle, painted by Hannah Lorimer. Hannah's mother had been a student of Moral Philosophy, one of the only subjects available to women at that time.
Don't miss:
Raeburn's portrait of Mrs James Gregory, née Isobella Macleod (1770–1847) in the Back Morning Room at Fyvie Castle
The copy of Raeburn's portrait of Robert Burns at Robert Burns Birthplace Museum
Other Scottish artists you'll find at our places
With so many wonderful artworks in the collections at our places, there are endless opportunities to see paintings by Scottish artists in their 'natural habitat'.
You can see paintings by Allan Ramsay (1713–84), Samuel Peploe (1871–1935) and Francis Cadell (1883–1937) at Brodie Castle, and examples of the work of Alexander Nasmyth (1758–1840), who painted a variety of sumptuous Scottish landscapes in the 19th century, hang in Brodick Castle and House of Dun. At Crathes Castle you can see the work of John Scougal (1645–1730), who was the leading Scottish artist at the end of the 17th century.
Find out more on our property pages, and then visit our places to see the wonderful art in our collections up close! Buy a Trust membership today and get free entry to all of our places, while helping us to protect and share the stories of Scottish art for future generations.
Stay in touch
Be the first to hear about our latest news, get inspiration for great days out and learn about the work we do for the love of Scotland.