Our expert garden guide has been sharing a blog offering a behind-the-scenes glimpse at what the team are working on in the garden at Crathes. This month, she talks about the importance of garden design.
Anticipating the excitement of exploring new landscapes is now tempered with the limitations of age; gardens offer alternative and accessible horizons. I was thus delighted to visit three very different gardens during a recent holiday on the Northumbrian coast.
The Gertrude Jekyll garden on Lindisfarne is small, unpretentious and utterly charming. From about 1570, the walled garden provided vegetables for the soldiers stationed at Lindisfarne. In 1901 Edward Hudson bought the fort and employed the Arts and Crafts architect Edwin Lutyens to convert it into a holiday home (castle). Hudson was the editor of Country Life, a magazine to which Jekyll contributed. Jekyll was also a friend of Edwin Lutyens with whom she often collaborated when designing gardens. Although she did not usually visit the gardens that she designed in her later life, it is not too surprising that Jekyll and Lutyens travelled together and stayed at the Lindisfarne castle as guests of Hudson in 1906. The garden of Jekyll's design was completed in 1911 with the help of Lutyens. Nearly a hundred years later, in 2003, the garden was replanted using Jekyll's original planting scheme.
View of Lindisfarne Castle from the Gertrude Jekyll garden
The garden design was simple: roughly paved paths with beds around a central square bed. There were fruit trees against the walls, heritage vegetables and herbs. The general effect, achieved with cottage garden annuals and perennials, was immediately enticing. As I sat on the bench amongst the flowers, catching a drift of the scent of sweet peas, it was easy enough to imagine it as my garden. An unfamiliar plant that scattered its blue (sometimes white) delicate flowers around the sweet peas, cornflowers, nigella and daisies was particularly attractive. Its long blue spur led me to find its name – Consolida regalis – an annual that I was pleased to find in my seed catalogue; this is definitely a plant for me in 2023.
Stachys byzantina (previously S. lanata), known as lamb's lugs in Scotland, was also much in evidence – another plant I need to have. We know it has long been grown at Crathes because George Elgood painted it growing in the Blue and Pink Border in 1899. Today, it grows in a corner of the Trough Garden. Elgood's painting was published in the book Some English Gardens (1904) with the accompanying text written by Jekyll. However, some of the text is inaccurate, reflecting Jekyll's reliance on other people for information when she did not visit the place she was writing about. [1]
Sybil Crozier Smith, Lady Burnett, was said to be much influenced by Gertrude Jekyll when she developed her designs at Crathes in the 1930s and the influence is still to be seen, especially in the famous June Border that she developed and planted with her beloved cottage garden flowers (see my earlier blog post 'Castle, cottage and fine design').
Cragside, created out of the Northumbrian moor, is the very antithesis of the Lindisfarne garden. In 1869 William Armstrong and his wife Margaret Ramshaw began to create an amazing house and landscape in this wild, rocky moorland. Of course, the hard work was carried out by over 300 estate workers – gardeners, stonemasons and labourers. The house was lit by hydro-electric power, and the estate boasted a 6-mile carriage drive and a whole terrace of heated glasshouses in the formal gardens. Reputedly, 7 million trees were planted.
The woods had, like at Crathes, suffered in Storm Arwen and some paths were still barred to visitors. Whilst my family visited the house – the first in the world to be lit by electricity – I made my way outdoors for a quick look at the massive rock garden that tumbled down from the front of the house. After climbing innumerable steps, I emerged to find the Northumbrian countryside as a backdrop to the 3½ acres of formal terraced gardens – just a little smaller than the walled garden at Crathes.
The highest terrace had at one time been covered in glasshouses, but only a short range remained and that was presently closed for conservation. I peered in through the windows and finally found what I was looking for: the distinctive ironwork of Mackenzie and Moncur (see 'A Victorian legacy'); another glasshouse to add to my collection. An information notice confirmed my suspicions and described the remaining house as the Orchard House, built to grow exotic fruits such as figs and lemons. Each plant was grown in a large earthenware section of a water pipe on a turntable that could be rotated by technology to catch the sun evenly. How I would have loved to look inside.
The rest of the terrace was also fascinating: the remains of a palm house, tropical and temperate ferneries, and a show house, all once covered in glass. I recognised Krauss's clubmoss managing to survive in one of the ferneries. A decorative pool, more flower gardens and beds of annuals completed the terrace. The meadow-style planting replaced the previous banks of carpet bedding that was so labour-intensive and not so attractive for wildlife. The historical aspect of a garden is important but not sacrosanct; gardens change and have to adapt to new circumstances. Crathes has been changing for 400 years!
I had been to Alnwick Garden previously, but a chance to return could not be missed. At one time a garden befitting a duke, it had been neglected in the 20th century and used for allotments and forestry. In 1996 the Duchess of Northumberland began her ambitious development project – she calls it 'a contemporary pleasure garden'. It is now run by a charity, the Alnwick Garden Trust.
To reach the ornamental garden, we walked up through the shady hornbeam arbour to find the mix of formal pleached malus, low lonicera hedges, medium-height hedges of Cornus mas, and water rills. It was planted with hydrangeas, eryngiums and alliums amongst other flowers. With the roses mostly over and the many hedges, there was not the exuberance of flowers that we have at Crathes but there were berries – black and red currants, and raspberries. I was particularly taken with the profusion of Californian tree poppies (Romneya coulteri), which was a favourite of Lady Burnett and still grows at Crathes.
I came away from Northumbria thinking about garden designers. Whether Crathes employed professional designers is uncertain, but it is probable that the Fountain Garden is a result of professional design in Victorian times. Lady Burnett in the 1930s was much lauded by professional gardeners like Graham Stuart Thomas and Christopher Lloyd. Head gardeners have often had important input in design, with Douglas MacDonald having a good say in the Golden Garden designed in the 1970s. Henry Hudson, head gardener at Cragside in Victorian times, was said to have been important in the development of the formal gardens there. More recently at Crathes, James Hannaford (our present head gardener) has designed the Evolution Garden and is largely responsible for the Rose Garden – on which work is about to start.
Lady Burnett's design in the Upper Pool Garden at Crathes Castle
Visiting on 18 August I found that a hole had been knocked in the east wall of the garden so that heavy machinery could have access. The central part of the new design requires a level surface, which necessitated major earth moving – it was quite amazing to see and hear such a violation of what is usually a peaceful place. Some of the soil (which was surprisingly sandy) was removed for use elsewhere. Archaeologists have held a watching brief, but nothing was found. Despite the upheaval, it is a relief that work has finally started; the Rose Garden plans have been on hold for some years now. I wonder about the problems faced when the croquet lawn terrace was established, with the two sets of steps and holding walls. It would then have been a case of spades, wheelbarrows, pulleys and manpower – no diggers and dumper trucks in those days. We don't know when the steps were added although the terrace was probably in place in some form from the 17th century.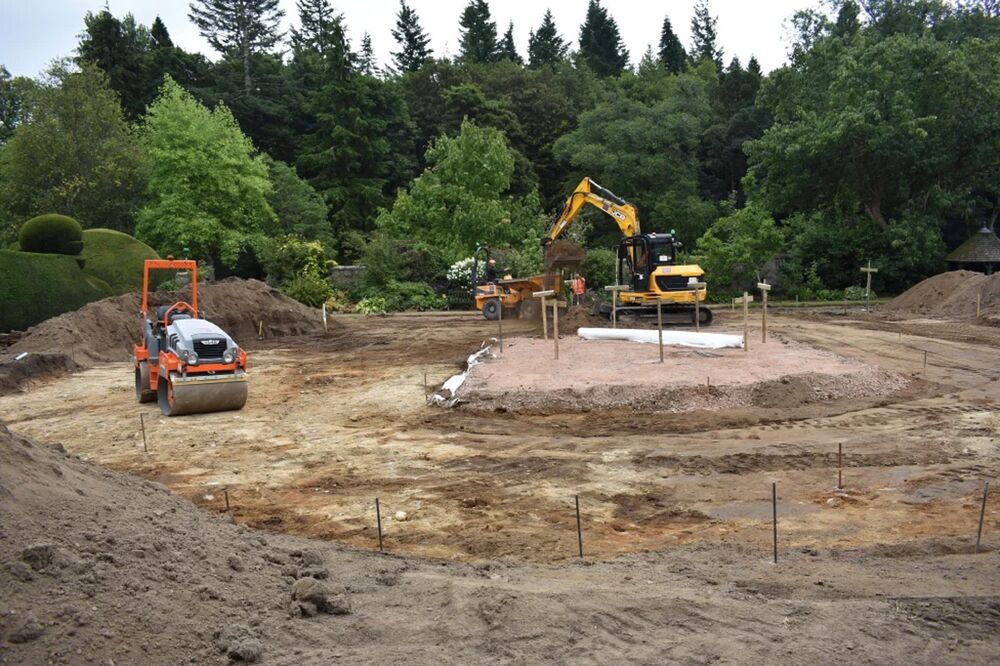 Major earth works are underway in the Rose Garden at Crathes Castle.
Another exciting and important development is in full swing just now: the Plant Listing at the National Trust for Scotland (PLANTS) horticultural audit project. This aims to celebrate, protect and better understand the flora and vegetation of the Trust's major gardens and designed landscapes. Whilst catching up with the Rose Garden developments, I was able to meet with some of the team working at Crathes: Dr Colin McDowall is Project Manager of the overall PLANTS project and Philippa Holdsworth is Team Manager for the North Region, which covers Aberdeenshire, Angus, the Highlands and Moray. Valeria Soddu and Niki Douglas complete the North team. The project is led nationally by curator Anna Florence.

The mind boggles rather at the thought of doing an inventory on 13 gardens; Crathes is a huge undertaking in itself. This project means that Dave and I, who have been puzzling over Hoheria species and other problems, will reap great benefits, both as the project progresses and when the results are officially available. It also featured on Beechgrove episode 20, filmed at Crathes for BBC Scotland and available on iPlayer.
Identifying the thousands of plants needs a mix of approaches. Experience is essential, but historical records, accession books (where they exist), photographs, books, the internet and local knowledge all help. Although phone apps are not relied on, they may offer options that can be followed up later. Fortunately, Crathes has good accession books, but again they are not definitive – have you ever bought something from a garden centre that didn't turn out to tally with the label?
Colin and Philippa consider the geranium growing near the Aviary Terrace steps.
All through June and July I had been expecting the butterflies, only to be disappointed. I looked in vain at the buddleias both here and in Northumbria. Finally, in mid-August, there was a flutter of them on the white buddleia. I always think that the white buddleia looks rather scruffy when it begins to turn brown, but I take back my criticism when I see the profusion of peacocks and red admirals that gather on the White Border.
Emily has sent me some photos of moths she has seen in the garden. The silver Y is a common day-flying moth attracted to lavender and other sun loving herbs; the magpie moth will lay its eggs on gooseberries, so gardeners beware. I am rather taken with the herald, which is new for me.
Updates
It's hedge cutting time again. This year it has been delayed by a broken cherry picker and illness. It's good to see that the Fountain Garden hedge is now beginning to sprout after last year's cutback. We just need to be patient for a decade or more.
Deadheading makes such a difference to the garden, but often takes up more time than can be spared.
In the glasshouses James and Joanna are thinking about next year; what to grow? Time to start taking cuttings again. Pelargonium cuttings in the glasshouse (taken last September) will be ready for the showhouse next year. Joanna says the fuchsias are tricky to look after.
The tulip tree outside the east gate has flowered – fortunately at a height that is easily seen.
The Amaranthus caudatus 'Coral Fountain' is now in full flower in the Red Garden.
---
[1] For more about Gertrude Jekyll and Crathes, see The Garden and Landscape of Crathes Castle, Susan Bennett, Spey Books (2019)
Stay in touch
Be the first to hear about our latest news, get inspiration for great days out and learn about the work we do for the love of Scotland.