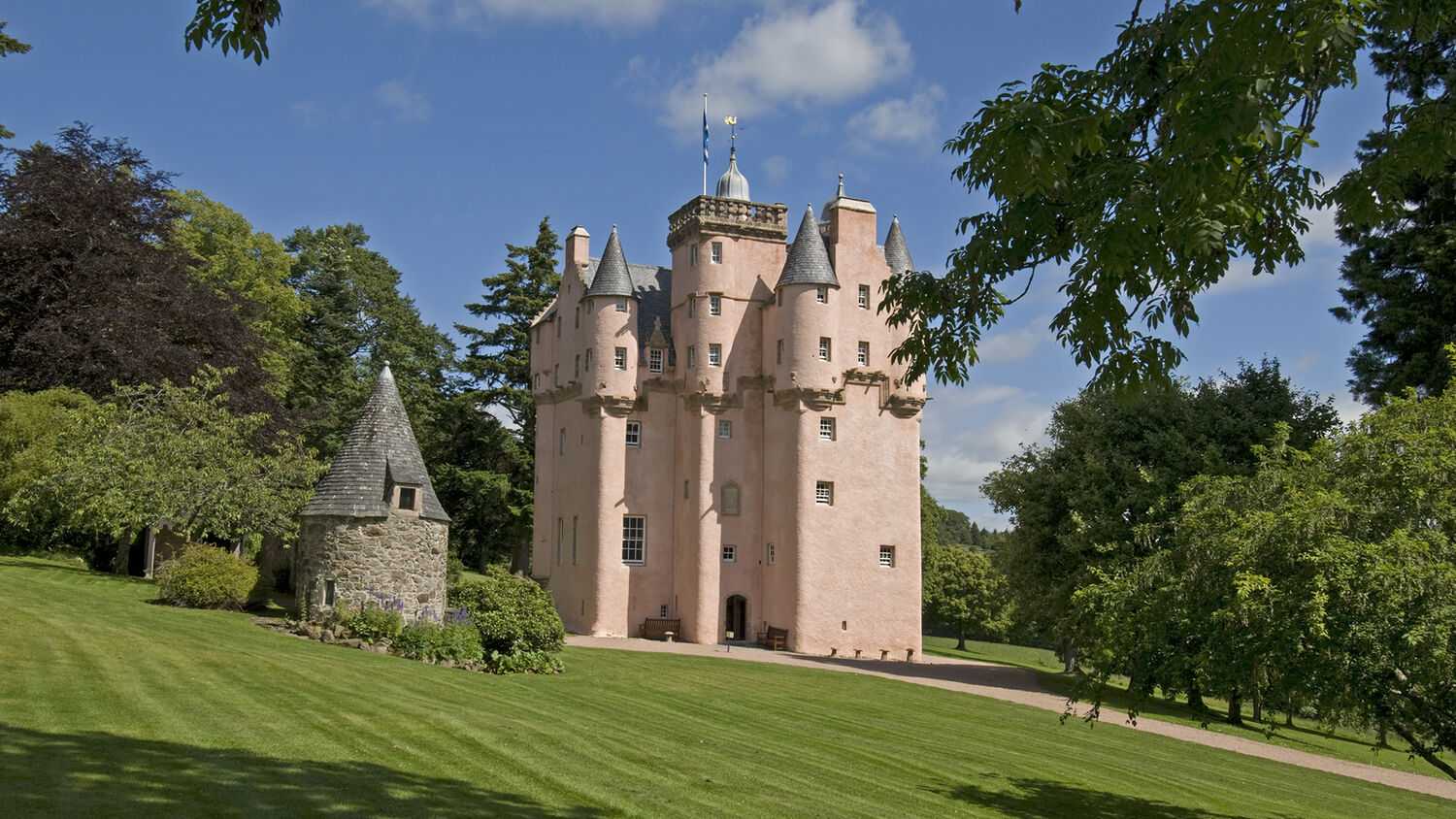 The iconic slender skyward form and distinctive pink tones of Craigievar Castle will be covered up this September until spring 2024 as we undertake a major conservation project.
However, there is plenty of time still to explore the castle this summer before the scaffolding goes up and our collections are carefully 'put to bed'. With impressive collections of art, armour and weaponry in a unique setting, Craigievar makes a wonderful day out.
William Forbes purchased Craigievar in 1610 and extensively remodelled it in the Renaissance style. In 1824, Sir John Forbes instructed architect John Smith to make a report on the building. Smith recommended a change from the existing off-white harling to a pale pink, in order to match the colour of the Aberdeenshire granite mouldings.
Harling is the traditional Scottish protective layer applied to buildings. It is made up from a mix of lime, aggregate and water, and is applied by hand. Our conservation works will reinvigorate the pink tones of Craigievar's walls with multiple coats of a 'special recipe' of limewash. We will also repair some of the high-level areas of harling. In addition, maintenance to interior plasterwork, conservation of the barmkin wall and further repair projects will be carried out during the closure of the castle.
Quote
"The shape of Craigievar, being an L-Plan tower house, means that getting safe access to the roof-top areas is challenging."
Chartered Surveyor at the National Trust for Scotland
Annie continues: 'The free-standing scaffold [it will not be fixed to the building, thus preventing damage to the stonework] will take 3 months to erect but it will allow expert teams to maintain the harling and carry out discreet adaptions to details, to better protect the vulnerable edges of the harling. This will help to future-proof the building against the effects of climate change.'
The target date for completing these critical repairs and re-opening the castle is spring 2024. We will regularly update on the progress of the project as well as offer behind-the-scenes insights into the painstaking conservation work. Look out for special hard hat tours during the works, too!
---
As a conservation charity, the National Trust for Scotland is supported by more than 300,000 members and funded largely by donations. From coastlines to castles, art to architecture, wildlife to wilderness, we protect, care for and champion Scotland's built, natural and cultural heritage.
Our historic buildings are under threat from many factors – time, animal pests, vandalism and the Scottish climate. Ongoing maintenance is critical to ensure the places that demonstrate our rich history survive. As a charity, we can only protect our places with your support. Should you wish to support this project or any of our extensive work, please visit our Donate page to make a gift.
Stay in touch
Be the first to hear about our latest news, get inspiration for great days out and learn about the work we do for the love of Scotland.