After busy summers and before the onset of winter festivities, autumn is the perfect time for spending time with family and friends, wrapping up warm, and enjoying Scotland's heritage at its best.
We've previously shared some great children's party ideas. Here, we've gathered a feast of autumnal recipes to welcome you back from wildlife spotting on our trails, blanketed by golden leaves. They also make a warming treat before setting out on one of our many spooky castle tours or Halloween trails.
Image: Yulia Furman | Shutterstock
Velvet spiced pumpkin soup
The flesh of carving pumpkins can be quite bland, but experiment with the wide variety of smaller pumpkins or winter squashes. Butternut squash works well too. All gourds have a high water content, so baking or frying off concentrates the earthy flavours and creates a sweet caramel crust. The spices give a hint of wintery warmth but can be swapped for sage, thyme and nutmeg.
Serves 8
1.5kg mix of pumpkin and squash, peeled and diced into chunks
1 floury or sweet potato, diced
2 carrots, diced
30ml olive oil
Pepper, turmeric, paprika, cumin and fenugreek
2 celery sticks
2 leeks, peeled and chopped
1.5 litres chicken or vegetable stock
220ml double cream/crème fraiche
284ml whole milk
Pre-heat the oven to 190C.
Toss the squash, potato and carrots in the oil in a large roasting tray, then sprinkle very lightly with the spices – adding more gives a 'curry' feel but can overwhelm the squash.
Roast for about 40 mins or until caramelised and soft.
In a big soup pan, sweat off the celery and leeks, then add the roast veg, scraping the tray and all the oil.
Add the stock and bring to a gentle boil for 10 mins.
(You can pre-prep and chill, or batch freeze, at this stage)
To finish, reduce the heat and add milk and cream, whizzing with a stick blender until extra smooth. Season to taste.
For an extra twist, fry off sourdough croutons or chorizo pieces.
Cajun corn cobs
The spice butter can be made in a large batch, then rolled in clingfilm into a cylinder and frozen. Slice off discs to top steak, chicken, vegetables or seafood. There's no need to spend a fortune. The important bits are paprika, garlic, pepper, oregano and sugar – play about with the rest!
Spice butter
3 tsp smoked paprika
2 tsp garlic powder
2 tsp onion powder
2 tsp pepper
3 tsp dried oregano
½ tsp thyme
½ tsp combo of all spice, ground cumin and/or coriander
3 tsp soft brown sugar
1–3 tsp cayenne pepper or chili powder to your heat liking!
½ tsp salt
250g unsalted cubed butter (don't add salt if using salted butter)
In a small blender (or coffee grinder, bowl or pestle & mortar), crush up the dry ingredients together, then smush in the butter, and chill.

Corn cobs
4 corn on the cobs
Spice butter
Pre-heat the oven to 170C.
Smear the cobs with a large blob of the butter and individually double wrap in foil.
Place on a tray and bake for around 35 mins until tender. (Alternately, microwave in a clingfilmed dish with a little water, then add the butter after).
Squeeze a little lime or lemon over the top and serve in parcels.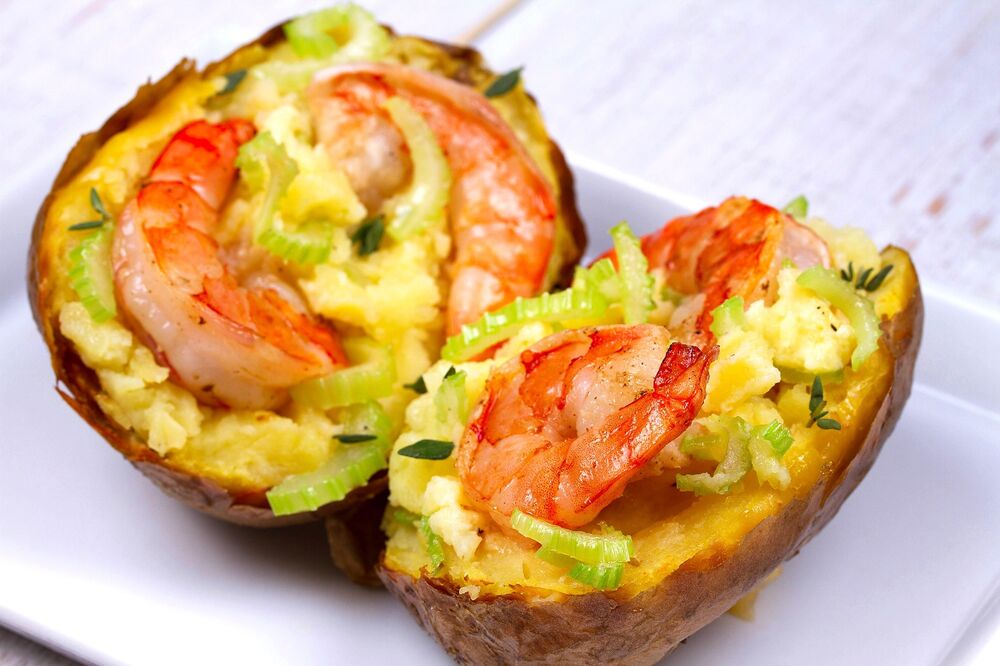 Smoky chorizo & fish pie jackets
These are fun for parties – make ahead of time and simply pop them in the oven. Scotland has brilliant sustainable seafood choices, so visit your local fishmonger and play about with your own mix. For a luxury treat, slice a couple of scallops in half, sear, and place on the top with some crumbled fried black pudding!
A lot of our walled gardens focus on preserving and bringing back Scottish heritage varieties of fruit and vegetables – Fyvie Castle has an extensive curated collection. For the best baked potatoes, look for 'floury' potatoes with high starch, low moisture and thick skins.
Serves 8 (or 4 hungry monsters!)
The spuds
4 large floury potatoes (eg Russets, King Edwards or Ospreys)
Sunflower oil and salt
175g butter
Pre-heat the oven to 200C (fan).
Scrub, dry, prick and coat the potatoes in oil and salt.
Roast on a baking sheet for around 90 mins – skewer to check.
Leave to cool on a rack, then carefully slice lengthways and scoop out the flesh into a bowl, keeping the skins intact and a small 'wall' of flesh.
Mash the flesh with 50g of the butter, and season to taste.
The fish
280ml whole milk
Bay leaf and peppercorns
Around 300g mixed fish (eg smoked haddock, hake, whiting)
Around 200g raw peeled prawns (or try crab or langoustine)
Bring the milk to a simmer with the bay leaf and peppercorns for 10 mins, then add the fish and prawns.
Reduce the heat and poach for 5 mins until cooked.
Remove the fish with a slotted spoon and save the milk for the sauce.
The sauce and assembly
50g diced chorizo
50g flour
70ml dry cider (we make our own using apples at Pitmedden Garden and Leith Hall)
2 tsp wholegrain mustard
50g frozen peas
175g strong cheddar
75g Gruyère
Chopped chives and parsley
Smoked paprika
Melt the remaining butter, cook the chorizo, add the flour and cook the paste for 5 mins over a gentle heat.
Pour in the dry cider then gradually add the reserved milk – stirring and heating to thicken and prevent lumps!
Mix in the mustard, peas, half the cheddar, all the Gruyère and the herbs, then remove from the heat and cool the mix.
Gently fold in the fish and prawns.
To assemble, lay out the potato skins, add a good dollop of the pie mix, then top with a spoonful of the mash.
Sprinkle the smoked paprika and remaining cheddar over the top.
To serve, flash under the grill or warm in the oven.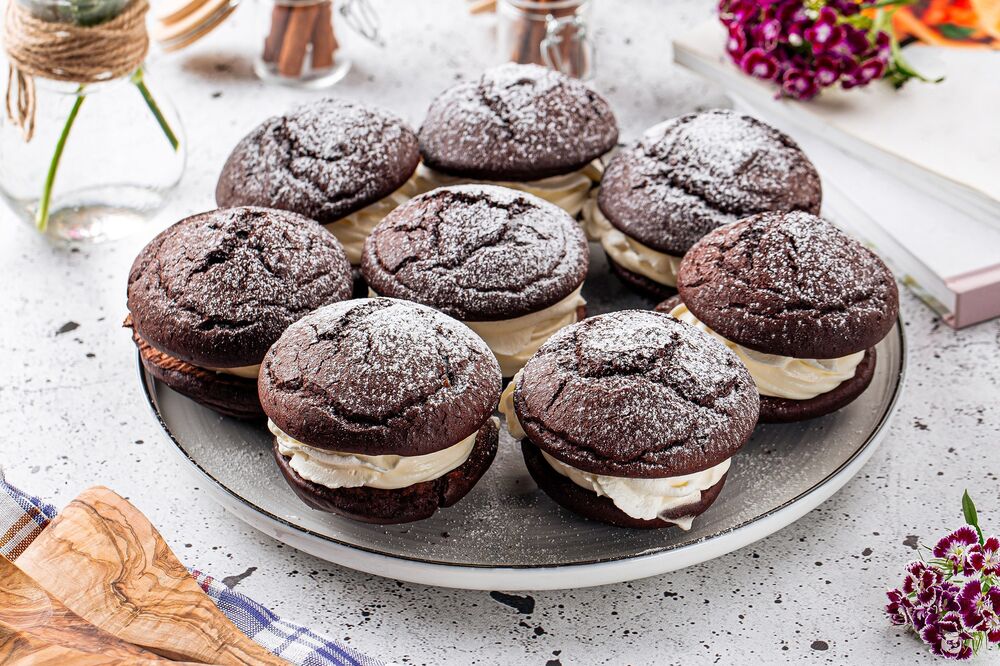 Dark chocolate & orange 'Black Moons' (or whoopie pies)
These are simple, brilliant bites for all. The cakes freeze well and look great for Halloween too!
Black Moons (in Pittsburg) or whoopie pies (in New England/Pennsylvania) raise a nostalgic smile for Americans. They're somewhere between a soft cookie and cake, sandwiched with a big marshmallow or a buttercream filling.
Makes around 20 mini sandwich cakes
Cakes
120g butter/margarine (plus some for greasing)
220g soft brown sugar
1 tsp vanilla extract (or 1 pod scraped)
1 egg
235g plain flour
65g dark cocoa powder
1 tsp baking powder
1 tsp bicarb soda
½ tsp salt
1 tsp coffee powder (boosts the chocolate taste)
250ml buttermilk (or whole milk)
Black food colouring (gel, paste or liquid)
Pre-heat the oven to 170C (fan). Lightly grease and line two baking sheets.
In a large bowl, beat together the butter and sugar until creamed, then add the egg and vanilla extract and beat further until light.
Separately, sieve and combine the cocoa, flour, salt, coffee, baking powder and bicarb, then fold into the butter mix.
Gradually add the buttermilk – you're looking for a wet/sticky thick batter that just holds its shape.
Finally, add the food colouring according to instructions.
Spoon golf-ball-sized lumps onto the baking sheet (wet the spoon between dollops to help it slide off), leaving 2cm between each.
Bake for around 15 mins until firm, then cool on a rack.
Filling
170g butter (or margarine)
300g icing sugar
4 tbsp orange juice (or orange/Irish cream liqueur for adult cakes!)
Orange zest
Beat the butter until light, then sieve in the sugar in batches – keeping it light and fluffy.
Add the orange juice and zest, adjusting the sugar/liquid to get a thick spreadable mix.
Sandwich a generous dollop between two cakes.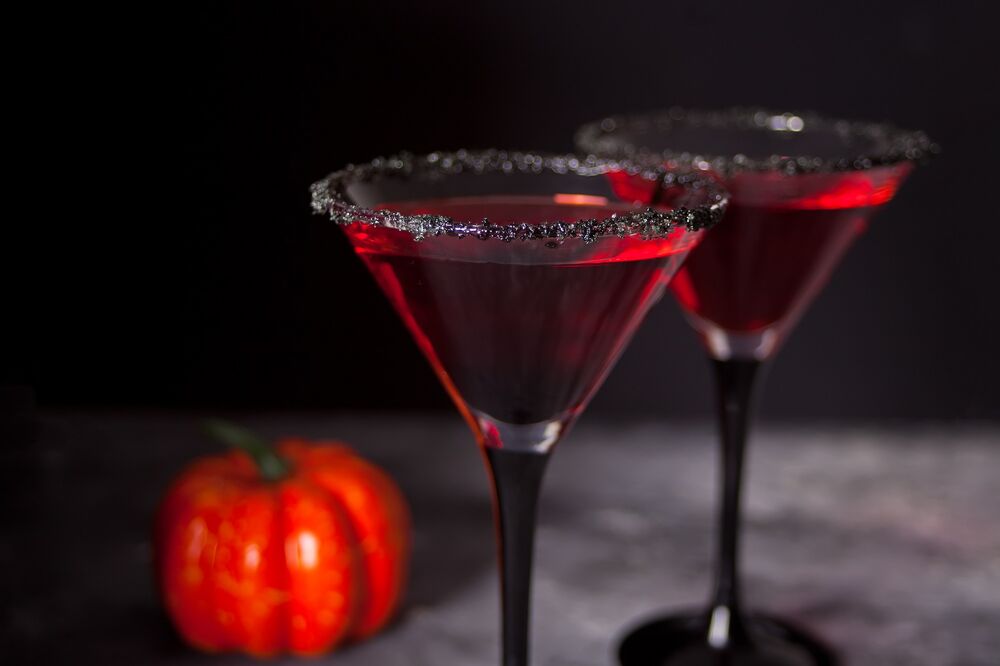 Bramble blood martini
Bramble is technically any rough, prickly shrub, usually from the Rubus genus (blackberries, raspberries, etc). In the UK, we mostly use the term for the common blackberry, Rubus fruticosus. Look out for the last of them on hedges on your wintery walks – but watch out for the thorns!
Serves 1
Small handful of fresh brambles
Pinch of grated fresh ginger
10ml blackcurrant cordial
50ml flavoured vodka
50ml ginger beer (optional)
Muddle (smash) the brambles and ginger, then add to a cocktail shaker (or large jar) with the cordial, vodka and some ice.
Shake, then strain into a cocktail glass (topping with ginger beer if desired) and garnish with a fresh bramble.
Stay in touch
Be the first to hear about our latest news, get inspiration for great days out and learn about the work we do for the love of Scotland.