One of our amazing volunteers shares how skills learned in her former career continue to be put to use in the sewing group at Falkland Palace.
I first began volunteering for the National Trust for Scotland when I retired and saw an advert for a costume maker for Falkland Palace. Having been a professional costume maker earlier in my career, I thought this would be right up my street. I was told that the palace needed a stock of children's costumes for school visits, and covers for the furniture during the winter. However, there were no real facilities for a sewing group – no equipment, haberdashery or much in the way of cloth.
Gradually, a small team formed. We were given a room to work in and we asked for donations – old sheets, curtains, just about anything really! From these we were able to make children's capes and skirts that look appropriate for the Renaissance period, as well as bespoke covers to protect collection items out of a material called Tyvek.
As time passed, our work expanded to making full Renaissance-period outfits, complete with accessories, for the guides and education volunteers.

The sewing group has now grown to 12 members, divided into two teams. Each member brings their own knowledge and skills, which makes working here truly unique and enlightening. I use my previous costume-making experience to provide guidance when required.
Quote
"We are a team, united in our love of making things."
Volunteer Costume Maker
Some of us have used our embroidery skills to make beautiful items for display within the palace, which visitors can touch and discuss with the guides. Usually, these items are inspired by extant pieces, to facilitate sharing their stories.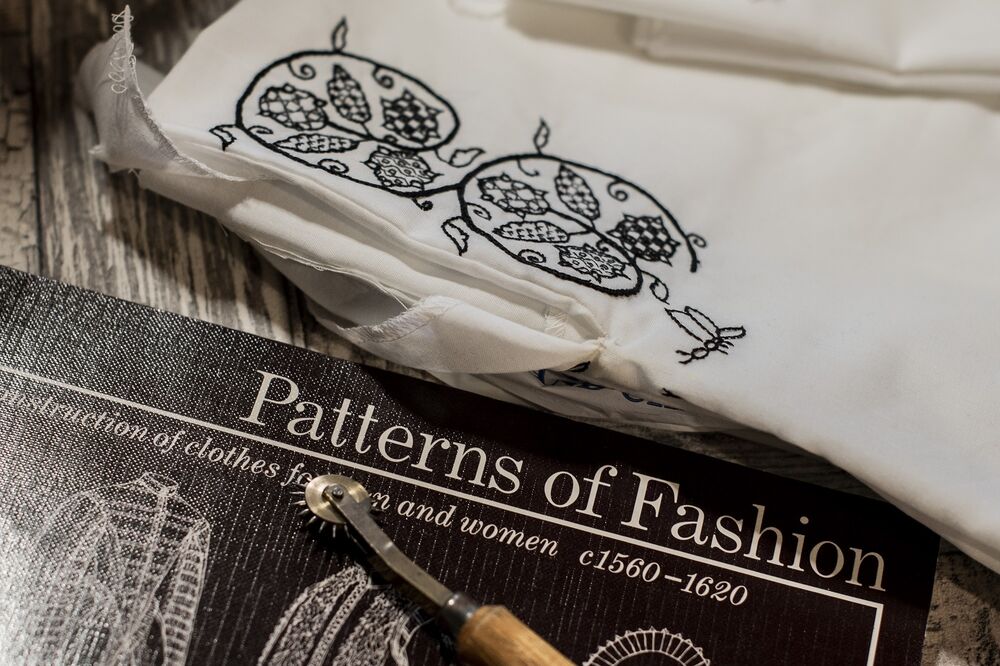 Historical patterns have inspired our embroidery designs.
We meet all year round but when the palace is closed over winter, it is the ideal time to sort out costumes and discuss what needs doing for the following season. No two days are the same; even if we have a plan, there is always some twist which necessitates putting the kettle on and having a blether! Another volunteer or staff member might pop in to say hello, impart some news or are just curious about what's happening. We're never still and we're certainly never bored!
Stay in touch
Be the first to hear about our latest news, get inspiration for great days out and learn about the work we do for the love of Scotland.