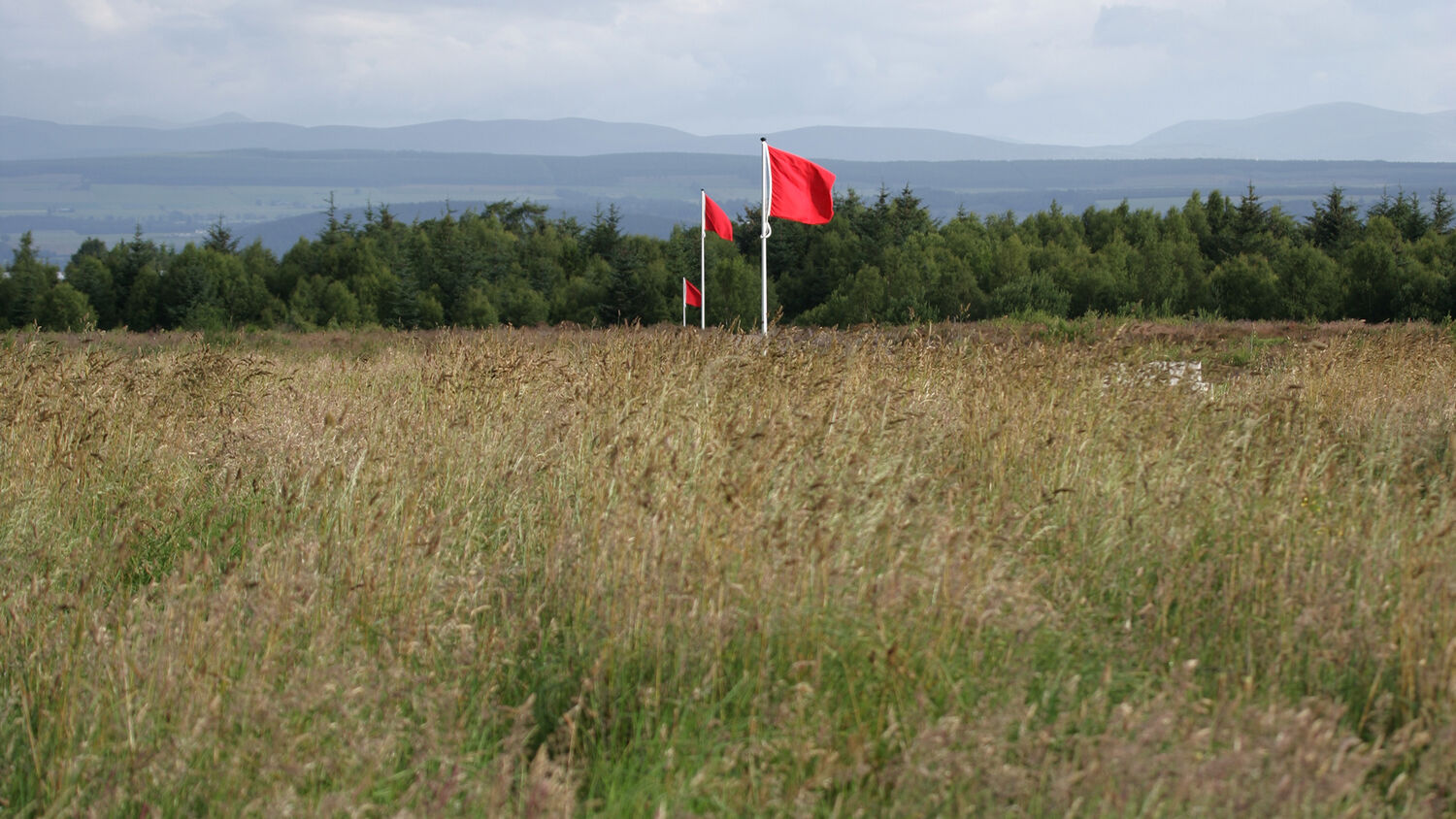 As part of Black History Month in October 2020 we took a closer look at an embroidered picture on display in the visitor centre at Culloden, which was thought to depict a West Indian man on the Jacobite side at the battle of Culloden in 1746.
The embroidered picture shown below may throw an intriguing light on the presence of a black soldier or footman, on the Jacobite side, at the Battle of Culloden, which took place on 16 April 1746. Our original post prompted Dr Darren Layne to offer some new information about the proposed identities of the protagonists and indeed what the scene may depict. The picture, which has been embroidered in silk threads on a linen canvas, came up for auction in 2007 and was acquired by the National Trust for Scotland, with support from the Ardmore Fund, for display at Culloden. Exhibited only once, in London in 1931 at a high-profile Scottish Art and Antiquities Exhibition [1], the picture had been in private hands for centuries.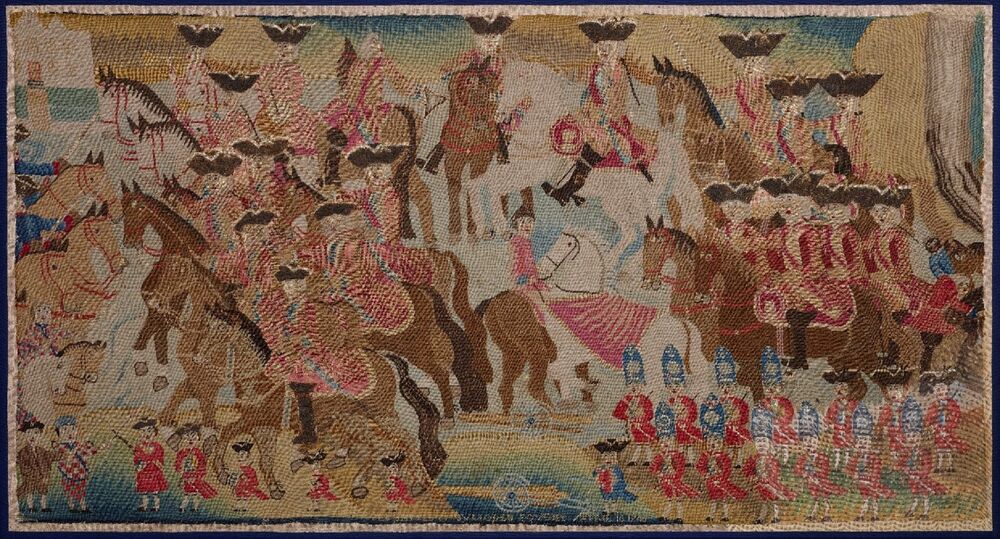 Canvas-work embroidered picture, mid- to late 18th century © National Trust for Scotland, Culloden
At the time, it was noted that family tradition suggested that it was probably worked by women in the household of Charles Edmond Hay (1704–88), 3rd Laird of Hopes in East Lothian. He was a descendant of an illegitimate line from John Hay, 1st Earl of Tweeddale (b. 1595), whose legitimate family lived at nearby Yester [2]. These Lowland Scots supported the British Hanoverian government, so it made sense for them to have a picture that shows the defeat of the Jacobites by such dashing cavalrymen who appear well-equipped, orderly and triumphant.
Curiously, whilst the cavalry, foot soldiers and cannon are stitched in coloured silk threads, the bottom right-hand section of the picture remains unworked and the drawings of soldiers to the foreground were probably inked in later. The figures vary markedly in size too: the prominent leaders and cavalrymen are much larger than the soldiers in the foreground.
Research has revealed that the uniforms are accurate, giving weight to the proposal that this work was conceived close to the date of the battle, perhaps sometime in the 1760s. If that is the case, then it might be that the scenes within the main picture are based on truth too. For our Facing Our Past project, which is setting out to find out more about the links between slavery and National Trust for Scotland properties, the most important of these is to the far right of the composition, where a soldier is depicted seizing a Jacobite soldier and leading him away. Sadly, most of his body has been lost by the picture being cut down at some point – but we can still see his unusual brown coat. Clearly visible behind him, and holding his horse, is a black man, smartly dressed, with a powdered wig and sporting a blue coat, with gold or brass buttons.
A close-up of the embroidery on display at Culloden
Again, in 2007 it was suggested that this might be the manservant of Captain Thomas McNaughton [3], from Kiltimurry (or Kiltimurray) in Omagh in present-day Northern Ireland and that this McNaughton was therefore one of the Irish Brigades in the service of France, picquets (picked men) from several regiments which were supplied by the French Crown to support the '45. Certainly, the family had longstanding Jacobite sympathies, and a Captain Thomas McNaughton did fight in James II's army in the 1689–91 war [4], but there is no evidence of a man of the same name fighting in the '45.
Dr Darren Layne has clarified that the belief that Thomas McNaughton, or one of his descendants, was present at Culloden in 1746 was caused by a mistranscription in an early 20th-century listing of prisoners of the '45 being held in Edinburgh Tolbooth and Edinburgh Castle. This book recorded a 'Colin McNaughton' imprisoned there, along with his black servant, in the middle of January 1745 [5]. In fact, the original listing was for a Colin Maclachlan, who had indeed been taken into custody on suspicion for treason by warrant along with his unnamed black servant on 15 January. The servant was discharged, due to illness, on 1 March but Maclachlan appears in a subsequent return that could be dated as late as 26 April [6]. Dr Layne goes on to say that, according to the prison returns, 'Colin Maclachlan is identified as having a connection to Jamaica, where he was a surgeon, but rather than being Irish (like Thomas McNaughton), he is specifically noted as hailing from Argyllshire.' [7] Dr Layne has confirmed that Maclachlan was active in East Lothian during the rising and was captured upon 'full proof' against him. This proof was probably provided by the Wedderburns of Gosford, one of whom was apparently accused of 'debauching' Maclachlan's sister!
Furthermore, Professor Murray Pittock has noted that there was a John McNaughton, a watchmaker in Edinburgh's Canongate and quartermaster of the Earl of Kilmarnock, who was taken and executed in 1746. [8]
So, pinning down just who the black man and his master might be remains elusive, even though it is known that there were very few black servants in Scotland at this date and they were far more common in Edinburgh than elsewhere.
An expert in embroidery and tapestry, Helen Wyld (National Museums Scotland) has suggested that the composition of this picture may be based on an as-yet-undiscovered print depicting the Battle of Fontenoy, which took place in Belgium on 11 May 1745. The Irish soldiers had fought there alongside the French, against the Pragmatic Army led by the Duke of Cumberland. Indeed, it is possible that the picture actually depicts the Battle of Fontenoy, rather than Culloden.
So much more remains to be discovered about this fascinating picture and the unknown man in the blue coat – just like the Battle of Culloden, he and the whole embroidery continue to fascinate and intrigue.
With thanks to Prof Murray Pittock, Dr Darren Layne [9] and Helen Wyld for their expert advice.
This article was originally published on 27 October and was revised on 3 November after further research came to light.

---
Further information
Stay in touch
Be the first to hear about our latest news, get inspiration for great days out and learn about the work we do for the love of Scotland.