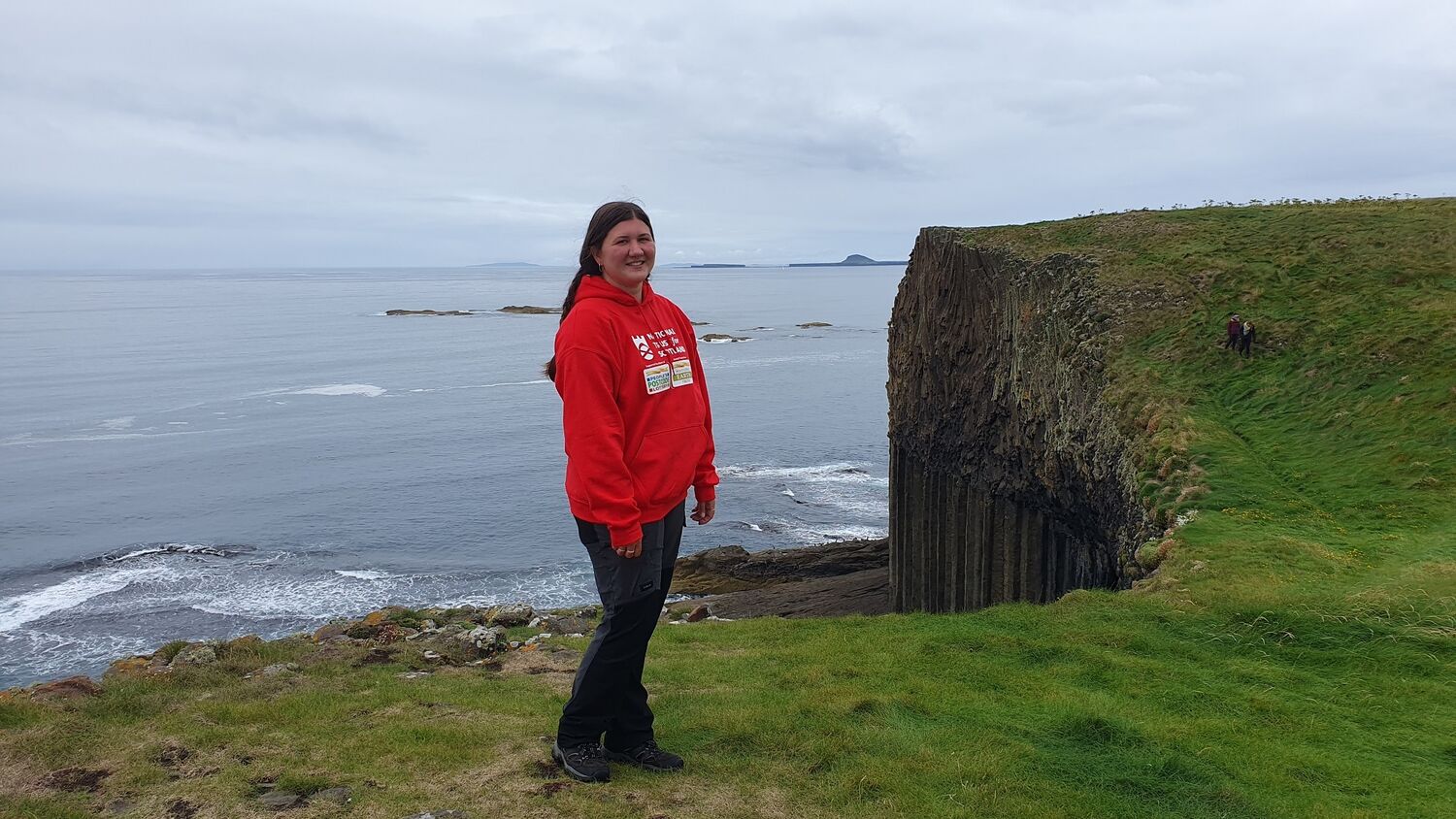 Our seasonal ranger shares a fascinating insight into what it's really like working on this tiny island in the Inner Hebrides.
Staffa is particularly well known for two things: Fingal's Cave, a remarkable sea cave carved into the free-standing basalt columns, and the comical, pint-sized puffins that make the island clifftops their home between April and early August each year. As incredible as these two elements are, there is even more to Staffa. It is a completely awe-inspiring island, with a constant fluidity to match the flowing topography of the landscape and the surrounding seas.
Before being entrusted with the position of ranger (my dream job!) thanks to the funding raised by players of People's Postcode Lottery, I had been fortunate to visit Staffa on several occasions. Even though I now step ashore almost daily, no two days are alike. There is always something different to see, a new nook to explore, changing colours through the seasons, distinctive bird song filling the air, the weather showing its power, and unexpected wildlife encounters.
My day begins on the geologically rich shores of Fionnphort in Mull, where the tour operators' boats welcome us aboard. There is always a hum of excitement in the air, as people from all walks of life gather to visit the spectacular Inner Hebrides, each with their own stories.
From the get-go, Staffa is in sight, along with several other island properties we manage in the area: Iona, Burg and, very excitingly, the newest Trust property at the Treshnish Isles. My work supports our conservation charity's vision to care for, protect and share these special places, now and for future generations to enjoy. The 6-mile boat journey north is an experience in itself, whether riding the long rolling waves of the Atlantic swell or gliding through mirror-like seas. The seas of the Hebrides are abundant in marine life. Particular highlights so far have been lunge-feeding minke whales, seals sunning themselves, my first-ever basking shark, leaping common dolphins, blooms of jellyfish and boisterous bottlenose dolphins – not bad for the daily commute!
Upon reaching Staffa, many people are overwhelmed by the sight of the Great Face's basalt columns towering over us. After landing at Clamshell Cave, manoeuvred expertly by the skippers, I scramble along the causeway to Fingal's Cave, checking the path as I go to ensure it's safe for visitors. The cave is rarely quiet, be it the sound of roaring waves that inspired Mendelssohn's The Hebrides overture or people making their own music on calm days. Often, there are echoing gasps of amazement ... and even the occasional bagpipe rendition too.
I then climb the staircase to the top of the island, following the newly laid meandering paths to the puffin colony. Here, people eagerly await the puffins' emergence from the sea below. These little birds take to the skies in a wheeling flight, flapping in unison in large circles out from the sea along the edge of the cliff before landing, often with a less-than-graceful thud, by their burrows. The sight of these bright-billed birds mere metres away brings a chorus of excited gasps, some people even shedding joyous tears. It's a special moment in people's lives that I feel humbled to witness.
I spend a lot of time here at the north end of the island by the burrows, engaging with visitors to help give an insight into the 'secret life' of the puffins, answering any questions and discussing the environmental importance of these seabirds.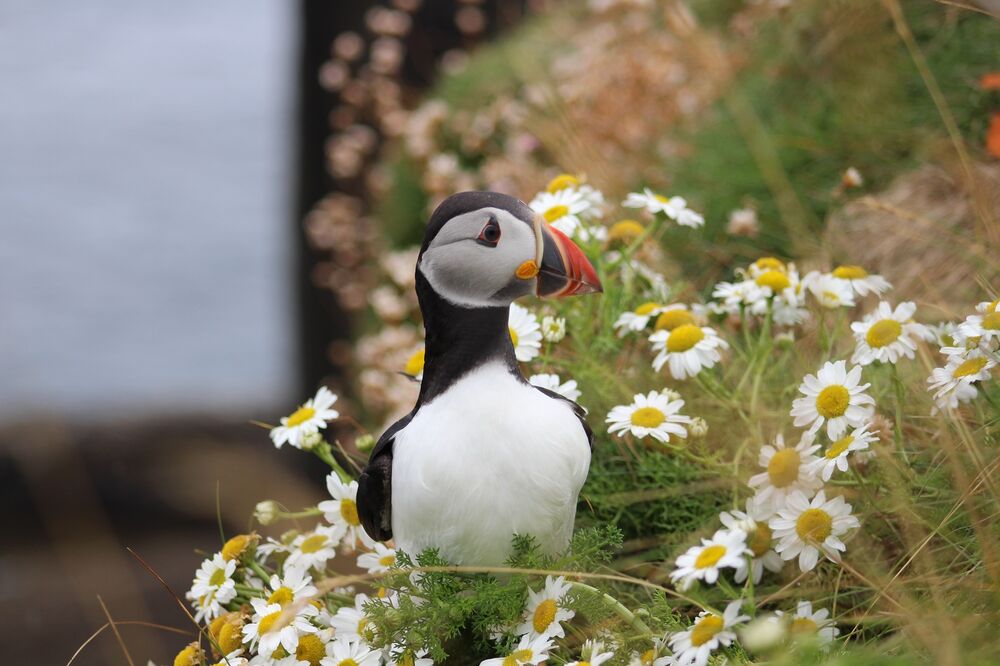 A puffin among sea mayweed
Beyond my set daily tasks, my adventures vary. So far, they have led me to cover more of Staffa than I could have imagined. I have studied wildflowers, rambled in rockpools and surveyed many of the breeding bird species including puffins, shags, fulmars, black guillemots, gulls and storm petrels. Hearing the latter's soft purr and calls from among fallen rocks was a special moment, made more so because I was able to share it with some kayakers. Despite their own amazing travels inciting a little jealousy in me, they said this made their holiday.
I have also had the opportunity to explore many of the caves on Staffa, including the Cannonball Cave whose cylindrical chasm is thought to have been created by a tree trapped in the lava flow that eroded away – how cool is that! From wildflowers coming into bloom and baby birds being born, to surprise encounters with otters, white-tailed eagles and a humpback whale towards Lunga, I never know what's in store for me!
One of my favourite spots on the island, where I find a little peace between landings, is perched above the Great Face, looking down onto Boat Cave. Here you can clearly see the three untouched formations of ash, basalt columns and chaotically jointed pebble effect. On stormy days, the wind whistling round the cliffs stirs up the birds who float effortlessly, whilst calm days provide the best spotting opportunities for marine life and passing boats. It certainly puts a lot of things into perspective.
Working on Staffa is not without its challenges. Being exposed to the elements, it's easy to see why this island has remained uninhabited. Some days appear miserable, wet and windy; others offer no shelter from the glaring sun (who knew that happened in Scotland!). Luckily, no matter the weather, each day brings a surprise and some fun of its own.
The impact Staffa has on people personally is astounding. Whether you find serenity or have your senses overwhelmed, it evokes a reaction in everyone. I am unbelievably privileged to be able to share with people, and impart my knowledge on, such an extraordinary place, full of history and natural landscapes. I love doing my bit to protect Staffa, so it can be cherished for many years to come.
The conservation and engagement work carried out by Louise on Staffa, one of the eight National Nature Reserves in our care, is supported through funding from players of People's Postcode Lottery, who have now raised more than £1 billion for thousands of charities and local good causes. Since 2014, this includes a total of over £2.5m to support our work to enrich and protect Scotland's landscapes and wildlife. We are very grateful for this support.
Stay in touch
Be the first to hear about our latest news, get inspiration for great days out and learn about the work we do for the love of Scotland.