In this series, we join colleagues from across the Trust for a behind-the-scenes glance at the important role they play in caring for our special places. Here we meet Jim, who combines the roles of Property Manager and Head Gardener at Branklyn Garden.
It is a Saturday at Branklyn Garden in Perth.
The weather is looking good for the weekend, and we have no coach parties today. It's 6am and time to rise and have a shower, take our Jack Russell terrier out and then have breakfast. First though, I will spend half an hour creating a Facebook update with a few pictures of some current highlights in the garden and a picture of Alison's scones and cakes to promote our tearoom as well. Facebook and Instagram are a vital tool to alert our visitors to the exciting features of the property. Why should they visit today or tomorrow? This type of marketing is instant and gets immediate results.
My first job at 7.30am is to clean the loos thoroughly, check that the hand sanitiser is topped up, all main paths are swept, and the entrance is clean. I turn on the water pump for the cascade. I then check that the shop and entrance is tidy, floor swept and the till is brought down and is ready for our first volunteer of the day, Maureen, who will arrive in time for opening at 10am. I'm now feeling more relaxed and can spend some time watering the sales plants. This is an important daily role as our visitors are far more likely to buy plants that look well cared for, weed-free and fresh. It's now 9.45am and I will pop up to the car park, unlock the gates and welcome Maureen into the shop.
We're ready to go: it's 10am and a few visitors are arriving. We welcome them with a brief explanation of what they can enjoy today, the location of the loos and the tearoom! So far, so good. I'm now off to the tearoom where I'll make sure that the floor is swept, and all looks shipshape. Jo arrives to assist Alison, who is busy baking the strawberry sponge and first batch of scones – fruit, plain and cheese. I keep well out of the way and will only be summonsed in an emergency! My job is to position the tables and chairs on the terrace and lawn, carefully ensuring that they are socially distanced. I will also erect a few sun umbrellas as the forecast is good. The fountain is switched on, and the last operation is to pop cushions on each of the chairs.
Phew! I can now escape to my normal role of cutting the grass on the front lawn and doing the lawn edges. Pat has arrived to help in the tearoom ... and alerts me to the fact that the car park is nearly full. Lots of visitors are arriving and the tearoom opens at 11am. Are they arriving in time for its opening? Should I have even mentioned the tearoom on our Facebook page? Oh dear, we need more help in the tearoom. Shall I escape to the far end of the garden and immerse myself in the amazing Meconopsis (blue poppies; see below) now at their best? No chance! Who invented mobile phones?
It's now very busy at the tearoom. I clean myself up, don my face mask and turn from gardener to tearoom staff. My job is to carefully transport the items that have been ordered to the appropriate table, offer to take them off the tray and smile. Unsurprisingly, the lure of strawberry sponge far outweighs the exciting aspects of a certain Branklyn Garden!
Having quelled the immediate rush, I can engage with a few of the visitors: 'is this your first visit to Branklyn' or 'have you travelled far this morning'? I have to say, nothing gives me more pleasure than to hear the positive comments about Alison's baking. This is, after all, the Branklyn Experience: the tearoom is an integral part of the visit and serves to enhance the garden.
I have now been dismissed from the tearoom and Sonia has arrived to take my place. Maureen messages me to say that she needs more pound coins. I take her a cheese scone and a cup of freshly brewed coffee. I do this for all shop volunteers, who each carry out half a day in the shop. They are simply wonderful. Can you begin to imagine the chaos if I was responsible for the till and all these domestic matters?! I'm best roving around on a Saturday, welcoming visitors, answering questions and ensuring that all is well in the loos, the fountain is topped up with water and that visitors feel comfortable and enjoy their visit to Branklyn.
There is a calm now as we approach a lunch break. I may help with clearing some tables, cleaning the tables and chairs with a sanitising spray, as well as engaging with our visitors. Our membership uptake here at Branklyn has gone well this year since re-opening on 1 April.
Having enjoyed a lunch break, I'll take Pippa, our Jack Russell terrier, out for a walk. Maureen is about to leave and will give Pippa a few more treats! Having thanked Maureen for her help, I welcome Fiona. A little healthy competition will now ensue as Fiona tries to better Maureen's number of membership and plant sales. At the very minimum, we must beat Alison's tearoom sales!
All is calm and I can now spend time with visitors answering questions including the best way of growing the delightful blue poppies, how they can be propagated, and whether they are for sale here? (Yes, you can buy the seeds from our shop!) What an enjoyable experience it is to see the thrill of our visitors as they exclaim the virtues of both the garden and the tearoom.
Quote
"I try to let our volunteers in the shop and tearoom know how much their work is appreciated. Without our volunteers there would be no Branklyn Experience; it's as simple as that."
Property Manager and Head Gardener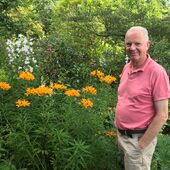 Alison and I have been involved in management for the last 40 years, first running our own alpine plant nursery and then managing Gardening Scotland – the national flower show held annually at Ingliston near Edinburgh Airport. Managing a National Trust for Scotland property is very different. We're part of a large organisation, specialising in conservation and creating a wonderful experience for visitors to Branklyn. My role is to uphold the legacy of Mr and Mrs Renton, who created this unique garden in the 1920s, and present it in a meaningful and current way for our visitors.
Jim and Alison Jermyn with Pippa the dog in Branklyn Garden
Well, the last few visitors are leaving now. I guess the early part of my story will now take part in reverse. All items are tidied away, and Alison will close up the till having carried out the necessary formalities. I'll walk up the hill with Fiona, thanking her for a superb day's takings. I then lock up the gates and return to the garden.
And that is Saturday done! We'll take Pippa out for another walk and then retire to the lawn with a gin & tonic. It's now around 6pm – a long but extremely rewarding day. It's a huge privilege to look after this wonderful garden and deliver what we hope is an enjoyable experience for our many visitors.
Alison and I have a very supportive group of employees and volunteers. We're approaching our retirement and an exciting centenary of Branklyn Garden in 2022. Lots to look forward to indeed.
---
Branklyn Garden is open daily until the end of October.
I love this place
By joining the National Trust for Scotland, you can protect the places that matter to you and experience the best that Scotland has to offer.
Join today
Stay in touch
Be the first to hear about our latest news, get inspiration for great days out and learn about the work we do for the love of Scotland.