Research undertaken by Jenny MacLeod, a PhD researcher from the University of Glasgow, has revealed new insights into the townscapes in the Weaver's Cottage art collection.
When thinking of Kilbarchan, the words 'artist colony' or 'art collection' are not what usually pop into people's minds. In fact, the words 'textiles', 'linen', 'tartan' and 'weaving' are what most would think of. This is not surprising, given Kilbarchan's rich textile history. However, placed above a roaring fire or nestled in between the brass candle-sticks and plates, are several oil paintings that depict different views of Kilbarchan.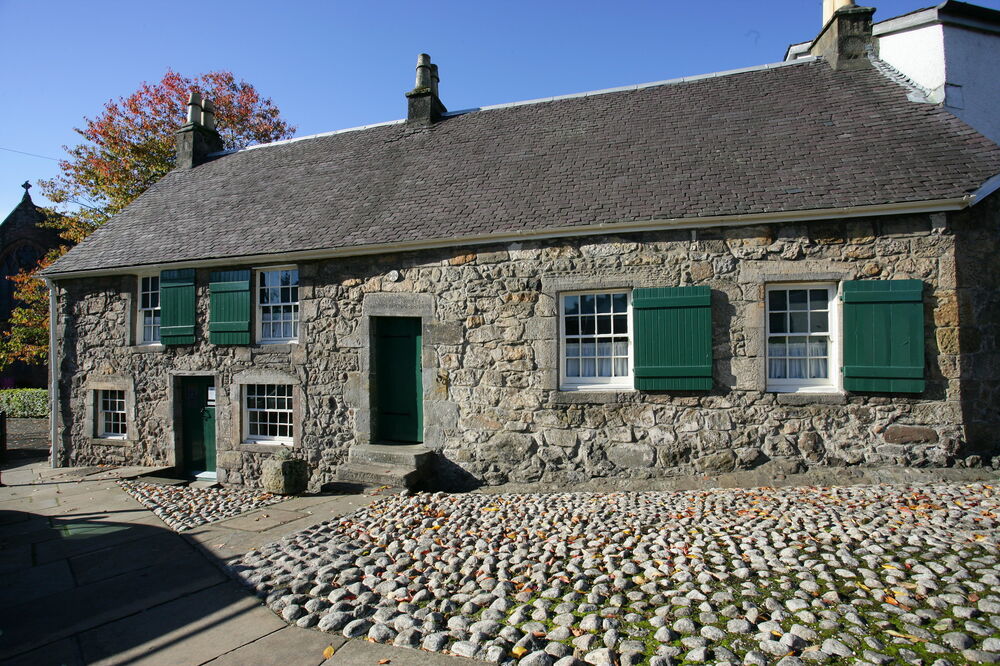 Weaver's Cottage, Kilbarchan
Some of these are presented in grand, gilt frames while others are more modestly presented. A perusal through volumes of The Year's Art and The Post Office Directories reveals a remarkable number of artists and art workers who made Kilbarchan their home during the 20th century. James Wright RSW (1885–1947), Ralston Gudgeon (1910–1984), and William Birnie (1929–2006) are just some of the artists who inhabited the town. However, the art collection at Weaver's Cottage indicates there was a strong artistic presence in Kilbarchan towards the end of the 19th century and into the early decades of the 20th century. The artists represented include Hannah Clarke Preston MacGoun (1864–1913), Mary Nicol Neill Armour (1902–2000), Alice Ramsay (1906–1976), James Ramsay (1863–1935) and Charles Haslewood Shannon (1863–1937).
But what attracted artists from the cities to this small weaving town? Influenced by artists such as Gustav Courbet (1819–1877), George Reid (1841–1913), and John Ruskin (1819–1900), who favoured direct contact with their subjects, from the 1880s Scottish artists began organising themselves into colonies in rural and coastal locations across the country. Here, they would immerse themselves in rural life, capturing the local inhabitants at work and the realities of their existence. Some of the colonies set up included Cockburnspath, Kirkcudbright, Brig o' Turk and Cambuskenneth, which were popular with artists such as E A Hornel (1864–1933), James Guthrie (1859-1930), James Whitelaw Hamilton (1860–1932), George Henry (1858–1943) and E A Walton (1860–1922). Indeed, the pictures which form part of this collection can certainly be situated in the social or natural realist tradition practised by these artists.
Three views of Kilbarchan's busiest streets confirm that artists from as far afield as London made trips to capture the town. Two small rectangular oils show views of a bustling Steeple Street and Church Street undertaken by Charles Haslewood Shannon in 1893. Born in Sleaford, Lincolnshire, Shannon received his art education at Lincoln School of Art and then at Lambeth School of Art. After his studies he founded the Vale Press (1896–1904) as well as the The Dial magazine (1889–1897). He exhibited widely including: RGI, FAS, RE, RSA, RIPW, Liverpool, Manchester Academy Fine Art, Grosvenor Gallery, Carfax Gallery, and the New English Art Club. Shannon achieved success with portraits and figure compositions and became a key figure in the London art market of the 1890s.
These pictures are a departure from his portraits, which were heavily influenced by Venetian paintings with their heavy and low tones. His townscapes of Kilbarchan are painterly in style, with their visible brushstrokes and neutral tones, very much executed in the vein of artists associated with the Scottish School at this time. Although Shannon was primarily a portrait painter, auction records demonstrate he occasionally executed landscapes in Paris and Algeria which he signed with a monogram. These can be seen in his views of Steeple Street and Church Street and correspond to monograms recorded in monogram and signature directories.
'Steeple Street, Kilbarchan', unsigned
A third picture, much larger in scale, also depicts Steeple Street. It is unsigned; however it is similar in composition and style to Shannon's smaller painting of the same view. When comparing the two pieces it is possible to see similarities in the positioning of the shadows and the perspective of the view towards the church. This painting was likely executed on the same trip as the pictures just discussed. The lack of signature and the rougher depiction indicates it was likely a preparatory study for the smaller version.
Artists local to Kilbarchan were also compelled to paint the town. A rectangular oil depicts Kilbarchan Church surrounded by trees and greenery. Painted in 1917, the subtle shades of orange in the leaves of the trees and bushes suggest this was painted towards the end of summer or the very early weeks of autumn. The artist paints with a free, loose style, with visible brushstrokes that show an affinity with the later works of members of the Glasgow Boys such as George Houston (1869–1947) and David Gauld (1865–1936). These painters relied on the use of subtle complementary colours in order to create a depth of colour and tonal values.
A signature in the bottom right corner of the composition reads 'Ramsay' and it is dated 1917. With only a last name to go by, some detective work was needed in order to track down the artist. Evidence collected in census records, newspapers and exhibition catalogues throughout the course of my internship suggests it was likely painted by Kilbarchan resident James Ramsay. Born in Houston in 1863, Ramsay belonged to a successful family of fleshers and grocers, who occupied The Old Manse at No. 14 Steeple Street from the 1890s until the 1930s.
'Kilbarchan Church', James Ramsay, 1917
As the picture bears no official title, it is not possible to track it down in exhibition catalogues. However, Ramsay appears in surviving exhibition catalogues of the Royal Glasgow Institute for the Fine Arts (RGI) in 1911 and again 1912 where he exhibited pictures of Kilbarchan. His first contribution was a painting entitled A Bit of Kilbarchan priced at £8, exhibited in 1911. A year later he exhibited the painting, Lengthening Shadows priced at £20. In the index he is recorded as living at The Old Manse, Kilbarchan, confirming he is indeed the same James Ramsay recorded in census records. A painting by his daughter Alice Ramsay (1906–1975) is also in the collection of Weaver's Cottage, however she would have been 10 years old by the time of her father's painting, which further confirms her father is the artist of Kilbarchan Church.
Ramsay is recorded as being retired from his grocer position in the 1911 Scottish Census. There are no records of Ramsay exhibiting his work publicly prior to this date, which suggests he began his artistic training later in his adult life. It is not known where he studied and he does not appear in student registers at the Glasgow School of Art or the Glasgow and West of Scotland Technical College. According to The Year's Art, there were no opportunities to receive art instruction in Kilbarchan in the late-nineteenth and early twentieth centuries, however there were classes offered at Barrhead and at Paisley Technical School at this time. Despite this, Ramsay was a competent artist who had a passion for capturing different views of his hometown.
It is clear that Kilbarchan sparked something in the imagination of many artists. Despite the creeping urbanisation of the major cities, Scotland still had a rich artisanal workforce that artists were keen to document. The number of townscapes of Kilbarchan in the collection at Weaver's Cottage highlight the town's beauty and serve as important documentation of its built heritage. Not only that, they showcase the work of local artists who otherwise may have been forgotten about in favour of their more well-known and established contemporaries.
Jenny MacLeod undertook her internship between January and June 2023 as part of a Scottish Graduate School for Arts and Humanities (SGSAH) doctoral internship.
Stay in touch
Be the first to hear about our latest news, get inspiration for great days out and learn about the work we do for the love of Scotland.